(Last Updated On: December 14, 2021)
Ah, yes, memories of paradise recently visited.
Sigh.
At least the temperature here is no longer sub-zero. Still, I'd MUCH rather be back in Hawaii.
Hawaii four-island itinerary
Arrival – Sunday, January 06
Gate 60
Our flight from Honolulu to Kauai leaves from Gate 60.
This is the last gate in this part of the airport and, while not open to the air, it has huge windows on three sides that provide a glimpse of spiky green mountains on one side and a low dark rise on the other. Mostly I see palm trees and dark blue sky.
I think I'm going to like it here.
Kauai – (Monday, January 7 – Thursday, January 10)
Sunset Down the Street
We don't have to go very far for sunset.
Lovely.
And tonight there is no bagpipe serenade to disturb the peace!
Sunrise From Our Beach (Thursday)
I ALMOST didn't' get up for sunrise this morning. (I was tired and I'm not really a sunrise sort of girl anyway, as most of you know.) However, Lane decided to get up and, not wanting to miss anything, I am joining him.
Things start slow, but eventually we are treated to a magical light show that goes on and on, the light shifting and changing until the sun disappears again into the clouds.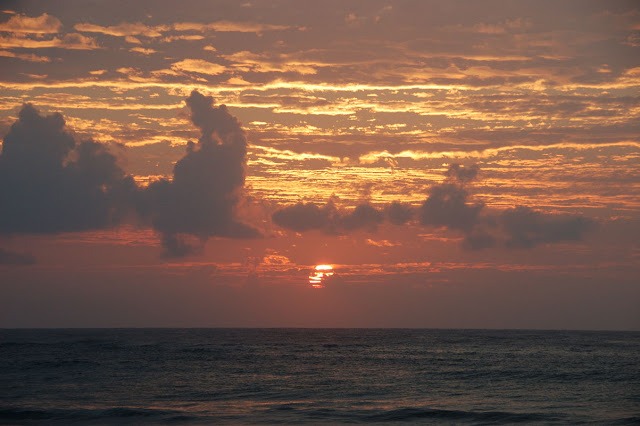 The sun is up, but it's still pretty dark . . . I hope that doesn't mean that rain is moving in!
Beach Time?
The day has become hot and sunny and some time playing in the water sounds wonderful, so we stop at an inviting-looking beach.
Big Island of Hawaii (Friday, January 11 – Sunday, January 13)
Sunset from our Window
Our B & B is located at the very southernmost end of the island and it takes longer to get there than I am anticipating. (Distances here on the Big Island are deceptively long compared to those of compact little Kauai.) It is an interesting drive, but it is a relief to pull into the sweeping yard that leads up to Kalaekilohana.
Even in near darkness, it is easy to realize that we have landed at a very special place.
As we watch the sun sink beneath the trees, I already wish we were staying here a lot longer.
A Lazy Saturday Morning
It begins to rain soon after we awaken.
I love the sound it makes on the tin roof. . . this might be a good day just to relax.
A little more rain falls during breakfast and then it seems to be over . . . ok, so much for relaxing – let's go shopping at the farmer's market in Naalehu!
Maui – Monday, January 14 – Thursday, January 17)
View From Our Yard – Evening in Hana
A Minor Meltdown
I'm tired after a long morning on the water and now I'm ready to relax, have a drink, write, and look at the ocean.
Except, there is no place here where I can do that.
A room with a view
We are now ensconced on the deck off our new room, drinking in gorgeous views of the ocean and mountains along with our rum and coke. Heaven!
Oahu – (Friday, January 18 – Monday, January 21)
Waikiki – 5 p.m. (Sunday)
After a relaxed morning that included dim sum and the Honolulu Academy of the Arts, Dawn drops us off at our hotel along Waikiki Beach.
We check in and head up to our room, which turns out to have great views of Waikiki. Yay!
Evening along the beach in Honolulu
We sit and watch as afternoon turns to evening and the sun sinks out of sight below the horizon.
Out along the beach and on the streets, the city has a different feel at night – still warm and tropical, but energetic in a way it was not during the day.
A Honolulu Holiday
The rainbows fade and the marchers move along, but Waikiki Beach continues to shimmer enticingly.
Good-Bye, Hawaii
Our final evening here has arrived.
In search of a relaxing spot from which to watch the sun set, we end up with drinks and pupu at a open-air Tiki bar with a view of the beach.
I wish we weren't going home now.