It still amazes me that I can get on a plane, fly a due south for a few hours or more, and disembark into a world totally unlike my home in Minnesota.
My most recent travel in the region was in the Mexican Yucatán — a gorgeous, friendly, and safe destination for independent travel.
Previously we visited the region as part of a cruise from Tahiti to Florida in December 2009 and January 2010. That trip included stops at Easter Island, Peru, Ecuador, Panama, and Costa Rica. An earlier trip in 2006 took us to Peru and Ecuador, including the Galapagos Islands, to celebrate the New Year. I've visited a chunk of the Caribbean on a tall ship cruise that my husband and I took for our wedding trip, but that was a very long time ago!
I love the small pieces of this part of the world that I have seen. It seems to be an underappreciated destination and am looking forward to exploring more in the future.
Costa Rica
Costa Rica Through the Bus Window
A Sunny Day in the Rain Forest
Colombia
The Travel Dream List: Cartagena (December 2012)
Easter Island
Cruising from Tahiti to Florida ()
Ecuador
Travel Journal: Cruising from Tahiti to Florida (December 2009/January 2010)
Travel Journal: Celebrating the Holidays in South America – Peru, Ecuador, and the Galapagos (2006)
Galapagos (December 2005/January 2006)
Mexico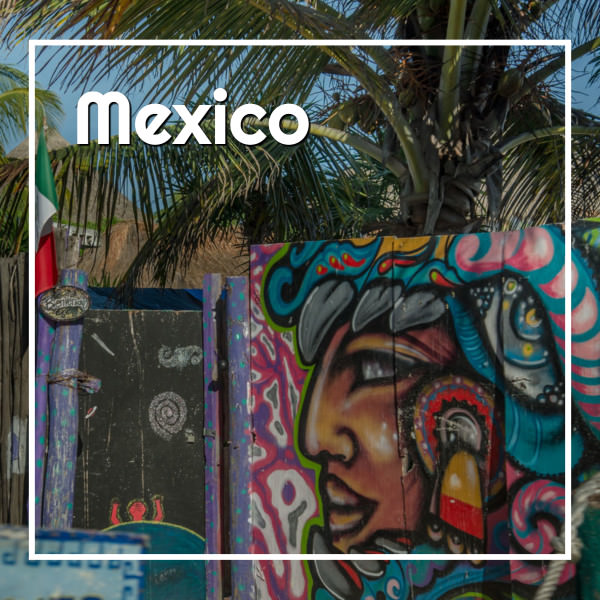 I can't believe it took me so long to visit my neighbor to the south. I loved my time in the Yucatán (and recommend a visit there to everyone!) and now am eager to see more of the country.
The Mexican Yucatán – Travel guide with links to blog posts from a 2014 trip in Yucatán and Quintana Roo
Our 2014 itinerary for the Yucatán peninsula
Panama and the San Blas Islands (Kuna Yala)
I've only visited Panama and the San Blas Islands (Kuna Yala) as part of a cruise. We went through the canal (which is exciting, but also excruciatingly slow), made a stop in port (mostly to shop), and then spent a day (mostly shopping) in Kuna Yala. It was enough to assure me that Panama's Caribbean coast needs to be on my travel list!
Cruising from Tahiti to Florida (December 2009/January 2010)
Peru
Peru is one of my favorite countries and one I highly recommend to travelers. It has a wonderful mix of urban architecture and amenities, ancient ruins, traditional cultures, and nature — there is more than enough here to please everyone. The fact that the people are welcoming, the food is great, and costs are just cherries on top.
Worth a Return Trip: Lima, Peru (November 2012)
Cruising from Tahiti to Florida (December 2009/January 2010) 
Maybe I COULD Do the Inca Trail (August 31, 2007)
Celebrating the Holidays in South America – Peru, Ecuador, and the Galapagos (2006)