(Last Updated On: December 29, 2021)
Egypt really is awesome. That became clear almost immediately on my 2007 tour that included Cairo and outlying monasteries, Luxor, the Red Sea resorts, and Mount Sinai.
Two weeks in Egypt
A month wouldn't be enough to see everything Egypt has to offer, but our two-week itinerary was a good way to start.
Tuesday, February 6: The Beginning
I am a little worried as the day gets stated – my fifteen minute trip to the airport takes almost an HOUR.
Wednesday, February 7: Travel to Cairo
Frankfurt
It isn't until we are making our approach into Frankfurt, Germany, that I realized I have never actually been to this place that is so important to my brother. It seems like a place I know, but I really only know it through his stories. Someday I'll have to actually visit here myself.
The Cairo Airport
I can see the pyramids from the plane!
At least I think I can. The sun is so bright that it is hard to see anything, but I really think that is them. If only I can get a little better look. . .
We bank and they vanish from sight.
Dinner at Al-Azhar Park in Cairo
We were supposed to stay at the Nile Hilton tonight (in part so we could store our extra luggage there), but Romani has instead booked us into a hotel near the airport. It is a nice place, but is surrounded by the same type of upscale urban sprawl found in California or the Minneapolis suburbs or so many other places around the world. There would be no neighborhood to explore here even if I had the time and energy to do so.
Not that I have energy for anything. I'm actually hungry, but I'm more interested in crashing and sleeping for about three days.
However, Romani has other plans. We must eat dinner and see a bit of Cairo tonight.
Soon I am on a tour bus headed into the city for dinner at a restaurant in a park.
It is dark now and I glimpse the city in bright little flashes.
It looks wonderful, fascinating.
Equally fascinating is the police car that evidently will accompany us everywhere. It seems weird, as the view outside my window looks a lot like any other major city. Do we really need a police escort?
At the park we wind through narrow twisting roads before being dropped off to wander through the park to the restaurant. The distant-seeming city around us glows with lovely, subdued lights. A huge mosque floats above the distant city. We wander through the carefully manicured landscape, past elegant pools, toward a warmly glowing traditional-style building.
It is magical.
Thursday, February 8: Cairo
The Egyptian Museum
The Egyptian Museum is a great introduction to the history and culture of ancient Egypt, but there is far too much to absorb in one visit!
In Search of the Holy Family
We visit the basement chamber where the Holy Family is said to have stayed on their travels.
The Night Train to Luxor
We arrive at the train station late in the day and then wait on the bus for what seems like a long time.
Apparently the train is running late.
Eventually we are waiting on the outdoor platform as the warm air darkens into dusk. The station lights come on. The trains come and go. Each time we hear another arriving we ask expectantly "Is this it?" as loud announcements in Arabic blare above the din.
At last it is ours and we clamber aboard.
Friday, February 9: Luxor and the Valley of the Kings
Arrival in Luxor
I sleep soundly for awhile, rocked to sleep by the motion of the train, but then I awake in the total darkness of very early morning. I spend the rest of the "night" tossing and turning, worrying that my alarm won't go off, that I won't awaken in time to disembark at our anticipated arrival time of 5:30 a.m. I imagine having to spend the day touring Luxor in my nightshirt.
As it is, the train is late arriving in Luxor. This is good, not only because it gives me time to wash, dress, and eat a little of the thoroughly unappetizing breakfast provided, but also because it gives me an hour or so to watch the passing scenery.
The land through which we are traveling is lush. Palms punctuate carefully tilled fields of emerald green. At this early hour, few people are about, the agricultural workers just now beginning to lead their donkeys in to the green for the day.
Had we arrived on time, we would have missed this in the darkness.
Temple of Karnak
Our first stop in Luxor is the grand Temple of Karnak.
Temple of Medinet Habu
A drive across the Nile and through the green fields ends at the colorful Temple of Medinet Habu.
The Colossi of Memnon and Mortuary Temple of Hatshepsut
There's not much of the Colossi of Memnon, but there are some very dramatic statues (and a few wall paintings) at Hatshepsut's dramatically sited mortuary temple.
The Alabaster Factory isn't exactly my thing, but I find a couple things that allow me to join in the shopping frenzy.
The Valley of the Kings
What a desolate place! It is dramatic and beautiful in a way, but also stark and bleak, without a speck of green.
Luxor City
Compared to Cairo, Luxor is a relaxed place. We enjoy it on a cruise on the river and a carriage ride through the city market.
Crossing the Nile
Only two bridges link the west side of Luxor to the city proper, bridges that are clogged with vehicles at this time of day. We are running late after our visit to the West Bank tombs and temples and Romani is looking for a quicker way to get us back into the city. His answer is to send us across the Nile by boat – and by very cheery-looking boats at that.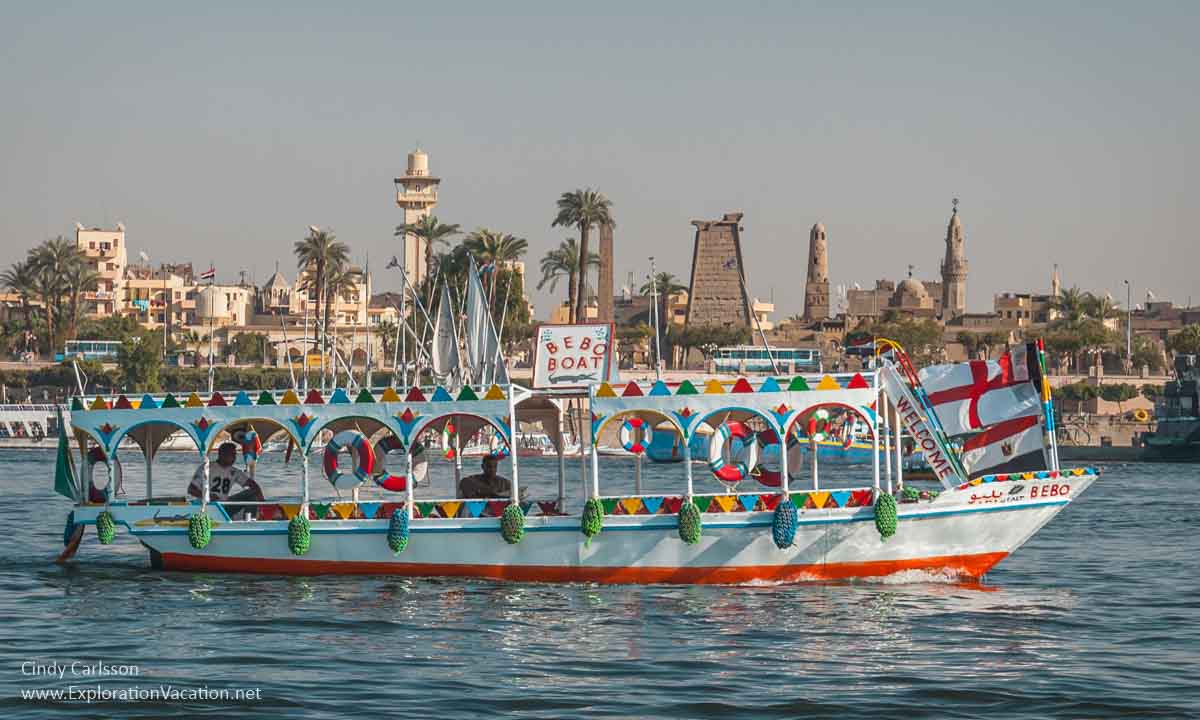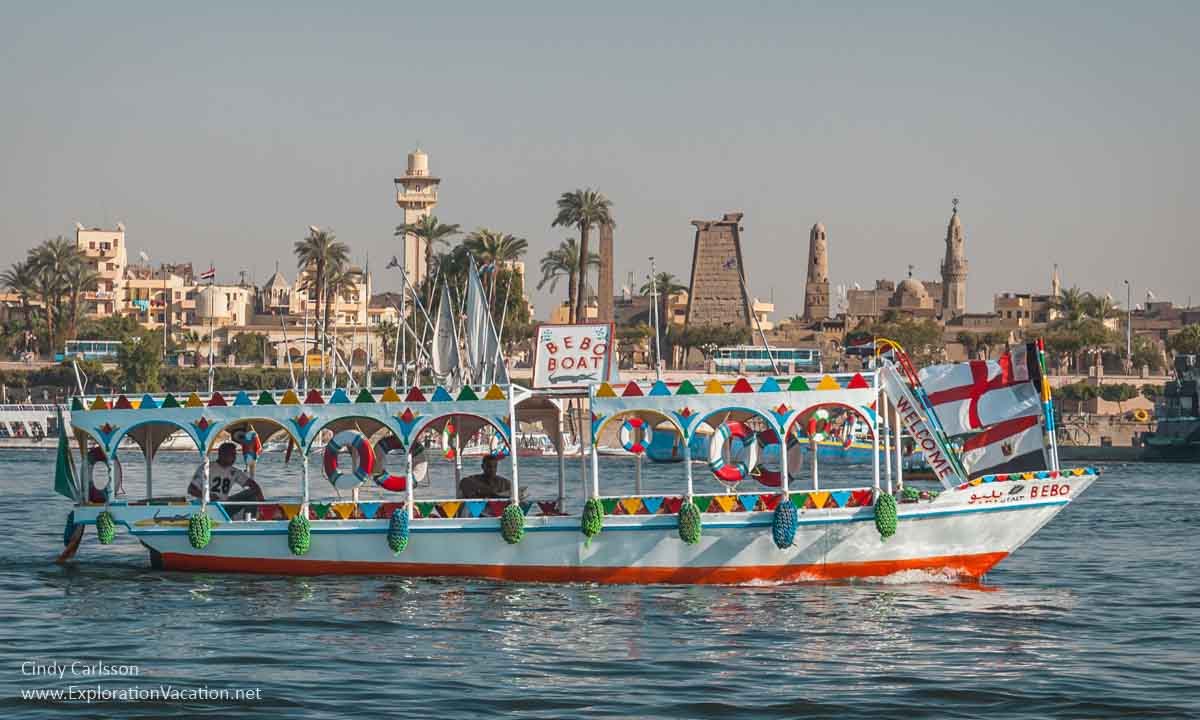 A carriage ride through the city
We are hurrying back because we are supposed to take a carriage tour of the city, but it is already late in the afternoon. Still, not wanting us to miss out, Romani arranges an abbreviated tour.
I share my carriage with Jess, the youngest member of our group. She is an intelligent, curious, and good-humored teenager. I enjoy this chance to hear her take on the trip and on life in general. She is a cool kid.
The carriages make their way through a chaotic market that spills out of the open shop fronts and into the street.
It is a colorful and exotic place.
The evening convoy to Hurghada
Travel to the Red Sea is via the evening convoy to Hurghada.
Saturday, February 10: A Red Sea vacation
The Red Sea
We have a full day on the Red Sea, with snorkeling (or diving) in the morning and a beach break in the afternoon.
Sunday, February 11: Traveling to the Sinai
Leaving Makadi to cross the Red Sea
We have been staying at the beautiful Makadi Resort, but today we leave to cross the Red Sea to the Sinai Peninsula.
Crossing to the Sinai
The next phase of our trip begins at the ferry terminal, where we catch the "fast ferry" which will zip us across the Red Sea to Sharm El Sheikh in just 90 minutes.
The charm of Sharm
Sharm El Sheikh is the most famous vacation town on the Sinai. I expect it to be an ugly, over-developed place, but Sharm has a charm all its own.
The road to Saint Catherine's
The road to Saint Catherine's Monastery takes us through a dramatic, desolate landscape.
Evening at the monastery
We are staying in the monastery's guesthouse and taking our meals with the monks. I love having a quiet evening in the monastery, but I'm not planning to do the morning camel trip to the top of Mount Sinai.
Monday, February 12: Saint Catherine's Monastery
Dawn
While the others are trekking to the mountaintop, I enjoy dawn at the monastery and the beginning of a beautiful day deep in the Sinai.
Touring the Saint Catherine's Monastery
Built in the year 550, Saint Catherine's Monastery is one of the oldest active Christian monasteries. Our tour takes us through much of this UNESCO World Heritage site, including its library filled with rare books.
Later I have time to walk along the mountainside paths outside the monastery walls, providing wonderful views from the outside looking in.
Tuesday, February 13: Leaving the Sinai
Through the Sinai
We spend most of the day traveling through the Sinai, stopping only to visit a small museum near Saint Catherine's and the Convent of the Seven Sister in the Feiran Oasis.
Evening from my balcony in Cairo
Our travel speed decreases dramatically when we reach Cairo and it is late when we finally reach the Nile Hilton. But finally I am in my hotel room at the Nile Hilton where I can  take in the view of the city and Nile.
Wednesday, February 14:Cairo
Morning Above the Nile
We get to sleep in this morning, which is great.
When I finally get up, I head straight for the windows and pull open the curtains.
Traveling through Cairo
Weaving through the chaotic streets of Cairo provides an overview of the city as we slowly travel through the crowded streets.
Sultan Hassan Mosque
We learn a bit about Islam as we tour the Sultan Hassan Mosque.
The Citadel
While the Citadel in Cairo dates back to the 9th century, it wasn't fortified until the 12th century. It's huge! But as large as the fortress is, the large, elegant Mohammed Ali (Alabaster) Mosque is the Citadel's highlight.
Al-Azhar Park
A sprawling park built on a former dump, Cairo's Al-Azhar Park is the perfect place to enjoy a little greenery and watch the sunset.
Blessings and meditations at the Coptic Cathedral
Every Wednesday the leader of the Coptic church in Egypt holds an evening lecture for the faithful. We are lucky to be here on Ash Wednesday, when the Pope offers his blessing to all. It's a moving connection to the past. After we have been blessed, the lecture begins. This week it is a meditation on love, since today is also Valentine's day.
Blessed
It is very late in the day when we arrive at Cairo's Coptic Cathedral.
The Wednesday Lecture
On Wednesday evenings Pope Shenouda III answers questions from his flock and then lectures on a point of theology.
It seems like we have been at the Cathedral for hours already and this, the main event, is just now beginning.The Pope rises and stands at a podium, his image enlarged and projected on the large screens above him for all to see.
He welcomes the audience and then begins to sort through a handful of paper – questions submitted to him for his response in a Papal version of the "Dear Abby" newspaper column.
After the event inside, we learn more about Saint Mark in a small chapel below the main cathedral.
Thursday, February 15: Giza and beyond
Saqqara
Saqqara is the vast area that served as the burial place for Egypt's earliest rulers. The area includes the step pyramid of Djoser and the tombs of many others, including the beautifully decorated tomb of an official named Mereruka.
Magic Carpets
Carpet shops are rather ubiquitous in this part of Egypt. I have no plans to buy a rug, but the showroom is filled with magic carpets of all colors.
The Pyramids of Giza
We finally get to the great pyramids of Giza, where we gawk at their size, take a short ride on a camel, and admire the Sphinx.
Friday, February 16: Old Cairo
The Coptic Museum
The Coptic Museum holds a large collections of treasures related to Christianity in Egypt.
The Hanging Church
The Hanging Church (El-Muallaqa) was built above a first century Roman fortress. It's been remodeled a few times, but retains a holy and ancient-feeling interior.
Religious Architecture Galore
A walk through the neighborhood allows us to visit a variety of religious architecture: The Greek Orthodox Church of Saint George, Ben Ezra Synagogue, and the Coptic churches of Saint Barbara and Saints Sergius and Bacchus.
El Azhar Mosque and the Khan El Khalili Market
We split our time between the El Azhar Mosque and the Khan El Khalili Market, because you can only do so much shopping. (And the mosque is historically important and very beautiful)
Saturday, February 17: The Monasteries of Wadi Naturn
Our day takes us into the Western Desert to visit the Christian monasteries of Wadi Naturn. Long a center of Christian monasticism, even today a number of active monasteries remain in the area. We visit three of them:
Wadi Naturn
The monasteries we have been visiting are all located in an area referred to as Wadi Natrun, a low spot in the Western Desert northwest of Cairo where underground water from the Nile supports a series of small lakes. This area was important in Pharaonic Egypt because the naturn found here was used in the mummification process. (Naturn is described as a naturally occurring combination of sodium carbonate and sodium bicarbonate that forms in the lakes, which I think means it is a type of salt.)
I end the day by meeting a grad school professor who is currently living in Cairo. It really is a small world.
Sunday, February 18: Cairo
Cairo's Christian Garbage Collectors
Cairo's Christian Garbage Collectors have a large community hidden in the ancient quarries of Mokattam Mountain. We are here on a Sunday to learn a bit about this community and join in a worship service in one of the community's enormous cave churches.
On foot in Cairo
After a simple, lovely lunch, we walk back to the hotel. Our security detail drives alongside, always keeping an eye on us, but I'm happy to be out in the city. We've had few opportunities to walk here, so it is a treat just to be out in the city's streets.
All cities are best encountered on foot!
Cairo: 4 pm
There is still one hour until checkout and I am spending it on my deck, the Nile sprawled out below me and the city's wonderful cacophony of sound swirling all around.
I love it here.
It seems odd to be leaving – somehow it has come to feel normal to be here and it is odd to think that tomorrow I will be gone and someone else will take my place. It doesn't seem right.
The end of our time in Egypt
We end our trip to Egypt on a Nile dinner cruise party boat. It's not the end I would have chosen.
The Details
This trip was an alumni tour sponsored by Concordia College in Moorhead, Minnesota.
I've wanted to go to Egypt for a long time, but the only reason I went now, on this trip, was because Larry Alderink (one of my favorite professors in college) was leading it. That it turned out to be an amazing trip was luck on my part!
Arrangements in Egypt were handled by Romani Gaballa of Egyptian Educational Travel.
Romani is everything you could want in a guide – intelligent, knowledgeable, resourceful, witty, patient, and kind. In addition, Romani's expertise was occasionally supplemented by that of his brother Issac and fellow tour-guide Osama, both of whom have a deep understanding of Coptic Christian belief, practices, and history.
I plan to return to Egypt with my spouse and a few friends in a couple of years and will definitely work with Romani again. However, at that time I hope to also visit the deserts, sail on the Nile, see Abu Simbel, and add an extension to Petra in Jordan. (Ok, only some of that happened on my 2019 return trip. I did cruise the Nile and see Abu Simbel. But I still haven't made it to the deserts or Jordan. Someday.)
Safety and security
Most of my friends expressed concern when I announced I was going to Egypt – is it safe?
While we were in Egypt the political situation seemed stable, with no signs of the unrest of a few years earlier (or of the Arab Spring the future held). Whatever one thought of the government's policies, they kept the county stable and safe for tourism.
None-the-less, there apparently were relatively few American tourists in Egypt in 2007 and we were often met with surprise when people discovered we were American. But we were also  met with genuine warmth and friendliness.
Apparently a police escort is required for American tour groups, although it seemed superfluous. I thought it would be off-putting, but our security folks were usually pretty invisible. They could be handy though, as at one point they directed traffic to get the bus backed up and out of a traffic jam!
As we approached the Sinai our escort was supplemented by an armed guard. The police presence in general was more obvious on the Sinai. Still, it seemed a little silly to see our guard, gun tucked in his belt, barefoot, with his pant legs rolled-up, keeping an eye on us at the almost deserted beach on Giftun Island. But, at least we never had to worry about safety — or getting lost.
Getting Around
Within Egypt we traveled by motor coach, mini-bus, train, and ferry. Cairo has a metro system, but we didn't get to try it out.
Traffic in Cairo
Outside Cairo roads were often nearly empty.
But things were very, very different in and around Cairo.
Traffic in Cairo is truly frightening. It's the most chaotic of any place I've been. (Worse than Bangkok, where there was lots of congestion, but seemingly comprehensible rules of conduct.) There appear to be only a handful of stop lights in the entire city and NO one drives in the marked lanes. It's utter chaos: Picture a mob pushing its way forward – only it is a mob comprised of cars, trucks, buses, scooters, donkey carts, and pedestrians, some of which might be traveling in the opposite direction.
Even after explanations of how it all works, I can't imagine driving there.
However, the pedestrians were even more shocking: Men, women, and even children simply wade into the sea of erratically moving vehicles. I continually expected to see them mowed over. There is actually a system for crossing the street and, while it isn't easy or particularly safe, people who live here don't fear crossing a street on foot nearly as much as actually trying to drive.
Money
Using Egyptian pounds is pretty straightforward and the currency is decorative, which makes smaller notes great souvenirs.
However, keep in mind that there are 50 pound notes and 50 piaster notes, with the physically larger 50 pound note worth $9-$10 US dollars and the piaster worth 9-10 cents. As a friend discovered, tipping the bathroom attendant with a 50 pound note will get you all the toilet paper and soap you could want, but probably isn't something you want to do on a regular basis.
Tipping
On a day-to-day basis, the biggest hassle I encountered was the seemingly constant demand for baksheesh – a tipping. Tips are expected for even the smallest service (or offer of service, even if you decline). Sometimes it seemed like every person I met was looking for a tip, and sometimes quite loudly.
Lodging
Cairo
Most of the time we were in Cairo we stayed at the Nile Hilton (a much older hotel than I would have guessed), which is located near the Egyptian museum. My room was large and pleasant with a good internet connection (but for a fee) and a deck with a splendid view over the Nile. It was great and I would definitely would stay there again.
(In the years since 2007 the old Nile Hilton was reborn as the Ritz-Carlton, but without those wonderful balconies.)
Hurghada
Hurghada has lots of places to stay, most of which totally isolate the visitor from anything related to the local culture.
Our hotel was the Makadi Saraya Resort Painted in cheery Mediterranean colors and swathed in bougainvillea, it was such a lovely, dreamy spot that I really didn't want to leave it for any reason. (Although the complex is so large and so similar to the adjoining resorts that a friend a got lost and almost missed our snorkel expedition.)
My room was a suite, with a giant bedroom, living and dining rooms, laundry area, and a mini-kitchen. Two large decks overlooked the beautifully maintained grounds.
Sinai
St. Catherine's Guesthouse is located at the entrance to the monastery. The rooms were simple to the point of being spartan and you have to remember to turn the hot water on before you intend to shower, but they were clean, warm (thanks to space heaters), and comfortable. They also had the advantage of being located in one of the most starkly beautiful places imaginable.
Food and Beverages
Our tour included all meals, which is something I do NOT like because I don't need that much food, but will eat it anyway. Lunch was usually very late in the afternoon (anywhere between 2-4 p.m.) and dinner was always after 8:00 p.m. and sometimes as late as 10:00. Had dinner not been included, I usually would have skipped it or opted for something light elsewhere.
Having said that, the food itself was excellent.
Breakfast and dinner were usually taken at our hotel. The Nile Hilton and the Makadi Sayara both had exceptional buffets, with delicious Egyptian foods along with well-prepared international cuisine.
Lunches and dinners were generally accompanied by a whole array of starters, with lovely pita breads to scoop up any one of a number of flavorful sauces. I could have easily have had enough to eat just with the starters!
Alcohol
Alcohol is not available in retail shops (outside the airport), but is available by the bottle in most restaurants likely to be frequented by tourists – even in those that also have a local cliental. At least in hotel restaurants, it was possible to buy bottles to take back to our rooms, thus fueling our after dinner soirées. (We usually spent $12-18 for a bottle from a restaurant and took turns buying.) We mostly drank Egyptian wines because they were both widely available and affordable. The whites were pretty bad, so we generally drank reds – most frequently the Obelisk Cabernet Sauvignon or the Gianaclis "Omar el Khayam" Cabernet Sauvignon – neither of which are likely to win any prizes, but which were quite drinkable.
Beer was also generally available in most restaurants.
Shopping
I found shopping to be frustrating.
Like sightseeing, shops that sold anything beyond cheap tourist souvenirs either catered to wealthy connoisseurs or large tourist groups who are given an introduction to a product and then an opportunity to purchase ok quality, but generic items from that company's stock of rugs, alabaster, papyrus, or even jewelry. The merchandise wasn't bad, it just wasn't usually very interesting or unique. Serious shopping for unique local items just wasn't on the mass tourism radar.