(Last Updated On: January 11, 2023)
A Nile cruise is an easy and relaxing way to see the best of Egypt.
River cruise ships sail between Luxor and Aswan on short itineraries that include an impressive collection of tombs and temples. Combine your cruise with a few days in Cairo for the ideal first-time visit to one of the world's most fascinating countries.
I use links to improve your browsing experience. A few are affiliate links that pay me a small commission if you use them to purchase a flight or buy a book. You don't pay anything extra, but it helps keep this website running without intrusive advertisements. To learn more, review my policies and disclosures.
From Uganda's Lake Victoria, the Nile flows north for over four thousand miles before reaching the Mediterranean at Alexandria, Egypt.
A Nile cruise is a great way to see this ancient landscape. It is also an opportunity to explore many of Egypt's most significant archaeological sites as you visit Luxor and Aswan.
What to expect on a Nile cruise
What comes to mind when you think of a Nile cruise?
Is it a vision from the 19th century? A dreamy picture of an elegant wooden boat with the finest luxuries drifting through a largely untraveled landscape of ancient ruins?
Painting by David Roberts Hypaethral Temple Philae (Trajan's Kiosk) 1838 [Public domain]
In fact, those early cruises weren't nearly as dreamy as they seem.
Early travelers on the Nile transported their supplies to Egypt and found a boat. Then they waited while the boat was sunk in the Nile to kill vermin, raised, dried, cleaned, and furnished. All before they could even begin their journey! But once the art, rugs, piano, liquor, and other necessities were in place, those early dahabiyas did indeed offer comfortable travel – at least by early 19th century standards.
Package tours were born when Thomas Cook introduced the first steamship cruise in 1869.
Today's river cruises may lack some of the luxuries of the past. In exchange, they offer modern convinces like indoor plumbing, air conditioning, and wifi!
They've also changed the very definition of a Nile cruise.
Wealthy adventurers once spent months on their cruise. Even Cook's steamship tours were multi-week adventures.
These days a "Nile cruise" is usually a three- or four-night trip between Luxor and Aswan (in the south of Egypt) on a ship that carries 50 to 300 passengers.
Ships travel during the day and cruises make only a couple of stops once under way.
The experience is similar to a European river cruise, with a few key differences. Most notably, it's possible to book a cruise that does not include guided group tours. That makes a cruise on the River Nile a great option even for independent travelers and those of us who prefer private guides over group tours.
General itinerary
The recent increase in tourism to Egypt is bringing expanded itineraries and a bit more luxury to Nile cruising. However, the vast majority of the fleet is old and offers a pretty standardized experience.
Most cruises between Luxor and Aswan are one-way, beginning in one city and ending in the other. Cruises from Aswan include three nights on board in or near Aswan, Edfu, and Luxor. Cruises from Luxor offer usually four nights, with one in Luxor and Edfu and two in Aswan.
Cruising between Luxor and Aswan
On any of the large Nile cruise ships, most sightseeing occurs while in Luxor and Aswan. That's a good thing, as there is a lot to see in both cities. Fortunately, packaged cruise tours will include the highlights in both. To see more, independent or privately guided travelers can extend their stay in either or both cities before and/or after their cruise.
But time spent in Luxor and Aswan means only a small amount of time is actually spent cruising on the Nile. And the cruise only travels a very short stretch of the river. (You could drive it in a few hours.)
So why take a Nile cruise when you could do the same itinerary from land?
The answer is simple: A cruise offers rural scenery and a glimpse life along the Nile that is difficult to experience any other way. Besides, while you are on the river, you will see a couple of archaeological sites you probably would not get to otherwise.
Of course, it's also a relaxing way to visit a country that can feel chaotic and overwhelming at times.
And there's something to be said for traveling on a legendary waterway!

On the Nile
A Nile cruise is, first and foremost, about being on the Nile.
Unlike other cruises that travel at night so you wake up in a new place each day, cruising on the Nile is about watching the landscape and life along the river as you glide by.
Yes, you will visit a couple of archaeological sites. But you could as easily (and maybe more enjoyably) visit them as a day trip from Aswan or Luxor on a schedule and pace of your own choosing. So, just relax and enjoy the scenery.
Temple of Kom Ombo
The Greco-Roman Temple of Kom Ombo is on every Nile river cruise itinerary. This unusual temple is actually two in one, with half dedicated to the crocodile god Sobek and the other to the falcon-headed god Horus.
All Nile cruises stop here. Many, including the one I was on, arrive late in the day to allow visitors to see the temple when it is lit in the evening.
Kom Ombo stands right above the dock, so it's easy to visit on your own, but packaged tours will include the entry fee and a guide.
Temple of Horus in Edfu
Cruise ships generally overnight near Edfu to allow an early morning assault on the Temple of Horus.
Or, at least, that's how it feels.
Without a doubt, Edfu's Temple of Horus is stunning. It's a later temple, but a large, elaborate one. And, thanks to centuries beneath the sand, it is among the best-preserved temples in Egypt.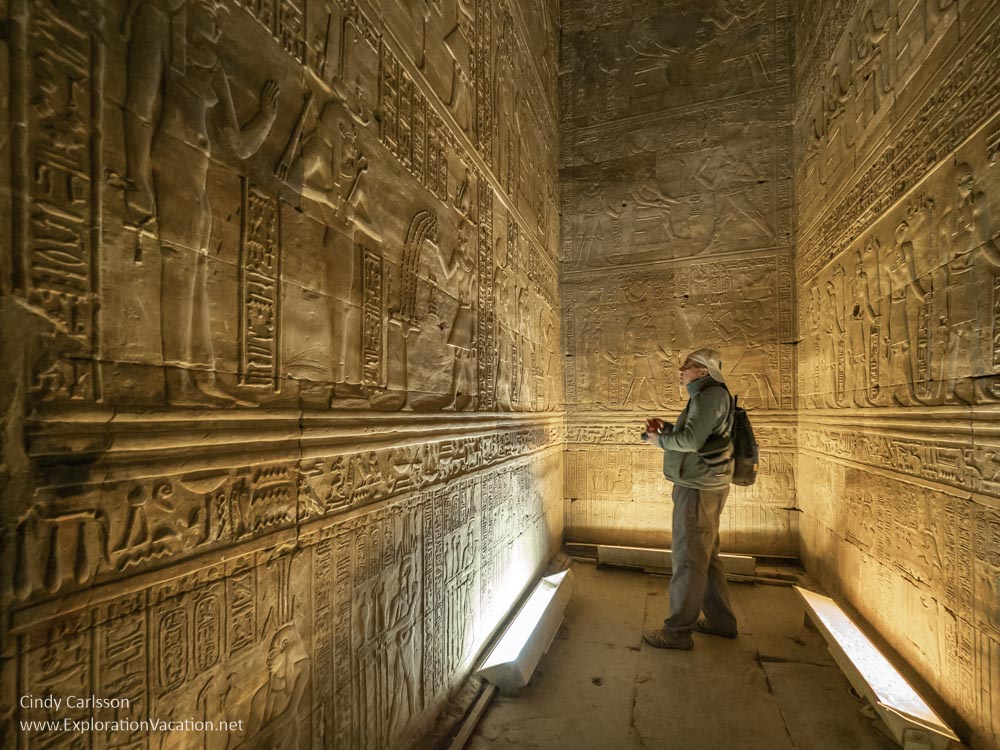 Unfortunately, cruise passengers must travel to the temple in horse drawn carriages.
That sounds romantic, but there's nothing charming about old, malnourished, and badly abused horses being whipped to keep them running between the dock and temple until they collapse. It's a gruesome scene.
Of course, a few horses are healthy and well cared for. Just not very many.
Some tour companies advise their clients to skip the Temple of Horus for this reason. That's understandable. However, the temple is very much worth visiting.
What's needed is a change in how you get to the temple. I wish those tourist companies that advise their clients to skip this stop would instead push the Egyptian government to buy shuttle buses and train the carriage drivers to maintain and operate them. The sooner that happens, the better for everyone.
Esna lock
While going through the lock in Esna doesn't compare with the hours-long trip through the Panama Canal, it's still an interesting process.
However, the best entertainment is found alongside the ship before it enters the lock.
As soon as a ship slows, it is surrounded by a fleet of tiny boats with men trying to sell cheap souvenirs to cruise passengers on the decks far above them.
They are incredibly persistent.
Esna is also home to a partially excavated Ptolemaic/Roman era temple and a large tourist market. A few ships stop to allow passengers to visit these, although most do not.

Before or after your cruise: Luxor
Cruise or no cruise, if you visit only one place in Egypt, it should be Luxor. As the site of the ancient pharaonic capital of Thebes, Luxor has the largest and most important concentration of archaeological sites in Egypt.
Luxor's treasures are split between two locations:
The modern city of Luxor with its temples, museums, markets, and shops.
The tombs and mortuary temples across the river on the Nile's West Bank.
Fortunately, all Nile cruises stop in Luxor for at least a night or two. And all packaged tours include a selection of Luxor's highlights: Karnak Temple, a few tombs in the Valley of the Kings, and the Mortuary Temple of Hatshepsut. There's lots more to see, but the other sites included in a tour package varies with each tour company.
Luxor is rich in archaeological sites, but it is also a generally pleasant city for wandering. Allow extra time to do more than just hit the highlights.
Luxor city highlights
While there are several ancient sites within the modern city of Luxor, the most significant are the Temple of Karnak and Luxor Temple. A few thousand years ago a two-mile Sphinx-lined route linked them. While several thousand years of development filled in much of that route, energetic visitors can still walk between the two. And today the wonderful Luxor Museum is located about midway between. All three should be on every itinerary, but doing them all in a day is a lot to take in.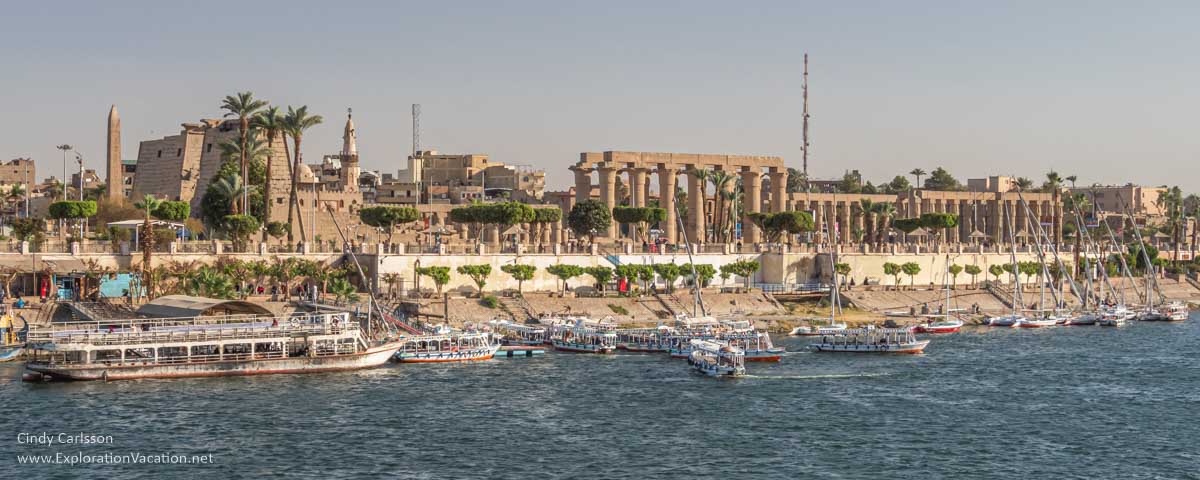 If you need a break from ancient archaeology, you can explore the city's shops and markets. The souk I toured by carriage in 2007 is still there and provides an authentic immersion into Egyptian culture. If you aren't quite ready to dive in, the tourist version of the market is located around and behind Luxor Temple. It connects to the main market, so you can easily wade as deep into the local culture as you like.
Luxor's West Bank highlights
Across the Nile from the city of Luxor, lush green farmland gives way to an increasingly rugged landscape. Another significant temple is located here, but the West Bank is most famous for its tombs. Not only pharaohs, but their queens and nobles, the officials who ran ancient Egypt, and even the workers who built the tombs were buried in the desolate hills beyond the Nile's floodplain.
While the only way to really appreciate the tombs is to go down into them, balloon tours over the area offer another perspective.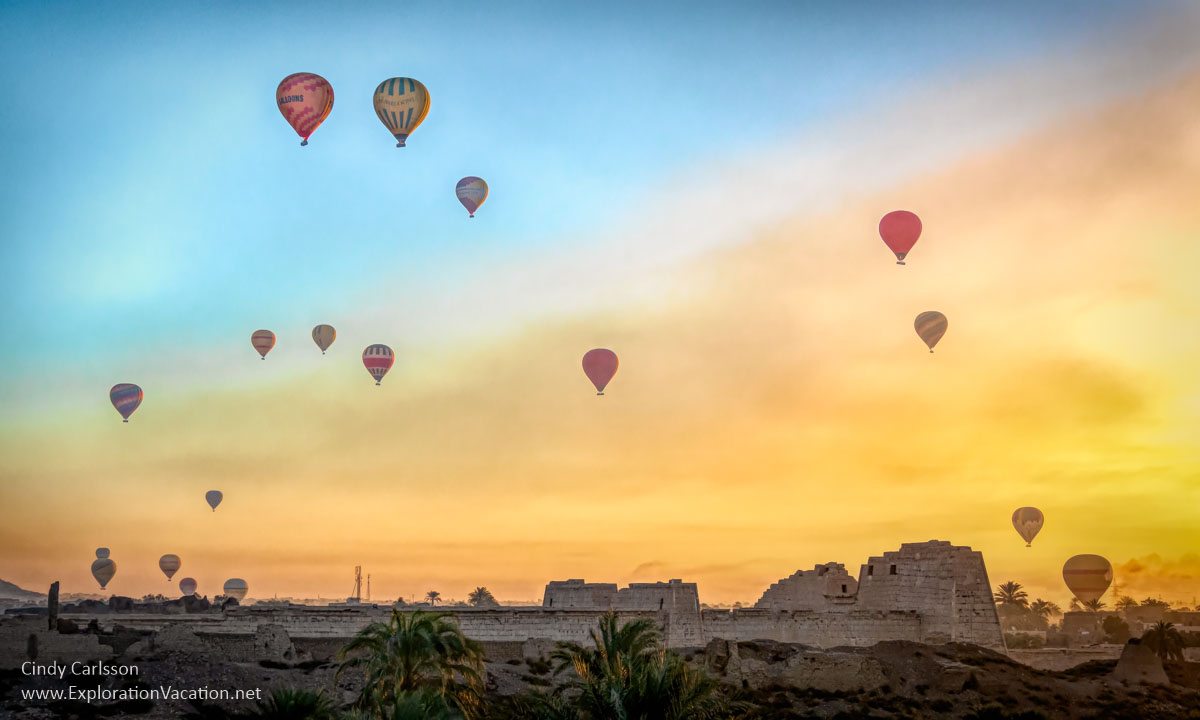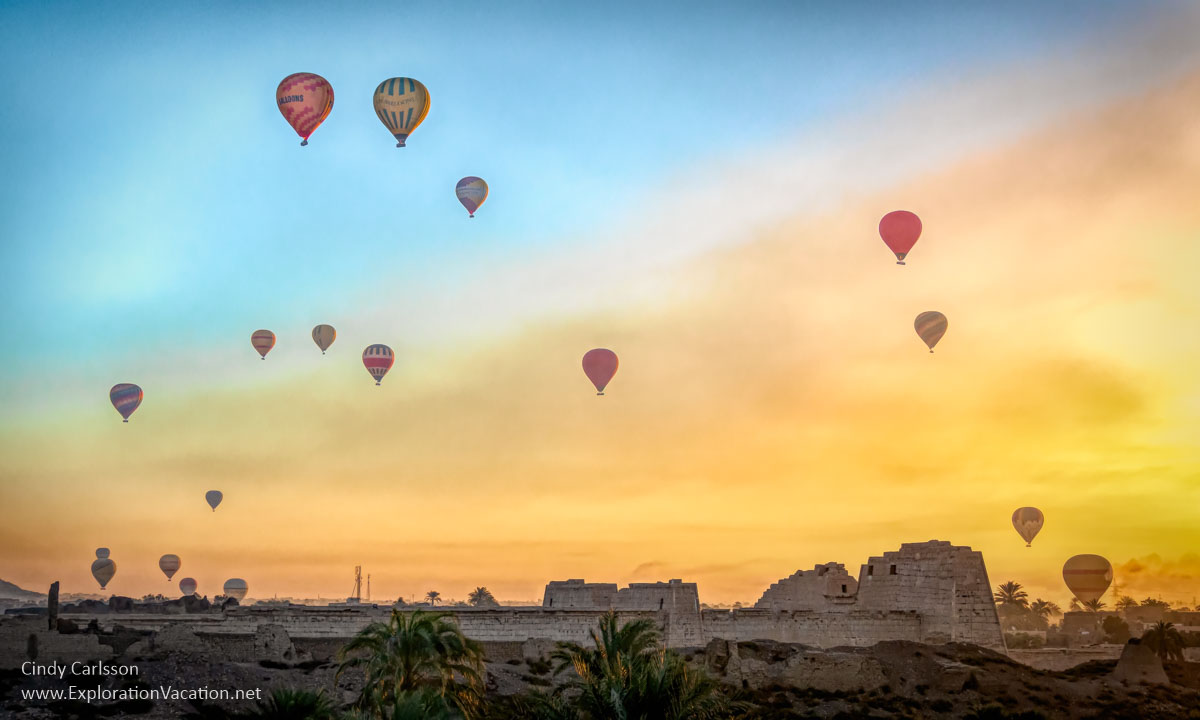 The entire Necropolis of Thebes, including the Valley of the Kings, Valley of the Queens, and Deir al-Bahri are part of a UNESCO World Heritage site.
All tour packages will include a selection of tombs in the Valley of the Kings, Hatshepsut's mortuary temple, and the Colossi of Memnon. But travelers with more time have many additional options.
Morning balloon tours are generally not included in tour packages, but can be arranged by your tour company.
Despite what you may be told, photography is allowed in most tombs. However, a separate permit is required and many group tours will not arrange for this or make accommodations for individuals to purchase their own permit.
Side trip to Quena
Some cruises now include a stop in Quena to visit the Temple of Hathor in Dendera.
Although older structures exist on the site, this is largely a Greco-Roman temple. It is one of the best-preserved in Egypt. However, this area only recently re-opened to tourism, so it's not on many itineraries yet.
Located about 1½ hours north of Luxor, it's also possible to visit Dendera as short road trip.

Before or after your cruise: Aswan
Aswan is in Nubia, the remains of what was once the ancient African empire of Kush. The heart of Nubia is located along the Nile in modern Egypt and Sudan. While Nubians have a distinct culture and history of their own, they have long been part of Egyptian history as well, even ruling as pharaohs. But for modern Egyptian travelers, this is where Africa begins.
While Aswan is a delightful place to explore, it's also worth traveling deeper into Nubia to see the temples of Abu Simbel.
Aswan highlights
In Aswan modern travelers find scenes that look like Egypt as you imagine it existed only in the distant past: The Nile flows past palm trees, mosques, and ancient temples backed by towering hills of glowing sand. It's like a postcard from a well-traveled great-grandparent come to life.
Nile cruises spend a night (or two) in Aswan. Tours take visitors to Philae Temple, the Northern Quarries, and the High Dam. Tours also usually include a short felucca cruise of some sort. Most also offer an add-on excursion to the temple at Abu Simbel.
A side trip to Abu Simbel
Most tours will offer an optional excursion to Abu Simbel, traveling either by air or highway. Abu Simbel is definitely worth visiting, but a day trip isn't a particularly pleasant way to do it. That's especially true if you are traveling overland rather than flying.
The Abu Simbel area is quiet, but interesting, with a strong Nubian presence even after Lake Nasser flooded most Nubian homes and villages. It's worth spending a night in a small lodge or Nubian guest house. From there, take a cruise on Lake Nasser and then visit Abu Simbel for the evening sound and light show. Return in the morning to tour the temple before the crowds arrive.
Tips for planning your cruise
Planning a Nile river cruise is as simple or complicated as you make it.
Complete package tours that include flights to Egypt, transfers, the cruise, tours, and even tours in Cairo are offered by many cruise lines, travel companies, and travel agents. They are only a phone call or click away.
For a more customized experience, there are plenty of tour companies and agents that will arrange your cruise, tours, and more to perfectly meet your needs.
And, of course, you can always do your own research and book everything yourself. Both the nature of a Nile cruise and the ubiquity of the internet make that a very realistic, if time-consuming, option.
But, even if you simply plan to book a package online with a cruise or tour company you've used before, there are a few things to consider.

When is the best time to take a Nile cruise?
October and April are generally cited as the best months to visit Egypt. They boast comfortable daytime temperatures with cool evenings, although April can have a few days of wind and dust storms.
In general, travel anytime between October and mid-May offers comfortable to cool daytime temperatures, especially in the south. However, evenings can be cool to cold during winter and late winter and spring can be windy.
This is also the peak season for travel in Egypt. Perhaps surprisingly, the Christmas and Easter holidays are particularly popular with visitors. Expect the biggest crowds and highest prices around those times.
A boat for every type of traveler
I've focused on cruising on a standard Nile river cruiser because that is by far the most popular way to cruise the River Nile. It's also what I did. However, there are other options. The most common alternative is a dahabiya or a felucca, but there are also a few luxury yachts that offer Nile cruises. Each offers a very different experience.
Nile river cruisers are perfect for tourists looking for an easy and relatively relaxing way to see many of Egypt's marquee attractions. It's basically a floating hotel.
Cruising on a felucca is all about the experience, not the sights.
Cruising on a dahabiya is an upscale version of cruising on a felucca. As with a felucca, the experience is really important. But there are a variety of dahabiyas, and many make sure travelers see all the sights visited by large river cruise ships.
A relative newcomer to the Nile cruise fleet, luxury yachts are what you get when a big river cruiser marries a fancy dahabiya. Most seem to be used as private charters of for small, upscale group tours.
River cruise ships, dahabiyas, and luxury yachts can be booked online, through a tour company, or through many travel agents.
Aside from one or two luxury options, feluccas are usually booked at the dock (where you can inspect them) or through a local agent.
What is it like to travel on a large Nile cruise ship?
Scores of large Nile river cruiser ships travel between Luxor and Aswan. While there are differences between them, they all have a lot in common.
What is it like to travel on a Dahabiya?
If you're vision of a Nile cruise ship is an elegant, old-fashioned wooden ship with big sails, you are probably picturing a dahabiya.
Popular in the 19th century, dahabiyas fell out of favor as steamboats made travel on the Nile faster and more reliable. But today cruising on a dahabiya is a coveted luxury experience.
Feluccas
Feluccas are the traditional work boats of the Nile.
Powered only by wind, traveling by felucca is truly a step back in time.
Choosing the right cruise
Once you know your general options, it's time to make some decisions.
Are you going to book that river cruise you saw advertised on Travel Zoo? What about the private dahabiya tour your cousin's travel agent recommended for the family? Or maybe you want to just wing it a book a felucca when you get to Egypt.
With so many options available, it's important to understand what matters to you and those traveling with you.
This chart provides a general guide to help you choose the type of cruise that best matches your needs and expectations.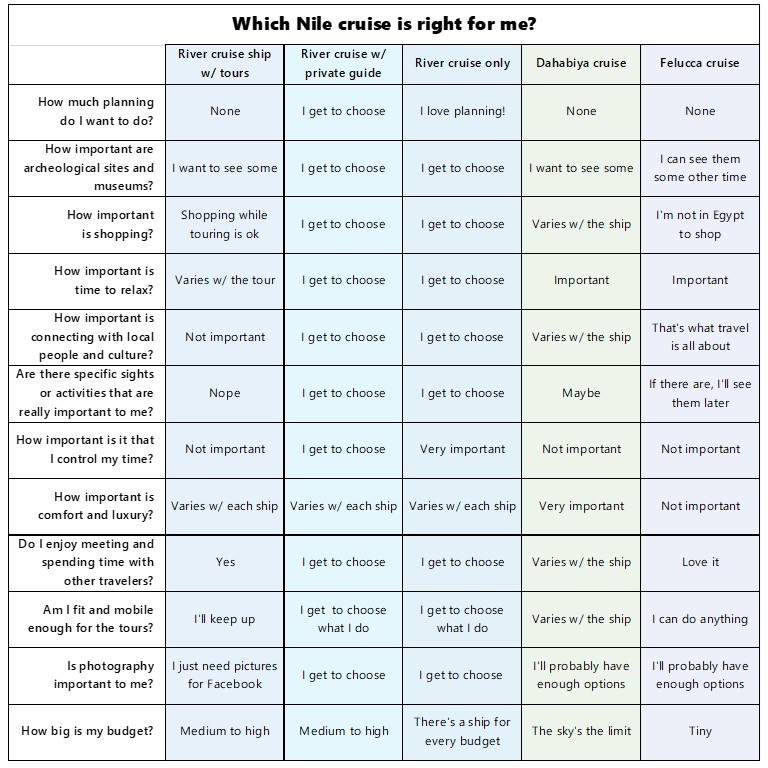 It should also help you decide whether to:
Book a cruise package that includes all tours.
Book a cruise that doesn't include tours and arrange your own guides and/or tours.
Hire a travel agent or tour company to plan your and book your cruise and tours. While a range of options are available, this makes the most sense if you want your own guide.
This doesn't address the amount of travel time you have available. That's important when you select a specific itinerary. But it isn't included here because it doesn't limit how you travel or what you see and do while traveling, only how much you can do in the time you have.
Up river, down river, or round trip?
It seems pretty straightforward. Most cruises are travel either up or down the Nile with passengers staying on board for three or four nights. But it's a little more complicated than that.
Choosing the right ship
Once you've decided on the cruise length and direction of travel, the next step is finding a ship.
In the past couple of years tourism to Egypt has been rebounding quickly. That means new, state-of-the-art ships are being added to the cruise fleet.
But most ships are older; some are very old. Unless they've been given a good overhaul, older ships can be pretty basic and worn. And, of course, ships that haven't been well-maintained and updated over the years can have much more serious problems.
However, older doesn't necessarily mean bad – our ship was older, but with large cabins, wifi, updated furnishings, and floor-to-ceiling windows that opened.
Cruising on the MS Concerto
The MS Concerto was our home for three nights on the Nile. We traveled on the ship, slept there, and took our meals on board. However, we had our own guide for sight-seeing.
Our tour company booked our Aswan to Luxor cruise and arranged for our guide. The MS Concerto was our agent's second-choice ship for us, but his first choice filled between the time we started planning and the time we actually booked. That was ok, as we were happy with the Concerto.
Booking your trip
While there are only a few variations in most Nile cruise itineraries, there is a bewildering array of ships available, some of which include tours and some of which do not. The easiest way to sort through it is to use a travel company you trust or a knowledgeable agent who can sort it out for you.
That doesn't mean you can't book everything yourself. Just be prepared to spend a fair amount of time sorting through options and making the actual booking.
Getting to and from your river cruise
By land, Luxor is 400 miles from Cairo, so you have to plan ahead to get there or, further still, to Aswan. I've taken the night train and I've flown. The night train turned out to be the key to an incredible trip, but that doesn't mean I'd recommend it.
Photographing Egyptian sights
Many people take a Nile cruise mostly to see elaborate temples and the tombs hidden in the hills near Luxor. While you are free to photograph ancient sites from the outside, there are a few things would-be photographers need to keep in mind.
The good news is that most spots that once prohibited photography now allow it. Although they usually charge photographers additional fees.