(Last Updated On: December 14, 2021)
We are in LA now, after about 24 hours in transit from Cambodia yesterday. Whew! But what an awesome trip.
Thailand
November 5
We Are Off!
A good start to the trip thus far, with a First Class upgrade from Minneapolis to LAX. Oh how I am going to miss that Elite status next year!
The week has been so hectic that I've barely had time to think about the trip – a little research a couple of nights, but that is about it. I feel rather disorganized and fragmented, but that's ok. I don't HAVE to organize anything myself for this except travel to the flower show and shopping. Lane can figure out the dinners. Heck, he can figure out how to get to the flower show too. That just leaves just shopping to think about ?
That's the nice thing about guided tours, you don't have to do a lot of organizing in order to have a good trip.
November 7
November 8
Around the Neighborhood in Chiang Mai
This ancient city boasts many of Bangkok's amenities, including excellent food and accommodations but without the frenetic pace of modern city life. From its origins as a small northern town, it has become a city representative of modern Thai culture with a beautiful personality of its own represented, in part, by the many temples found here.
Lane and I started the day with an early morning walk in the area around the hotel. I really want to head across the moat to the old town with its traditional teak homes mixed in with small shops and glittering temples. Of course, I didn't get up early enough to allow enough time to do that. Instead we walk up the street on one side, cross over the moat, and then walk back along the other side.
The Jade Factory in Chiang Mai
There is a big tourist shopping area just below Doi Sethup and we are to visit the "Jade Factory" located there. It looks like a tourist trap.
It seems like it might be better to remain here and watch the vendors fly their paper butterflies as they seek buyers for these and other trinkets.
But, of course, I don't.
November 9
An Evening Out in Chiang Mai
Out for the evening in Chiang Mai.
November 10

Heading North from Chiang Mai
After breakfast, depart Chiang Mai and drive through mountains, valleys and the lush landscape of northern Thailand to Mae Chan, with its Yao and Akha hill tribes. Continue to Mae Sai, the northernmost point of Thailand, separated from the Burmese border town of Thakhilek by a small river also called Mae Sai. Take a stroll through the local market where you'll find jade and other Burmese jewelry and handicrafts, then continue to Chiang Saen, a small town on the bank of the Mekong River, on the border with Laos.
We appear to have a very busy day ahead.
November 11
Snake Handling in Thailand
I have dawdled too long taking pictures of the returning elephants. Now Chris is trying to gather us up to continue the day's activities, but we still haven't done our snake picture!I plead with David to join us as our photographer. He thinks we are crazy (he is probably actually horrified at the mere thought of wearing a large snake), but he is also a good sport and agrees to document the event for us.
It takes awhile for them to arrange the snake.
The large Burmese python is soft and warm in the sun (it feels like a good leather handbag), but it is surprisingly heavy (about 130 pounds) and has its own ideas of where it wants to be (probably anywhere else besides draped around tourists).
When the snake starts squeezing us together, I'm told to just give him a little twist in the opposite direction. It works like magic, as the snake immediately relaxes. He is actually a pretty cooperative creature and soon we have our pictures.
The Karen
Back at the resort we have some free time in which to relax before taking the bus up to the Karen village.
We increase that time by skipping the village visit.
Evening in Northern Thailand
Instead of visiting the Karen, we hang out at the resort for a couple hours, napping, editing photos, working on this journal, and walking through the gardens.
The Teak Garden Spa Resort is a beautiful place, so I wish I had the more time and energy to make use of the pool and the lovely grounds,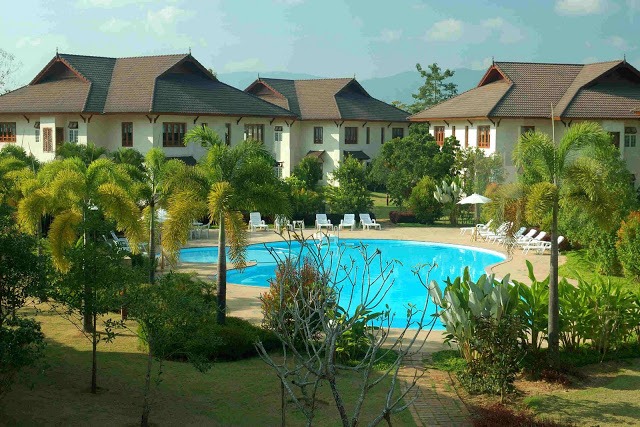 but the sun begins to set far too soon.
November 12
Early morning at the Teak Garden Inn
We are up early for breakfast, so I wander around the Teak Garden's grounds as the day quietly begins.
The Wrong Attitude Can Cost You
There are a number of checkpoints along the roads in Northern Thailand, many of which seem rather informal.

Since they are searching for illegal cargo and immigrants, we generally move through quickly, often with little more than a wave of the hand. Today, however, we come to one where we seem to sit and wait a very long time amid the local trucks.
Eventually our driver emerges from the makeshift station, clearly angry. Chris makes him tell us what happened:
Since there was such a big back-up, he tried to move ahead of the others, which is usually allowed. (The tourism is a really important part of the Thai economy, especially now, in the days immediately after the ouster of a democratically elected leader.) However, he was told to go to the back of the line and wait. Apparently he made a couple of attempts to hurry the process along, impatient with the officials who were slowly sorting through loads of livestock and building materials. In the end, he was not only made to wait, but given a lecture on his "wrong attitude" and a very large fine.
Now, able to get back on the road again, he is able to laugh as he tells us the story, finding at least a little humor in getting a fine not for a safety or legal violation, but for having the wrong attitude.
And then we are back on the road again, Chris' "Land of Smiles" CD playing in the background, perhaps in tribute to our driver's determination.
Coffee Break in Phayao
As we drive through, it appears that Phayao is a lovely and substantial town with a number of lovingly maintained traditional teak homes surrounded by neat gardens. While the day is dark and gray, the town feels restful, rather than gloomy.
As usual, I find it frustrating to drive through such an interesting place without being able to stop, so when we park near a coffee shop (perhaps the Charin Garden) for a rest stop, I am eager to get out and explore. We'll check out the neighborhood a bit and, by the time we have done so, the line inside the coffee shop will have subsided. The best of all worlds!
To one side of the bus the huge lake lies mirror flat under the gray sky.
Evening in Lampang
November 13
November 14
Cambodia
November 18
Entering Cambodia
After saying most of our good-byes last night, those of us headed for Cambodia and Phuket gather in a scraggly little group at 5:30 this morning. The streets of Bangkok are still pretty quiet and Suvarnabhumi Airport gleams in the early morning light. (It is an attractive facility, even if inordinately large and cavernous inside.) It's a quiet transition.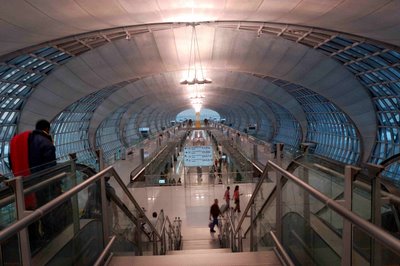 November 19
November 20
On the Road to Banteay Srei
We again agree to an early start, but then lollygag in the restaurant until a little after 7. It's nice to have a small enough group that we can do that.
Choeun is eager to get us through as many temples as he can today – our last day – so we start off for the most distant of those on today's itinerary, Bantealy Srei.
Our driver plunges into the morning rush hour – a few cars and trucks mixed in with lots and lots of scooters.
It is rather chaotic.
We pull over briefly at the side of the street outside a shop where our driver buys water for the day. While he is buying the water, the police pull up. After paying a small fine for the parking ticket, we are on our way.
The traffic thins out as we leave town.
Along with modes of transportation not usually seen in Minnesota, there are road signs that bring to mind a reality that is hard for me to imagine – grim reminders of how this peaceful-looking country has suffered and continues to suffer.
Choeun tells us that Banteay Srei is only about forty kilometers from Siem Reap, but that it will take an hour to get there. As soon as we turn off the main road the reason for the longer travel time becomes immediately obvious – the paved road is a mess, with an uneven (or absent) surface. Evidently this road was paved just a few years ago, but a large number of trucks use it for hauling sand. Choeun gives the trucks credit for tearing the road apart. The fact that the road itself seems to consist of nothing but a thin layer of bituminous over sandy clay is likely to have contributed to the road's fast deterioration.
When we aren't being too thoroughly shaken up to enjoy it, the scenery is very interesting.
At first we travel through open fields dotted with a lot of small, poor-looking homes and a few lovely, large homes.
Then we enter a wooded area where homes tend to cluster together near the edge of the road.
These villages seem to be little more than a few homes grouped together near a stand selling baskets or other handicrafts. I seldom see any sign of a school, temple, or store. Not that there isn't retail activity occurring. We regularly pass stands with glass bottles – the local gas stations, selling bottles of petrol for the ubiquitous scooters.
We don't stop at any of the villages now, because Choeun is eager for us to get to the temple before most of the other tourists arrive.
Soon we are there.
[/showhide]
Village Visit
Now Choeun says we have time to visit a village.
We stop at a spot with a mixed collection of houses and a large stand displaying merchandise for sale. This village looks much like others we have passed, with a mix of housing that ranges from dilapidated shacks to beautiful, lovingly maintained homes. Like most houses here, these are generally traditional wood structures built on stilts. They are open and airy and the TV set is often clearly visible inside.
Being able to walk around lets us examine the village more closely, providing an opportunity to view some of the details of village life, such as the well,
a laundry "room,"
a sunny kitchen,
and well-maintained fish traps.
As Choeun leads us around, explaining these things to us, children break away from their chores – and even from their play – to check us out.
Choeun tells us this village is different from others, in part because they are trying to develop a business making palm sugar. The sugar is fine, but not as nice as the amazing palm sugar we had in Thailand. As I watch them make it, it is easy to see why there is a such a difference – the high level of precision that went into the production of sugar in Thailand is largely absent here. Still, they have developed a unique product to add to the other local crafts and tours of their village to bring in additional income. I hope they do well in their endeavor and that, over time, they will develop the expertise to make palm sugar as fine as their Thai counterparts.
I do my part before we leave by buying a lovely woven purse and some wooden mobiles.
[/showhide]
Winding Down
Lane and I would like to do some shopping. (I found the shopping in Thailand disappointing and am still hoping to finish off my Christmas list.) Choeun offers to take us to a crafts center and the others are willing to go along. . . But first, of course, we must first tour the workshops.I'm prepared to be bored, but the tour is interesting. Artisans of Angkor is a program established to keep traditional Cambodian crafts alive while providing work to the disadvantaged.
It seems like a well-run program and produces lovely items. On the tour we see people doing silk painting, lacquer work, and carving in wood and sandstone. All of it is interesting, but I particularly like the carved wooden statues dressed in their paper patterns as they await the final carving.
The silk workshop is in another town, but in the shop I find lovely nubby silks in rich jewel tones – none of which are for sale by the meter. Dang! The silk is so beautiful here. It is not as light and fine as the silk in Thailand, but it is far more lively and interesting.
Back at the hotel, the pool awaits.
But first, a call to the front desk – our air conditioning has gone out. Someone arrives almost immediately and checks the power (which has already gone out on several previous occasions, due, I suspect, to the ongoing construction in our wing). My guess is a blown fuse, but soon we have a worker crawling around in the ceiling.
Not thinking this was a problem that would take long to address, I hadn't first changed into my swimsuit. Now, I pace the floor, impatiently watching the sparkling blue water beyond my window.
I want to be out there!
I finally decide I am not going to spend my last precious afternoon pacing in my hotel room. I'm sure the hotel workers are mortified, but I grab my swim suit and a change of clothes and duck into the bathroom. When I emerge again, one workman has completely disappeared into the ceiling while the other has gone to fetch something. They don't appear to be making a lot of progress. . .
Soon I'm in the pool. The water is perfect, refreshing and wonderful.
November 21
Taking Leave
My plan for the morning is to sleep in a bit, join the others for breakfast, and then hang out in the pool.