Minnesota is the land of 10,000 lakes (actually 11,842 lakes of 10 acres or more, but you get the idea), and many of those lakes are located in Minnesota Lake Country.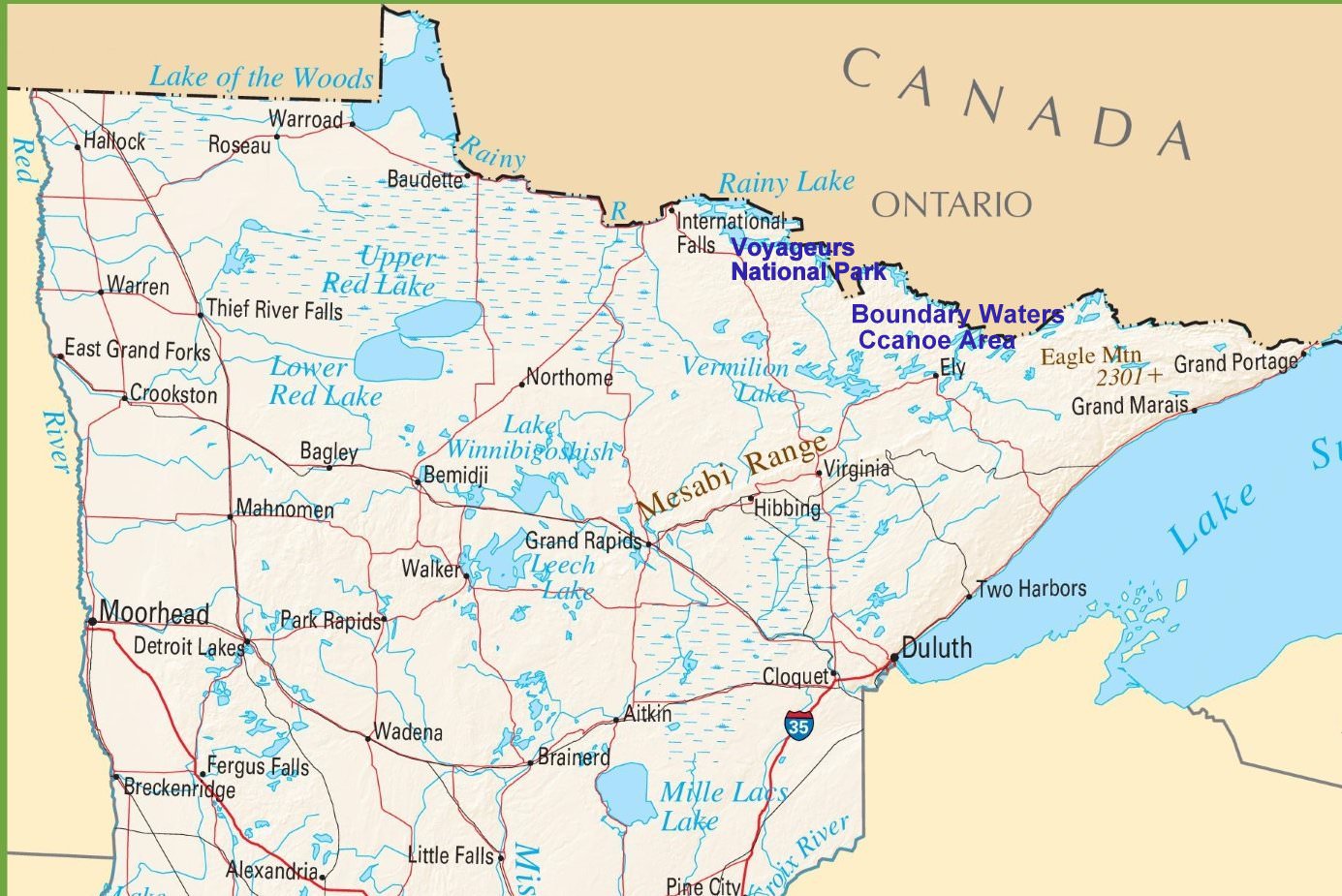 Lake Country covers the north central part of the state, from Mille Lacs at the south end up to Canada. (It continues into Canada, but that's a longer trip.)
Along with the opportunity to engage in any number of water sports, Minnesota Lake Country offers a wealth of outdoor activities, including hiking, biking, bird watching, skiing, and snowmobiling.
It isn't all about the water in Minnesota lake country. Some of the states' most famous roadside kitsch attractions (Paul and Babe, Big Vic, and more than one giant walleye) are here too.
Of course, there are also a historical sites, arts, and unique shops.
Travel off the beaten path
Scenic byways for road trippers
What better way to discover the area's hidden lakes and small towns than on a road trip. Scenic byways show off some of the area's most beautiful sites. They are a pleasure to drive at any time, but most are absolutely spectacular in fall.
State trails to bike, hike, ski, or snowmobile
More athletic types can make use of the region's recreational trails:
Northern forests
Minnesota's northern forests offer space to really get away from it all. And now updated state maps and the Avenza App make it easier than ever to explore. (Note that I haven't tried using Avenza yet.)
Get lost in Minnesota's northern lake country
Starting at the Canadian border, the following outlines great lake and wilderness destinations in Minnesota's northern lake country.
Lake of the Woods
Most of the northern-most notch at the top of Minnesota is a giant lake that spills out of the state into the Canadian provinces of Manitoba and Ontario. With more than 14,552 islands and 65,000 miles of shoreline, it is a dreamy "landscape" of trees and water. Famous for its walleye fishing and houseboat trips, this is also the location of what may be Minnesota's most remote state parks at Zippel Bay and Garden Island. I really want to spend a week on a houseboat here someday.
Rainy Lake and Voyageurs National Park
I'm guessing that Rainy Lake is the watery paradise I vaguely remember from a childhood trip through International Falls from Canada. This is another fishing paradise, but as part of Voyageurs National Park, it has a few more recreational options for those of us who like eating fish more than catching them!
International Falls, Minnesota, and Fort Francis, Canada, are located just to the west of the lake along the Rainy River.
I visited here in early June as part of the TBEX North America Conference in Minnesota. Despite a week of rain, I had a great time.
Around Rainy Lake and Voyageurs National Park:
There is plenty to do year-round in International Falls, but there is plenty to do throughout the year.
Boundary Waters Canoe Area (BWCA)
For many Minnesotans the Boundary Waters Canoe Area Wilderness  is a sacred place. Political wars were fought over the area during the 1970s when it was designated as a wilderness area where motorized vehicles (including boats) would no longer be allowed. Those battles left deep wounds, some of which still haven't healed completely, but they also resulted in the protection of a stunning landscape that can only be experienced at a human pace. This really is a unique place.
Sadly, I'm not much of an outdoors woman or big on canoeing, so I've never seen more than the beautiful but motorized edges of the BWCA.  Every year I think it's time to go, and then I think about portages and black flies and the possibility of rain and decide maybe I should see if my friend on Lake Vermilion will let me stay at her cabin instead.
The funky town of Ely serves as a gateway to the western section of the Boundary Waters and makes a good destination for those interested in a few more creature comforts while exploring the surrounding wilderness.
The eastern end of the Boundary Waters is reached from the North Shore of Lake Superior via the Gunflint Trail.
Lake Vermilion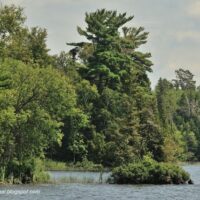 Lake Vermilion bumps up against the southern edge of the Boundary Waters, meaning motors are allowed on this vast lake, but its relative remoteness ensures it is much less developed than many other Minnesota lake destinations. The expanded Lake Vermilion-Soudan Underground Mine State Park preserves a small section of lake shore (and a former underground iron ore mine, complete with a functioning high-tech physics lab). With its convoluted shoreline, towering pines, rocky islands, and family cabins,
Lake Vermilion is exactly what most Minnesotans imagine when we hear the woods "up north."
The town of Ely (mentioned above) is also near Lake Vermilion.
Itasca County and around
Unlike some of Minnesota's more southerly lake areas, the lakes of Itasca County generally have little large-scale development – in this part of the state it is still possible to find stunningly gorgeous lakes with little or no shoreline development. Most of the area's commercial development is located in Grand Rapids. The Mesabi Iron Range begins just beyond Grand Rapids — more on that area below.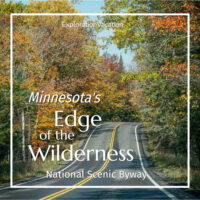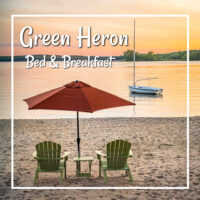 Lake Itasca, Bemidji, and beyond
The great Mississippi River begins as trickle at a modest lake in northern Minnesota. The headwaters area on Lake Itasca is preserved within beautiful Itasca State Park. This is a lovely part of the state and one that is easy to bike thanks to the Paul Bunyan and Heartland trails.
The city of Bemidji sits along the shore of Lake Bemidji, making it a nice spot for a more urban lake vacation. With a college in the city, Bemidji is a little larger and a little livelier than many northern Minnesota towns.
Leech Lake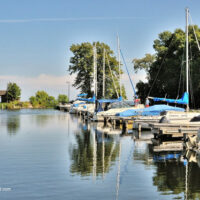 Despite its rather unappealing name (who but a devoted fisherman wants anything to do with leeches!), Leech Lake is a great vacation spot at any time of year. This is the third largest lake in Minnesota, but its smaller bays provide a more intimate lake experience if you aren't looking for a big water experience.
The lake itself is largely surrounded by low-density housing and smaller resorts. That makes it more an old-fashioned family vacation get-away than a wilderness area.
Along with the fishing and water sports, the area has good hiking and biking, golf courses, winter sports, festivals, restaurants, and unique shops.
The city of Walker is the area's commercial hub. It's a fun little town with lots of shops that cater to tourists and a few good restaurants.
The Brainerd lakes
The Brainerd lakes area includes the Gull Lake chain of lakes and the Whitefish chain in nearby Crosslake. This is an enormously popular vacation area. However, unlike the other more woodsy areas featured here, many of the lakes around Brainerd (particularly in the Gull Lake chain) are fully developed and manicured spots noted for motorized water sports, golfing, and conferences. Some of Minnesota's largest, oldest, and best-known resorts are located here. This has long been a popular family vacation area, and there are still lovely old-fashioned resorts. But as it becomes more "upscale," it is also becoming the realm of vacation mansions, conference centers, spas, and packaged vacations.
While largely too commercial for my taste, the Brainerd lakes area is ideal for visitors seeking a lake vacation that includes lots of activities and urban amenities like shopping, fine dining, golf, spas, or adventure sports.
It's still beautiful.
And the fishing is still good.
Mille Lacs Lake
Mille Lacs Lake (yes, I know that is redundant, but that's how we say it in Minnesota) is one of Minnesota's most popular destinations for fishing. Swarms of fisherman descend on the lake for the spring fishing opener and thousands of fish houses create a new city on the lake each winter.
I don't fish, but the area also has a couple of state parks perfect for hiking or skiing. Father Hennepin State Park sits along a portion of the lake, providing easy lake access and a popular swimming beach. WHile you're there, keep an eye out for the white deer that has been roaming the park the past few years.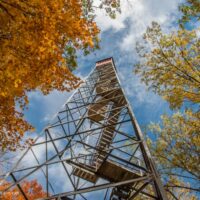 Nearby, Mille Lacs Kathio State Park features forested hills that come alive with color in the fall. This is a large park with a historic site, an observation tower, and miles of trails.
Explore the Mesabi Iron Range
Logging cleared the northern forests and made it easy for the iron miners to move in. Today some mining continues and the land bears many scars, but this area retains many beautiful areas and a rich history.