(Last Updated On: May 8, 2021)
With its location in the watery world of northern Minnesota's border lakes, visitors to Voyageurs National Park likely expect to find a wilderness of sparkling lakes and wooded islands. They won't be disappointed, as they will find these in abundance, but there is more to discover here. This area has been inhabited since ancient days and the park is home to a number of historically significant structures and sites – the most unusual of which may be the Ellsworth Rock Gardens.
Unusual even as rock gardens go, the Ellsworth Rock Gardens originally featured 62 terraced flower beds cut into a rocky outcrop. These beds were planted with thousands of lilies and a variety of other flowering plants, all of which were connected by pathways, gates, steps, and bridges that led visitors through the site. Over time about 200 simple rock sculptures and carefully arranged native boulders were added to the mix to create a rather surreal gallery.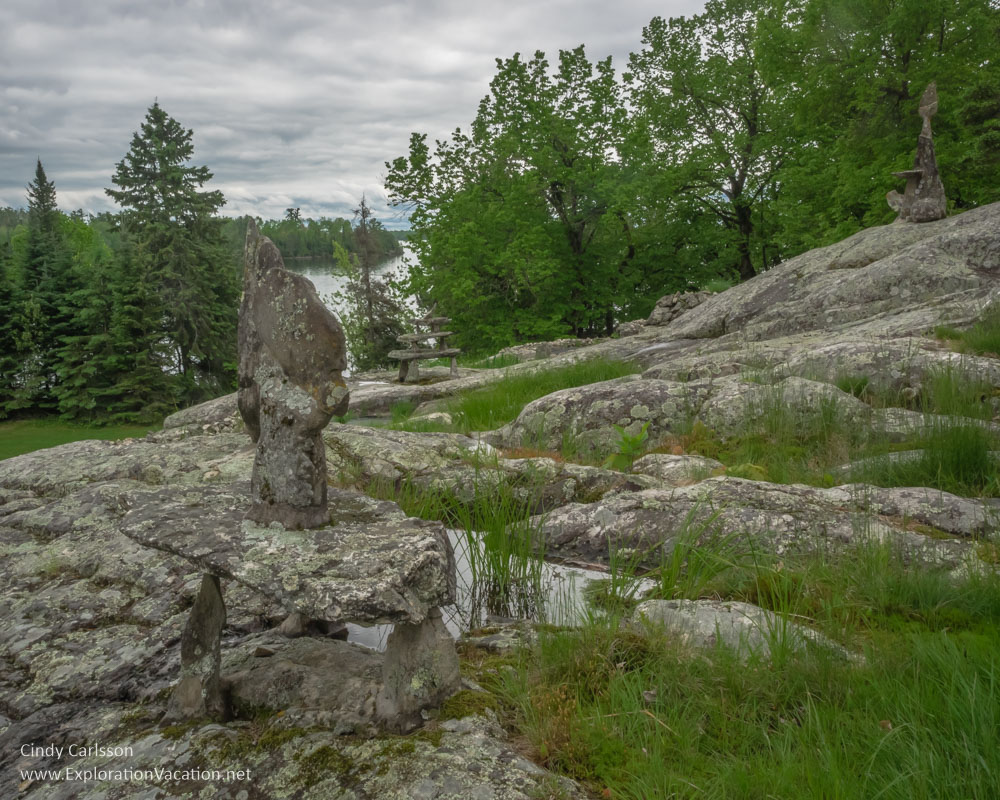 All of this was the work of one man, Jack Ellsworth, a carpenter and self-taught artist from Chicago who spent summers on the Kabetogama Peninsula from the start of the 1940s through the early 60s. The gardens were a significant tourist attraction during those years, drawing 5,200 visitors in 1962 alone. However, as Mr. Ellsworth's health began to decline, the once meticulously maintained gardens suffered from neglect before he was forced to abandon them entirely in the middle of the 1960s.
By the time the National Park Service acquired them, the gardens had largely been swallowed by the forest.  While the Park Service is generally not known for its gardens, local advocates made a strong case for preserving  and restoring this historically important site.
Today the park service and volunteers are working together to restore the gardens for future generations to enjoy.
The Ellsworth Rock Gardens in Voyageurs National Park are only accessible from the water. I visited in early June on a special tour provided by the International Falls, Rainy Lake and Ranier Convention and Visitors Bureau through the 2016 TBEX North America New Media conference and Explore Minnesota. Travel there via your own boat, as part of a ranger-led boat tour on Tuesdays during the summer (listed in the park service's printed newspaper, but not on the web), or hire a local guide.