(Last Updated On: October 13, 2022)
Northern Minnesota has a lot of great fall drives, but the Edge of the Wilderness National Scenic Byway ranks among the very best. And almost no one knows about it.
Is it the best?
Here's everything you need to know to check it out and decide for yourself.
Fall color along Minnesota Highway 38, the Edge of the Wilderness National Scenic Byway.
A little background: I've driven (or been driven) along Minnesota highway 38 all my life, in all kinds of weather. Decades before the 47-mile stretch of highway between Grand Rapids and Effie became the Edge of the Wilderness National Scenic Byway, it was simply the road to my aunt and uncle's house. A road we often followed far beyond their house looking for deer, enjoying the fall colors, and/ or enroute to one of the area's many lakes and hiking trails. And we always ended up driving farther than planned because it was just too pretty to turn back!
It's still beautiful. And I still have family there, so I still drive at least a portion of the scenic byway on Highway 38 at least once almost every year. Usually in fall, when the leaves burst into color.
(*Affiliate links – Read more here)
What you'll see along the Edge of the Wilderness highway
Much of the Edge of the Wilderness Scenic Byway runs through undeveloped areas of the Chippewa National Forest. The route is noted for its lakes, forests, fall colors, and bald eagles.
Click on the map or follow this link for an interactive map of things to see and do along the Edge of the Wilderness National Scenic Byway.
Before white loggers and settlers arrived, this was the home of the Anishinaabe (sometimes still referred to as the Ojibwe or Chippewa). The fish, game, wild rice, berries, medicines, and materials the land provided would have made a good life possible here long before white men arrived. And the landscape would have been dominated by vast forests. Forests that loggers almost completely cleared by the beginning of the 20th century.
Today the Anishinaabe have largely been pushed out of their ancestral lands. But the beauty of the land remains. There are still glistening blue lakes and second and third-growth forests have slowly replaced the towering pines that once blanked the landscape. It's a different place, but still beautiful.
Know before you start
Don't think I've led you astray when you start driving. I promise it will soon be gorgeous. After a few miles in either direction you'll be very happy to be here – especially on a sunny fall day when the trees glow red, orange, yellow, and green! But, as you'll see, neither end of the Edge of the Wilderness Scenic Byway is particularly scenic.
The following is a summary of what you can expect along the way. I'm also including a few highlights that are a bit off Highway 38, but worth the time and effort if you are in the area for a few days.
Starting in Grand Rapids (Mile 0)
The Edge of the Wilderness Scenic Byway on Minnesota Highway 38 starts at the edge of "downtown" Grand Rapids near the historic Central School and a block of historic buildings.
Grand Rapids to Pug Hole Lake (Miles 0 – 13.4)
It takes a while to leave the woodsy exurban area that extends out along the highway from Grand Rapids. But once you do, you are in for a scenic treat. And if you visit during the fall leaf season, you can see really gorgeous fall colors all along the way – even before you get out of the Rapids!
Lind Greenway Mine marker and North Country/Mesabi Trail access
As you leave Grand Rapids you'll pass through about 3.5 miles of rural residential areas until you get to Prairie Lake Road (County Road 61).
A short detour here takes you to a marker with information on the Lind Greenway Mine. It also takes you back to pretty Lower Prairie Lake and a parking area for the North Country Trail and Mesabi Trail. (The trails should be conjoined here, with a 10-foot paved trail, but I haven't been here since that happened.)
Black Spruce Tamarack Bog
Several maps of the Edge of the Wilderness Scenic Byway note a black spruce and tamarack (larch) bog around mile 8.5. There are lots of black spruce and tamarack bogs in this part of the state (although Minnesota is rapidly losing its tamaracks to larch beetles and climate change), but you can easily see this one from the road. However, there's no place to pull over and you can't get close to it.
Botany Bog SNA
The Botany Bog Scientific and Natural Area is located a few miles farther along and just off the scenic byway. It's a short detour along Freestone Road (County 244), which is unpaved. Like all SNAs, Botany Bog does not have maintained trails or other facilities. But limited public access is allowed if you are up to a very wet hike through dense vegetation. Know the rules before you visit to protect this precious natural area!
Trail to the Joyce Estate on Trout Lake
Visiting the Joyce Estate is a longer detour, as it's a 3-mile hike into the site. But (what's left of it) is pretty cool. This was the summer home of a wealthy Chicago lumber baron and his family. Begun in 1917 and pretty much completed in the 1920s, the property had a main lodge, family and guest cabins, greenhouse, par-three golf course, clay tennis courts, staff housing and work spaces, and storage areas for the family's boat, seaplane, and automobile. The estate hosted many wealthy and influential guests and remained in use into the early 1970s.
Unfortunately, you won't see much of that today.
When US Forest Service acquired the site, they decided it should become a natural area again. Thus, they left the property to rot until most of the buildings had collapsed or were about to collapse. By the time the site's historic value (and value for various uses) was recognized, there wasn't a lot left. Today only four of the original 40 buildings still stand. But it's an interesting site and the hike to it is beautiful.
The hike back to the Joyce Estate is always beautiful, but it's particularly beautiful in fall!
To get to the Joyce Estate from the scenic byway, take County Road 60 to County 335 to the Trout Lake Tract parking area. Then hike 3 miles along past Bluewater Lake and along Trout Lake into the site.
You also used to be able to get from the water, but you may not be able to come ashore there anymore. However, even if you can't get on shore there, this whole area has gorgeous, mostly interconnected lakes that are fun to explore from the water.
Pughole Lake
Pughole Lake at mile 13.4 is easy to access, with a boat landing, parking area, and small dock. (The entrance looks a little iffy from the highway, but you can get in with any sort of car.)
The lake is pretty, but the trees always have a great mix of color along the road, in the parking area, and along the lakeshore.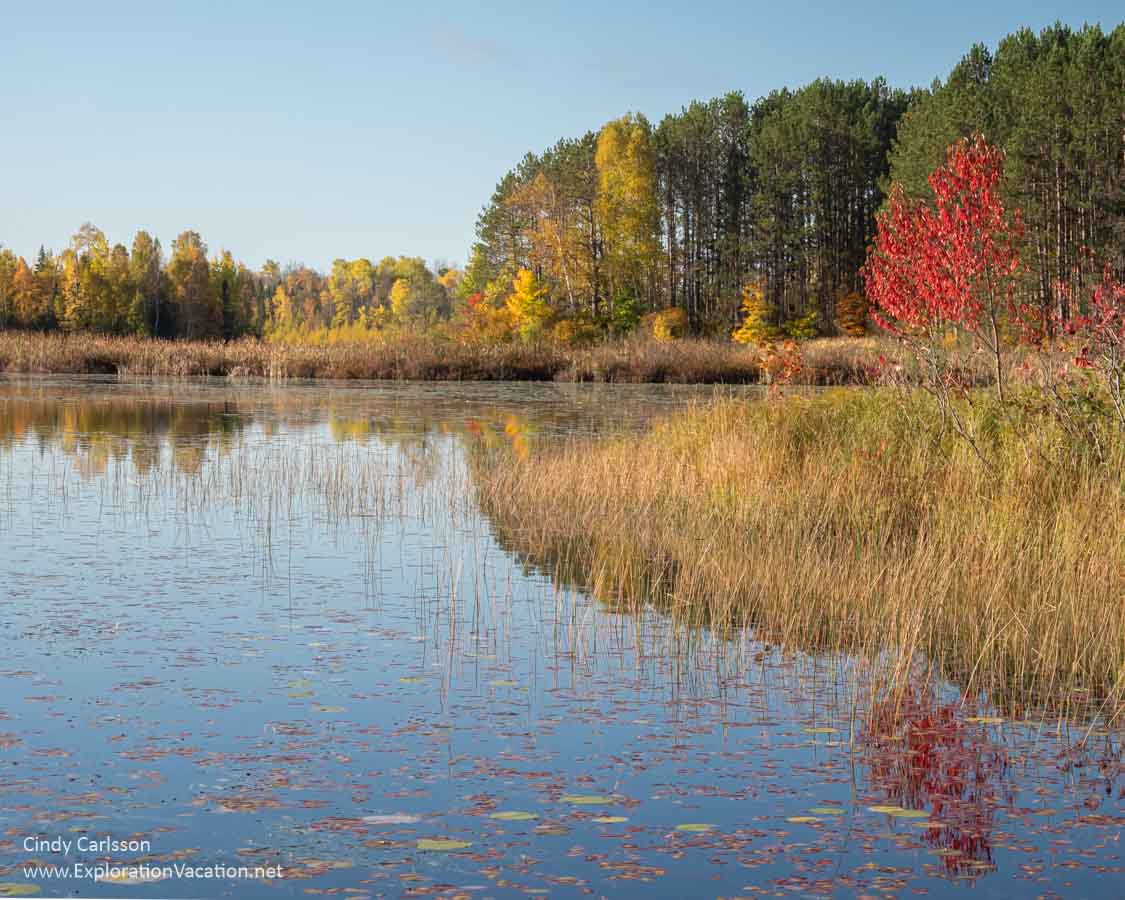 Fall colors along Pug Hole Lake.
Waterlilies along the dock at Pug Hole Lake.
The colorful waterlily pads are a bonus.
(Be careful coming out again, as people really fly through the curves on this section of the highway.)
Pughole Lake to the Laurentian Divide (Miles 13.5 to 20)
By now you should agree that this is a great fall drive. And the beauty is going to keep coming now for most of the rest of the route!
Suomi Hills and Day Lake CCC Camp
Suomi Hills is one of my favorite fall hikes. The forest here is gorgeous in fall and the rolling hills aren't too hard to hike – or at least, the few miles I've done over the years have been pretty easy. And there are lots of lakes to fish in or just admire.
Fall hikes at Suomi Hills can be very colorful!
There are two access points to Suomi Hills: The southern entrance, about 1.5 miles north of Pug Hole Lake and the northern entrance just south of Day Lake at about mile 19.
Surprise Lake Roadside Park
Not exactly sure how this pull-off qualifies as a roadside park, but it is a good parking spot (along a road with almost no place to pull over) that lets you take a peek at two lovely lakes – Surprise Lake and Kremer Lake.
You can barely see the other shore of Surprise Lake through the trees. 
Laurentian Divide to Marcell (Mile 21- 27)
You're still in a gorgeous area for this segment of the Edge of the Wilderness byway, although you'll start to see development again as you approach Marcell. But then, you'll also have options if you want to stop and eat.
Laurentian Divide Wayside and Trails
The USA has five continental divides that mark the boundaries of major watersheds. One of those, the Laurentian or Northern Divide, runs through a big chunk of northern Minnesota. On one side of this line water flows north into Canada and the Arctic, on the other it mostly flows south to the Gulf of Mexico.
Marker on the Laurentian Divide along Minnesota Highway 38
The Laurentian Divide Wayside (identified as the "Continental Divide Wayside" by Google) has a huge parking area, covered picnic tables, toilets, and a couple of very nice loop trails.
Most of the trails at the Laurentian Divide Wayside are heavily wooded and very colorful in fall.
(You climb down and then back out again, but that's the only steep section unless you climb up to the lookout point.)
If you brought a picnic or snacks, this is a good place to stop and eat.
Caribou Lake
Caribou is another pretty lake with access right on the road via a boat launch. This one also has a resort on the other side of the lake.
Fall color along Caribou Lake.
North Star Lake
North Star Lake first comes into view as you come up a slight rise and around a bend. And the view seems to capture "northern Minnesota" in an instant – especially if someone is out in a boat fishing!
Doesn't this just shout "Northern Minnesota?!"
Fortunately, there is actually some space to park here, both above the lake and at the boat ramp.
This looks like a really fun lake to canoe. And, with several resorts and a campground right on the lake, it would be an easy place to spend a few days or a week exploring.
I think I'd like to take a canoe out on this part of North Star Lake.
Marcell (Mile 27.7)
Marcell looks like a small city, but technically it's not a city at all. The "city" is the commercial hub of a rural township that covers 56 square miles, all or part of 48 lakes, and about 450 residents!
Edge of the Wilderness Discovery Center
If you started your road trip along Highway 38 in Grand Rapids, it may seem a little late in the journey for the Edge of the Wilderness Discovery Center. But it's still worth a stop because you can get information on everything in the Chippewa National Forest, not just the sights along Highway 38. You can also get advice on other scenic routes, wildlife, and activities in the area. There's also usually a good selection of maps and local information available.
Stop in at the Edge of the Wilderness Discovery Center along the way.
And the gift shop has some unique local items, sometimes even local hand-harvested wild rice.
Gut and Liver Line
Several websites reference a stop for the Gut and Liver Line just off Jack the Horse Lake Road and very near Timberwolf Inn. The "Gut and Liver Line" was the short-lived early 20th century Minneapolis & Rainy River rail line. (The story behind the nickname is a bit unclear. It relates either to the too-frequent serving of liver sausage at the lumber camps along the rail line OR the amount of animal guts the train collected while hitting wildlife enroute. Yeah, I know. Ick.) You may find bits of metal or lumber from the long-gone track and rotted trestle here and there along the old rail line, but that's about all that remains. There's not much to see.
I'm pretty sure there's a marker here with info on the railroad, but I was too intent on getting my Bacon Blue Brussel Bowl at Timberwolf to pay much attention to it. I'll take a closer look next time I'm up here.
Eating in Marcell
Marcell has one restaurant along Highway 38 in the "city" area. I haven't eaten at the Pine Cone Soup and Sandwich Café*, but it sounds good. But note that it's a breakfast and lunch spot that closes after lunch.
My favorite spot is farther north, as you leave Marcell.
Timberwolf Inn is a Northwoods lodge with a restaurant* with food that draws visitors from Grand Rapids. Everything we've tried has been very good, but I love the Bacon Blue Brussel Bowl –fried brussels sprouts with bacon and blue cheese. (They are amazing.)
Lodging in Marcell
There are no traditional hotels or motels in Marcell. However, there are a few lodges and Airbnb rentals in the area. You can't book most of the resorts on TripAdvisor* or other third-party platforms. However, TripAdvisor lists and has reviews for most, so it's a good place to start.
Bigfork (Mile 40)
Despite a population about the same as Marcell, Bigfork is actually a city. And logging is still important here, as it has been since the first white man claimed a bit of the forest for logging and built a cabin here around 1887.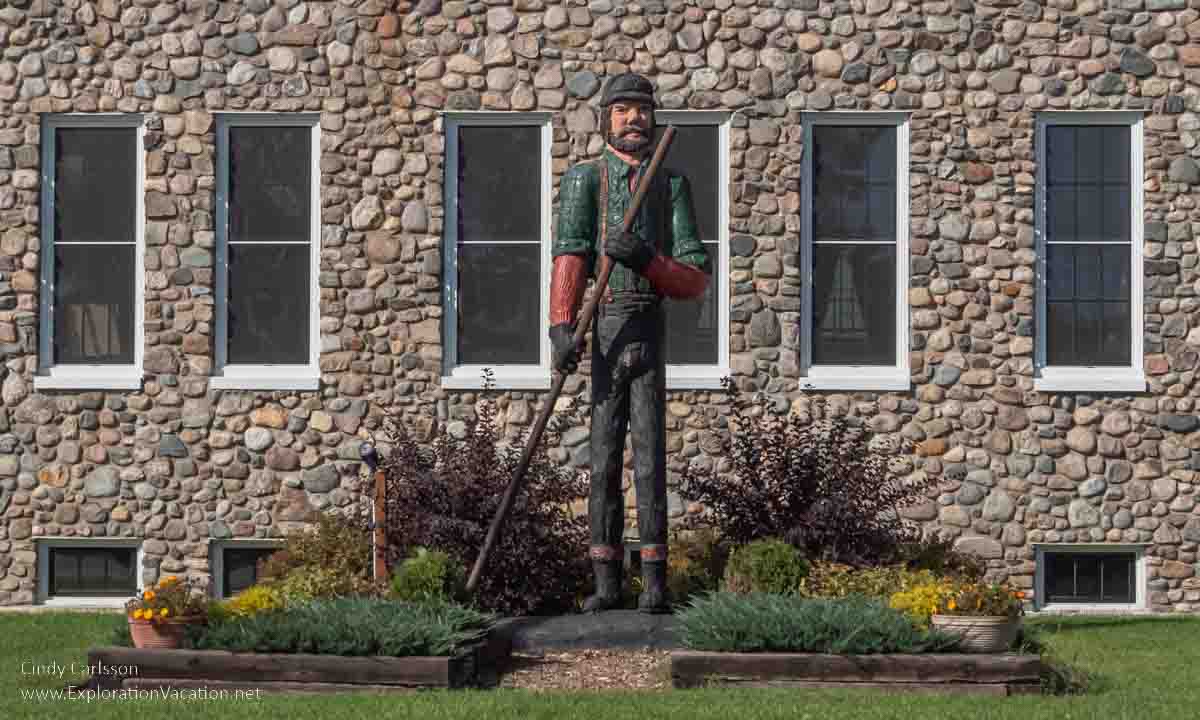 A carved wood statue outside the historic Bigfork city hall commemorates early loggers.
Bigfork's 1930 city hall (behind the lumberjack) is on the National Register of Historic Places.
If you want to see another logging statue, there's a logging scene at the north end of town.
Scenic State Park
A short side trip out of Bigfork will take you to aptly named Scenic State Park.
Scenic is unusual in Minnesota because it was saved from logging by local residents who wanted to save the big pines along the shore. It's been protected since 1921.
There are only two hiking trails here. Each is about 2 miles long and pretty easy. The Tell Lake Trail offers the best fall color. But take the Chase Point trail if you want to walk among the pines high above the water. (It's pretty dramatic, even if they keep losing big trees to storms.)
Pines above the lake at Scenic State Park.
The park also has ten CCC buildings – some constructed for the CCC camp located here and some built specifically for the park. These include a gorgeous lodge/interpretive center/picnic shelter with original handmade furniture.
Interior of the lodge/interpretive center/picnic shelter at Scenic State Park.
Eating in Bigfork
The only places to eat in Bigfork seem to be the Pizza Palace* and Park Recreation (mostly a burger and sandwich spot with ice cream). Both have good reviews, but I haven't eaten at either one.
Effie (Mile 47)
A rural agriculture area more than a forest recreation area, Effie is a really small city. It's noted for its summer rodeo, the Northstar Stampeed.
If you're headed further into the wilderness, Effie is where you either head east to Lake Vermillion and/or the North Shore (via Ely) or head north to International Falls and Voyageurs National Park. Go either direction to find lots more great northern Minnesota scenery and activities.
Eating in Effie
You have better options in Marcell or Bigfork. However, if you are hungry when you get to Effie, you have a couple of choices right in town.
I'm pretty sure I ate at the Effie Café* a couple of decades ago and it doesn't sound like it's changed much. It should be a decent spot for breakfast and lunch if you want something hearty and basic.
How do you get to the Edge of the Wilderness Scenic Byway?
The Edge of the Wilderness National Scenic Byway segment of Highway 38 runs between the north-central Minnesota towns of Grand Rapids and Effie. For most travelers, Grand Rapids (on the south end of the byway) is the easiest starting point
Wherever you start, you'll want a motor vehicle. This is a road trip along a scenic byway that isn't very safe for cycling (use the great bike trails through the area instead) and doesn't have regular local bus service. So, you'll need access to an auto or motorcycle to really explore the Edge of the Wilderness.
Options for getting to Grand Rapids, Minnesota, include driving, taking a bus, or flying and then driving.
When are the fall colors best along the Edge of the Wilderness Byway?
The area around Grand Rapids is one of the first places in the state to see fall color. Peak color is hard to predict, but you'll usually see the best mix between the third week of September and the end of the first week of October.
Fall color at the Pug Hole Lake parking area!
This area was heavily logged more than 100 years ago, so many of the original pines were replaced by aspen (poplar), birch, maple, and a sprinkling of oak. (Visit the Lost Forty if you want to see what much of the area originally looked like.)
But that second or third growth forest makes for a very colorful mix that reaches peak color relatively early. And boggy areas often have tamarack (larch), which turn a little later. So, if you miss the aspen and the first of the maples, you'll still have later maples, birch, larch, and a few oaks to provide a bit of color. And there are always some deep green pines to contrast with all that bright color.
What's the color look like right now?
Use the Fall Color Finder to see what's happening in the area as leaf season approaches. (It's updated weekly.) Then look at what Savanna Portage, Scenic, and Schoolcraft state parks are reporting on their own websites. They'll often provide more recent and more detailed information. That may include the color status along particular trails and for specific types of trees, as well as what to expect in the next few days or week. From that you can get an idea of when and where to find peak color.
When peak color occurs can shift year to year. In general, if the weather stays warm into September, the leaves usually change a little later. If there's a nice cold snap with a frost in early September, you'll see color a little earlier. (A good frost can really kick-start the color change.) Color may be better in a wet year than a dry one, but that isn't always true unless it is really dry all summer. (If the trees are draught-stressed their leaves will start dry and drop during the summer, leaving fewer to turn color when fall comes around.) And, of course, a storm with wind and rain can strip most leaves from the trees in an afternoon.
Tips for exploring the Edge of the Wilderness Scenic Byway
The entire route is paved, although many side roads are not. And, while sections of the road are wide with wide mowed shoulders, many of the most scenic sections are a twisting two-lane road with no shoulders and lots of roadside trees. And, once you get beyond the Grand Rapids area, there really aren't any roadside services and only a couple of spots with toilets along the highway until you get to Marcell.
Tell Google it's Grand Rapids MINNESOTA
Always add "MN" or "Minnesota" when searching online or you are very likely to get results for Grand Rapids Michigan!
For more information check the Edge of the Wilderness Lodging Association website and the (difficult to use, but useful) Chippewa National Forest website. The US Department of Transportation Edge of the Wilderness webpage also has a nice (little) map that shows the area around the scenic byway.
* I use links to improve your browsing experience, but some also pay me a small commission if you use them to reserve a room, rent a car, or purchase goods or services. You don't pay extra, but it helps keep this website running without intrusive advertisements. To learn more, review my policies and disclosures.
See (and buy) more photos of the Edge of the Wilderness Byway and northern Minnesota in general at CindyCarlsson.com.