The North Shore is Minnesota's most spectacular landscape. Further inland, the Gunflint Trail offers gorgeous lakes and hiking trails at the edge of the Boundary Waters wilderness area.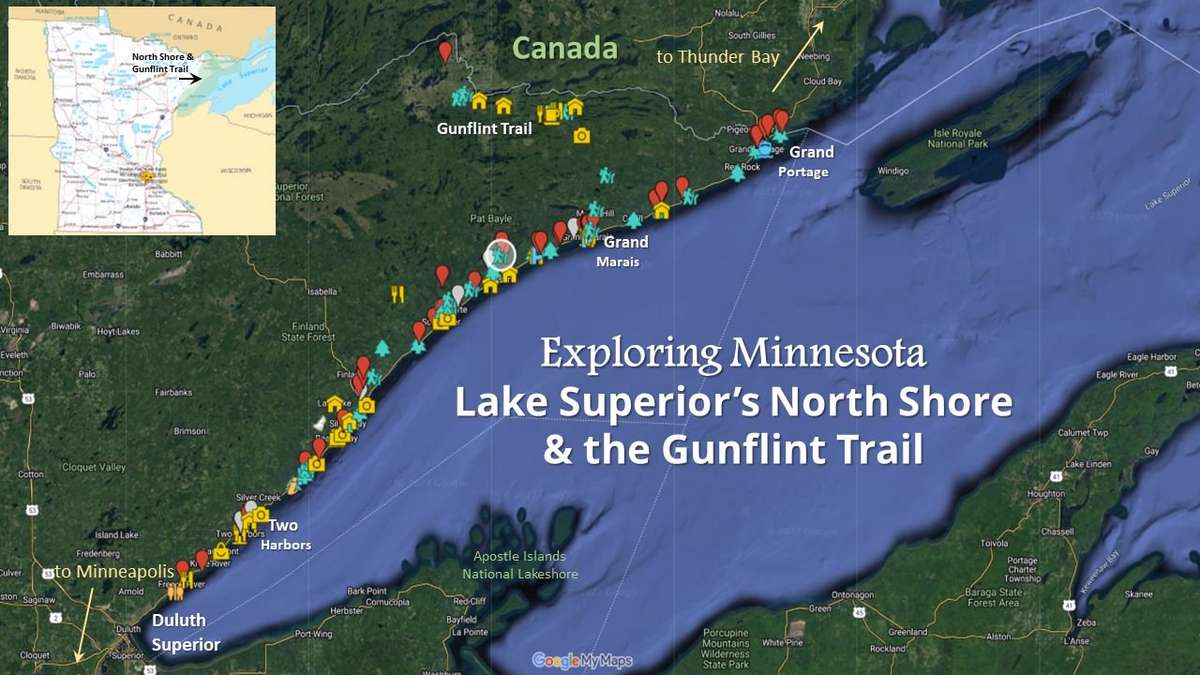 The easternmost part of Minnesota snuggles between the north shore of Lake Superior, the Boundary Waters Canoe Area, and Canada. It's an area of dramatic cliffs, rocky beaches, pine-covered hills, clear lakes, and stunning vistas.
State highway 61 is a Scenic Byway and the main route through the region, with small cities, state parks, and tourist services along the route as it winds north from Duluth along Lake Superior to the Canadian border.
Inland, the Gunflint Trail leads through wetlands and atmospheric lakes to the watery wilderness of the Boundary Waters Canoe Area.
Although most visitors come during summer and fall, the North Shore is popular for outdoor activities throughout the year. For example, mushers and spectators alike come for the John Beargrease Sled Dog Marathon in the depth of winter.
Because the North Shore is so scenic, it's a popular place for photography and photography workshops. These can be a great way to improve your photography and discover new places to photograph!
Cyclists will find a mix of scenic trails, including sections of the paved Gitchi-gami Trail. There's more on biking below.
The following guide to exploring Minnesota's North Shore and the Gunflint Trail lists things to do and see along the route. It includes favorite sights along the route, as well as a few spots to eat, drink, and shop.
Exploring Duluth
Duluth might be Minnesota's favorite summer weekend get-away.
Minnesota's largest northern city and a busy international port, this popular tourist destination was once a rather dreary industrial city. While it retains an active port and related industrial activity, Duluth also boasts amenities that draw hordes of tourists during the summer and fall.
While many visitors are content to wander canal park and watch the ships pass under the lift bridge, there is a lot of history, art, and culture for those looking for more to do.
Click here or on the map to go to ExplorationVacation's interactive Google planning map 
Keep reading to find out more about all you can do in Duluth!
Superior, Wisconsin
Just in case there isn't enough going on in Duluth to keep you busy, remember that there is another whole city on the other side of the harbor. I haven't spent a lot of time as a tourist in Superior over the years, but can heartily recommend the Red Mug coffee shop and pizza and beer at Thirsty Pagan Brewing.
Exploring Lake Superior's North Shore
Once you leave Brighton Beach, you're really on the North Shore.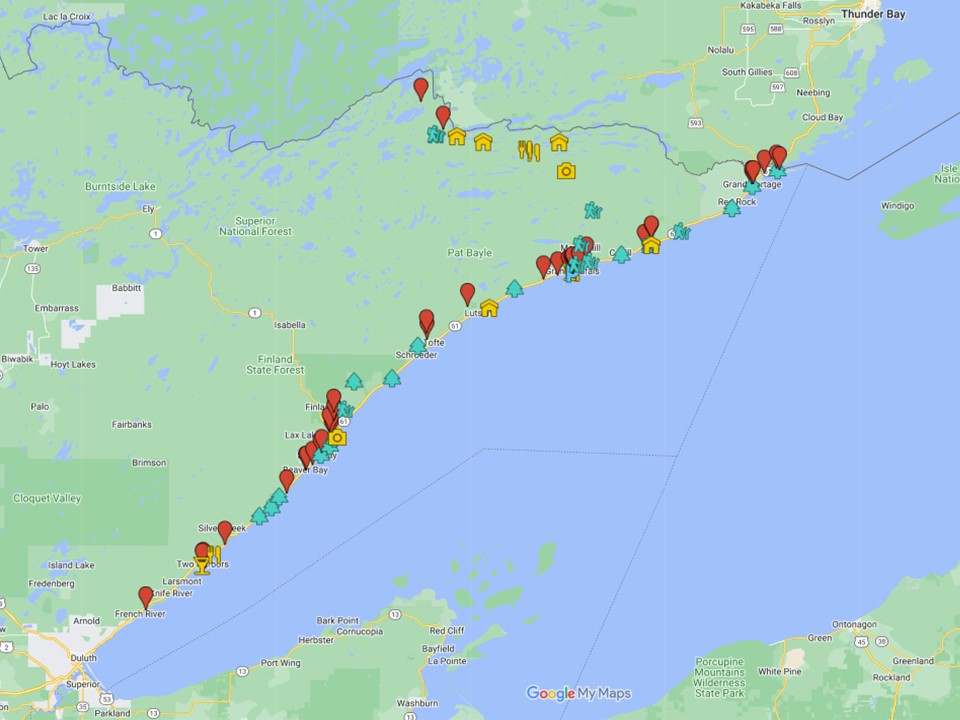 Click here or on the map to go to ExplorationVacation's interactive Google planning map 
Between Duluth and Two Harbors
As you leave Duluth you'll come to Brighton Beach.
If you aren't stopping the beach, you have a choice to make: take the old (two-lane) road along the shoreline or the new (four-lane) bypass inland. Sure, the bypass lets you zip up to Two Harbors in no time at all (and there aren't significant attractions along the old section of road), but why are you up here anyway? Isn't it to relax and enjoy the lake? This is place to start!
There are a few cafés and restaurants along the way, including the deservedly popular New Scenic Café, but mostly it is just a nice drive along the lake.
French River Wayside
This is a big pull-out above a long gravel beach that's said to be good for swimming. (Keep in mind that Lake Superior is almost never warm.) But, even if you don't get in the water, it's a good spot to see a lot of water!
Stoney Point
If you want to extend your drive, take the (short) detour along Stoney Point Road. Along the way, stop to check out the fish shacks or hike out to the beach to watch the waves. Keep an eye out for surfers when the waves are up.
The Scandinavian shop
Officially the studio and gallery of B E Nelson Design (Facebook link), featuring the artist's handmade Nordic jewelry, accessories, and a variety of other items. Google's directions aren't great, but you'll see it, as it is an very old-fashioned Nordic building. It's well worth a quick stop to check out the building and see what's for sale in the shop — the merchandise is as interesting as the building.
Two Harbors to Silver Bay
The next section of the route includes a number of attractions, the first of which are found right in Two Harbors. Farther along you'll find Gooseberry and Split Rock, a couple of the state's most popular state parks.
Silver Bay to Grand Marais
Continuing north, there aren't many places to stop along the road and enjoy a view of Lake Superior, but there are plenty of parks, so plan to settle in for a while!
Along the way, large resorts like Bluefin Bay and Lutsen and small towns like Tofte and Schroeder offer travelers a variety of services and dining options.
Grand Marais
Grand Marais is the artsy heart of the North Shore. It is a town filled with shops, services, lodging, and restaurants. There are special events and activities here throughout the year, but especially during the summer. This is a vacation destination in and of itself.
There is also plenty of shopping available in Grand Marais. It's a good place to stock up on groceries and other supplies if you are camping, but you can find all sorts of clothing, art, and gifts here as well. We are big fans of Sivertson Gallery, a beautiful space filled with art and fine craft by exceptional local and national artists. Visitors should also check out the Ben Franklin – it isn't like any other Ben Franklin (remember those?) you've been in and it carries everything a northwoods visitor might need.
Gunflint Trail
The Gunflint Trail (Highway 12) begins as you approach the north end of modern Grand Marias. See below for more information on exploring the Gunflint Trail.
Grand Marais to Grand Portage
Most visitors don't go farther north than Grand Marais, but plenty of treats await those who continue on.
Gunflint Trail
The Gunflint Trail begins in Grand Marais, running from the shore of Lake Superior to the edge of the Boundary Waters Canoe Wilderness Area. Along the way you will pass rocky outcrops, marshes where moose linger, lush forests and burned-over forests, wildflowers, the occasional bear, and lakes – lots and lots of lakes. The resorts along the trail are perfect places for exploring this watery mix of earth and water. The lovely little Chik-Wauk Museum and Nature Center sits at the very end of the trail and leaves visitors wishing it was their own home.
Plan your trip to Lake Superior's North Shore and the Gunflint Trail
This is road trip country – load up your car and head north! Part of the pleasure of a North Shore vacation is simply driving through this beautiful area, stopping to hike or just enjoy the view as you see fit.
You'll also see plenty of motorcycles on the road for the same reason.
Getting to and around the North Shore
Most visitors from the greater MSP area head straight up Interstate 35 to Duluth. That trip takes about 2 ½ hours.
Driving the North Shore Scenic Byway
The North Shore Scenic Byway runs from Canal Park in Duluth, through a part of downtown, down London Road, and then along the North Shore Scenic Drive to the Canadian border. It stays along Lake Superior, so does not include the bypass. You can find a little more information on the Federal Highways American Byways website.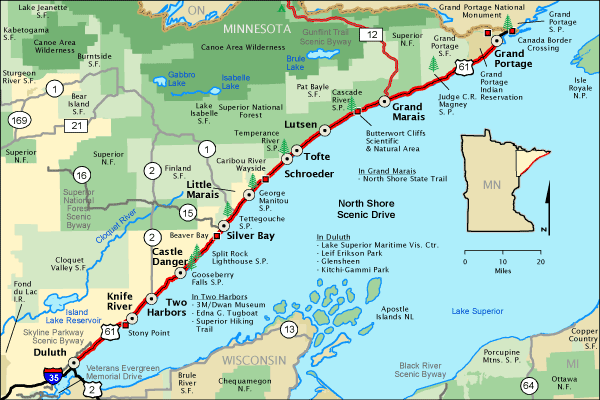 Map from the Federal Highway Administration
Seasonal events and activities along the North Shore and Gunflint Trail
You will have lots of company it you visit Minnesota's North Shore or the Gunflint Trail during summer and fall. On weekends state parks and the cities of Duluth and Grand Marais are crowded with visitors. But even weekdays often see lodging, campgrounds, parking areas, and restaurants at or near capacity. So, while summer and fall are absolutely gorgeous times to visit (and the only time some historic sights are open regularly), it's worth considering visiting at other times. Not that every season doesn't bring a few challenges.
(For the best calendar of all scheduled events on the North Shore, check North Shore Nina's North Shore Visitor events page.)
Here are a few reasons to visit throughout the year, along with some tips on the challenges each season brings.
All Minnesota posts