My home state offers a full range of seasons and lakeshore enough for everyone.

It's the headwaters of the Missi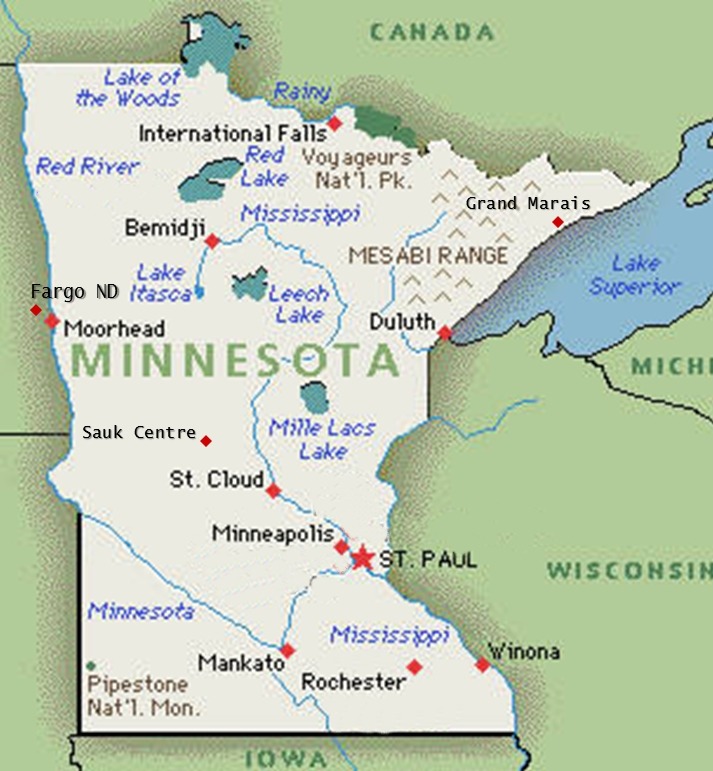 ssippi, a seaport (thanks to the port of Duluth on Lake Superior and its links through the Great Lakes to the Atlantic), the home of Paul Bunyan and assorted giant fish, birds and other fantastical creatures. It's a land of farms and forests, prairies and rocky cliffs, and water — always water. It's a rural state with thriving cities and a vibrant metropolitan area alive with arts, culture, and fine dining.
Minnesota is a land of many seasons, all of which have a many things to recommend them and a few we'd rather forget.
Minnesota State Parks preserve a wide range of Minnesota's natural diversity throughout the state.
Lake Superior's North Shore and the Gunflint Trail
The North Shore of Lake Superior begins at the port in Duluth and continues north to the Canadian border. It includes the cities of Duluth and Grand Marais and makes for a perfect road trip for anyone looking for great scenery, art, culture, food, and outdoor activity galore.
Exploring Lake Superior's North Shore and the Gunflint Trail
Northern Minnesota lake country
North central Minnesota is a land of towering pines, crystal lakes, and watery stands of wild rice. This is canoe country, the land of moose and wolf, the northwoods every cabin owner dreams of. This is also the land of timber production and iron mining. It is a beautiful and fragile place.
Exploring Minnesota's lake country
Plains and Prairies of Central Minnesota

Saint Croix Valley
Spring brings spring flowers and the Saint Croix River Valley Pottery Tour:
But fall is the perfect time for a leaf tour in the Saint Croix Valley:
The Saint Croix River Valley is home to a few really beautiful state parks:
Stillwater and Taylor's Falls are the main cities along the Saint Croix in Minnesota.
Mississippi River Valley and Southeastern Minnesota
Visit Great River Bluffs State Park in Minnesota for forest hikes and scenic views
Touring One Block of Red Wing (July 8, 2011)
Mixed Use in Saint Peter (November 5, 2010)
Highway 60 Road Trip (June 2010)
The Minnesota Side of the Mississippi, North of La Crosse (May 2008)
I'm in La Crosse – Mississippi River Valley, New Trier & Wabasha (May 2008)
Downtown Rochester (August 2007)
The Twin Cities Metro Area (Greater MSP)
The Twin Cities of Minneapolis and Saint Paul are at the center of a sprawling metropolitan area that includes parts of 16 counties in two states.
Nationally, it's an important economic and cultural center with a healthy economy, diverse population, vibrant arts community, thriving restaurants and breweries, professional sports, abundant recreational opportunities . . . and cold winters. But actually, the changing seasons just bring a change in focus, not an end to activity – there is always plenty to do in Greater MSP!
Minneapolis and the western suburbs
Minneapolis is larger, brasher, and more urban of the Twins, with flashy downtown towers and a lively nightlife. It's also a great spot for biking, with a good trails and one of the nation's great park systems.
The western suburbs tend to be residential or even rural, but with a few good shopping and recreational opportunities for residents and visitors alike.
Biking Lake Minnetonka (August 2012)
Noerenberg Gardens (August 2012)
Exploring Minneapolis and the western suburbs
Saint Paul and the East Metro

Quieter and more European than Minneapolis, Saint Paul, has long been a cultural crossroads as a trading and transportation center and the capital of Minnesota.
It is a quiet multicultural city of museums, parks, colleges, and great food from around the world.
While the east metro includes a variety of suburbs, it also includes the charming river town of Stillwater.
Exploring Saint Paul and the east metro
 Southern Suburbs
A tropical escape at the Minnesota Zoo (2015)
Along the Northern Tail at the zoo
More time with the amur leopards
Western Minnesota
The Red River Valley
On the Road (May 8, 2007) 
Evening in East Grand Forks (May 8, 2007) 
Near Granite Falls (May 3, 2006)
Southwestern Minnesota
Highway 60 Road Trip (June 2010)
Small Towns and Crumbling Infrastructure: Reality via Westbrook (June 2010)
Girls Weekend Trip to Cottonwood County (June 2010)
Westbrook (June 2010)
All USA posts