(Last Updated On: January 20, 2023)
Just outside Saint Cloud, Quarry Park features Minnesota's most unusual swimming hole. But this old stone quarry offers much more than just swimming!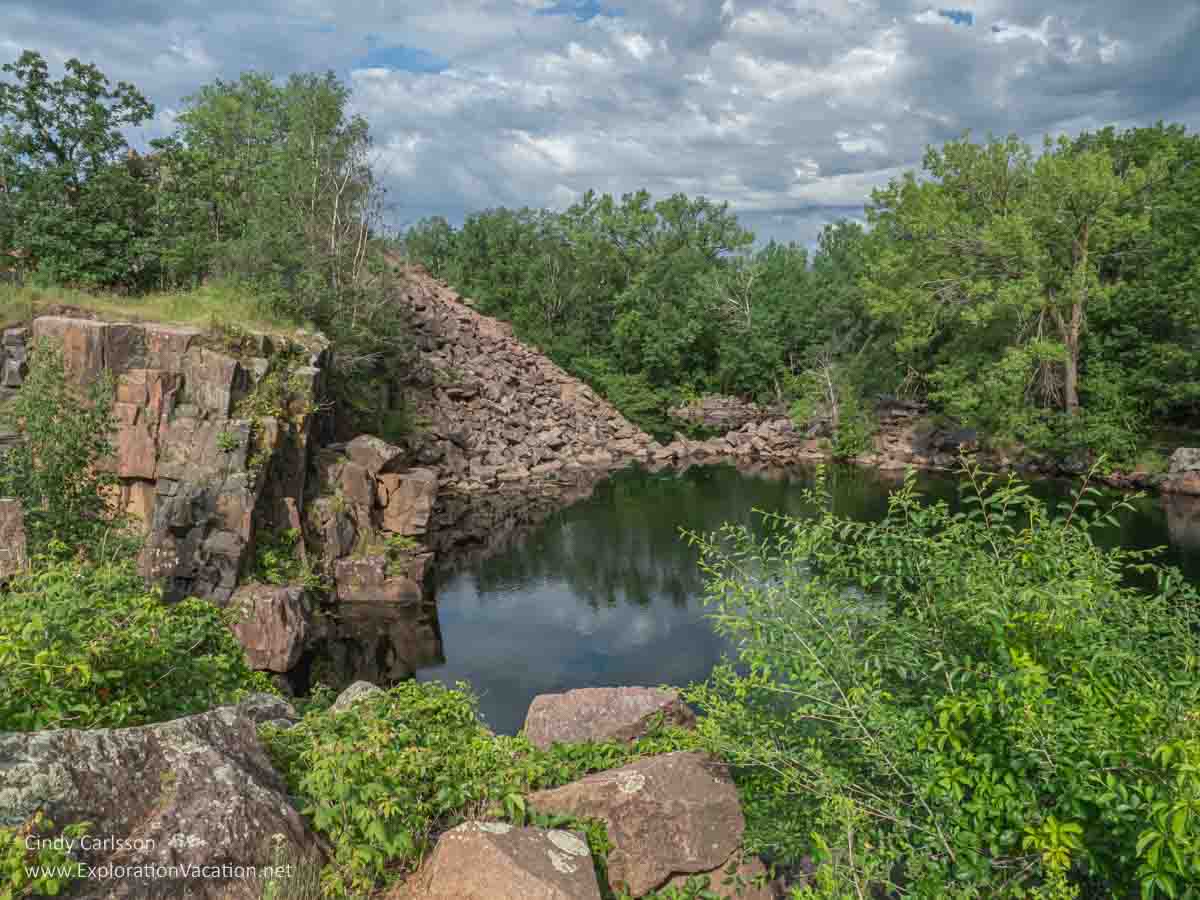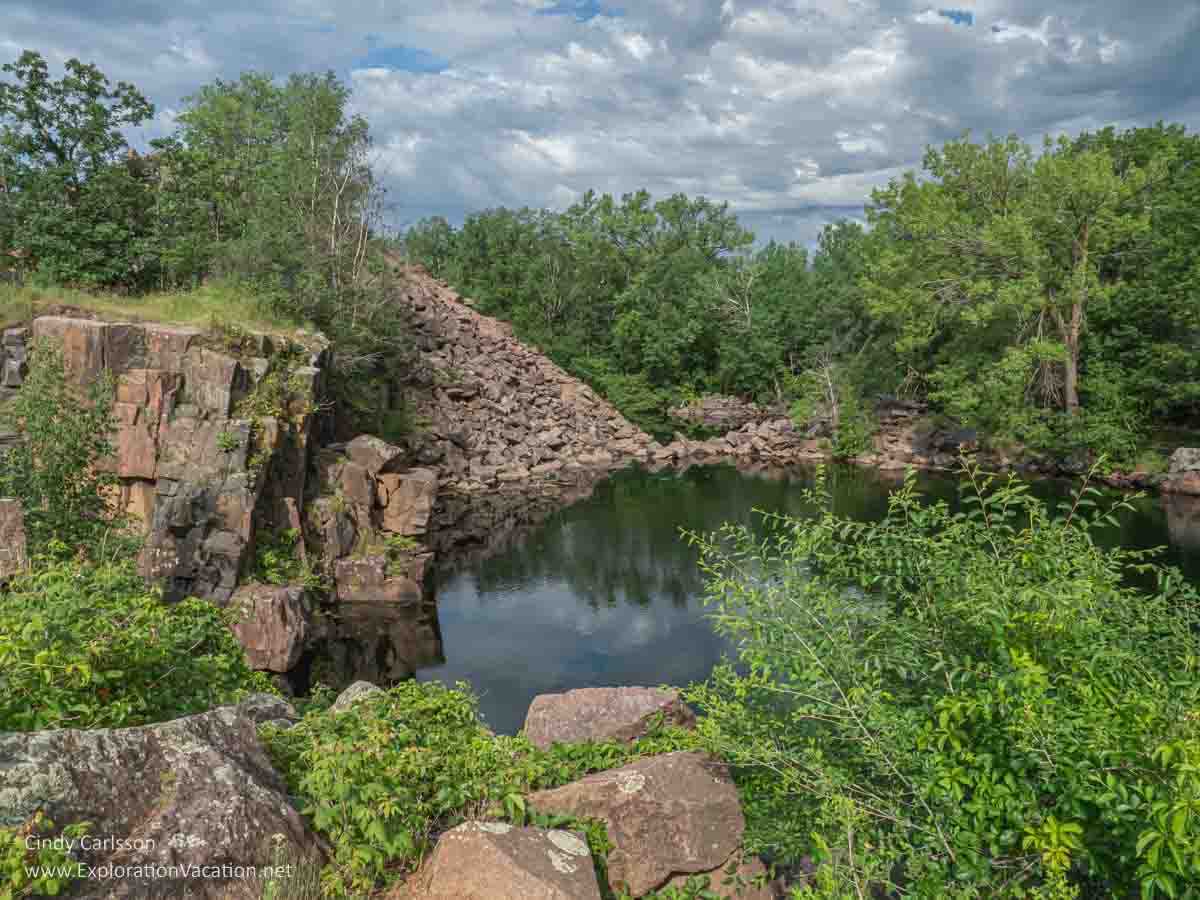 Quarry Park is an unusual mix of manmade and natural features.
As its name implies, Quarry Park and Nature Preserve is located on land where stone was once cut out of the earth and processed into building material.
While many old quarries remain abandoned now that the best stone is gone, the ones here were repurposed: Abandoned mine pits became pools for swimming, scuba diving, and fishing. There are even a few areas for rock climbing. And the space between the pits and giant stone trash heaps (called grouts) is now laced with trails for hiking, biking, and cross-country skiing. While nature is slowly reclaiming the quarry site, Quarry Park Nature Preserve at the southern end of the park protects high quality natural areas where mining had little impact and recreational activities are limited.
How did Quarry Park come to be?
Minnesota has lots of abandoned stone quarries and mine pits, but Quarry Park is the only place where those pits have been turned into pools for swimming, fishing, and scuba diving. That makes it pretty unique.
Today Quarry Park has just over 680 acres, with over 320 acres preserved as a state Scientific and Natural Area (SNA).
Why visit Quarry Park?
Saint Cloud and the surrounding area have very few natural beaches or other outdoor swimming areas. That makes Quarry Park a popular escape from summer's heat for area residents. But the park's use of old mine pits as swimming holes is unique and well worth a day trip. And you'll find plenty of other diversions here as well, with options that change with the seasons.
Map of summer trails and activities in Quarry Park, used with permission of Stearns County Parks.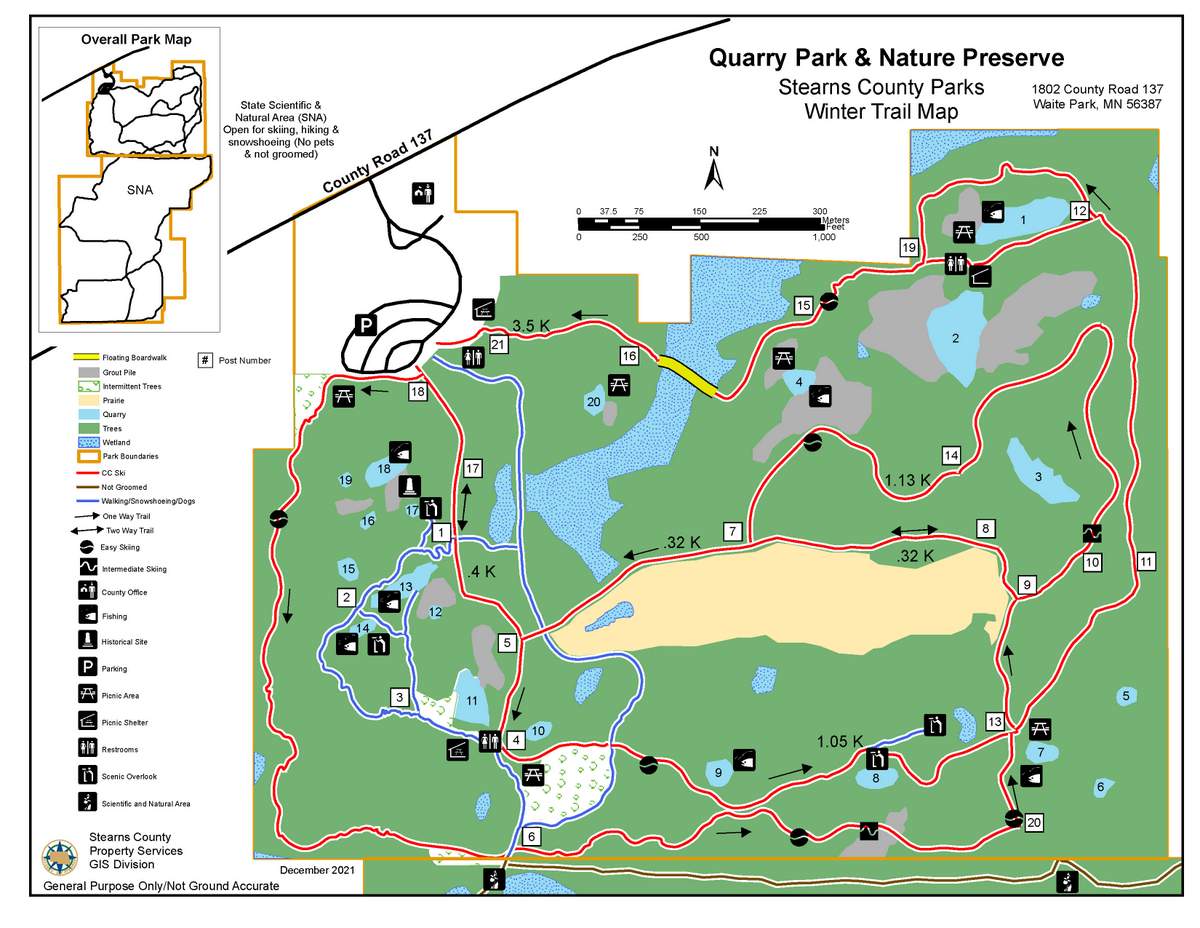 Map of winter trails and activities in Quarry Park, used with permission of Stearns County Parks.
Swimming (and cliff jumping)
Swimming is allowed in two quarries. These are Quarry #2 and Quarry #11.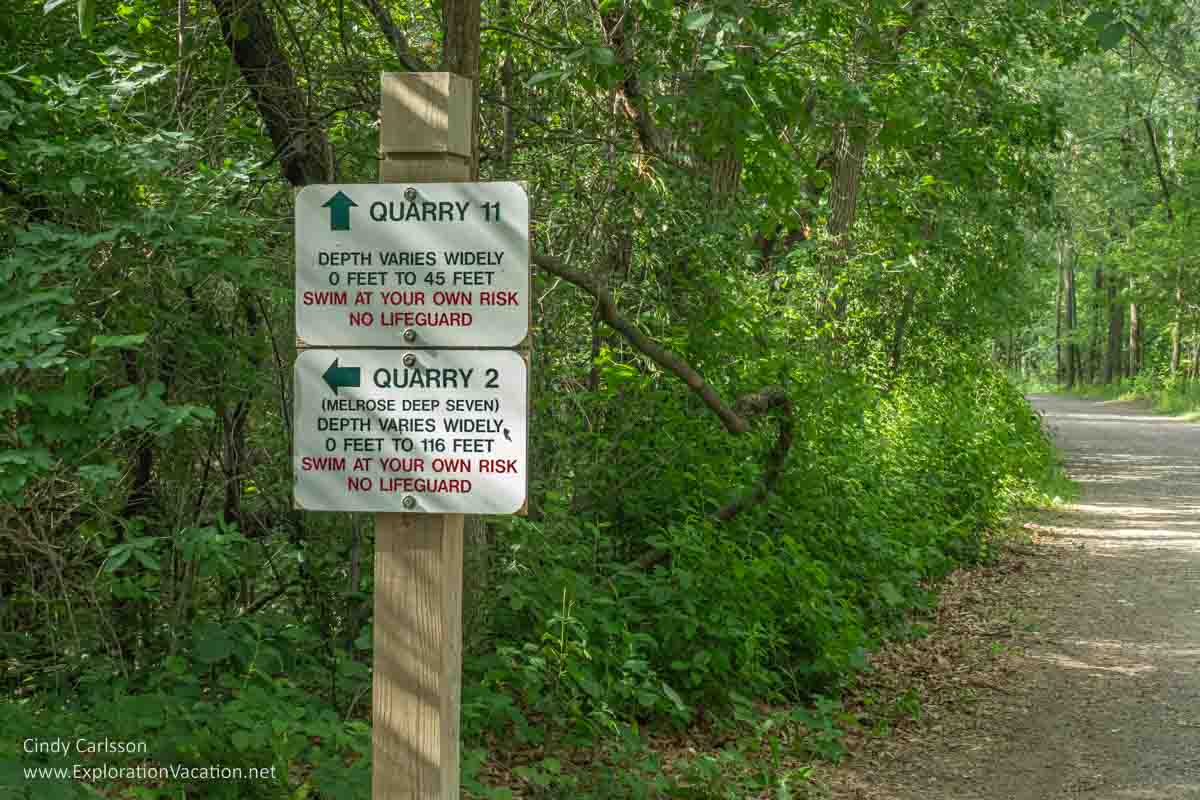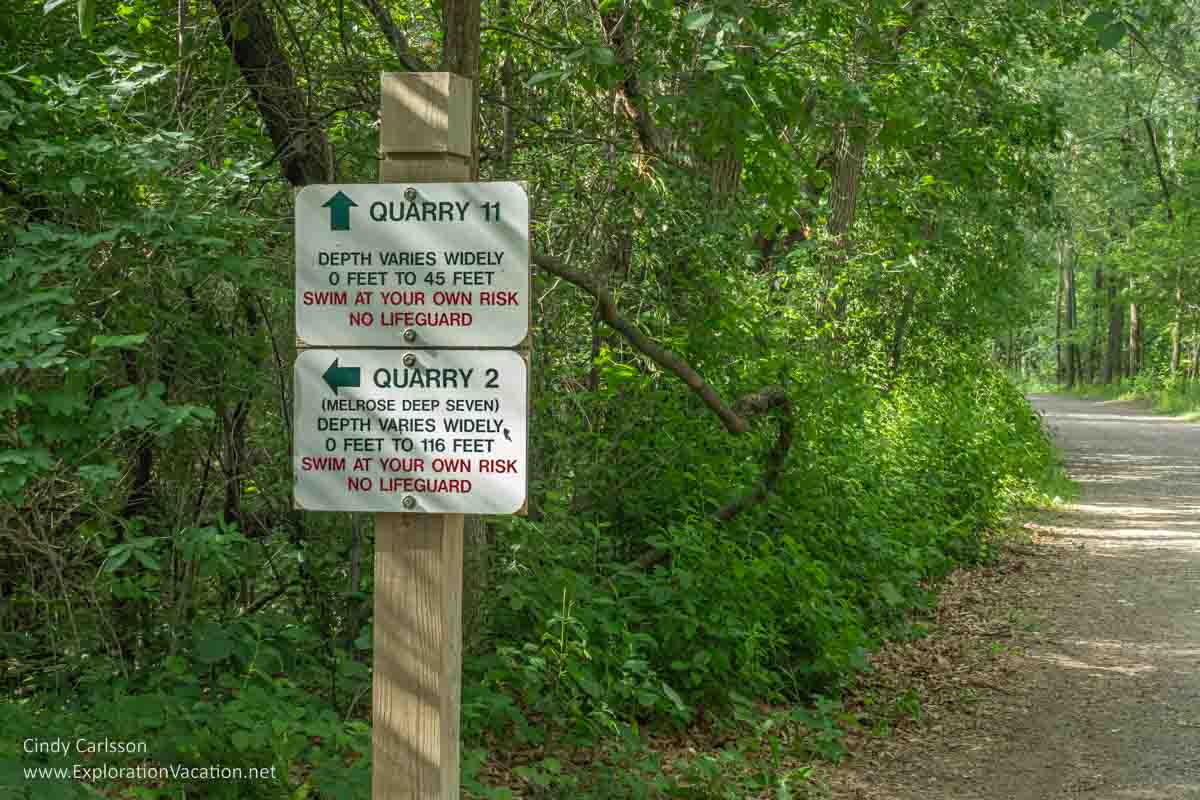 Swimming in Quarry Park is a lot of fun, but you do need to be careful!
Quarry #2 ("Melrose Deep 7") is surrounded by rock ledges, some of which are very steep. But that's also what makes it so popular, because several of those cliffs drop straight down into the water. That makes them perfect for leaping off the cliff into the water.


Quarry Park is noted for cliff jumping. Do you dare?
That cliff is about 20 feet high, but the water is 116 feet deep.
Quarry Park cliff jumping is popular with local youth. But, of course, you don't have to jump off a cliff to enjoy this pool. There are also places to enter the water from shore, and on hot days the pool is filled a colorful flotilla of inflatable rafts and other beach floats. (Pool floats are actually recommended because both pools have deep water and sudden drop-offs.) And, of course, you can always just sit and enjoy the water without getting wet!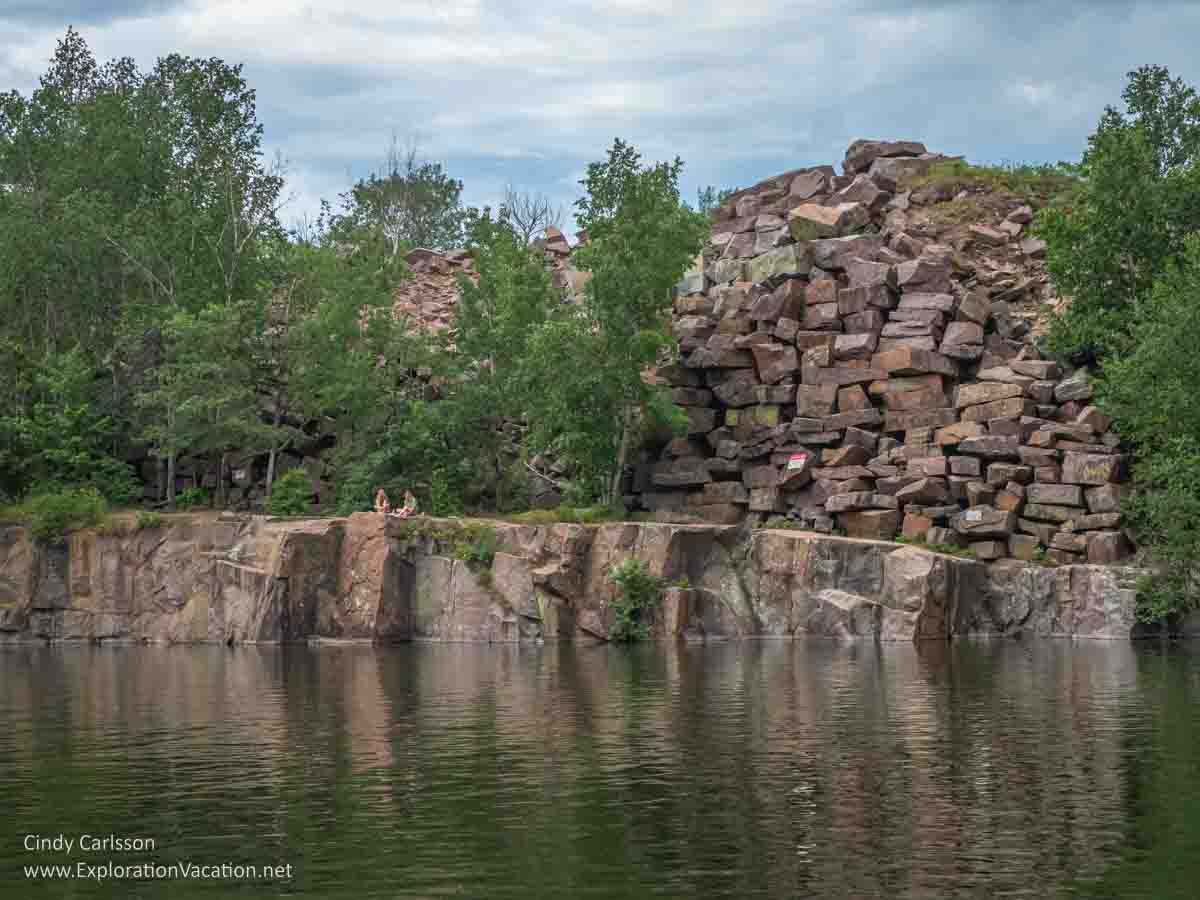 You don't have to jump in. Quarry Park is also a pleasant place just to relax by the water.
The other swimming hole is at Quarry #11. It's a little more user friendly, with a sand beach and low ledges to jump into the water from. But the water depth reaches 40 feet, so swimmers still need to be cautious.
Warning
 You swim in either pool at Quarry Park at your own risk. There is no lifeguard and these pools are deep, with sudden drop-offs, and sheer sides that can make it a challenge to climb back out of the water.
 While there are spots where cliffs plunge straight down into the water, many areas have stone ledges and shelves just below water level. Don't jump in unless you are absolutely sure there's no rock hidden below the water's surface. In addition, make sure there are no people in the water where you plan to jump. Landing on either a rock or a person in the water is a good way to seriously injure or kill yourself and/or others.
Scuba diving
Want to get a good look at what's under the water?
Several quarries are open for scuba divers. These include Quarry #1 "Red Six," and Quarry #13. Divers can check out the fish and geology.
Scuba diving is only allowed in designated areas and a special permit is required.
Fishing
A number of the quarries are stocked with trout and open for fishing.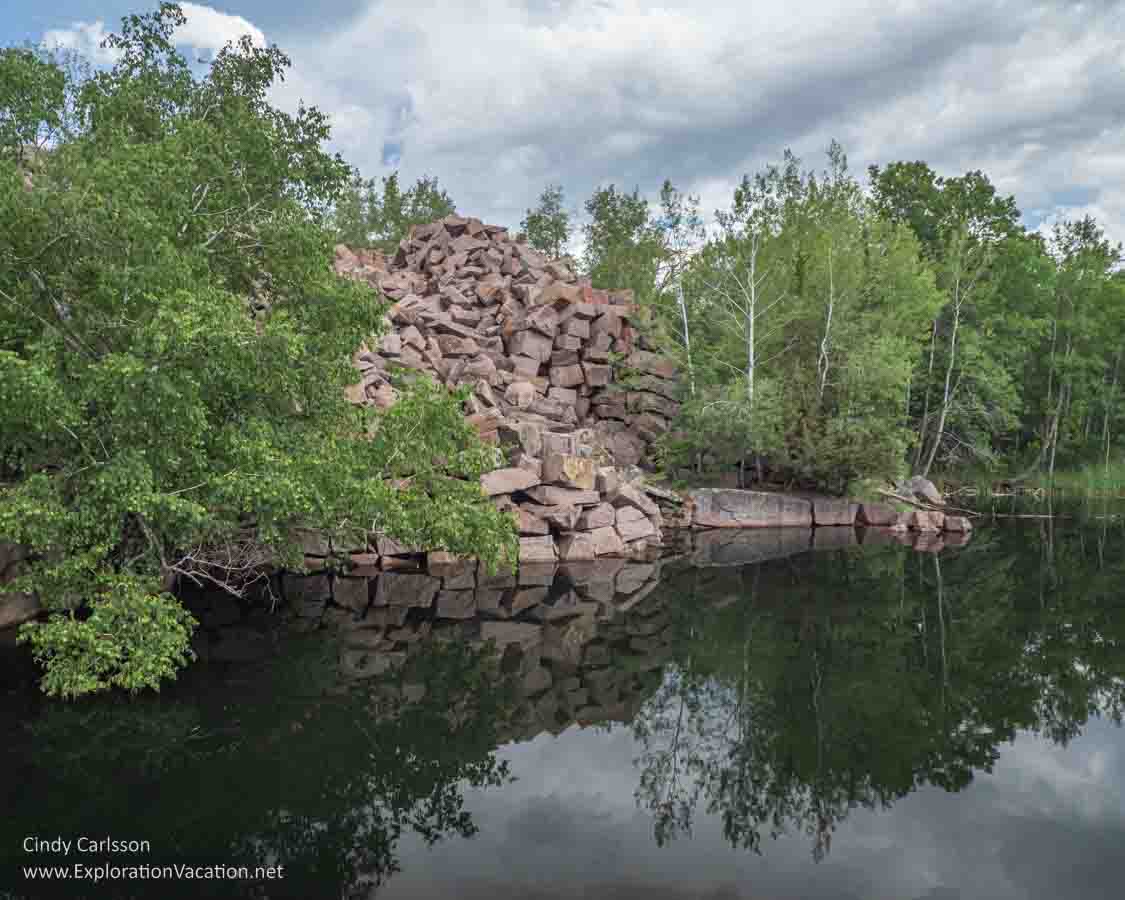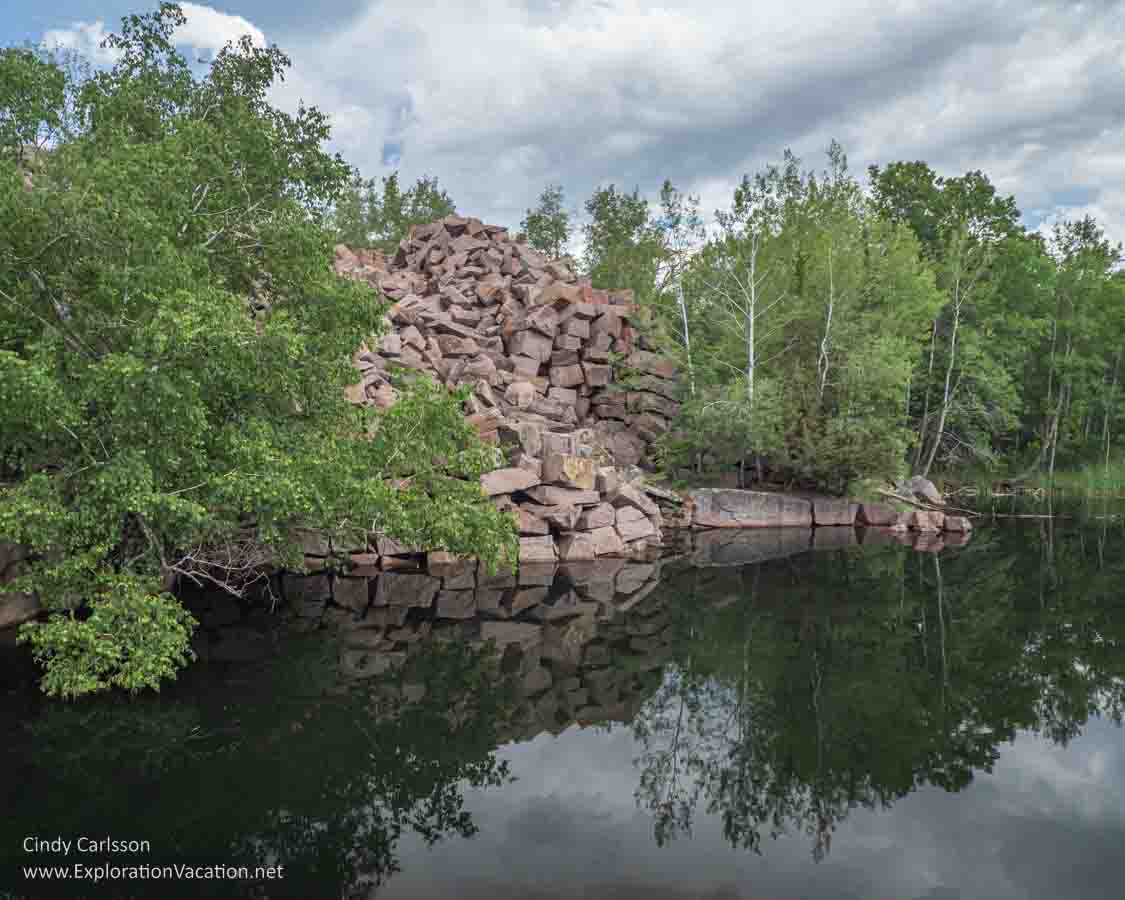 Trout fishing is available in several quarries.
Currently, anglers can fish in Quarry #1 "Red Six," Quarry #4 "Oberg," Quarry #7 "Thielman," Quarry #9, Quarry #13, and Quarry #18 "Benzie 14." You can fish from shore (with a Minnesota fishing license) at all of these quarries. A few also have fishing piers.
 All state regulations for stream trout apply within the park.
Hiking, biking, and cross-country skiing
Trails in the Quarry Park and Nature Reserve allow visitors to walk through woodlands and prairies while exploring areas around and between the mine pits.
In wet years, there's even a floating boardwalk.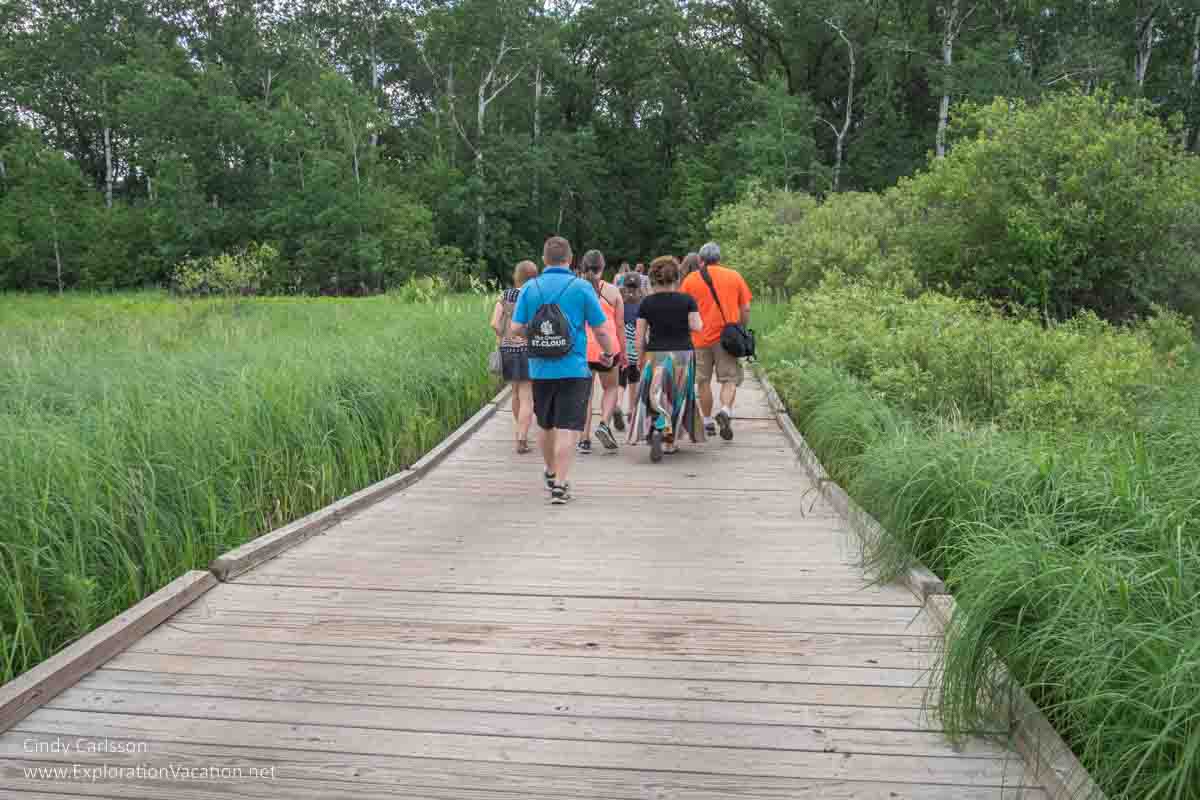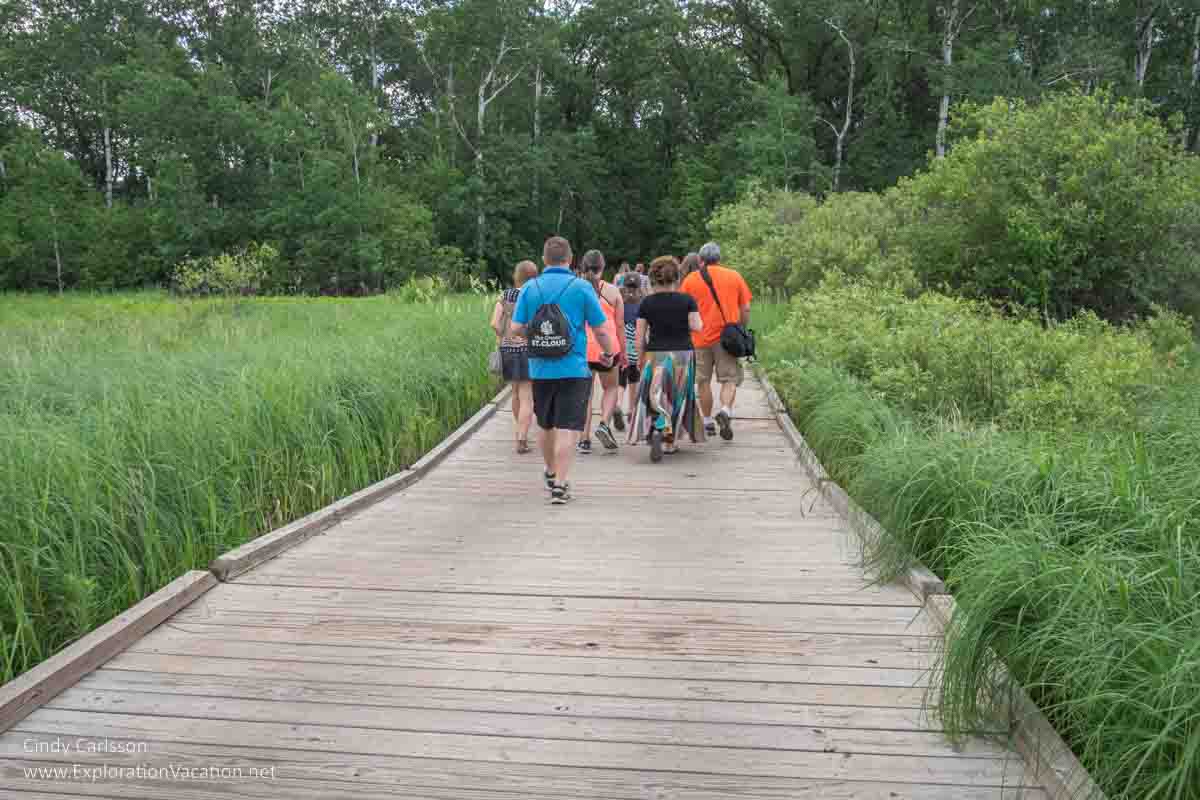 A floating boardwalk bounces as you walk through a marsh.
(The boardwalk is still there when it's dry, but it sits on the ground then – which isn't nearly as fun.)
Quarry Park and Nature Reserve has three types of trails:
Trails for walking, walking your dog (on a leash), and biking
Winter multi-use trails for walking, walking your dog (on a leash), snowshoeing, and fat tire biking
Winter cross country ski trail
Nature trails for walking (dogs and bikes are prohibited)
The nature trails are in the southern half of the park in the Quarry Park SNA (a state Scientific and Natural Area, which makes up the Nature Reserve part of the park). Here visitors find a landscape that retains its natural granite outcrops, native plants (both common and rare), and a variety of birds and other wildlife, including red-shouldered hawks. (Dogs and bikes are prohibited in the area.)
While you're more likely to find rare native plants in the SNA area, there are wildflowers along trails throughout the park.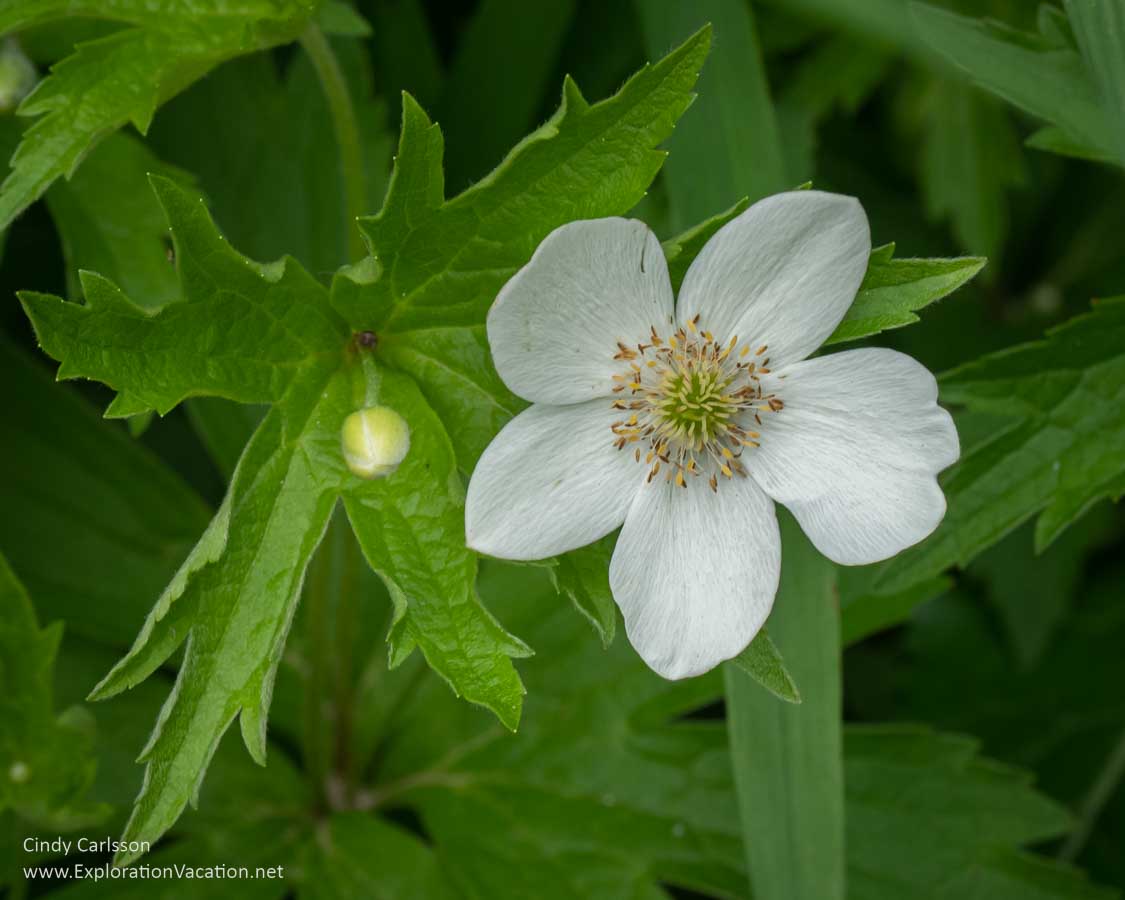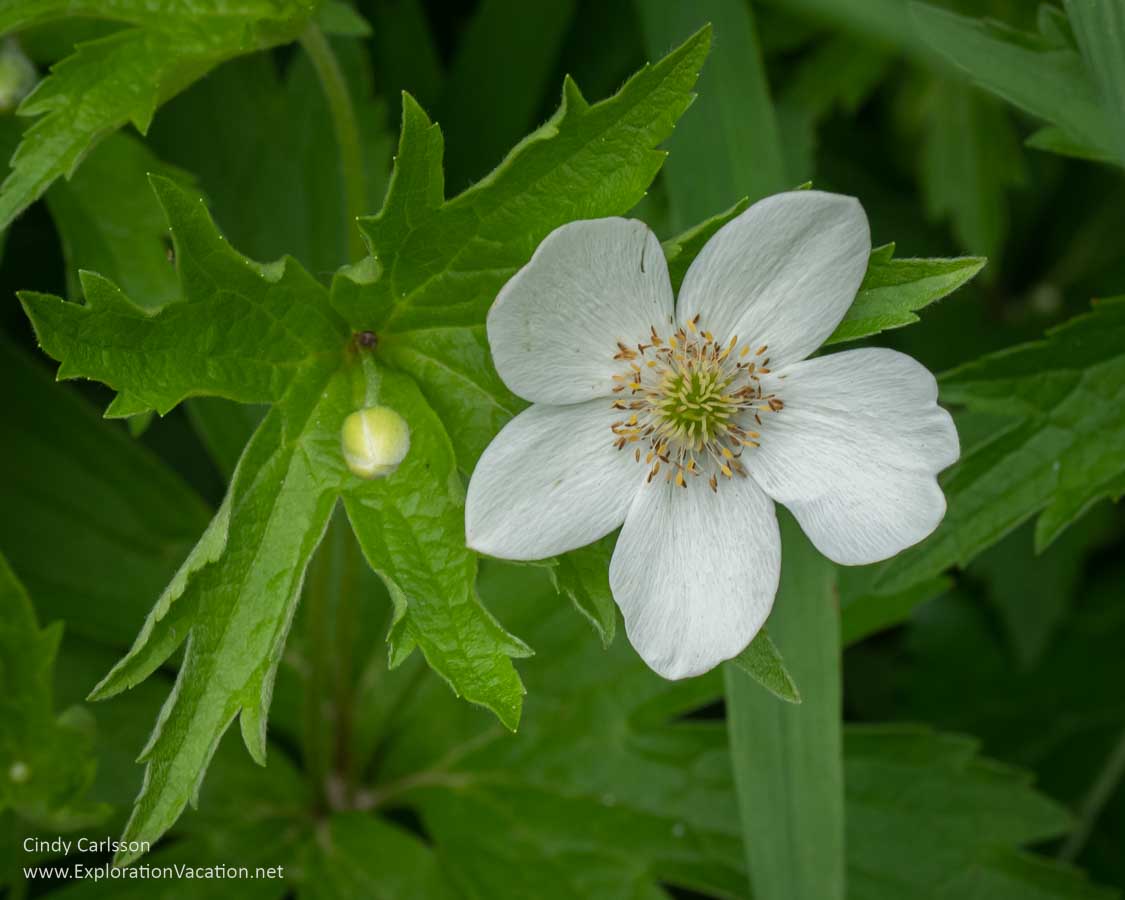 Canadian Anemone isn't rare, but it's pretty.
Likewise, birds and deer (lots of deer) can be seen throughout the entire park.
Rock Climbing
Rock climbing and bouldering are available in Quarries #17 and #20. A special permit is required to use either area.
Historical exhibits and demonstrations
Are you interested in learning more about the quarries that once operated here?
Quarry Park has a small exhibit area with information about Saint Cloud's granite quarries. These exhibits include informational signage and a few pieces of equipment used to mine granite and prepare the stone for sale.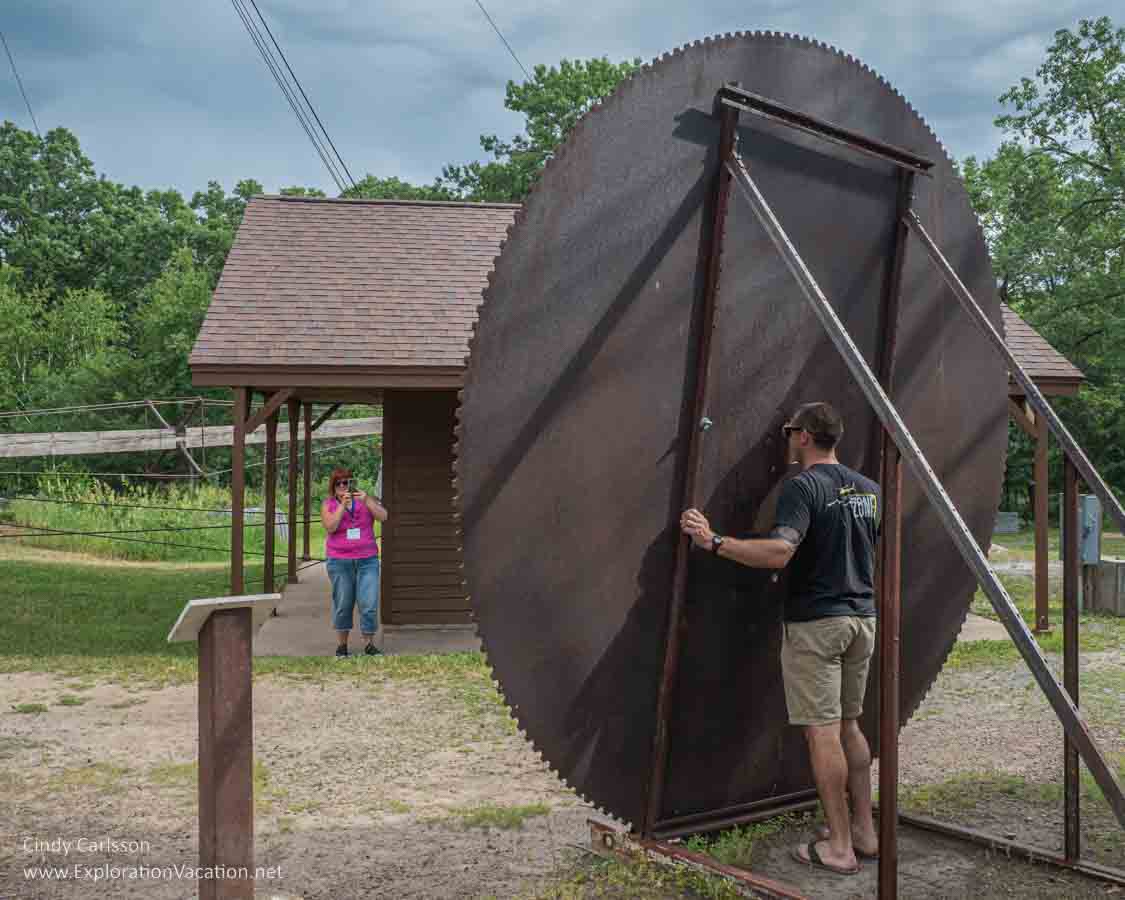 This saw blade was used in a processing plant to cut granite blocks into slabs.
Liberty Derrick
The featured historical exhibit at Quarry Park is the Liberty Derrick. This 85-foot-high derrick functioned as a crane to lift large blocks of granite out of a mine pit. It wasn't originally located here, but was moved here as part of the historical exhibit. While it sat idle for many years before being moved and restored, today it's occasionally put to work demonstrating how stone was removed from these quarries.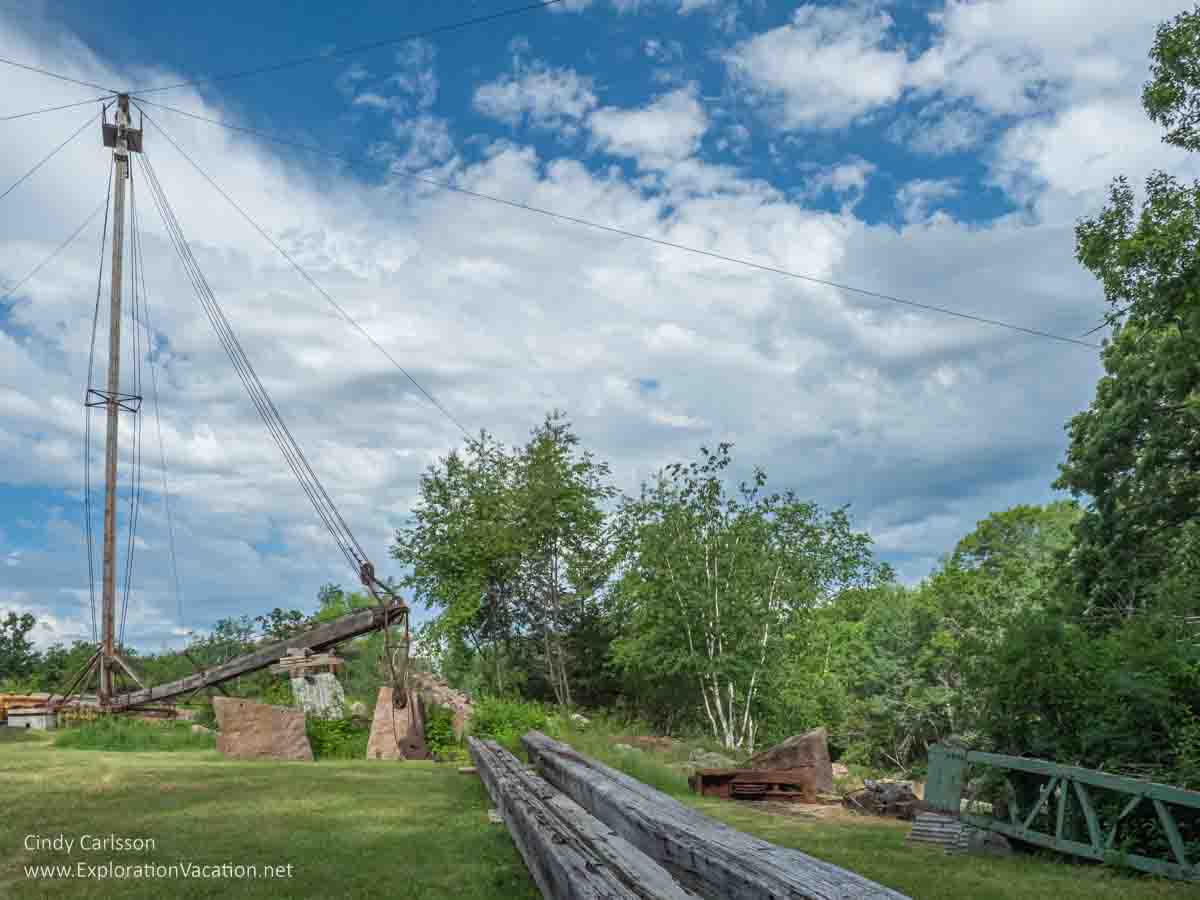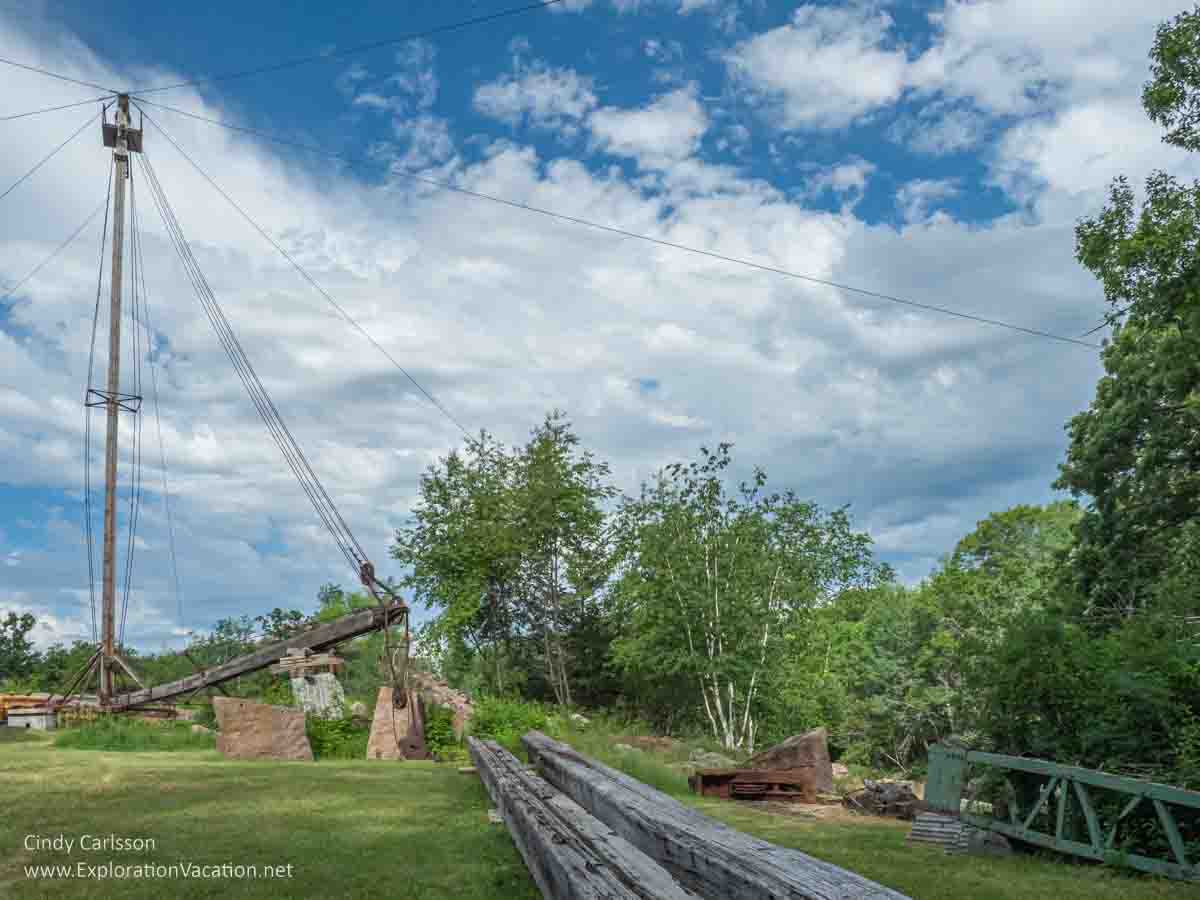 Wood derricks like this were once used to lift and move tons of stone.
Plan your visit to Quarry Park
While Saint Cloud's Quarry Park and Nature Reserve was established largely to fill the need for a local beach, the park offers a variety of activities throughout the year and makes a nice day trip from the Minneapolis-Saint Paul metro area.
The Stearns County parks website has lots of information on the park. I have some of that same information here, but be sure to take a look at the park website when planning your visit.
Other things to do in the Saint Cloud area
Saint Cloud has long been an important regional center for retail and medical services. The city and surrounding communities create a sprawling place with acres of houses on former farm fields and miles of strip development featuring big box stores, chain hotels, and fast-food restaurants. If you drive through the area one of the main highways you are not going to go "Wow! This is a really interesting place to stop and look around." But look a little deeper and you'll find plenty that is worth stopping for.
You can find more pictures of Quarry Park at www.CindyCarlsson.com