(Last Updated On: July 17, 2022)
Just an hour west of Minneapolis, the combined Munsinger Clemens Gardens in Saint Cloud may be the most beautiful free public garden in Minnesota. With two distinctly different gardens, there is something for every garden lover. And you can see it all at no cost!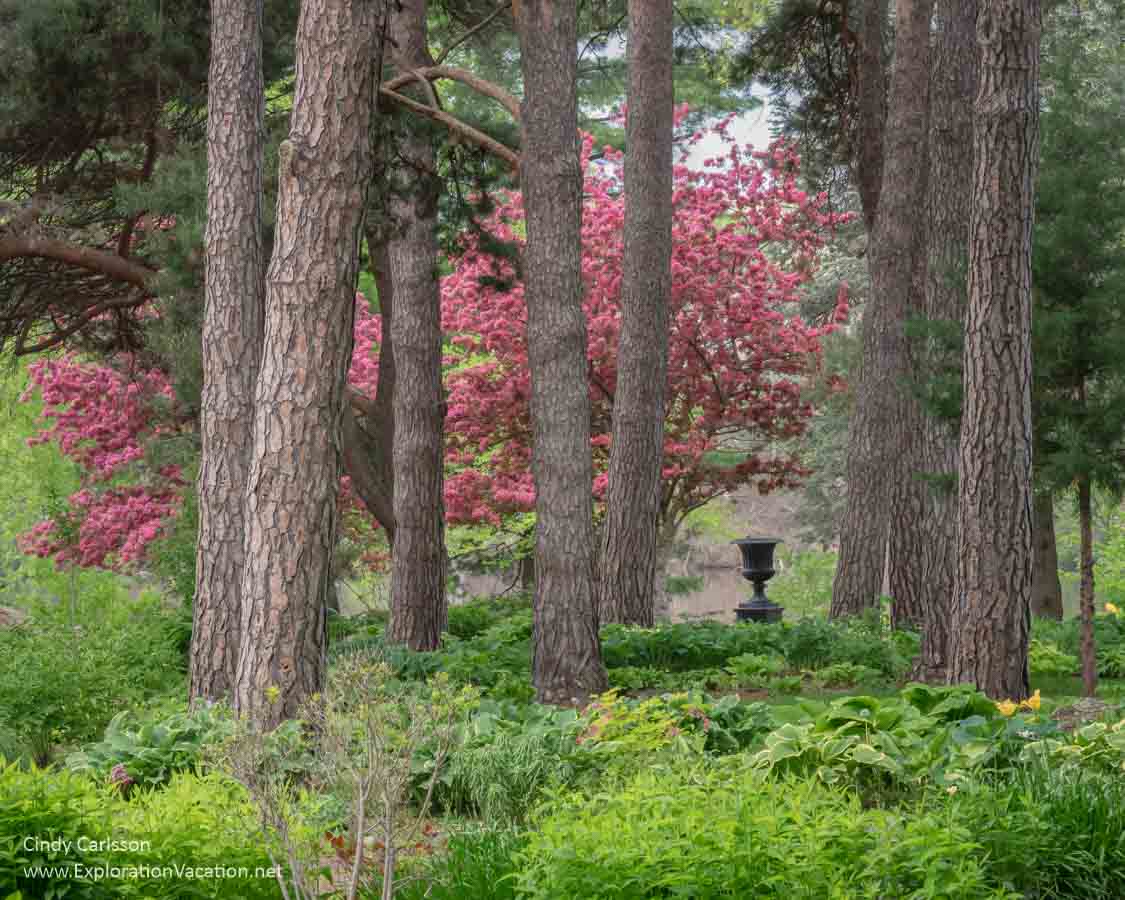 Two beautiful gardens in one location
Two beautiful gardens in one location
For decades, Munsinger Gardens in Saint Cloud, Minnesota, enticed visitors with paths that wound through colorful flower beds and shady groves along the Mississippi River. Later, land along the street above the riverside gardens became a series of sun-drenched formal gardens called Clemens Gardens. Together these two beautiful, but very different, gardens are well worth a drive from the Minneapolis-Saint Paul Twin Cities metro area.
Munsinger Gardens
Located in Riverside Park on a site once used by a sawmill, Munsinger Gardens features a wide variety of flowers, green plants, shrubs, and trees along the Mississippi River.
It's a garden for all seasons: Spring flowers greet the return of warm weather, mature pines provide a shady respite from summer's heat, fall brings a flash of color, and winter snow highlights the natural architecture of trees and shrubs.
The landscape as garden
Shady Munsinger Gardens is largely a naturalistic garden where flowering trees, shrubs, native plants, and colorful modern hybrids blend as if planted by Mother Nature herself.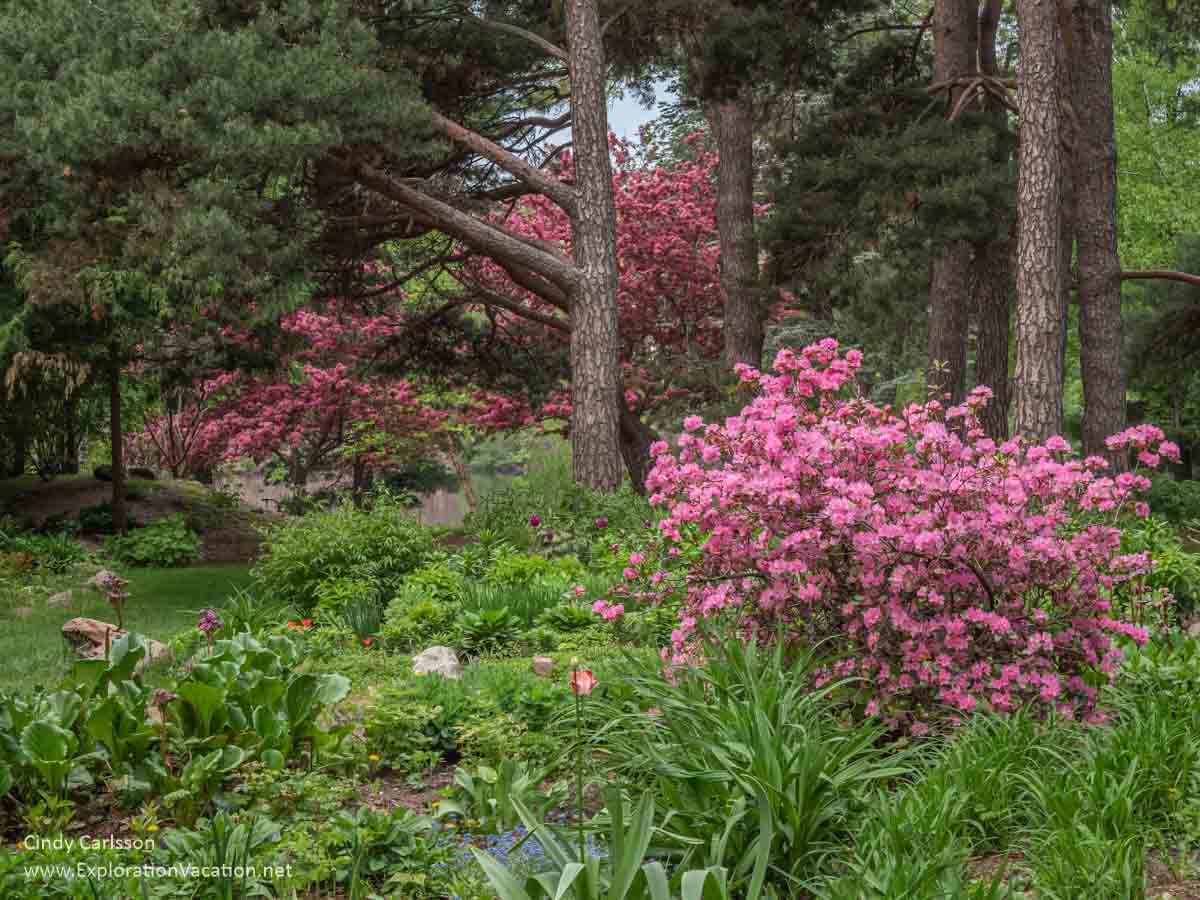 Natural-looking garden beds weave around trees, rock gardens, pools, and other rustic features (many constructed by the WPA in the 1930s) along the river's edge.
It's a lovely blend of Romantic 18th and 19th European garden design and regional American architectural elements, materials, and plants.
Big colorful flowerbeds were once all the rage
But a peek into Munsinger Gardens' history shows this garden has evolved along with American tastes and expectations.
The original garden featured a lot more sun and many, many more formal flowerbeds than exist today.
The large trees that now shade the site were planted by Campfire Girls in the 1920s. They were still small when Joseph Munsinger, Saint Cloud's first Park Superintendent, began developing a flower garden in a portion of what was then called Riverside Park a few years later.
Munsinger loved flowers and built large beds connected by walking paths that made it easy for visitors to enjoy the flowers he planted. And he planted a lot of flowers! He filled his flowerbeds with a colorful mix of annuals and perennials he grew in the park's greenhouse. And then he added thousands of tulips and daffodils throughout the garden and surrounding park.
Munsinger created the city's gardens at just the right time.
Colorful public flower gardens were wildly popular gathering spots in the 1930s, and Munsinger's lavish garden was often cited as among the most beautiful in the state.
But tastes change.
After WWII, public gardens fell out of style for decades. Most cities turned their gardens into lawns and playgrounds. But in Saint Cloud, park staff managed to maintain at least the outline of Munsinger's beloved gardens until public gardens came back into fashion in the 1980s. At that point the remaining garden was completely renovated and revived.
Today's garden is much shadier than the original, but a few of Munsinger's original flowerbeds still remain. Together with the more natural-looking shade gardens, they form a wonderful modern garden that honors its past.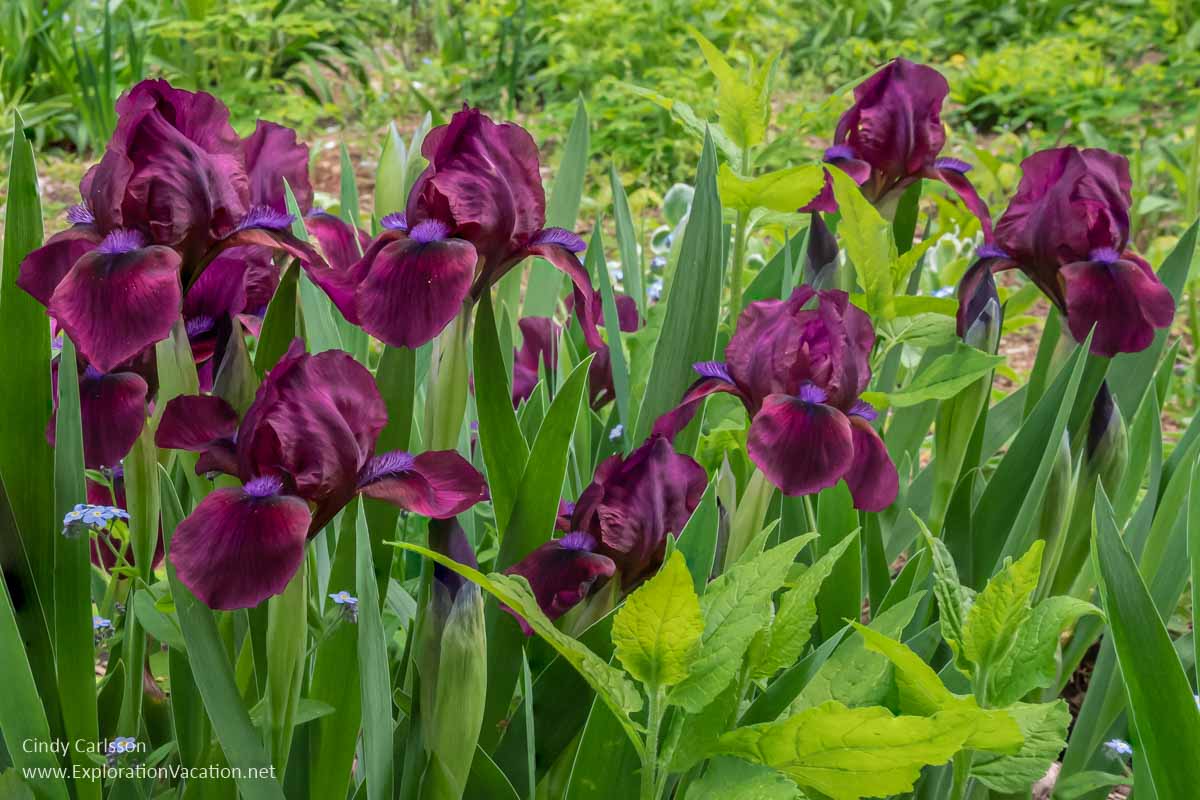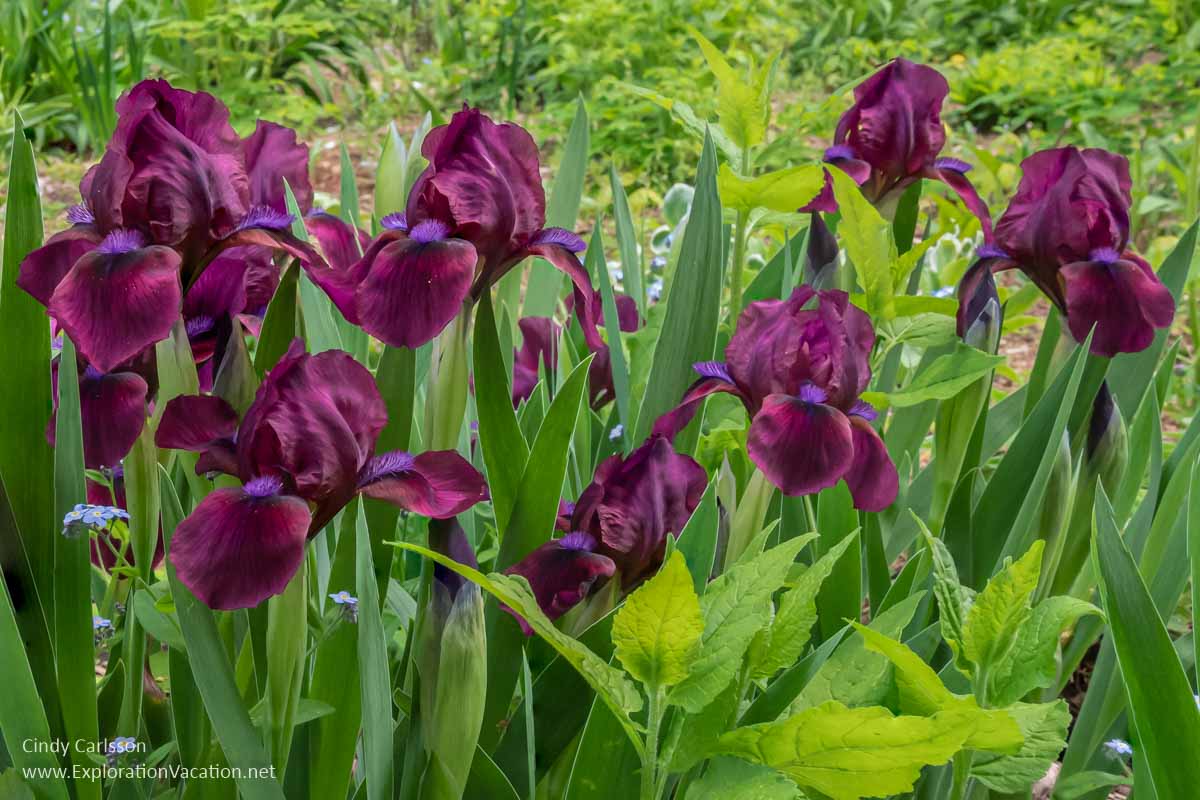 Clemens Gardens
In Saint Cloud, the 1980s garden craze brought more than the renovation of Munsinger Gardens. It also led to the creation of a new garden on a sunny hillside above the gardens Munsinger built. Originally planted as a more formal complement to the naturalistic shady garden along the river, it quickly expanded to become a series of elaborate formal gardens known today as Clemens Gardens.
Land donated to the city in 1941 to expand Munsinger Gardens included property on the hill above. Once used as a gravel pit, the city planted grass and trees to create a neighborhood park. Part of this park became the Formal Garden in 1985.
But most of the gardens on the site today exist largely due to the vision and funds provided by Saint Cloud businessman and philanthropist Bill Clemens.
Bill and Virginia Clemens owned a house that overlooked the new formal garden. In 1988 they purchased a vacant lot adjacent to that garden. They did so in part to protect their own view of the garden for Virginia, who loved gardens but was unable to go out and enjoy them herself. But they also wanted the city to expand the garden further. To make that happen, they donated both the lot and most of the money needed to create a rose garden on the property.
Over the next decade, Bill Clemens supplied much of the vision and funding needed to develop formal gardens on both the lot he donated and the remaining city property.
A series of beautiful formal gardens
Although only half the size of Munsinger Gardens (14 acres), Clemens Gardens (7 acres) displays a wide variety and quantity of flowers. In keeping with the original formal garden, all are European-style formal gardens that incorporate woody shrubs, annuals, perennials, bulbs, and lots of decorative sculpture, metalwork, and hardscaping.
Clemens Gardens includes six designated gardens. In addition, both a hillside garden and forested walkway connect Munsinger and Clemens Gardens.
The Formal Garden
Created in 1985, the Formal Garden was the first garden created in the park above the original Munsinger Gardens. This garden features geometric paths with and flowers that blend together in order to focus attention on the overall design, rather than individual flowers.
It was updated in 2000 when the Windsor Court fountain with its cast-iron ducks and swans was installed. (This fountain was severely damaged by vandals in 2019 and was being repaired on both my visits.)
The Rose Garden
The Virginia Clemens Rose Garden was created next. A new garden, it was created by moving roses from the existing gardens together in one place and then adding many, many new roses. Today it has over 1000 roses of more than 70 varieties.
This garden features the Jenney Crane fountain, the first fountain in Clemens Gardens.
Over the years, two rose test gardens were added nearby.
The Rest Area Garden
A Rest Area Garden with clematis and climbing roses features the Renaissance Fountain with Cranes. At 24-feet tall, the fountain is said to be one of the tallest in Minnesota.
This area also has a statue of Bill and Virginia Clemens.
The White Garden
The White Garden came next. It was inspired by writer Vita Sackville-West's famous garden at Sissinghurst Castle in Kent, England. A garden that is itself based on the ideas of famed English gardener Gertrude Jekyll, known for overflowing cottage gardens of a single color, but many different shapes and textures. The White Garden in Clemens Gardens also follows these principles, but with a mix of flowers suitable for Minnesota gardens – along with the same variety of white rose grown at Sissinghurst.
The original plan was to create an herb garden in this space. However, Virginia Clemens apparently wasn't a big fan of herbs. Seeking a different option, Bill sent the city's gardener on a European tour of famous gardens in England and France. Thus, the decision to create a garden based on the one at Sissinghurst.
(Despite all of this, the White Garden remined me of a fancy herb garden.)
The Perennial Garden
The Perennial Garden was created in 1995 on a sandy area once used as a sledding hill by neighbor children. (Yes, the children's parents complained loudly about turning it into a public garden.) Today it functions a bit as a particularly lovely demonstration garden, as all of the perennials are winter-hardy in Minnesota and many are Midwest natives.
It also features the Promenade Fountain, a copy of a pre-Civil War fountain from Georgia.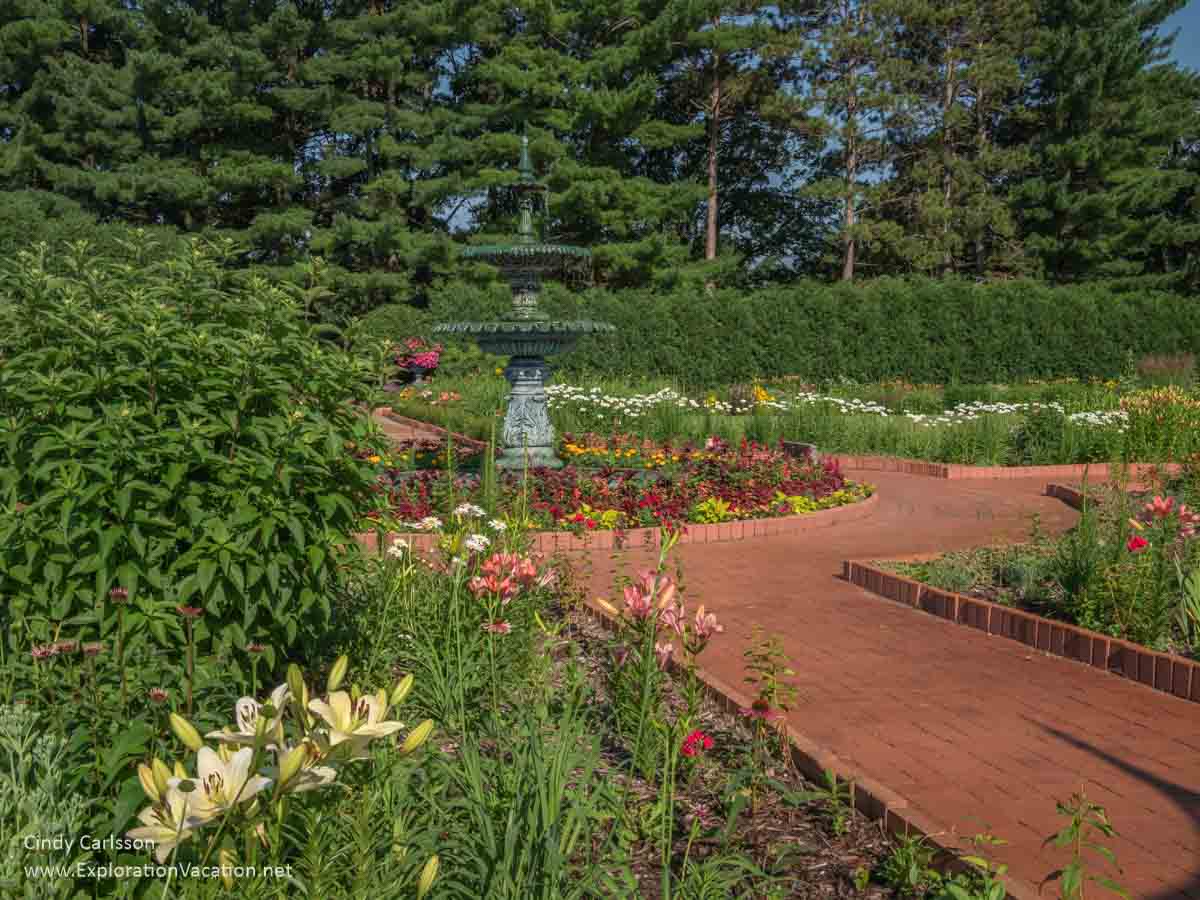 The Treillage Garden
The last garden, the Treillage Garden, was completed in 1996. This large garden features a huge central arbor and four single-color flower gardens.
The metal arbor is reminiscent of an elongated Renaissance church. It includes a large central dome, barrel vaulted "ceilings," thin columns, and "walls" with arched windows that frame views of the colorful gardens beyond.
(Each quadrant of the perennial garden is planted in a radically different color scheme that changes from year to year.)
Beneath the central dome, the Three Graces Fountain quietly splashes amid all the greenery.
Behind the scenes
When public gardens were popular in the first half of the 20th century, many cities both large and small maintained elaborate public gardens. To maintain them, they also had both dedicated garden staff and a city greenhouse where the colorful annuals used in these gardens were raised. Today, few cities still have staff dedicated to maintaining public gardens. (Duluth, Saint Cloud, and the Minneapolis Park Board are notable exceptions.) Fewer still grow their annuals themselves.
Saint Cloud is one of those rare exceptions. The city has both full-time gardeners and a city-owned greenhouse.
When Joseph Munsinger designed the city's first gardens along the Mississippi River, he also designed a greenhouse to grow the plants he needed for those gardens. His first greenhouse was built in 1938. In 2009 a modern greenhouse opened. This is not a public conservatory. It's a work space used to raise the 10,000 annuals (and other plants) needed each year to keep Munsinger Clemens Gardens and the city's other public spaces blooming.
All of the city's gardens and the 100,000 plants that grow in them are overseen by a garden supervisor and her staff of full- and part-time employees.
These city employees start seeds for annuals in the greenhouse during the winter, plant the gardens in spring, maintain them throughout summer and fall, and then remove annuals, cut back perennials, and cover the roses as winter approaches. In the dead of winter the process begins again as they order seeds and plants for the year ahead.
Plan your visit
Allow at least an hour or two to see both Munsinger and Clemens Gardens. Longer if you are looking for ideas for your own garden or taking photos. You can bring a picnic and have lunch along the river, or (usually) stop by the gift shop and enjoy a snack on their deck.
But leave your dog home. Dogs are not allowed in either garden.
More information on both Clemens and Munsinger gardens can be found on the city of Saint Cloud's website and the Munsinger Clemens Botanical Society's site.
What's in bloom when
Both gardens change pretty dramatically over the course of the year. However, Munsinger Gardens is really a year-round garden while Clemens Gardens is mostly a late-spring through early-fall garden.
Check the bloom calendar for more detailed information on what usually blooms when. And keep in mind that bloom time is impacted by the weather.
Getting to Munsinger Clemens Gardens
The Munsinger Clemens Gardens are located in central Minnesota. They are in a residential area of Saint Cloud, on the east side of the city along the Mississippi River.
That's about 60 miles northwest of Minneapolis. Either I-94 or Highway 10 will usually get you there in under 1½ hours, although traffic between the two cities slows considerably during late afternoon.
On-street parking is available along both the upper and lower gardens.
In the gardens
Daily garden hours
Both gardens are open daily from 6 a.m. or 7 a.m. to 10 p.m. (Information online varies, but the city's park website currently says 6 a.m.)
Clemens Gardens is fenced with locked gates when closed. However, there's no gate at Munsinger Gardens, so you can enjoy it first if you happen to arrive before Clemens opens for the day.
Portions of both gardens may close at times for maintenance, weddings, and special events.
Both gardens are free
There is no fee to visit either garden.
Other fun things to do in Saint Cloud
Saint Cloud has long been an important regional center for retail and medical services. The city and surrounding communities create a sprawling place with acres of houses on former farm fields and miles of strip development featuring big box stores, chain hotels, and fast-food restaurants. If you drive through the area one of the main highways you are not going to go "Wow! This is a really interesting place to stop and look around." But look a little deeper and you'll find plenty that is worth stopping for.
More photos from Munsinger Clemens Gardens