California really is the land of dreams, whether those are dreams of adventure, wealth, fame, or simply a great vacation. It's likely no other US state takes up more space in the collective consciousness of the world.
While dreams regularly go bust in California, it really is a paradise for tourists. Whether you are seeking an urban experience, beach time, fine dining, an escape into the wilderness, or an epic road trip, California has it and so much more. Whatever your travel dreams, you probably can fulfill them somewhere in the Golden State.
California trip ideas for every region

California's a big state with a lot to see and do – there is far too much for most travelers to take in on one visit. To simplify travel planning, the California Travel and Tourism Commission divides the state into 12 regions. The following is based on those regions. However, I've simplified the system to provide California trip ideas that can easily form road trips that fit your time and interest.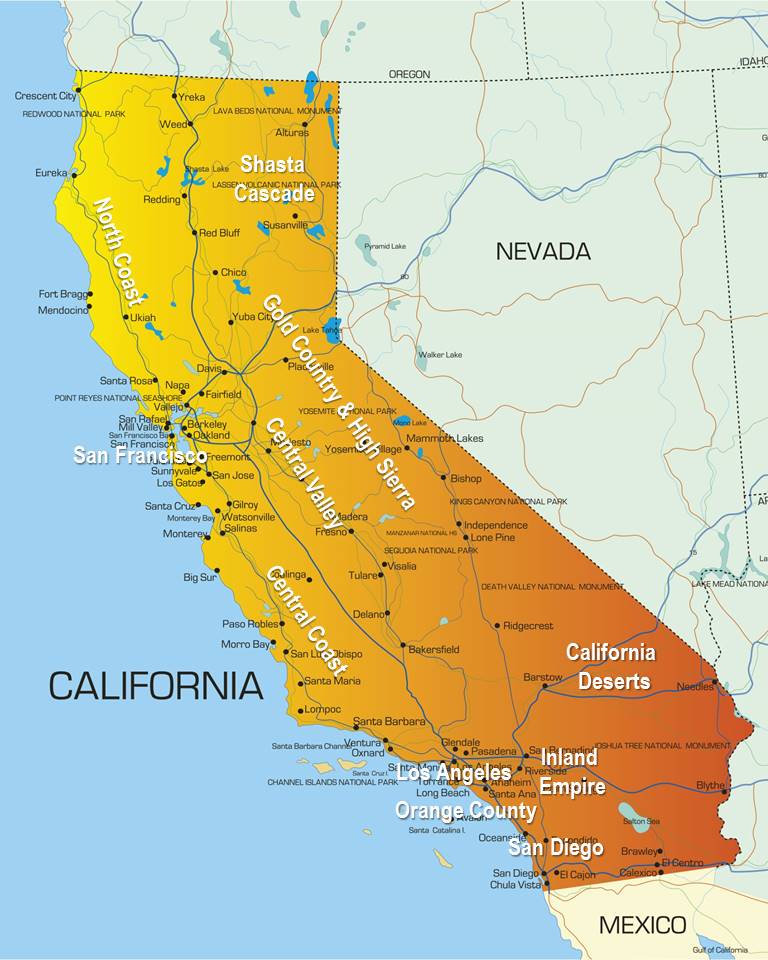 Exploring California: Shasta Cascade
The northeastern corner of California is home to the Cascade Mountains, rugged peaks that include Mount Shasta, as well as the farmland of the Upper Sacramento River. It's a corner of the state I have yet to explore. When I do visit, Lassen Volcanic National Park, Burney Falls, the Sundial Bridge across the Sacramento River in Redding, and the wildflowers of Mount Shasta are all places I'd like to see.
Exploring California: The North Coast
This region combines a stunning coastline with the wineries of Sonoma and Napa and redwood forests of the north. It's a great place for a road trip, whether you are cruising along the coast, through vineyards, or below towering redwoods. We've visited the vineyards of Sonoma and Napa a few times and have driven along the coast all the way to Oregon (among the most stunning vistas I've ever seen was the northern California coast on a day when the late afternoon sun combined with smoke from a forest fire to create a scene of utter beauty and magic), but it's an area I could return to time and time again.
Exploring California: San Francisco Bay
As wonderful as they are, there is more to San Francisco area than glittering Union Square, Fisherman's Wharf, Victorian neighborhoods, cable cars, and iconic bridge. There are markets, garden, museums, parks, festive ethnic neighborhoods, and a seemingly unlimited number of places to get something great to eat. Of course, there are good options outside the city, including artsy Oakland, geeky Silicon Valley, sunny Santa Cruz, funky Sausalito, and the dramatic headlands of Marin County. The only downside is the expense of staying right in the heart of it all.
Looking for a hotel in San Francisco? Find the best deal, compare prices, and read what other travelers have to say at TripAdvisor.
Exploring California: Big Sur and the Central Coast
Covering one of the most spectacular stretches of a generally spectacular coastline, this part of California is famous for coastal scenery (think Big Sur and Highway 1), charming towns (think Santa Barbara, Carmel, Monterey, and more), and inland vineyards (think Sideways). There are also historic missions, sprawling ranches, and the solitude of Channel Islands National Park. I love this part of the state for its non-stop scenery and interesting historic towns. . . and the really, really fun road that winds through it all.
Exploring California's Central Coast Missions
Other posts
Check TripAdvisor to find the best deals, compare prices, and read what other travelers have to say about hotels in Santa Barbara and Monterey.
Exploring California: Los Angeles and Orange County
Los Angeles
I love Los Angeles. I love its museums, its weird mix of cultures, wildly varied neighborhoods, and swaying palm trees. There's something about it that makes me happy just to be there. I don't watch TV or go to movies and couldn't identify most celebrities if they joined me at a bar and started chatting about their careers, so it's not like I've fallen under the spell of Hollywood. Or maybe I have. Despite the interruption of modernity, there is still something of the simple glamor and hopefulness of the 1940s in the air. Check it out for yourself and remember, when you get sick of what passes for Hollywood glam today, you can always visit LACMA, hear the LA Phil at Disney Hall, do a little shopping in old downtown Pasadena, hang out on the beach in Santa Monica, or so much more.
Looking for a hotel in Los Angeles? Find the best deal and read what other travelers have to say at TripAdvisor.
Orange County
2015 marked my first real visit to Orange County. While I've zipped through on previous trips (maybe with a brief stop to admire a particularly picturesque beach) between LA and San Diego, I'd never really stopped to explore and never had a sense that this was a place apart from LA. Now we've finally spent a little time here. I'm still not convinced it isn't just LA south, but I like what I saw – even during a cold and rather gray week. We'll be back.
Looking for a hotel in Orange County? Compare prices and read what other travelers have to say at TripAdvisor.
Exploring California: The Inland Empire
The Inland Empire is a strange name, but it is an odd place – a classic mountain resort area (think pine-covered mountains, clear blue lakes, and log cabins) plunked down in the otherwise arid landscape of southern California.
I've never spent any real time here, but recall my amazement when driving through the area to suddenly discover the San Bernardino Mountains. It was as if a bit of the Adirondacks had picked up and relocated to California. That the area around the mountains also includes plenty of vineyards should surprise no one, given that this is California.
Exploring California: San Diego County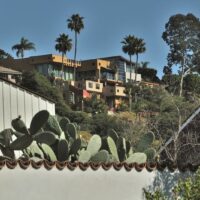 San Diego County is blessed with a gorgeous coastline and near perfect weather throughout the year, making it a perfect vacation spot any time of year.
Looking for a hotel in San Diego? Find the best deal, compare prices, and read what other travelers have to say at TripAdvisor.
Exploring California: The Deserts
I love exploring the California deserts – dramatic places that, despite the harsh environment, explode with colorful flowers in the spring. While I'm partial to the great desert parks of Joshua Tree, Death Valley, and Anza-Borrego, those in need of a bit more pampering need only stop-off in Palm Springs.
Looking for a hotel? Find the best deal, compare prices, and read what other travelers have to say at TripAdvisor for hotels in Palm Springs or Joshua Tree.
Exploring California: Gold Country and the High Sierra
Why have I not yet explored California's High Sierra?
This spectacular-sounding mountain landscape is home to Yosemite, Sequoia, and Kings Canyon National Parks. For those looking for a bit of contrast, the High Sierra is also the location of both Lake Tahoe and Mono Lake. And then there is the ghost town of Bodie. Gold Country is found in the foothills of the Sierra Nevada range, which is the heart of the Gold Rush and home to Victorian-era towns and mines, as well as California's state capitol (Sacramento). It sounds like an area with a fascinating selection of boom and bust history with a few vineyards thrown in for good measure.
Exploring California: The Central Valley
Despite its size, I've never thought of the Central Valley as having much to offer tourists. Visit California touts the area's agricultural offerings (you can visit farms and orchards), vineyards (yes, they are everywhere in California), Bakersfield (which, besides being an oil town, has also been a music center), and sports.
The hills covered with wind towers are likely to remain my favorite thing in the valley for some time to come.
California beyond regional boundaries
California is famous for its auto-dependent lifestyle and the resulting traffic jams, so it seems appropriate that visitors hop in an automobile and hit the road. Try one of these or design your own!
Highway 1 road trip
The drive along California's coast (and beyond) is one of the USA's great road trips. You can follow US Highway 101 all the way from Mexico to Canada, but move over to California Highway 1 to drive along the very edge of the continent.
California's El Camino Real – The Historic Mission Trail
About the same time a bunch of patriots (or rebels, depending on your perspective) on the other side of the continent were establishing a new nation, Catholic priests began establishing a Spanish foothold in what would someday become California. The route they followed was known as the El Camino Real (the Royal Road, which was the Spanish conquistador equivalent of our interstate highway system). Today visitors can retrace their route (which largely follows Highways 1/101) from the southern border of California north to Sonoma County, with stops for exploring the 21 Catholic missions established by those early priests.
Exploring the California Mission Trail 
Resources
There are lots of resources for exploring California, but one of the best is the California Travel and Tourism Commission website,  which has a lot of great travel information and ideas, including sample itineraries.
In addition, the public television show California Gold covers a variety of California themes.