(Last Updated On: January 12, 2023)
Hill Annex Mine State Park preserves northern Minnesota iron mining history. Park tours show visitors part of a former open pit iron ore mine, complete with vintage buildings and equipment.
But go see it now. This history is disappearing!
I use links to improve your experience using this website. Some may be affiliate links that pay me a small commission if you use them to reserve a room, rent a car, or purchase goods or services. You don't pay anything extra, but it helps keep this website running without intrusive advertisements. To learn more, review my policies and disclosures.
See Iron Range history at Hill Annex Mine State Park
Hill Annex Mine State Park is located on the Mesabi Iron Range in northeastern Minnesota.
This is the most important of three areas in the state where iron-bearing rock was mined. Iron ore mines here fed the nation's steel mills through two world wars and made this part of Minnesota what it is today. It was the region's lifeblood for about 60 years. However, as reserves of high-quality ore ran out, even once highly productive mines struggled to remain viable. Over time, Hill Annex, like most, closed. But not every mine closed. Even today, iron ore – in the form of taconite – remains a vital part of northern Minnesota's economy.
At Hill Annex Mine State Park visitors can learn about Minnesota's Iron Range history at two levels:
Fossil hunts tell the story of the Iron Range in geologic terms through rock formed more than 65 million years ago.
Mine history tours tell the story of open pit iron mining in Minnesota from around 1910 through 1978.
This is a fascinating historic site, but also an endangered one. One that may one day close.
To some degree, it's an old story. There has been a threat the park will close almost since it opened. Now, every two years, that possibility seems to rise again. And, in response, the park is given two more years of life. But there's no long-term commitment to keep the park operating. Nor is there funding available to preserve the park and its structures.
That inaction is taking a toll.
While waiting to see if active mining will someday return to the site, nature has been hard at work.
All of the historic structures in the mine pit are now beneath many feet of water. Those above the pit await the day when rising water levels begin to destabilize soils. And everything is slowly rotting from 40 years of exposure to Minnesota weather.
Amazingly, there is still a lot to see.
But don't wait to visit this treasure trove of mining history. Go now!
(The park is open Fridays and Saturdays until Labor Day, and then again in summer 2020 between Memorial Day and Labor Day.)
Read about all about this complex park, its history, what you'll see in the park, and thoughts on its future below. Or use these links to skip ahead and start planning your visit now!
The story of Hill Annex Mine is the story of Minnesota's Iron Range
Northeastern Minnesota has long exported its natural wealth to the rest of the country and the world.
First came the Voyageurs seeking furs, particularly beaver pelts to make fashionable hats for men. But political tension rose along the Canada/USA border and the supply of local fur dwindled. In response, the Voyageurs moved farther north.
Loggers came later, following the always-retreating forest through Minnesota Lake Country. And, as they worked, the first miners began to arrive.
Those early miners followed the illusory promise of gold. Failing in that pursuit, they left. But, as the loggers finishing their work in the northern forest, a new group of miners arrived. This time they came seeking iron ore.
By the time the northern forests had fallen and the logging camps closed, iron mining was rapidly reshaping the physical and cultural landscape of northern Minnesota.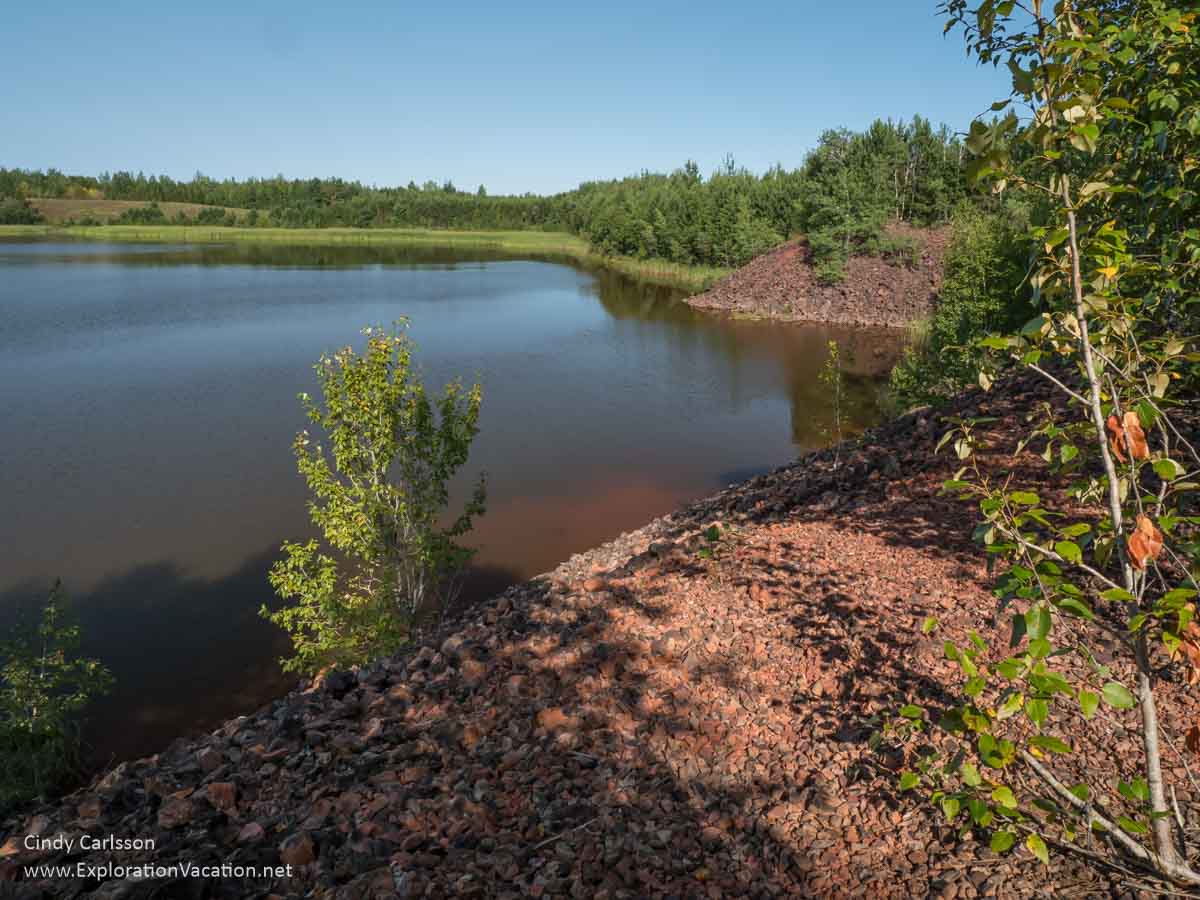 Hill Annex Mine history
A long narrow band of very high-quality iron ore runs through northeastern Minnesota in an area called the Mesabi Range. It's part of a larger iron range that runs through much of the region, but the Mesabi was the heart of northern Minnesota mine country.
Although the presence of iron-bearing rock was noted earlier, 1890 is generally cited as the date when iron ore was "discovered" on the Mesabi Range. The first lease for mineral exploration at Hill Annex came shortly thereafter, in 1892. It took another decade for actual mining to begin, but when it began, it began in a big way.
Hundreds of mines have operated on Minnesota's Iron Range. Hill Annex was one of the most productive of them. Over the mine's life it produced 63 million tons of iron ore, making it the state's sixth largest producer. Located on one of the state's richest deposits of ore, in its early years it produced ore of such high quality that it could pretty much go directly from the earth to the steel mill.
New life for a historic mine
An old mine is a big liability. Once closed, Jones and Laughlin Steel needed to figure out what to do with it.
One option was to give it away.
So, the mine and its buildings and remaining equipment were "sold" to the Iron Range Resources and Rehabilitation Board (a state agency that was an independent governmental organization at that time) for $1. And then the mine opened for tours.
The mine was listed on the National Register of Historic Places In 1986.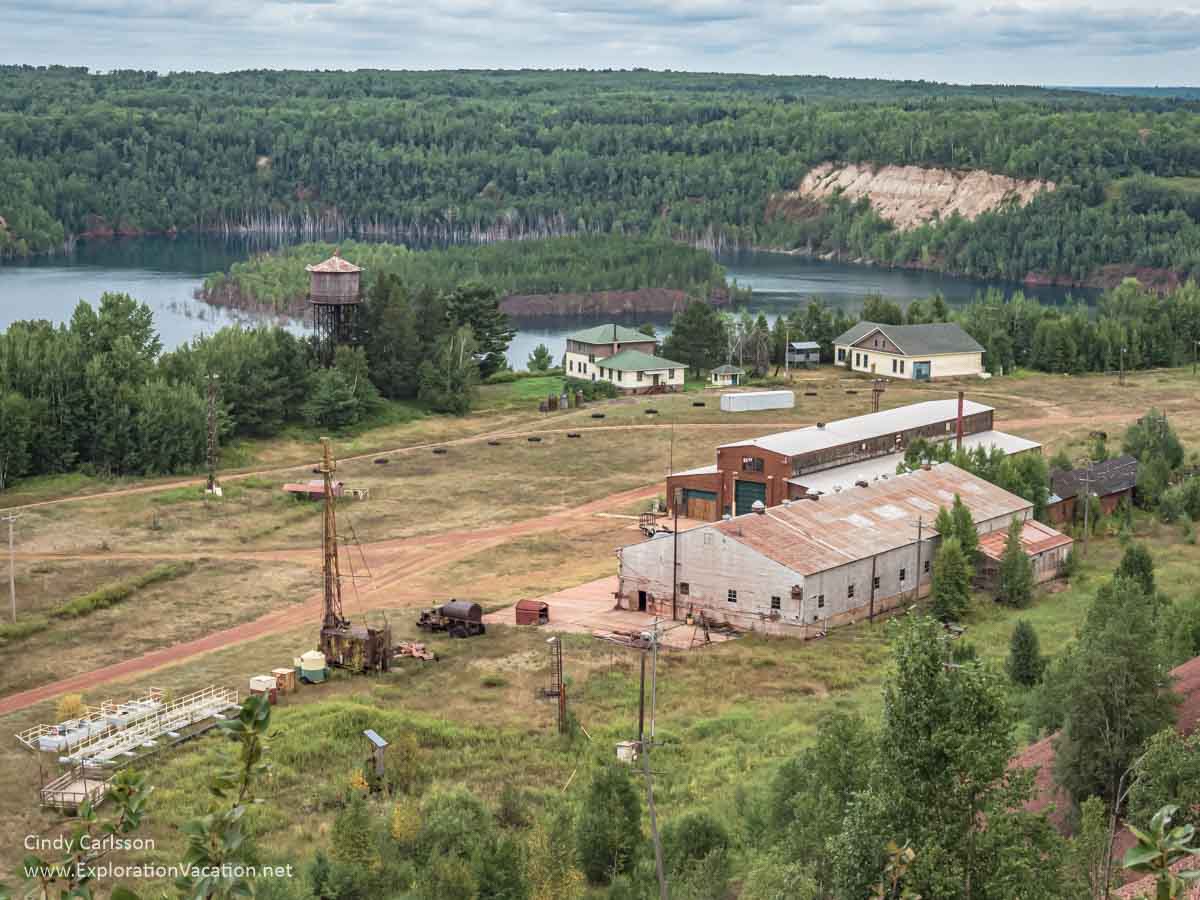 In 1988 the site became a state park under Minnesota's Department of Natural Resources.

Get to know Hill Annex Mine State Park
Today most people think of state parks as places to experience nature. It's where they go to hike, camp, canoe, and fish.
You are not allowed to do any of those things at Hill Annex Mine State Park.
This is a different kind of park, one of a number of state parks established to preserve places with historical significance.
Hill Annex Mine, like Soudan Underground Mine and a number of other parks, was created to allow Minnesotans to learn about the state's history right where it happened. Iron mining shaped northern Minnesota. Hill Annex Mine State Park lets visitors see for themselves what an open pit mine looked like, how it operated, and how people lived and worked in mine country.
It wasn't created to preserve a natural area, although wildlife is plentiful within the park. And, because of the dangers posed by a former industrial site, no one is allowed to freely roam through the woods, climb the tailings piles, fish on the lake, or set up their tent for the night. You can only experience the park through a guided tour.
But the park is an odd visual wonderland that preserves an important part of Minnesota history.

Visit the museum
Start your visit at the park's excellent museum.
The park's visitor center and museum are inside what was once the Calumet Community Club.
Hill Annex Mine built the Club about 1915 to serve as a gathering place for miners. Early in its history, the Club had bedrooms to house young mine engineers who didn't have a house of their own. Apparently, the building also housed the mine laboratory and offices for the mine's manager and engineers for a number of years before it closed.
The Community Club stands in area that later included a (now demolished) school and houses built for mine managers and engineers. (All these were moved or demolished over the years.) Once it would have blended into the rest of the city of Calumet. Today the immediate area is mostly filled with trees, but look carefully as the bus tour begins and you'll still see old street lights, sidewalks, and other signs of the houses that once stood here.
Most of the Community Club building is now a museum. It tells the story of iron ore mining in Minnesota and the people who came here to live and to work in those mines. That story comes to life through a mix of signage, historic photographs, artifacts, and period rooms representing various offices, laboratories, and lodging from the building's past.
Get on the bus
A bus tour takes visitors around the mine site at Hill Annex Mine State Park. You can't get close to (or see) much except water in the mine pit these days. However, you will see the exterior of a number of buildings and odd structures above the pit. And you'll see a lot of old mining equipment everywhere.
Bus tours start behind the museum. They are conducted by former mine workers who are very knowledgeable about mining in general and this mine in particular.
As you travel through the complex, the guides explain what you are seeing and share stories about the mine and its people.
Through the woods
Watch as the bus leaves the Community Club at the start of the tour. You'll see the old street lights and other signs of the neighborhood once located here. Not far behind you'll also see the water-filled mine pit.
Little lessons tucked between the trees
As we drive, the trees and brush alternately conceal and reveal an array of rusted signs, dilapidated buildings, disintegrating equipment, and long-abandoned vehicles and machinery. Sometimes equipment from different points in time end up together, like this electric locomotive resting in front of the conveyor that replaced it.
Most of the equipment in the park is sitting pretty much where it was left it all those years ago. However, a few things have been moved or even brought in from other mines to provide a more complete picture of mining activity over the decades. This is particularly true of older equipment that would not have been in use anymore when Hill Annex closed in 1978.
One example of this is a steam drill and wooden tripod that sit along the road as a display.
Equipment like this would have been used for exploratory drilling in the mine's early years.  Even while Hill Annex was still operating, this system had long since been replaced by more powerful and efficient equipment.
A water-filled pit and some big machinery
Our next stop includes a close-up look at the water-filled mine pit, various types of ore, and some big mining equipment.
Children on my tour seemed to love playing with the chunks of ore, although I doubt they were impressed by the varying qualities of the pieces on display!
The mining equipment on display includes this drill (used to create holes that could be packed with explosives to break up the ore deposit), a blasting shack (used by the blasting crew to hide when the explosives were set off), an electric shovel (to scoop up the blasted material) and a dump truck (to haul it away.)
All of this is located at a relatively low spot along the rim of the mine pit. As the water level in the pit continues to rise, this likely will be the next area to flood. But, for the time being, it seems to still be accessible.
(The tour used to continue past this point. However, the road and most of the sights beyond here are now under water.)
The pit lake
Northern Minnesota is lake country. But, amid the many natural lakes, the Iron Range also has a large collection of abandoned mine pits that have filled with water to become lakes. The mine pit at Hill Annex is now one of these.
The pit at Hill Annex is 500 feet deep and stretches ¾ of a mile across at its widest point.
It has not yet completely filled with water. However, it has filled to the point where it and neighboring pits have merged to form one big water body. And the water is high enough to hide almost all evidence of the mining operation that created it.
For many years rail cars brought ore out of the mine. However, by the 1940s the climb out of the mine was too steep for the rail system.
At that point a system of conveyors was built. Dump trucks would haul material from the bottom of the pit up to a loading area (called a "pocket") about midway up. There the load was transferred to a conveyor that brought it up out of the pit and sent it on to a processing facility. (You'll see the processing facility later on the tour.)
Part of that conveyor system is still visible in my 2018 photo above.
A close look at some big machinery
There's some big equipment on the slope above the water and drill.
The Euclid dump truck was used to haul material from the lower levels of the mine up to one of the loading stations. This one is probably from the 1950s. It only looks small because the shovel is so large!
The mine had several sizes of Marion shovels. These huge shovels stripped away dirt and boulders to uncover the iron ore. They also scooped up ore and dumped it into trucks. Over the decades, Hill Annex used a variety of these huge shovels. This one dates to the 1950s, but large shovels like this were used from the mine's early days. In the 1920s the mine's steam shovels were so efficient that they set a variety of records for the speed and quantity of material removed.
(This is the same type of shovel the bucket by the visitor center was from, but I don't know how big this one is in comparison.)
Visitors can go up into the cab of both the dump truck and the shovel to see what they look like, albeit after sitting outside, open to Minnesota weather for decades. These machines still ran when they were left here. I'm pretty sure that isn't possible any more.
The shovel was the highlight of my tour because you go into both the cab and the machinery behind it. It was a perfect photo opportunity for geeks.
Ore processing overlook
Back on the bus we pass more abandoned equipment of all types. A lot of it, however, seems to be part of the conveyor system that linked the mine. It brought ore up from the mine. But, once it reached surface level, other conveyor belts moved it between processing facilities and hauled waste material away.
Today much of the system lies hidden in brush. It's slowly rusting away as the years pass.
The bus takes us to the top of a tailings pile. A tailings pile is a great place to get an overview of the area, and this one provides a good view of mine processing area. (There are several different viewing areas on this and other tailings piles. All tours seem to go to a couple of them, but they seem to change periodically.)
This is an ore processing area. It was built in the 1940s, when lower quality ores required processing that were unnecessary in earlier years.
Heavy Media Plant, offices, workshops, and water tower
The last place the bus pauses is near the administrative part of mining complex. Most all of the buildings in this area are included on the National Register of Historic Places.
The bus pauses here, but you can't get out and look around. That's a bummer, because there is a lot to see and it's hard to photograph it through a bus window!
Heavy media plant
Even into the 1940s ore quality at Hill Annex was generally so high that the only processing needed before shipping was washing. However, as increasing amounts of lower-grade ore were used, existing processing facilities were no longer adequate. The heavy media plant was added early in the 1950s to replace existing facilities.
The heavy media plant was used for two processes:
Fine (very small) material was separated from waste rock using a gravity process called a Humphreys spiral.
Larger material went through a sink and float process using liquid compounds (heavy media) to separate out undesirable material.
This was the last step in the process. Ore moved directly from the heavy media plant into rail cars for shipment to Lake Superior. From there it was sent on to eastern steel mills.
At the same time, another conveyor system moved waste material out of the heavy media plant and dumped it in large tailings piles.

The railroad repair garage
Once upon a time the tour bus drove through the rail equipment repair shop to give visitors a glimpse of this lost in time wonderland, even if only through the bus window.
Alas, no more. The building is now closed and boarded up.
And that makes me sad.
This industrial beauty was constructed in 1930 to maintain the mine's steam locomotives and other railroad equipment.
It was designed to allow even the company's largest engines to pull right inside the building for maintenance and repairs. Large windows assured workers would have lots of natural light. An unusual wood block floor, set end-grain up, softened the blow when a heavy tool or piece of machinery fell. That assured delicate gears and other equipment wouldn't be damaged in a fall.
Why Hill Annex Mine matters
In 1990 DNR presented its first report on the new park. It began thus:
Hill Annex is not just another abandoned pit mine. It is a resource rich with the state's geologic, cultural and mining heritage. Of the more than 400 open pit iron mines that dotted the northern Minnesota landscape, only six are still in operation. Most or all of those that are abandoned will eventually fill with water. Hill Annex provides a rare opportunity for visitors to experience first-hand, Minnesota's open pit mining history. For this and the following reasons, Hill Annex merits status as a state park.
Settlements associated with the Hill Annex mine reflect a diverse mix of European cultures.
The mine represents a 60 year evolution of mining technology.
Hill Annex is the only abandoned open pit, natural ore mine with buildings intact.
Hill Annex is on the National Register of Historic Places.
Not mentioned here it the fact that Minnesota's iron turned the USA into an industrial and military powerhouse. It put cars on the nation's roads in the 1920s, struggled through the Depression, and then went full-out to win World War II.
Iron mining, and particularly open pit mining, shaped the landscape and the people of northern Minnesota. And the culture and ideals that formed here still shape the region and the state. What happened here between the turn of the century and the 1960s still impacts our state today.
This is a place to celebrate, but also learn from, that complicated history and its aftermath.
Of course, the mine itself is no longer the complete complex that became a state park in 1988. With a few exceptions, the remaining historic assets that make Hill Annex worth saving are rapidly decaying. Without significant intervention, in another decade it will be little more than ruined landscape of rusted-out equipment and dilapidated structures falling into heaps. It will be just another barely-remembered failed mining site in northern Minnesota. At that point, it probably won't really matter if rising water obliterates it.
That would be easy.
It's always easy to let the past just slide away as if it never existed. To forget who we are and how we got here.

Hill Annex's future is still uncertain
Decades of indecision have not been kind to Hill Annex Mine State Park.
Water continues to rise, historic assets continue to drown or deteriorate, limited staffing limits park hours and activities, and diverting all funds raised by the park to the state trust fund removes any ability for the park to be self-supporting. All of these problems could and should have been addressed decades ago. Dedicated volunteers are probably the only reason park tours are still available.
Yet, even today, there are options to preserve at least a few pieces of this historic treasure. But the door is closing.
What's next
By law Hill Annex Mine State Park will remain in operation through June 30, 2021.
During that time, DNR is required to continue working with the same small group to find a way for those local stakeholders to ensure "sustainable and viable operation of the park site."
Since the park is too complex and too expensive for almost anyone but a state agency to manage, the 2021 legislature really only has two choices:
Close the park and be done with it, leaving the current museum for the community to operate.
Do what it has always done, and kick the can down the road a little farther by giving Hill Annex Mine State Park two more years of life and requiring another report on its future.
This time around I'm really hoping for two more years and another report.
We could have saved Hill Annex Mine
Just in case you are thinking the whole idea of preserving an entire mine was never realistic, let me briefly introduce you to the city of Ostrava in the Czech Republic (Czechia).
Ostrava is a gritty industrial city long famous for its steel mills. Under the Soviets it became even grittier as coal mines, coke plants, and, of course, the steel mill, produced materials for Russia without any concern about community impacts or pollution. With the collapse of the Soviet Union, demand for most things produced here vanished. While the steel mill and a few of other factories continued to operate, much of the enormous mining and industrial facility was simply abandoned.
Faced with a polluted industrial wasteland, Ostrava began reimagining its abandoned industrial infrastructure.
With assistance in the form of many millions of dollars of European Union funding, the Lower Vitkovice (Dolní Vítkovice) industrial area, once a combination coal mining, coke production and iron facilities, now boasts a coal mining museum (complete with coal mine tour), an observation tower and restaurant on top of a blast furnace (you can tour the furnace too), a fabulous convention center and music hall in what was once a gas storage tank, a technology museum in a former power plant, outdoor art and concert venues, and more.
It shows what money, vision, and commitment can do.
Once upon a time, Minnesota could have done something similar at Hill Annex Mine. And we could have done it for a lot less money.

Plan your visit to Hill Annex Mine State Park
As has been the case before, Hill Annex Mine State Park could close soon. However, barring something unexpected, the park will remain open at least through Labor Day 2019 and then again during summer 2020. But only on Fridays and Saturdays.
The park's museum is well-designed and offers a lot of information in an engaging and comprehensible format. It's worth a trip to Calumet just to visit the museum, but there is more to see right in the park.
Mine tours via bus take visitors through the mine, as described above.
Fossil tours take visitors out to hunt for fossils on a waste ore pile that includes rock from the Cretaceous period.
Unlike most state parks, I don't think there is a fee to enter the park and visit the park museum.
There is a fee to take the park's tours. (Currently $10 for adults and $6 for children over age 5.) Both tours are offered on a very limited schedule, with just one or two of each tour available each day. Advance reservations are not really available and tours are limited to 28, so check the schedule and arrive early to be sure you get a spot.
This is a summer destination that combines well with vacation time spent hiking, boating, fishing, or just relaxing and listening to the loons at one of the area's beautiful lakes. The area is particularly beautiful in fall when the leaves turn, but the park isn't open then.
Where is the park located?
Hill Annex Mine State Park is located in the tiny northeastern Minnesota town of Calumet.
It's right off US Highway 169 between Grand Rapids and Hibbing. That's just a bit more than a 1 ½ hour drive northwest of Duluth and 2 hours south of International Falls. It's more than 3 hours north of the Minneapolis/Saint Paul metro area.
The park entrance is located just north of the highway right at the edge of the tiny town of Calumet.
Directional signage for the park isn't very good, so you may have to drive around a bit in town to find it. But Calumet isn't very big, so it shouldn't be too hard to spot.
Access to the Mesabi bike trail is also located at the park entrance, so watch for those signs as well.
Once you find the park, you'll also find plenty of free parking.
Drive or bike there
Northern Minnesota is one of those places where it's hard to get around without a motor vehicle.
If you don't drive, Jefferson Lines offers regular service to Grand Rapids via Duluth, Virginia, and Hibbing. It's not a fast way to get to this area, but you can get there.
However, once you get to Grand Rapids or Hibbing, the Mesabi Trail provides bicycle access to Hill Annex Mine State Park. With 135 miles of trail, it's a great way to tour the Mesabi Range. There is a small fee to use the trail.

Inside the park
The museum and mine overlook are located right inside the park entrance. Both are free to visit whenever Hill Annex Mine State Park is open.
All other sites on the park can only be visited as part of a guided tour.
Mine tours
Hill Annex Mine tours are only available once or twice a day and only at specific times. Check the park website before you go for tour times and fees.
As described above, guided bus tours take visitors through the mine site. Tour guides are former mine employees with lots of interesting personal stories to bring to life historical and technical information about the mine. (The guide for my tour was absolutely excellent.) All tours make a couple of stops, including a scenic overlook and a chance to see some big machinery up-close, but the site is largely viewed through the bus window. There is no opportunity to look inside any of the mine buildings during the tour.
The bus itself is an older vehicle, with an interior like an old school bus. It isn't terribly comfortable.
Tours last a little over an hour.
Fossil tours
Like the mine tours, fossil tours are only available once or twice a day and only at specific times. Check the park website before you go for tour times and fees.
Visitors are bused to a waste ore pile comprised of rock from the Cretaceous period between 66 and 145 million years ago. Lucky visitors will find snails, shark teeth, and the occasional clam, but most visitors will find a fossil of some kind. One of the three or four dinosaur bones found in Minnesota came from Hill Annex. Unless you find something really rare, you can keep everything you find.
Tours last about 1 ½ hours. The site is fully exposed to the sun and hunting for fossils amid the rock is hot, dirty work. Dress appropriately and bring water.

Food and drink
With the exception of Nana Chelle's in Bovey, options for eating and drinking are pretty limited near Hill Annex Mine State Park.
Nearby, Grand Rapids and Hibbing both offer a range of restaurants, cafes, and bars. But I haven't spent any time in Hibbing, so I'll focus on Grand Rapids.
Lodging options
Grand Rapids is the nearest large town and, with family there, that's where I stay. It also offers a full range of options, with a variety of hotels, resorts, vacation homes, and a few bed and breakfasts to choose between.
While you're in the area
Since you are probably going to make a special trip to visit Hill Annex Mine, plan to spend a couple days exploring this part of Minnesota. There's plenty do and it's absolutely gorgeous in throughout the year.
Here's a few ideas to get you started:
Mine-related options
The Hull Rust Mine View in Hibbing provides views of a working mine in Hibbing. It was recently redone and seems to be getting rave reviews. The website indicates mine tours will also be available, but no sign of them as of summer 2019. (Less than an ½ drive east of Hill Annex Mine State Park.)
I know nothing about the Minnesota Museum of Mining in Chisholm, but it sounds interesting. (About ½ hour east.)
Leonidas Overlook in Eveleth offers views of up to 15 miles over mine county. (Less than an hour east.)
Lake Vermilion-Soudan Underground Mine State Park includes several above-ground buildings, a fabulous guided tour of the former underground mine, and camping and hiking along the scenic shores of Lake Vermilion. This is a wonderful mine tour and it's located just off one of Minnesota's most beautiful lakes. (About 1 ½ hour drive northeast.)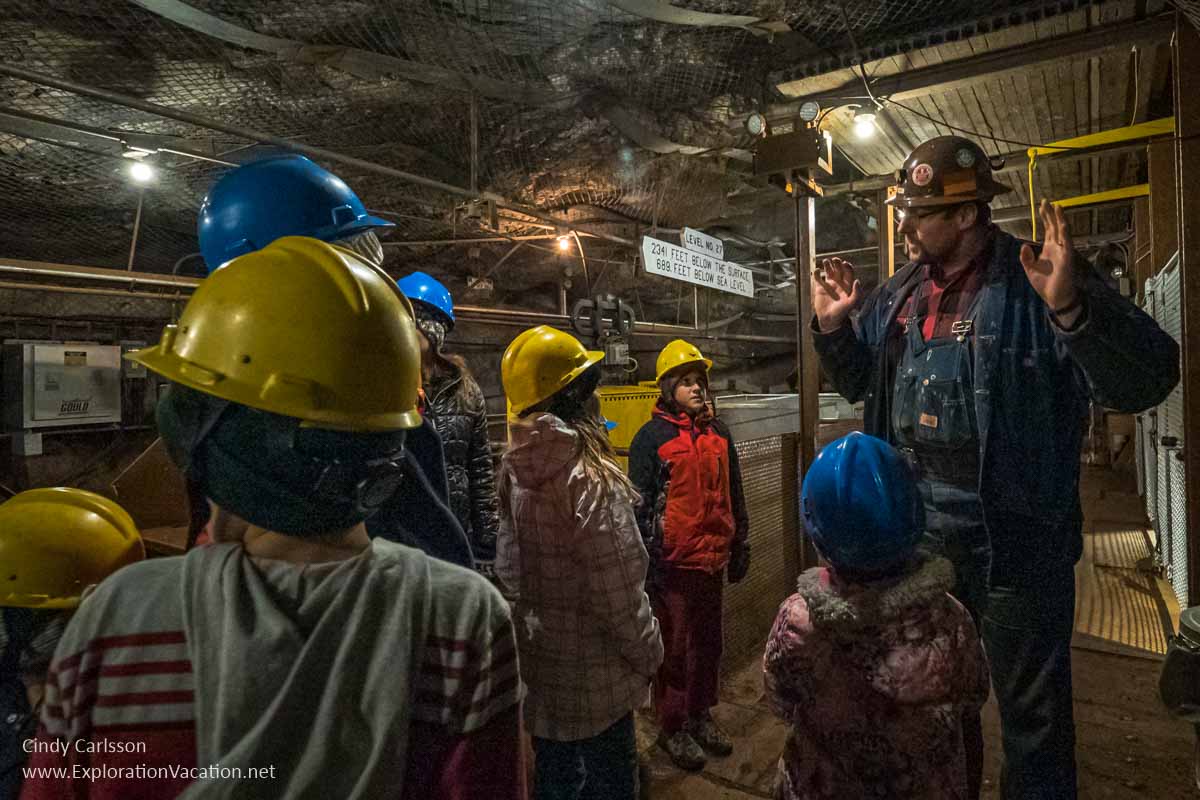 Museums focused on northern Minnesota history
The Forest History Center in Grand Rapids has a nice museum on the timber industry and great tours of a recreated 1900 logging camp. This is a really interesting (and photogenic) spot with great special events – look for a post on this soon! (Less than ½ hour west of Hill Annex.)
The Museum of the Iron Range at the Minnesota Discovery Center (formerly Ironworld) in Chisholm includes a museum and a large genealogical research center. (About ½ hour east.)
Outdoor recreation
Other things in the area
Downtown Bovey is a historic mine town that is trying to reinvent itself with antiques and other fun shops. (Full disclosure, my cousin sells some of my things in her booth at Annabella's.)  Annabella's and Nana Chelle's Cafe are open most days. Most other stores only open for some weekends, and mostly in summer. (10 minutes west of Hill Annex.)
Drive the Edge of the Wilderness National Scenic Byway from Grand Rapids to Effie. It's a lovely drive any time of year.
The United State Hockey Hall of Fame Museum in Eveleth is a must if you're a sports fan, as hockey (and curling) rule up here. (Less and an hour east.)
The International Wolf Center near Ely offers the opportunity to see wolves. I've never been here, but everyone I know who has raves about it. (About 1 ½ hour drive northeast.)
Further reading
Minnesota's mining history is a complex and convoluted story of an immigrant community that shaped northern Minnesota culture while feeding the nation's steel mills. While there is little good information online about the Hill Annex Mine itself, there are a few resources that paint the broader picture of the mine and Iron Range history. There are also documents related to legislation, DNR recommendations, and park planning as they relate to Hill Annex Mine State Park.
A few of the more interesting resources I consulted are listed below.