Minnesota has 76 state parks and recreation areas, with the largest concentration in the exceptionally scenic northeastern part of the state. However, there are scenic areas throughout Minnesota and state parks can be found throughout the state.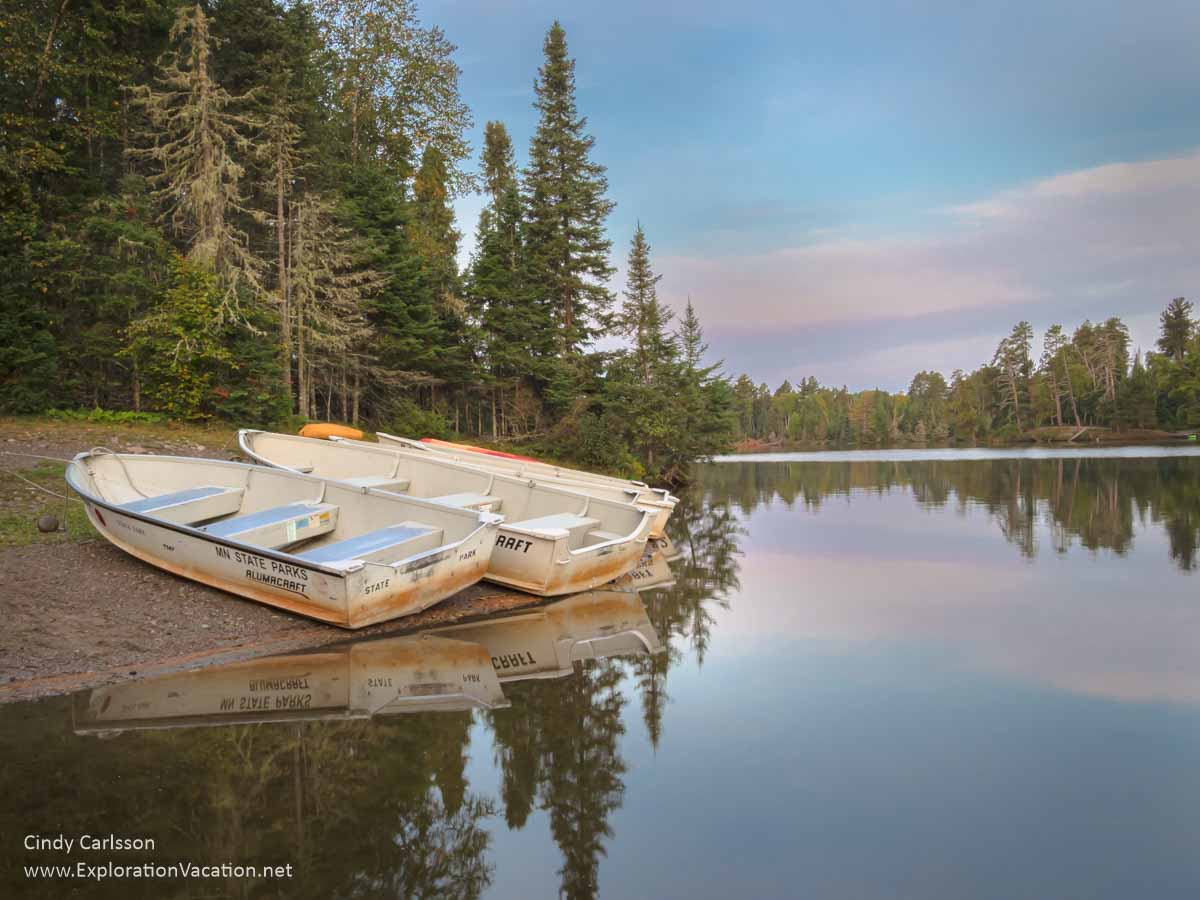 State parks and recreation areas are distributed throughout the state. Although Minnesota's state parks are usually thought of as recreational areas that also preserve scenic sites and natural resources like game and fish, the parks originally fulfilled a historic preservation function as well. For that reason, many parks contain historic sites or structures.
And, while any time of year is a great time to explore Minnesota's parks, spring and fall tend to be particularly pleasant and beautiful in most parks.
Browse all parks or follow these short-cuts to discover parks in a specific region:
Minnesota state parks by region (some parks are included in multiple regions)
Minneapolis-Saint Paul metro area

Afton – Fort Snelling – Minnesota Valley
Nearby: Greenleaf Lake – Interstate – Lake Maria – Wild River – Wm O'Brien

Southeastern Minnesota: Beaver Creek Valley – Carley – Forestville/Mystery Cave – Frontenac – Great River Bluffs – John Latsch – Lake Louise – Myre-Big Island – Nerstrand – Rice Lake — Sakatah – Whitewater
Southwestern Minnesota: Blue Mounds – Camden – Flandrau – Fort Ridgely – Kilen Woods – Lac qui Parle – Lake Shetek – Minneopa – Split Rock Creek – Upper Sioux Agency
Central Minnesota: Big Stone Lake – Charles Lindbergh – Crow Wing – Glacial Lakes – Glendalough – Greenleaf Lake – Lac qui Parle – Lake Carlos – Lake Maria – Monson Lake – Sibley – Upper Sioux Agency
Northwestern Minnesota: Buffalo River – Glendalough – Hayes Lake – Lake Bronson – Maplewood – Old Mill – Red River Valley
Northern woodlands: Bear Head Lake – Big Bog – Crow Wing – Cuyuna – Father Hennepin – Franz Jevne – Garden Island – Hayes Lake – Hill Annex Mine – Iron Range OHV – Itasca – La Salle Lake – Lake Bemidji – Lake Vermilion/Soudan Underground Mine – McCarthy Beach – Mille Lacs Kathio – Savanna Portage – Scenic – Schoolcraft – Zipple Bay
North Shore: Cascade River – George Crosby – Gooseberry Falls – Grand Portage – Judge Magney – Split Rock Lighthouse – Temperance River – Tettegouche
Along the Saint Croix and up to Duluth: Afton – Banning – Interstate – Jay Cooke – Moose Lake – Saint Croix – Saint Croix Islands – Wild River – William O'Brien
Plan your visit to a Minnesota State Park
Park fees
Campground, cabin, and lodge reservations
Firewood
Resources and more information
Minnesota state parks by region
The following guide will help you determine what parks you might want to fit into a road trip, based on the part of Minnesota you are in or visiting. (Note that a few parks are included in more than one region.)
Minneapolis-Saint Paul Twin Cities metro area state parks
While there are few state parks right in the Twin Cities metro area, several others are an easy day trip.
In the metro area
Afton State Park
Afton State Park
is located in the rolling hills above the St. Croix River along the Minnesota/Wisconsin border at the eastern edge of the Minneapolis-Saint Paul metro area.
Most of the park is oak savanna, although there are also bits of prairie and woodland. The park has easy hiking trails with limited views of the river. Many of the trees in the park are oak, making it one of the later parks to reach full color in the fall and perfect for a late fall hike.
Fort Snelling State Park
Fort Snelling State Park combines a major historical site with a natural area along the Mississippi River in the heart of the Twin Cities. When not flooded (the lower levels of the park generally flood in spring), hiking trails lace the lowlands in the river. I've been there to hike, ski, bird watch, and attend events at the historic fort. (The fort is operated by the Minnesota Historical Society and is separate from the wooded state park below it.) Family activities are held most weekends and a herd of white tail deer can be found there any time. It's a great place to spend a day at any time of year.
Experiencing the 1860s at Fort Snelling (summer 2008)
Minnesota Valley State Recreation Area
Minnesota Valley State Recreation Area, located in the southern part of the Minneapolis/St. Paul metropolitan area, includes the Minnesota Valley State Trail along the Minnesota River. (If you've ever flown into MSP, you've probably seen the MVSRA, as it covers much of the bottomlands along the river in either direction from the airport.) It's a great spot for bird watching.
Southeastern Minnesota state parks
This part of the state includes a lot of parks with dramatic limestone formations and woodlands. It's a good part of the state to look for spring flowers and fall color. The Mississippi River Valley is particularly dramatic in the fall.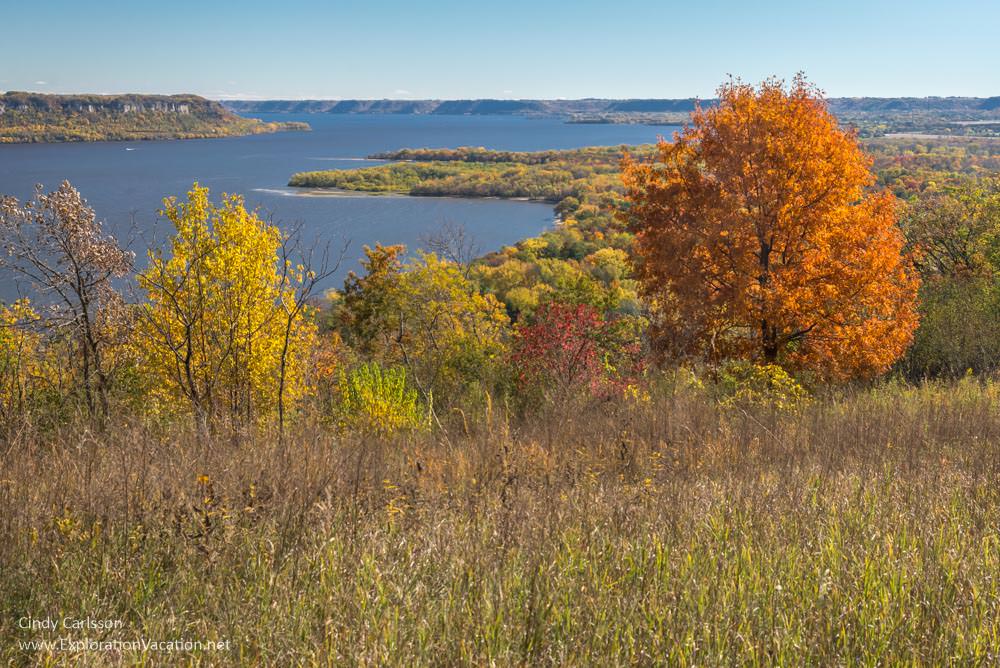 Southwest Minnesota state parks
Originally much of this area was prairie or oak savanna, but park visitors will find a variety of landscapes. A couple of parks have buffalo and many include historic sites related to Native American history and/or conflict between Native people and white settlers.
Central Minnesota state parks
Many parks in central Minnesota preserve prairie landscapes or lake areas.
Northwest Minnesota parks
Parks in northwestern Minnesota usually feature a mix of prairie and woodlands around a lake or river.
Northern woodland parks
Minnesota's northern woodlands are the home of some of the state's most iconic lake and forest scenery. While the original forest was largely pine and birch, today's woodlands include a mix of trees for spectacular fall color.  And, of course, Itasca State Park is famous as the head of the Mississippi River.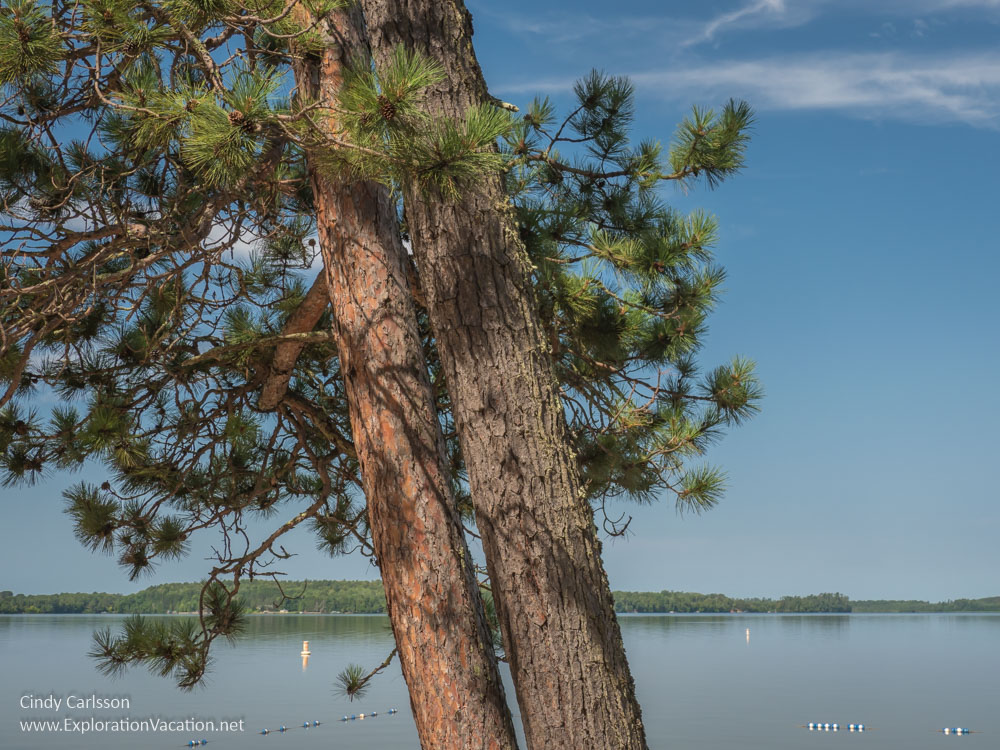 Discover more things to see and do in the Northwoods at Exploring Minnesota Lake Country and the Range.
North Shore parks
Minnesota's favorite escape, the parks along Lake Superior's north shore feature spectacular cliffs, rocky beaches, a wealth of waterfalls, and a mixed hardwood and pine forest that dazzles visitors with its fall colors.
For more information on what to see and do on the North Shore, check Exploring Minnesota's North Shore.
Parks along the Saint Croix River and up to Duluth
With plenty of rocks, trees, spring flowers, and rushing water, the parks between the Minneapolis-Saint Paul metro area and Duluth offer wonderful hiking opportunities.
Parks in the southern half of this area are located right along the Saint Croix River.
Plan your visit to a Minnesota State Park
Minnesota's state parks are open throughout the year, although some sites and structures may be closed or subject to more limited hours once the summer's peak tourist season ends. And summer isn't always the best time to visit, as many parks are at their best when flowers bloom in spring and the leaves turn color in the fall. Individual park websites include up-to-date information on spring flowers and fall colors.
Park facilities
All parks have hiking/ski trails and picnic areas, and most have campgrounds. Some have horse and snowmobile trails, docks, cabins, and interpretive centers. A full list of activities and facilities available at each park can be found on the Minnesota Department of Natural Resources website and the park links included above.
Resources and more information
The Minnesota Department of Natural Resources home page on Minnesota State Parks provides links to all parks, a park finder, free park days, state park reservations, camping basics, and more.
Roy Meyer's 1991 book Everyone's Country Estate: A History of Minnesota's State Parks is a little opinionated and a bit dated. However, it's an invaluable resource for anyone interested in learning the history behind Minnesota's state parks. The Minnesota Historical Society claims to have a few new copies available, while both new and used copies are available at ABE Books (affiliate link).