(Last Updated On: December 15, 2020)
I promised to share 50 of my most memorable travel moments. But life interfered. . .
These memories aren't presented in any particular order. Nor do they carry a particular theme or lesson or emotion — they are simply some of the moments that have stayed with me over the years.
I hope you enjoy taking this little journey with me!
Memorable travel from around the USA
Minneapolis, Minnesota, 1970: Christmas
Over Thanksgiving 1970, my mother took me and my brothers (three kids all under the age of 10) to the Twin Cities on a Christmas outing. With increasingly serious talk about the end of passenger rail service to our small town, my mother had decided we should ride on a train before they disappeared forever; Christmas in the city was simply a reason to make that trip.
Sanibel Island, Florida, 1976: Jimmy Carter becomes President
It is election day 1976. We are at the farthest point of our family road trip in the southern US, spending the night in our pop-up camper near the beach on Sanibel Island.Sometime during the night or the early hours of morning, the wind comes up as a storm moves through. Our light-weight camper shakes and shudders with every gust, performing a little dance in time to the crashing waves.
At some point in the middle of the night I awake. I'm not sure, however, what wakes me. Was it the sound of the wind and waves? Was it the camper's jerky motion? Or was it the barely audible sound and flickering electronic glow of the miniature television that my mother had tucked into a corner of the camper for this trip.
NYC, 1987: Letting our imaginations run wild on Roosevelt Island
My 1987 visit to a friend in New York City included many memorable experiences:  My first view of the city from the top of the Empire State Building (the World Trade Center was too new and gauche for my host, so I went there on a later trip); shopping for fabric in Garment District; cheering and jeering with the rest of the crowd during a showing of The Princess Bride (the original theater run) in the Village; marveling at the beauty and peace of Central Park; and laughing harder than I ever would have thought possible at the running commentary of my gay and redneck hosts as we watched the Miss America pageant. It was an amazing, if slightly surreal, trip.
Most surreal of all was the afternoon we spent on Roosevelt Island.
Mount Rainier, Washington 1990: Hiking to Tolmie Peak Lookout
My college roommate got married in Seattle in 1990. Having significantly less time off than her new spouse, her new spouse was charged with entertaining me, his sister, and her friend. Since he was a serious hiker (the kind who goes out every weekend and tackles a different mountain trail and never brings a camera because the scenery isn't the point), he decided to take us on one his favorite hikes on Mount Rainier.

Keep in mind that I only hike for the photo ops and his sister and friend – visiting from England – very likely spend most of their time hiking around the local shops at home. They certainly weren't used to hiking up a mountainside, especially at 5000 feet. (Neither was I.) But he insisted and soon we were on the Tolmie Peak Lookout/Eunice Lake Trail.

This was the first week of August and there were flowers everywhere, masses of them in brilliant Crayola colors. I'd never seen anything like it – had never even imagined anything like it.
Northern Minnesota 1999 and more: Blueberries with Joyce and Jerry
We missed blueberry season this year.

Blueberries weren't something I grew up with – they didn't grow where I lived and my mother remembered hours bent over low-lying blueberry bushes amid cloud of mosquitoes when she was growing up. Despite her fondness for these delicate blue fruits, the experience of picking them wasn't something she felt compelled to relive or impose upon the rest of us.

As an adult, I'd casually pick a berry or two to eat out of hand when out with friends, but I'd never gone out with the aim of filling pails with them until we joined our friends Joyce and Jerry on Palisade Head one summer.

Palisade is an exposed chunk of rock high above Lake Superior. The blueberries here are continually battered by sun and wind, like fine wine grapes, they suffer. This means they are small (and very close to the ground), but absolutely delicious. Perhaps most importantly, we were there with friends on a beautiful day and every time I looked up I had sweeping views over Lake Superior to Shovel Point.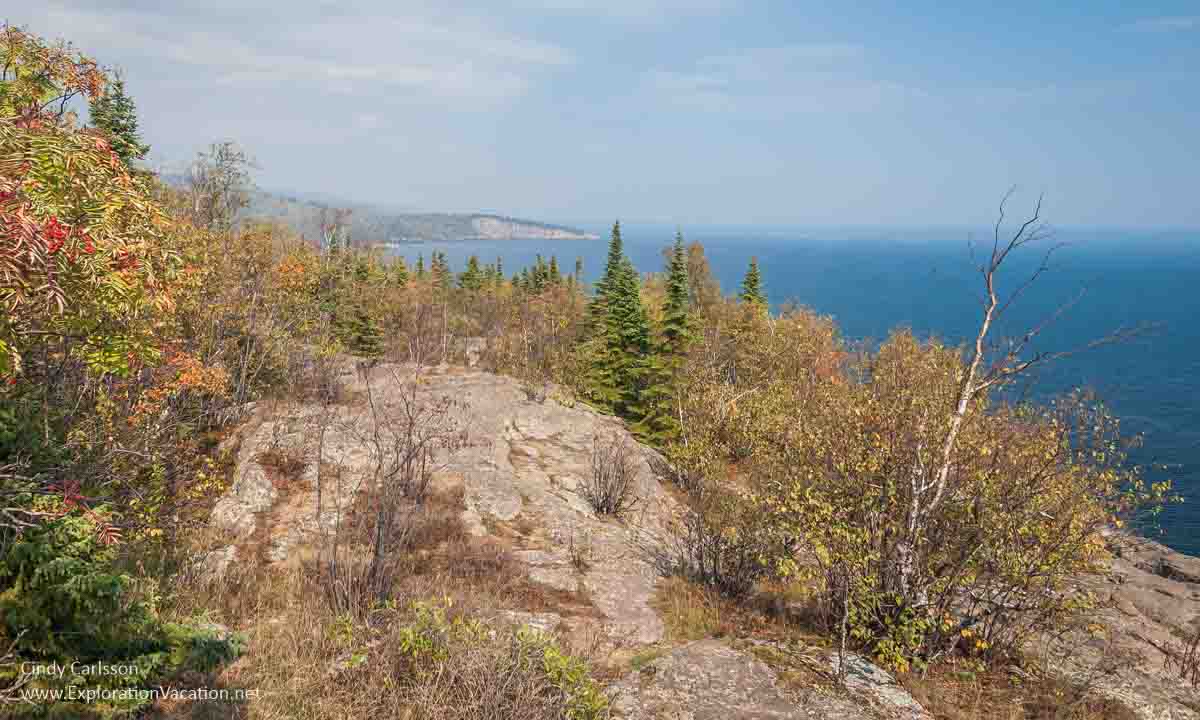 (This picture is from a fall trip, but you get the idea: It is a gorgeous spot.)
Memorable travel moments in Europe
Western Sweden 1983: Connecting with my family in Sweden
On my first trip to Europe in college, I was able to leave the group for a few days to meet my Swedish relatives. It was one of the highlights of the trip and led to a long-lasting, if sometime on-and-off, relationship with my second cousins.

But it almost didn't happen.
Touring the north of the island of Ireland 2004
As a birthday present to ourselves, my college roommate and I traveled around the northern half of Ireland in the early spring, spending our time in Northern Ireland (Ulster) and the counties of Dublin, Louth, Meath, Cavan, and Donegal in the Republic.

We started out with a general itinerary, but almost no hotel reservations, allowing us a lot of freedom. It was a wonderful trip, filled with great memories. Here is a taste.
Moscow, Russia, 1983: Red Square and Saint Basil's Cathedral
I first went to Europe in college as part of seminar studying war and peace. Our long list of stops in Western Europe also included a few days behind the Iron Curtain in the Soviet cities of Leningrad (St. Petersburg) and Moscow.Remembering Moscow's Red Square and St. Basil's Cathedral

To celebrate our first evening in Moscow, a group of us had tickets to see the Kirov Ballet perform at what I am guessing was the Kremlin Palace (rather than at the grander Bolshoi Theater). Our plans were quickly put into question with the news that Soviet Party leader had died and that Red Square and much of the surrounding area was closed, with no idea of when it would reopen to the public. Several phone calls were required to confirm that access to the theater would be allowed for the evening's performance.

While that was good news, I was disappointed to hear that access to the famous square would be restricted. Saint Basil's Cathedral was the number one item on my Moscow must-see list. Would I even get to see the famous church?

That evening the ballet was entrancing; it was a couple hours of pure magic.

Later, in the crush of people leaving after the performance, we lost track of where we had entered the theater. Having no idea where to go, we simply followed the crowd through the nearest exit and into the semi-daylight of a spring night in Russia. As the flow of people began to subside, we began to look around and more closely consider where we were.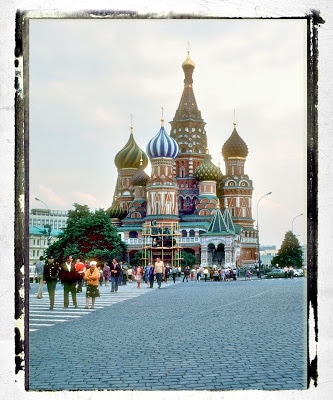 The street had become part of a broad plaza of sorts. Recognition came slowly, but finally someone said it. "We're in Red Square." While not sure how this had come to be, it was clear that she was right: There was the Kremlin's wall with its glowing star, the cobblestone courtyard before use rose slightly as it broadened into a large square, and there, at the far end, were the distinctive towers of Saint Basil's.

Giddy with excitement, we raced across the square.

I was Dorothy rushing to Oz, the twisted Technicolor towers beckoning from the end of a brick plaza with painted yellow stripes.

The church was every bit as wonderful as I hoped it to be, perhaps in part because of the unexpectedness of my encounter with it.

Talk about the magic of a Russian night!
Memorable travel moments in Africa
The Nile from My Deck, Cairo, Egypt, 2007
I went on a college alumni tour to Egypt – without my husband – in 2007. Despite being on my own, I quickly became part of the "singles club," a revolving group of us who were traveling on our own. Each night one of us would either take a bottle of wine from our private stash (we hit the liquor store at the airport on our way into the country) or would order an extra bottle at dinner to take up to our nightly after dinner gathering.

In Cairo, we ended each night on the deck outside my hotel room, with the Nile, far below us.
It was amazing to sit out there, suspended far above the street in the calm evening air, the sounds of the city swelling up and around us. The dinner barges that ply the Nile would slowly move past, sound blasting toward us as each passed by as if in competition with the sounds of the street. . . and then the call to prayer would begin, the broadcast song of dozens of muezzins growing in strength and complexity as it rose from all across the city.

At that time, Cairo was the loudest city in the world, (maybe it still is.) but from my perch high above the street, that was the sound of the exotic music of a magical city.

We stayed at the Nile Hilton (which I'm guessing is now the Hilton Conrad Cairo), an older hotel very near the Egyptian Museum and Tahrir square. It was a fabulous place to stay and I hope to go back some day.

2.  Camping by the Hippo Pool, Moremi Park, Botswana, 2005
3.  Dads and Daughters Day in the Desert, Arizona, 2001
4.  "Walking" the City Wall in Kotor, Montenegro, 2004
5.   The Sun Appears at Machu Picchu, 2005
8.  The Three Kings and More in Quito, Equador, 2006
9.  Night in the Tsodilo Hills, 2005

12.  Remembering Dave
14.  Celebrating my Birthday in Soure, Portugal, 1998
15.  My First Trip to New Orleans, 1991
16.  Climbing the "Stairs" at Angkor Wat, Cambodia, 2006

18.  Entering an Egyptian Tomb for the First Time, 2007
19.
20.  When the Pacific Lay Shimmering Like Glass, 2009/10

21.  Wine and Cheese at Old Faithful, Yellowstone National Park, 2000
22.  A Jewel of a Garden in Victoria, British Columbia, Canada, 2007
23.  First Snowfall in the Black Hills, South Dakota (2000)

Looking Back and Looking Ahead