The landscape and cultures of New Mexico are both like and unlike its southwestern neighbors. Its skies, on the other hand, are like no place else, deep blue and studded with dramatic clouds. It's worth visiting just to see the sky, but there are lots of other things to see and do too.
[map]
I've been to New Mexico several times, but feel like I have only seen a small portion of the state. The following provides a brief synopsis (with links) of where I've been, a few places I'd like to get to, and a few places that seem noteworthy.
(This page is a work-in-progress)
For purposes of this website I'm dividing New Mexico regions that mostly match those of the state's tourist office:
Northwest ("Indian Country," including Gallup and a number of the pueblo communities)
North Central ("O'Keefe County" and the "Heart of New Mexico," including Albuquerque, Santa Fe, and Taos)
Northeast ("Cowboy Country," including Tucumcari)
Southwest ("Old West Country," including Socorro, Silver City, Deming, and Las Cruces)
Southeast ("Billy the Kid Country," including White Sands, Roswell, and Carlsbad Caverns)
Northwest New Mexico – Indian Country
While all of New Mexico could be dubbed "Indian Country," there is a particularly strong tribal presence in the northeast part of the state that goes back to the ancient cliff dwellers. Other than a brief stop in the Four Corners area and a few passes through Gallup on my way to and from Albuquerque, I haven't spent much time in this part of the state. I will someday, as the Chaco Culture National Historical Park and the Aztec Ruins National Monument are on my travel to-do list.
North Central New Mexico – O'Keefe County and the Heart of New Mexico
When most people think of New Mexico, what first comes to mind is probably something in the north central part of the state. There is a lot of variety here, from old Albuquerque to trendy Santa Fe to mountain cool Taos and much more. Over the years I've had the opportunity to explore many of the major sites in this area, but there are a number I've missed and it's more than time to go back and revisit all of them again anyway!
O'Keefe country
Artist Geogia O'Keefe fell in love with northern New Mexico and lived in the northern part of the state for almost 40 years. It's the landscape that forms the basis for much of her work and I've long wanted to visit the buttes and mesas and canyons she captured so eloquently. Alas, I haven't gotten there yet, so Abiquiu and Ghost Ranch remain on my travel to-do list.
Pueblo communities
Years ago we had the opportunity to visit one of the pueblos during a summer art and cultural festival. It was a wonderful chance to get a little closer to an ancient and very private way of life.
Taos and the northern mountains
Bandelier National Monument
The Turquoise Trail
Santa Fe
Dining, shopping and other information from 2010
Albuquerque
I first visited Albuquerque quite a few years ago, when the whole city seemed dusty and down at the heels. We visited a couple of American Indian art galleries in Old Town, but there really wasn't much to interest a visitor back then.
How times have changed!
Today Albuquerque is booming. While parts of the city still struggle to find their place, there are re-purposed historic buildings along old Route 66, trendy neighborhood shopping and dining, an inviting zoo and arboretum, and a number of museums, cultural centers, and galleries. Of course, the city's natural attractions, like nearby Sandia Peak, remain visitor favorites.
In the city
Around Town
Old Abuquerque
The Bio Park
Route 66
Historic Route 66 runs east-west through the center of New Mexico. While parts of the road are now part of the modern highway and others are gone or inaccessible, there are still places where you can get a feel for life along the Mother Road during its heyday.
Natural attractions
The Rio Grande Bosque
Sandia Peak (2009)
Petroglyph park
Dining, shopping and other information from 2010
Northeast New Mexico – Cowboy Country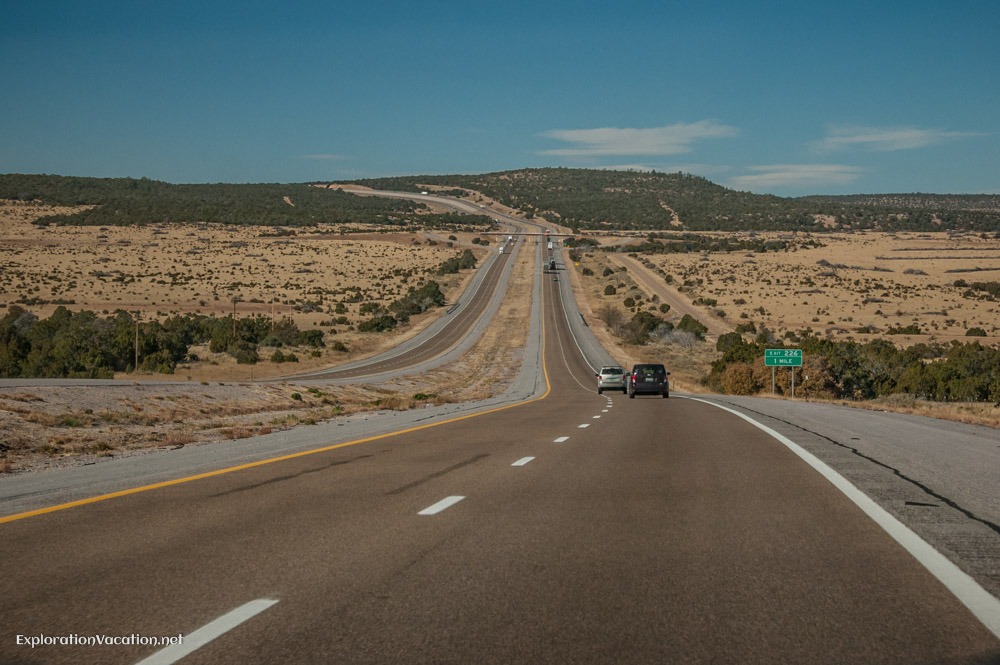 Other than a drive-through on or near the route of old Route 66, I haven't spent any time at all in northeast New Mexico. It's a big, wide-open place, great for a road trip, but without a lot of sites (other than Route 66 and a few gunslinger hangouts) of interest to the casual visitor.
Southwest New Mexico – Old West Country
Not to be confused with Cowboy Country (although many of the same cast of characters came through here as well), southwest New Mexico is a mix of dry plains and rugged mountains. It's a great destination for nature lovers, but also has attractions of interest to history buffs and art fans. We explored a bit of this area on our most recent trip and really enjoyed our time here.
Socorro
San Antonio and the Bosque del Apache
San Antonio
The Bosque del Apache
Silver City and Pinos Altos
We loved both lively Silver City and quiet little Pinos Altos.
Gila Cliff Dwellings
Deming
Las Cruces
Southeast New Mexico – Billy the Kid Country
Despite the tourist office moniker, there is much more to discover in southeast New Mexico than Billy the Kid. The area features amazing natural sites like White Sands National Monument and Carlsbad Caverns. It's also home to Roswell, mecca for those seeking evidence of extraterrestrial life.
White Sands
White Sands is a little out of the way, but it's absolutely amazing. Go early in the morning for an amazing sunrise.
Itineraries
We have friends and family in Albuquerque and we love the west, so I've been to New Mexico a number of times. Those visits include an earlier trip to Santa Fe and Taos that isn't included here.
Resources
The state of New Mexico's tourism site has several really good planning tools, including an interactive map.
Looking for a great road trip guidebook? Check out my review of Roadtrip America Arizona and New Mexico: 25 Scenic Side Trips by Rick Quinn.
This well-researched and engaging guide provides a wealth of itinerary details, including the best places and experiences along the way.
Get a copy at your local bookstore, Barnes & Nobel, Target, and most other big retail sites.
I provide links as a convenience to you. Some of these may be affiliate links that pay me a small commission if you use them to reserve a room or purchase goods or services. You don't pay anything extra, but it helps keep this website running. All affiliate links are for products or services I personally use and recommend. To learn more, review this website's policies and disclosures.