(Last Updated On: December 15, 2020)
I didn't have many specific plans for my time in Albuquerque this winter, so the idea of seeing Ann Dunbar's Where-Wear show at the April Price Projects Gallery was actually something the friend I was visiting came up with.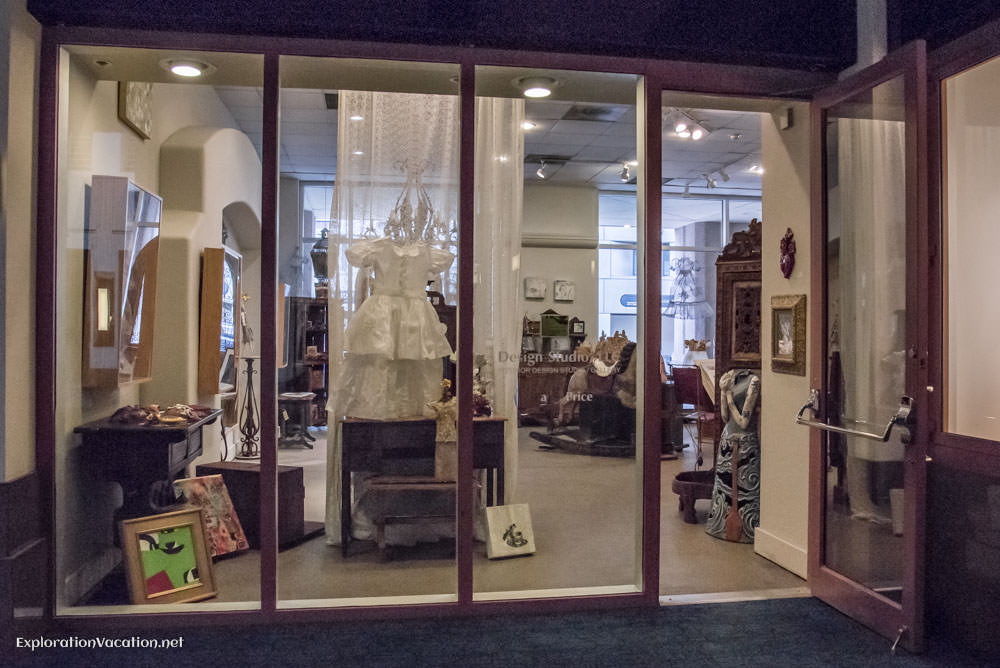 And what a great idea it was!
Ann Dunbar's aluminum and paper dresses
Ann Dunbar is a long-time studio artist and art teacher in Albuquerque. Working in a variety of materials, Dunbar uses the representations of clothing and other common objects in her reflection on the lives of women.
The Where-Wear show included Dunbar's sculptural dresses made of paper and aluminum mesh, as well as reverse painted glass images and found art assemblages. But it was the dresses, and particularly the translucent aluminum dresses, that fascinated me.
The aluminum mesh dresses are especially amazing, as the drape and transparency of the material results in softly flowing "fabric" embellished with intricate details.
Art at the April Price Projects Gallery
The April Price Projects Gallery carries a wide range of traditional art, furniture, and decorative pieces. Besides items in the special Where-Wear show, the gallery had a wide range of other beautiful objects on display.
I'm so glad my friend suggested stopping here!
See for yourself
Visit the April Price Projects Gallery
The April Price Projects Gallery is located in the lobby of the downtown Albuquerque Hyatt Hotel.
Shows change regularly at this contemporary art gallery and feature a wide variety of art and artists.
Ann Dunbar's dresses for Where-Wear were at the April Price Projects Gallery through April 2015. Unfortunately for us, it sounds as if Dunbar will not be doing more of the aluminum mesh dresses, so this might have been the last chance to see them. However, she continues to create dresses and other items from paper and at least a few of her pieces are regularly on exhibit in Albuquerque, so keep an eye out for them.
Arizona and New Mexico itinerary
All New Mexico posts
All art posts