(Last Updated On: January 22, 2022)
Every February, the Hudson Hot Air Affair brings a variety of balloons and hardy ballooning enthusiasts to Hudson, Wisconsin, for a weekend hot air balloon festival.
While the weather isn't always suitable for actually taking the balloons up into the sky, it's still an opportunity to get a look at some impressive works of inflatable art.
And it's a ton of fun.
I use links to improve your browsing experience. Some may be affiliate links that pay me a small commission if you use them to reserve a room, rent a car, or purchase goods or services. You don't pay anything extra, but it helps keep this website running without intrusive advertisements. To learn more, review my policies and disclosures.
A weekend of fun at the Hudson hot air balloon festival
A weekend of fun at the Hudson balloon festival
Each winter Hudson, Wisconsin, ignores the weather to celebrate a weekend of family fun centered around hot air balloons.
While the balloons don't always get into the air, there's always something fun to do.
And, when the balloons do rise into the winter sky, it's pure magic.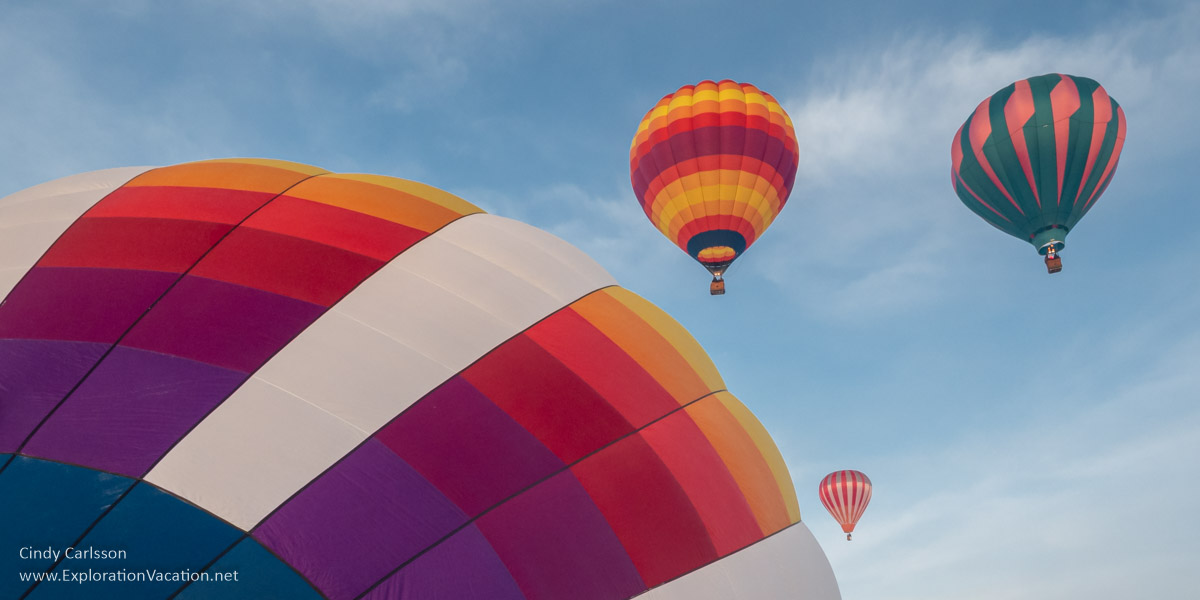 (Ok, so it's just basic physics, but it seems like magic!)

Hudson hot air balloon festival torchlight parade (Friday)
While there are a number of earlier events, the Hudson Hot Air Affair really gets started with a short "torchlight" parade. While evening torchlight parades are not uncommon, most don't feature torches large enough to fill a hot air balloon and towed by trucks!
I've never made it to this event, but it looks like fun. And it's followed by fireworks over the Saint Croix River.

Morning mass launch (Saturday and Sunday)
The main event on both Saturday and Sunday morning is a mass ascension where all the balloons take flight just after the sun rises.
When the weather cooperates, all or most balloons take to the air about the same time.

When the weather is less than perfect, but not too wet or windy, many pilots will inflate their balloons, but keep them tethered to the ground.
If the weather is too nasty for balloons, some crews will take out their baskets and fire up the burners. Many also let children in the basket and some even let them fire the burner.
And you can always go inside to check out the market and craft fair or grab something warm to eat and drink!
More than balloons (Saturday activities)
The Hudson Hot Air Affair stands out from other regional winter events because of the hot air balloons, but there are plenty of other activities available too. And they are much less weather-dependent than hot air balloon flights!
Afternoon launch (Saturday)
While all balloons will usually take part in the morning launch (if there is one), the afternoon launch is less predictable.
If the balloons were unable to take flight in the morning, most will participate in an afternoon mass launch – if the weather is suitable. But if they flew in the morning, many pilots may choose not to go up again in the afternoon.
However, even if no balloons fly, at least a few pilots will inflate their balloons and tether them to the ground so people can see them. Or, if it's too windy, they'll fire their burners for entertainment.
Moonglow or Field of Fire (Saturday)
As much as I love the mass flights, the evening Hot Air Balloon Moonglow is even better.
With their burners going, the balloons light up like enormous lanterns glowing in the cold night air.
There's something mysterious and magical about it.
If it's too windy to inflate the balloons, they set up the burners and shoot flames into the air instead. They call that the Field of Fire.
Plan your trip to the Hudson Hot Air Affair
The hot air balloon festival in Hudson, Wisconsin happens in early February. The 2022 festival is the weekend of February 4-6.
The 2022 theme is "S'mores and More, Balloons Galore." Organizers expect more than 30 balloons, but I don't see crowd favorites Rubber Ducky, Fred G. Monster or Pete the Peg Leg Parrot on this year's list yet.

If you are making a special trip just to see the balloons launch, watch the weather and check the Hudson Hot Air Affair website, Facebook page, and Twitter feed.
If they know there won't be a launch due to weather, they'll announce that in advance. But that happens in the afternoon more often than in the morning; usually there won't be a decision until quite close to launch time. They will also announce in advance whether there will be a Moonglow or Field of Fire.
Balloon rides are NOT available as part of the Hudson balloon festival. However, there are many other activities available throughout the weekend.
You can find more information and a full schedule of events on the Hudson Hot Air Affair website.
Getting to Hudson and the balloons
Hudson, Wisconsin, is located along the Saint Croix River about ½ hour east of the Minneapolis-Saint Paul Twin Cities metro area.
Most events are held at EP Rock School at 340 13th Street South in Hudson. This is in a neighborhood and can be a little tricky to find. There are usually a few signs off the main highway, but consult the event's website and/or GPS to find it.
During the day there is a reasonable amount of parking available at the site itself. However, there is not enough parking for everyone who comes to the evening Moonglow. In that case, look for a spot in the neighborhood, and be prepared to walk a few blocks.
The best time to arrive
If, like me, you are there to see the balloons and not to participate in various other events, the best time to arrive is in the dark. That means before sunrise for the morning flight and after sunset to see the balloons lit for the evening Moon Glow. Arriving as dawn breaks gives you a much better chance of seeing the balloons inflated and in the air than sleeping in and hoping they fly in the afternoon.
Pay close attention to the weather and the Hudson Hot Air Affair Facebook page and Twitter feed. They'll share real-time information on the weather. Sometimes you'll know well in advance whether or not they will inflate the balloons. (For example, if there is freezing rain or strong wind, balloons will remain packed.) But often it's hard to know in advance. What seems like perfect conditions on the ground may not be something else up where the balloons fly. And sometimes weather forecasts are just wrong.
Once you arrive
There is no charge to attend any of the launches or the evening Moonglow/Field of Fire.
Visitors can walk pretty much anywhere on the field where the balloons are inflated. You can take all the pictures you want and talk to the pilots and crew. Just be careful to avoid balloons, lines, and other equipment. And keep in mind that things can happen quickly and crews may need to react in an instant – stay alert and give them room to work.
But there are a few rules on the launch field, and all of the following are prohibited:
Alcohol
Smoking
Drones
Dogs, except service animals
Lodging in Hudson
While it's an easy drive from Minneapolis-Saint Paul to Hudson, you do have to get up early for the morning flights. To sleep in just a bit later, consider staying in Hudson.
Check your options at TripAdvisor, Hotels.com, Booking.com, or Expedia. As always, check the location carefully, because not all hotels that come up in the search are actually in Hudson.
Airbnb also has a number of options available in and around Hudson.
A breezy morning at Hudson's Hot Air Affair
Moon Glow at Hudson's Hot Air Affair