(Last Updated On: December 16, 2020)
Every February Hudson, Wisconsin, throws a big party built around hot air balloons. The Hudson Hot Air Affair is a chance for fans of hot air balloons to gather. In 2016 that included the opportunity to see several spectacular hand-painted balloons.
A breezy morning in Hudson
A mass ascension sounds like a religious experience, and I'm hoping to experience that someday. (In 2019 the weather was beautiful and I got to see the balloons fly!) However, ballooning requires very particular weather conditions and this year (2016) the weather gods weren't cooperative. Last year the weather made it impossible to launch, but still allowed pilots to raise their tethered balloons both Saturday morning and again that night for a spectacular "moon glow." This year's weather didn't allow even that much.
Like anyone watching last week's weather, I knew even before I got in my car at o-dark-thirty for the Saturday morning the drive to Hudson that the odds were against a morning launch. (In order to safely fly, pilots need wind speeds somewhere between nothing and eight miles per hour.) With the forecast calling for winds starting at 8 and increasing to 12, I didn't think there was a mass ascension in my immediate future. Still, I was hoping to see a field filled with tethered balloons.
And, when I arrived, there were already a few balloons towering above the grounds. AMAZING balloons.
Hand-painted hot air balloons
This year's festival included four hand-painted balloons by Minnesota artist Charlie Markert.
I knew this because I heard it over the P.A. system as I walked over to the field, but even without that knowledge, I could tell there were some very special balloons here this year. It was obvious, as one of the balloons already towering above the ground was a Rococo confection called Amadeus. It was a balloon that hearkened back to the more refined days of old.
A few other balloons were beginning to rise as well.
They included another old-fashioned hand-painted fantasy called Carousel.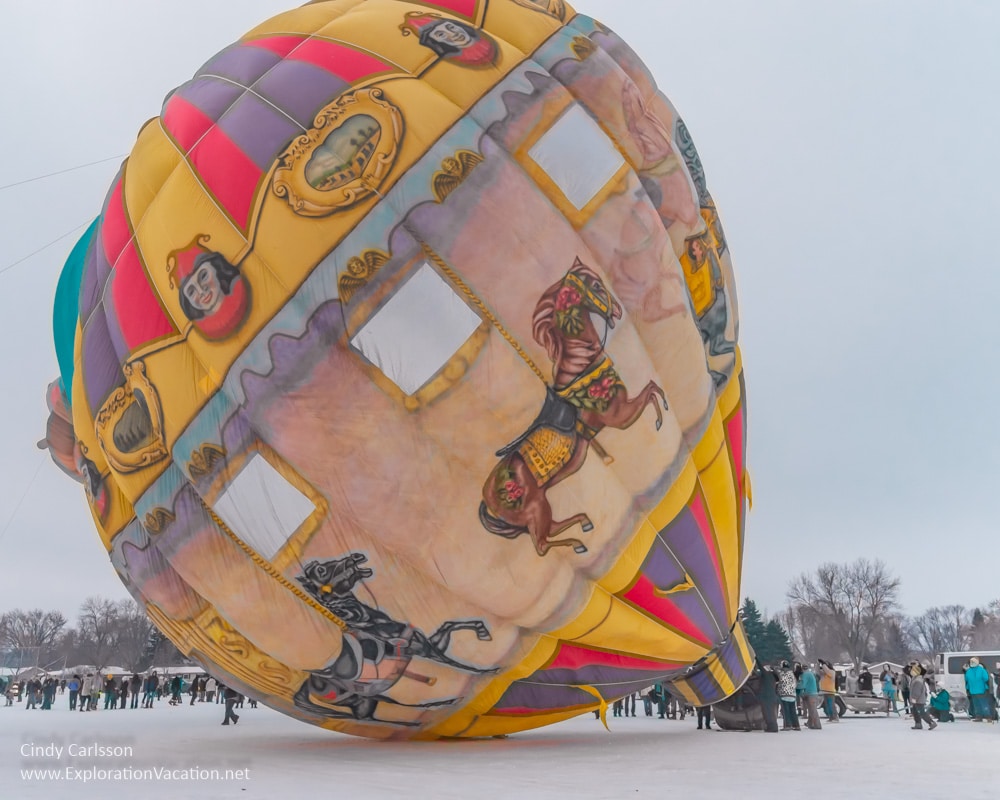 These were NOT the balloons I saw last year!
Last year's most fanciful balloons included the Family Fresh Market entry with its bright barn and variety of critters, fruits, and veggies (some in 3D) one might find on a traditional family farm. It's a humorous and cheerful balloon, but very contemporary and lacking the elegance of Amadeus and Carousel. The juxtaposition was actually a bit jarring.
The struggle to inflate Molly 'n Me
Newly aware of the fact that I am an old-fashioned balloon sort of girl, I looked for a suitable balloon to check out more closely. Since there were lots of people around Carousel, I headed over to a couple of other works of art still lying on the frozen ground.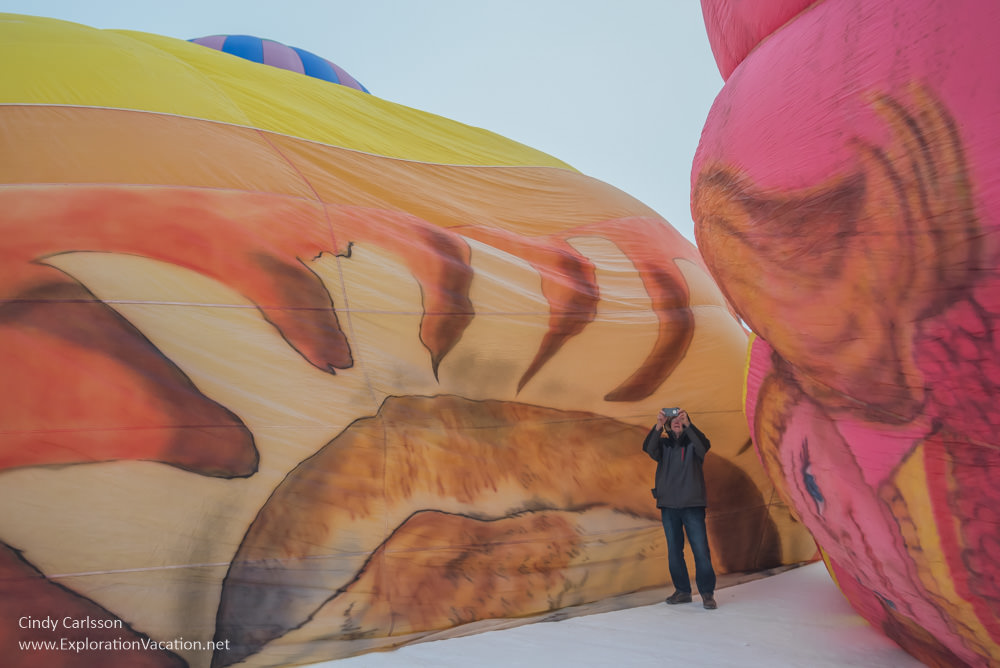 I picked the pink one and headed over to the burner and fans the crew was using to try to provide enough warm air to fill and lift the massive balloon.
The pilot and crew (and the portable fans) were working really hard, but Molly 'n Me (another hand-painted Markert creation, this time depicting a girl and her Raggedy Ann doll) was actually being blown around on the ground by the gusty breeze.
It was clearly a challenge to both hold her in place and get enough air into her to lift her.
Beyond Molly & 'n Me, the team working to raise Cap'n Boo was having better luck.
(That's Augie. Boo is on the other side.)
Back at Molly 'n Me, the crew was still working against the wind to get the balloon inflated.
And then, almost as if by magic, she started to rise.

Members of the crowd (some still holding expensive cameras in one hand) raced over to help tip the basket upright as Molly began to tower above.
Triumph!
The show's over
All around me balloons had begun to rise into the air, with more rigs still heading out to the field to set up. It appeared to be the start of a colorful morning despite flat grey skies and the chilly breeze.
And then, almost immediately, it all came to an end.
Molly – never fully inflated to begin with – was among the first to come down, but all around the field pilots were making the same decision. In what seemed like only a few moments, the sky emptied. All of the balloons were once again draped along the ground, slowly deflating as the cold wind tugged at them.
That was the end of the hot air balloon show for this year.
Check out Hudson's hot air balloon festival yourself
The Hudson Hot Air Affair is held annually in early February. The balloon launch field is at EP Rock School in Hudson, Wisconsin.
Mass launches are scheduled for Saturday and Sunday mornings during the event and Saturday afternoon. Saturday evening features either a moonglow (the inflated balloons are tethered to the ground and lit by the burners) or field of fire (the burners are fired into the sky without the balloons). These events are highly weather dependent – balloons won't even be raised, let alone launched, unless winds are calm.
Other events during the weekend, including a parade, race, craft show, and various kid's activities occur regardless of the weather.
For more complete information, check my post on winter magic for all at Wisconsin's Hudson Hot Air Affair.