(Last Updated On: December 13, 2020)
The island of St. John is just a short ferry trip from St. Thomas, so the friends we were staying with on our visit in April took us there for a day trip. . . .
Our trip starts at the ferry terminal in Red Hook on St. Thomas. Here we roll onto one of the barges that ferry vehicles and their passengers between the islands.
Despite some rolling waves, the short trip is enjoyable and scenic.
And then we are in Cruz Bay – time to explore the island!
Well, actually, time to shop. There are a few stores at Mongoose Junction (a funky shopping mall filled with shops selling tropical clothing, jewelry, and art) that our friends want to visit. They are pretty sure that we will like it too, (they are correct), so we start there.
Shopping done (I bought a beautiful larimar and topaz bracelet that is the color of the Caribbean); it was time to hit the road.
St John isn't a very big island (about 20 square miles), but it is mountainous and 60 percent of it is protected as a national park. This means it doesn't have a lot of roads. However, the roads it does have are pretty scenic.
It also has a lot of bays and beaches and we stopped at various points to take a look at many of them, starting with a glimpse of Caneel Bay and its famous luxury resort.
Next up is the narrow, but perfect, crescent of sand along Hawksnest Bay.
From Hawksnest the road climbs until we reach a lookout that provides picture post-card perfect views across Trunk Bay.
No wonder this is the island's most famous (and busiest) beach!
We skip Cinnamon Bay, as the plan is to return here later for some serious beach time. That makes a view of pretty little Maho Bay our next stop.
A bit of a side trip takes us down to Leinster Bay (noted for the fine snorkeling along Watermelon Cay). . .
and the ruins of Annaberg sugar mill.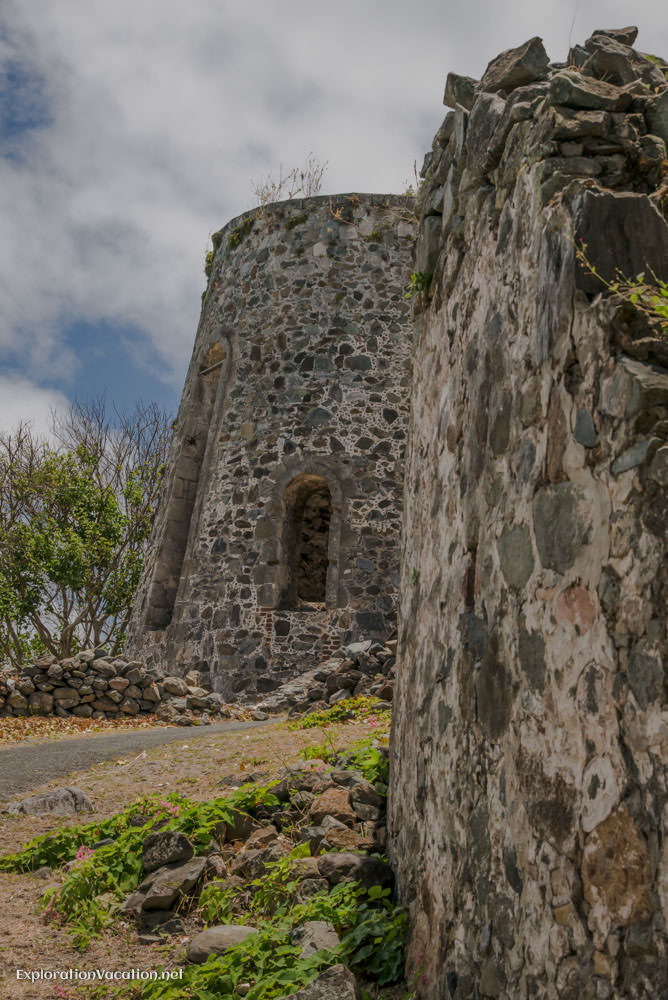 Then it is time to cross over the mountains on our way to Coral Bay.
Of course, we have to stop and greet the locals along the way.
We get by without paying a toll (the resident donkeys can be pretty demanding) and, soon enough, are gliding down the mountain and into the little town that straddles its name-sake harbor.
It's time for lunch and what could be better than the burger and drink of the day at Skinny Legs Bar and Grill.
(It's a happening place.)
Thus fortified, we make our way up to one last scenic viewpoint and then head back to Cinnamon Bay Beach.
This is where we spend the remainder of the afternoon, hanging out on the beach and playing in the water.
I can't think of a better place to be!
Of course, all good things must come to an end, so we load up the car and head back to Cruz Bay. It's late in the afternoon when we arrive, leaving just enough time for a brief walk through town before catching the car ferry and heading back to St. Thomas as the sun sets.
I'll have to see the rest of the island (and spend some time under the water) on my next visit.
There is hourly ferry service to St. John from St. Thomas throughout the day. Regular service is also available from Tortola, Virgin Gorda, Jost Van Dyke, and Anegada. There are plenty of lodging options on the island, but you'll need a car to get around. . . unless, of course, you have a sailboat. (Anchorages are available around the island.) The St. John beach guide provides a checklist of facilities available at each beach. On-Island Times has more detailed beach guides. 
All Tropical Island posts