(Last Updated On: February 10, 2021)
The National Park Service protects more than 7,000 acres of land on the island of Saint John in the US Virgin Islands. Most of this consists of stunning beaches and the sort of wilderness areas usually associated with American national parks. However, the park also preserves a number of sites, including Annaberg Sugar Mill, linked to the island's human history.
In the case of Annaberg, as with other sugar plantations throughout the Caribbean, much of that history is steeped in suffering. While wealthy plantation owners lived lives of luxury, most plantation workers were slaves, with slave labor the only means of accomplishing the immense amount of grueling labor needed to grow, harvest, and process sugar cane.
Perhaps that history of suffering is why the place feels a bit haunted even on a perfect sunny day.
Construction of the sugar mill here began in 1796 when James Murphy, a merchant and slave trader on Saint Thomas, bought Annaberg and a number of other properties to create a state-of-the-art sugar production facility. At the time, sugar was king in the islands and, by the time he died in 1808, Murphy was the largest sugar producer on Saint John. The ruins found at Annaberg today are the remains of Murphy's state-of-the-art facility. They include the windmill tower where cane was crushed on windy days and the horse mill where the cane was crushed on still days, the oven used to prepare bread for the slaves, the large boiling house where cane was cooked down into raw sugar, the curing house where the raw sugar was drained and the resulting molasses collected, a "dungeon" where slaves were held and punished, and the still house where the mash used in rum production was produced.
Less remains of the slave quarters, but they can still be found near the pillars that once supported the roof under which crushed cane stalks were dried for use as fuel.
The view from the slave quarters is astounding. The contrast between this scene and the lives of the people forced to labor here is almost impossible to comprehend. I wonder what the workers enslaved here thought when faced with this view. Did it bring solace or only sadness and longing?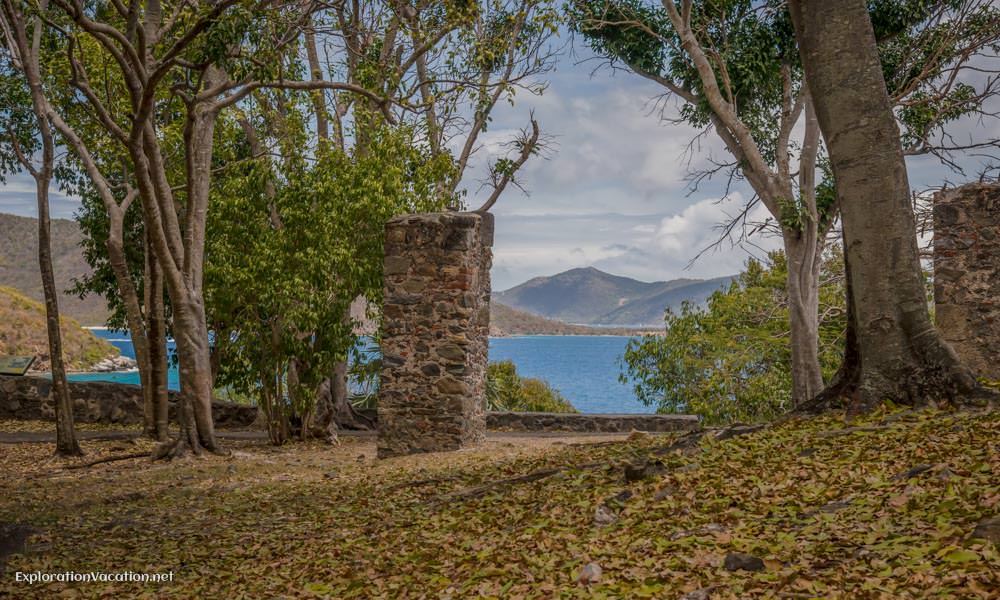 What's not visible today is the scene the slaves would have faced in all other directions – the terraces that turned the rocky hillsides into an unending field of cane.
Annaberg remained a profitable sugar plantation into the 1840s. However, the emancipation of slave laborers in 1848, soil depletion, an earthquake, a hurricane, and falling sugar prices brought an end to sugar production here in 1876.
The ruins of Annaberg Sugar Mill are located east of Mary Point, a short distance from the North Shore and Leinster Bay roads. (It's an easy walk in from the parking area.) The Park Service has an excellent brochure on the history of Annaberg Plantation that visitors should consult to get the most out of their visit to the site. (The information above was largely drawn from this brochure, which is a little different and far more detailed than what is found elsewhere on the web.)