(Last Updated On: May 26, 2020)
Saguaro National Park near Tucson, Arizona, is famous for its towering saguaros, but the entire landscape explodes with spectacular color during the spring flower season. That makes March and April a great time to visit.
A park ablaze with color in spring
If you want to see a saguaro cactus in bloom, plan a visit to the Sonoran Desert in May or June. But if you want to see a wild mix of flowers, late March to early April is the time to visit. During this time of year the greatest number and diversity of flowers burst into bloom. The desert simply erupts with color in spring.
In Saguaro park, the spring wildflower show usually begins in late February with poppies and lupines, peaks in late March or early April, and then ends with the cacti before winding down as the heat of summer arrives in June.
Not that there aren't a few flowers throughout the year. A few plants and cacti bloom in summer, often immediately following rain. And a rainy fall sometimes triggers a second flower season for a number of spring-blooming plants.
The flower show will be better in wet years than in dry ones, but every spring brings a mix of flowers. And, while some annuals and herbaceous perennials may sit out a particularly dry year, most cacti, shrubs, and trees flower every year.
Annual and perennial wildflowers
There are many, many annual and perennial wildflowers in Saguaro National Park. They vary greatly in both size and color, so it's important to really look around to see what might be blooming on otherwise bare ground or in the shade of a cactus or tree.
This is a small sample of what you might see during a springtime visit to the park.
Of course, with something like 1200 plant species in the park, these are just a few of the many flowers that visitors may find blooming during their visit.
Flowering shrubs and trees
Some of the desert's most common wildflowers are actually shrubs.
Brittlebush (encelia farinose) is common, colorful, and sure to bloom each spring. But if it rains, it will bloom at other times too. That makes it one of the flowers park visitors are most likely to see.
Less common, but easy to spot, desert zinnia (Zinnia acerosa) are often found growing in and around cacti, including prickly pear.
While brittlebush and desert zinnia wouldn't look out of place in a backyard garden, a number of desert shrubs and trees have more unusual blossoms.
One of the strangest may be the fairy duster (Calliandra eriophyla).
With its wispy pink and white flowers it is lovely, if a bit odd.
But then, odd blossoms on trees and shrubs aren't that unusual in the Sonoran Desert. When seemingly bland acacia trees bloom later in the season, they will look as if someone decorated them with tiny yellow powder puffs!
And then there is ocotillo (Fouquieria splendens).
While it looks like a cactus, ocotillo are woody shrubs. Tall, scraggly scrubs with sharp barbs along their stems, ocotillo often look dead. However, when it rains, they suddenly turn green and sprout leaves all along their spikey stalks. In spring those leaves are accompanied by bunches of little orange flowers at the very end of each stem.
While their height makes it hard to get a good look at those tiny flowers (plants are usually more than 10 feet tall), their blossoms add a striking bit of color to the spring landscape.
(If it's been a wet year, ocotillo will bloom again in the fall, providing a second burst of color.)
Spring cacti blossoms
The park's namesake saguaros generally don't bloom until late May or early June. That's well after most of the seasonal wildflowers have finished for the season.
But Saguaro National Park has many other types of cacti as well, and many of these begin blooming while many other wildflowers are still in bloom.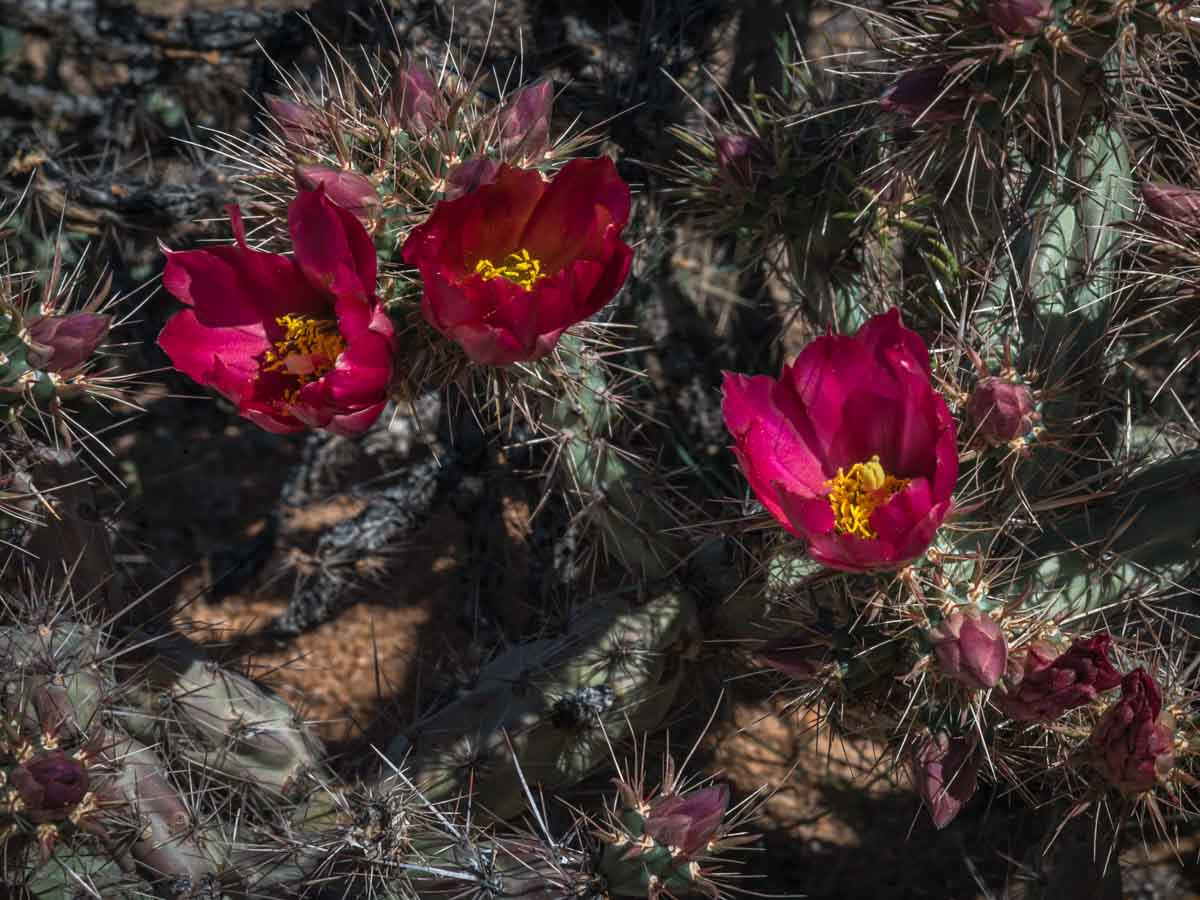 Saguaro is home to a wide variety of chollas. While it's never advisable to get too close to a cholla, many produce beautiful flowers, including buckhorn cholla (Cylindropuntia acanthocarpa), Teddy bear cholla (Cylindropuntia bigelovii), tree cholla (Cylindropuntia imbricate), and staghorn cholla (Cylindropuntia versicolor).
It's easier to get a good look at a flowering hedgehog cactus (Cacti Echinocereus). And it's hard to miss a hedgehog when it's in bloom, as the bright magenta flowers are almost as large as the cactus itself!
Fortunately for spring flower fans, hedgehog cacti are both common in the Sonoran Desert and are among the earliest blooming cacti. That means they are usually in bloom along with the other spring wildflowers.
Plan your spring visit to Saguaro National Park
If you are looking for the brightest mix of color in the Sonoran Desert, time your visit for mid-March into early April. Although the timing and quantity of flowers varies each year, this brief period usually offers both the most and the best mix of spring wildflowers.
Mid-morning is the best time to look for flowers. Arrive too early and they haven't opened yet. Arrive too late in the day and they may have already closed or wilted in the mid-day sun.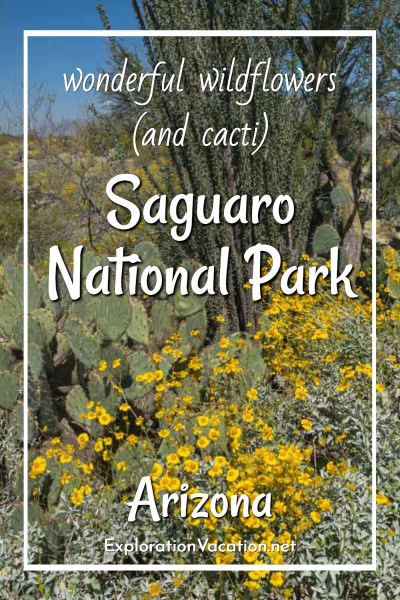 Need a little desert beauty to brighten up your home or office? View images and order prints of spring flowers at Saguaro National Park.
Saguaro National Park: Two great Arizona parks
Travel guide for exploring Arizona
All Arizona posts: