(Last Updated On: December 16, 2020)
One of the homes we visited in November 2014 as part of the house and garden tour offered by the Mérida English Library was owned by a couple of serial remodelers. Their own home was also on the tour the day we visited. It was beautifully designed and decorated, with a glass wall in the main living area that provided gorgeous views of the garden and pool.
Despite having created such a beautiful space for themselves, they weren't done turning their remodeling ideas into reality. Just down the street they were getting their most recent project ready for renters. They were experimenting with some of the same ideas they had used in their own home in this smaller space, and they invited us over to take a look.
Like their own home, the entryway of Casa De Matices hides a bedroom and bath at the front of the house, directing attention instead to the open kitchen/dining/living area that overlooks the pool through a glass wall.
The pool looks inviting, but there is very little garden space around it!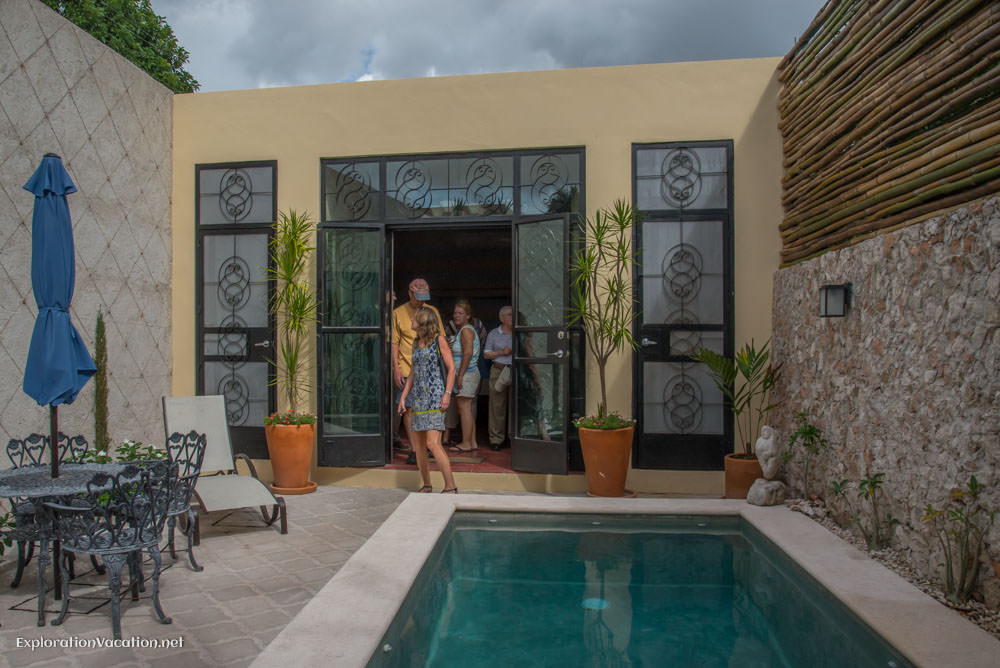 Instead, the linear patio along the pool led to a separate casita with a light-filled master bedroom and spectacular bathroom.
Dibs on that casita . . .
We toured this house last year on one of the House and Garden Tours offered by the Mèrida English Library. Tours are held on Tuesdays from November through March, beginning at the library with a brief overview of historic architecture and construction techniques before the walk begins. Each tour visits at least three homes.
Casa De Matices is available for vacation rentals – you can find it on VRBO or HomeAway. If you invite me to stay with you there, I won't even grumble if you keep the casita for yourself. 🙂