(Last Updated On: October 17, 2018)
All of the homes we toured last fall on the Mèrida English Library's House and Garden Tour underwent substantial remodeling at some point.
A major remodeling project is a challenge in the simplest of situations, but in Mexico it appears to be an even more complicated and time-consuming endeavor. Despite this, one of the homes we toured was owned by a couple that had created quite a number of dream homes in the city (including one we would visit later on our tour) and seemed to have no intention of stopping despite having created a real masterpiece for themselves.
Like many of the remodeled houses we visited, the house's original floor plan was flipped to move the public areas of the house from the front to the rear. Today the spacious front entry was flanked by walls that hid private areas, including a bedroom and bath.
(Look at those beautiful floors!)
The heart of the house, however, is in the back, where an open kitchen/dining/living area is backed by floor-to- ceiling views of the garden and pool.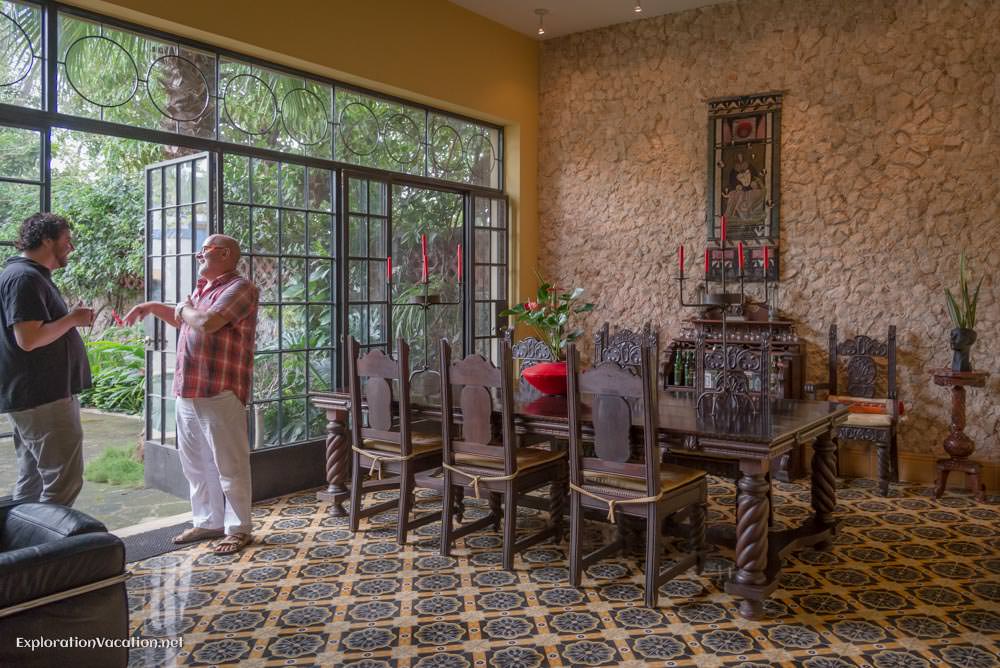 Wow!
Of course, if the view isn't enough, you can always go out into the garden itself.
Back inside, the master bedroom is located on the second floor and has a private terrace.
It's a gorgeous, yet comfortable, home.
We toured this house last year on one of the House and Garden Tours offered by the Mèrida English Library. Tours are held on Tuesdays beginning in November and running through March. They begin at the library with a brief overview of historic architecture and construction techniques before the walking tour begins. Each tour visits at least three homes.