When I think of Arizona, I picture it as it might have looked in the 1950s with orange groves, turquoise and pastel houses in Phoenix, Native art and trading posts, saguaro cactus, and mule trips into the Grand Canyon.
I have absolutely no idea where this image comes from and it has only the most tangential relationship to the reality of Arizona either then or now, but it isn't all fantasy. At some point on every trip here I come across something that is part of that picture. Indeed, on my very first trip I arrived late in the night and awoke in the morning to discover a scene outside my friend's kitchen window that precisely fit my imaginary picture of Arizona. Her 1950s housing development was Phoenix exactly as I pictured it.
While I regularly visit the Phoenix area, there are still many areas I haven't visited or have only passed through. Arizona is a big state with much more diversity than many people expect. There is something for everyone here.
The map below is one of my planning tools. It identifies cities and sites I've explored or hope to explore someday. (Click to go to the interactive version.)
Spring is my favorite time to visit, when the sun is just starting to get hot and the flowers are in bloom. The vibrant colors of the desert in bloom is an amazing sight. Fall is also lovely here. Winters can be cool (or even very cold at higher elevations) and damp. Summer is blast furnace hot in much of the state, but comfortable (or at least bearable) at high elevations.
Note that traveling independently anywhere in Arizona without a car is almost impossible, even in Phoenix. On the other hand, the roads are generally good (if narrow) and the scenery is stunning, making it a perfect state for road trips.
Exploring Arizona
Arizona is a big state. To make travel planning a little easier, I'm dividing it into 4 parts:
Northern Arizona, including the Grand Canyon
North Central Arizona, an area that wraps around Phoenix to the north and east that includes Prescott, Sedona, Payson and Globe
Phoenix and the Valley of the Sun
Southern Arizona, including Tucson
Exploring Northern Arizona
 Northern Arizona is dominated by the Grand Canyon. But this part of the state also has forested mountains (complete with ski resorts), ancient cliff dwellings, a petrified forest, and a chance to step back in time along historic Route 66.
Exploring East Central Arizona

There's so much to do in northern Arizona that I've grouped Sedona, the Verde Valley, and Tonto National Forest into a separate category. Everything in this area is an easy day-trip from Phoenix.
Sedona
Sedona is red rock country, one of the most striking landscapes in central Arizona. Spiritual seekers flock here, but so do adventures of all types. It's also a busy city with lots of specialty shops and dining options.
Evening reflections at Red Rock Crossing, Sedona, Arizona (2016)
Reading the V Bar V petroglyphs (2016)
Looking Back: A Quick Trip to Sedona (September 2009/January 2014)
Montezuma Castle (September 2009/January 2014)
Jerome, Clarkdale, and Cottonwood (Verde Valley and beyond)
This trio of historic mining towns along Highway 89A offer visitors a peek into Arizona's past.
We discover copper art in Clarkdale 
Tonto National Forest
The Tonto National Forest extends from the edge of Scottsdale, south and east beyond Globe and north to Payson and beyond. It includes all of the Superstition Mountains, stretches of saguaro-studded Sonoran desert, pine-covered mountains, and the ancient cliff dwellings of Tonto National Monument.
Salt River horses (March 2016)
Visiting Butcher Jones (March 2009)
The Superstition Mountains
Easily accessible from Phoenix, the Superstition Mountains lie at the northeastern edge of the Valley of the Sun. If you don't want to hike, the Apache Trail Historic highway makes for a challenging, but stunning drive. Mesa and Apache Junction on the west and Globe on the east are the main towns in this area.
Sunset at the edge of the Superstition Mountains (March 205)
Memorable Travel Moments: Dads and Daughters Day in the Desert (November 2012)
First Water (March 2009)
Recreating the Past at the Superstition Mountain Museum (February 2013)
The Apache Trail
Winding through spectacular scenery, a trip along the Apache Trail Scenic Byway is a great adventure at any time. But it's even better in spring when the wildflowers bloom!)
Take a road trip on Arizona's Apache Trail Historic Road
Lost Dutchman State Park
Located along the base of the Superstition Mountains, Lost Dutchman State Park provides an excellent base for exploring the mountains via a network of trails that lead into Tonto National Forest.
Usery Mountain Regional Park
Perfect for short or extended hikes, Usery Mountain Regional Park has both developed park areas and plenty of rugged areas.
Phoenix and the Valley of the Sun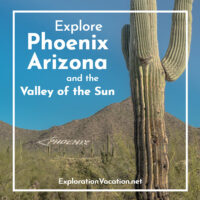 Most visitors to Arizona spend at least some time in Phoenix or the surrounding area, which is often refereed to as "the valley of the sun" for its abundant sunshine.
Once a collection of independent towns and villages, today it is almost impossible to distinguish where one sprawling community ends and the next begins. But Phoenix and Scottsdale have enticing, walkable downtowns with shopping, arts, and entertainment; there are art and cultural opportunities scattered throughout the area; and the valley's location at the northernmost edge of the Sonoran Desert means that there is both plenty of options for hiking and botanically interesting landscapes to explore. And, of course, there are an overwhelming number of options for those just looking for a comfortable place to stay with a pool and warm sunshine.
Southeastern Arizona
Boyce Thompson Arboretum
Along the road to Globe, Boyce Thompson offers acres of native and exotic plants and beautiful hiking trails. Very little of it is a garden in the traditional sense, but it is a spectacular place — especially in spring.
Boyce Thompson Arboretum State Park (March 2015)
Cacti and More at Boyce Thompson arboretum (March 2009)
Historic Miami and Globe
Coming from the west, visitors to the old mining towns of Miami and Globe pass through a stunning canyon. Once in the towns, there is an intriguing mix of old and new.
Tucson
Historic Tucson
The Placita at Saint Augustine Cathedral
Saguaro National Park
Embracing the city of Tucson, Saguaro National Park preserves a classic cactus-filled Sonoran landscape.
Ajo and the border
Ajo is the gateway to Organ Pipe National Monument, a rugged area along the border with Mexico.
Discover street art in Ajo, Arizona
Arizona travel journals
Arizona and New Mexico (March 2015)
Central Arizona (February 2014)
Phoenix Area in Spring (March 2009)