(Last Updated On: January 11, 2023)
While a Central Europe itinerary can include a number of countries, my three-week road trip in the Czech Republic, Slovakia, Vienna, and Krakow was a great way to explore this fascinating – and often overlooked – region.
My 2018 Central Europe itinerary featured the Czech Republic (Czechia), but also included a few days in Slovakia and the cities of Vienna, Austria, and Krakow, Poland. The full itinerary, with lodging and dining information, is below.
Start planning your own trip right here!
I provide links as a convenience to you. However, some may be affiliate links that pay me a small commission if you use them to reserve a room, rent a car, or purchase goods or services. You don't pay anything extra, but it helps keep this website running. And all affiliate links are for products or services I personally use and recommend. To learn more, review this website's policies and disclosures.
My Czech-centric itinerary for travel in Central Europe
Aside from a few days in Salzburg, Austria, a number of years ago, I've never traveled in this part of Europe. Thus, the 2018 TBEX (Travel Bloggers Exchange) conference in Ostrava, Czechia, conference was a great excuse to "Czech" it out.
But where to go?
The most common Central European tours usually cover Prague (in the Czech Republic), Vienna (Austria), and Budapest (Hungary) – all cities I'd love to see.
But big cities and summer heat (and crowds!) aren't a great mix. So, instead of spending all of our time in the region's major cities, my husband and I decided to drop Budapest from our itinerary. Instead we planned a Central Europe road trip with a nice mix of historic cities, small towns, and scenic countryside.
We began in Prague, where we rented a car on our way out of town. From Prague we drove south through the castle country of Bohemia and on through a bit of South Moravian wine country. From there we dropped down to Vienna for a few days of history and culture. Then it was back on the road, driving through mostly rural Slovakia, and on to Krakow for a few more days of city life. From Krakow we made the short drive down to Ostrava in the far northeast corner of Czech Republic. I stayed there to attend the TBEX conference and travel a bit more in the Czech Republic while my spouse returned the car and flew home from Prague.
You can see where I went (and a few places I hoped to get to, but didn't) on the map below.
(Some pins include photos. Grey pins indicate places I wanted to get to, but didn't.)
To skip ahead to a particular location, follow these links:
Days 1-3: Prague
Prague has long drawn tourists to its historic buildings and rich intellectual and cultural life, so we were following the masses in choosing to travel here. But there are good reasons visitors flock to Prague –
there is lots to see! Prague is a very large city and not all of the most interesting sights are in the Old Town UNESCO World Heritage site. However, while three days is not enough to really get to know Prague, it offers a nice introduction to the city.
Sightseeing
We hit a few of the city's highlights, but mostly just wandered around soaking in the atmosphere in the Old Town area.
Lodging
In Prague we stayed at the wonderful Maximilian Hotel.
Dining
Prague has a lot of restaurants, but many seem geared to tourists, charging high prices for what can be pretty average food. Still, there are plenty of places to eat.
Days 4-7: South Bohemia and Moravia
From Prague, we picked up a rental car and headed south to explore a bit of South Bohemia.
With a base in the historic core of Český Krumlov and a rental car, we had the flexibility to explore the surrounding area at our own pace.
This is a beautiful region of the Czech Republic, with lots of charming small towns and castles. But, with only two full days to explore, there were lots of places we didn't get to. If you have a car or bike, it would be easy to spend a full week (or more) just in this part of Czechia.
Sightseeing
While Cesky Krumlov is often visited as a day trip from Prague, it is a great base for exploring the city and the surrounding region. A surprisingly wide variety of activities, landscapes, towns, and castles are an easy drive away in all directions. And, at the end of the day, you get spend the night in this fairy tale city!
Lodging
Our base in Cesky Krumlov was a few blocks off the main square at Pension Galko.
Dining
There is no shortage of places to eat in Cesky Krumlov. Unfortunately, a lot of them seem to serve mediocre food at fairly high prices – although often in great settings! And there are budget options for those looking for something fast and relatively inexpensive.
Days 7 and 8: Through the Lednice-Valtice Cultural Landscape to Vienna
Between the 17th and 20th centuries, the dukes of Liechtenstein created a sculpted landscape that stretched between and around elaborate castles. Today those carefully manicured grounds, elaborate castle-like manors, gardens, lanes, and monuments are a UNESCO world heritage site.
This is also wine country, which offers a whole range of additional activities.
The whole area is perfect for exploring by bike. Having a car actually limited our ability to explore more rural areas, as there are many more roads for bikes than cars!
Note that there are also a lot of sights to see between Cesky Krumlov and the Lednice-Valtice area. (We wanted to get to Třebíč and Bruno, but there just wasn't time.) The best way to cover more of the sights here would be to overnight in both Brno and Lednice/Valtice.
Sightseeing
I had no idea what to expect here and that lack of preparation (compounded by the lack of tourist information either in English or suitable for people with cars) meant we didn't get to explore the area much beyond the two castles. But those castles are fabulous.
At Valtice Chateau we took in an incredible exhibit on the Silk Road. On the other hand, we mostly wandered the formal gardens around fairytale-worthy Lednice Castle. Both have a lot more to offer, including a variety of interior tours, more gardens than we saw, and the National Wine Cellar at Valtice. It would be easy to spend a few days relaxing here.
Lodging
A last-minute booking put us in the Penzion Prinz in Valtice, an older property with elegant rooms located less than a block from Valtice Chateau.
Dining
Milan Hradil Wine Shop
It was almost sunset when we arrived in Valtice and I didn't feel like a big dinner. Instead, we had some granola bars and then walked over to Milan Hradil for a wine tasting. This atmospheric little wine shop is tucked into the castle gate and offers an impressive selection of wonderful Czech wines. The proprietor is knowledgeable and patient, so you can learn a lot about Czech wines as you sample them.
It was the perfect end to the day.
Days 8-10: Vienna, Austria
Vienna served as the home base of the Habsburgs for over 600 years as they ruled Austria and, for a time, a large portion of Europe. As one of the most powerful and long-lived dynasties in Europe, they had the time and the means to build a city equal to their political ambition.
While I knew all this, and knew of Vienna's reputation for style and elegance, I just didn't understand the scale of it all. Even having been there, it's still hard to grasp. Vienna is huge and it has enormous buildings filled with collections of unbelievably rare and valuable objects. It's amazing, but also rather overwhelming. And a few days is hardly enough to even scratch the surface of it.
The Historic Center of Vienna is also a UNESCO World Heritage Site.
Sightseeing
Being that it was summer, I had my heart set on wandering through a lot of palace gardens. However, we hadn't really done any museums yet on this trip (and we both love museums), so my husband steered me toward palace collections and museums instead.
But there were so many choices! Which palaces? Sprawling Schönbrunn with room after room of riches? Hofburg, with three museums that provide a glimpse of royal life? Belvedere with its grand gardens and art collection? And which of Vienna's more than 100 museums should make our list?
Lodging
Vienna isn't an ideal place to have a car. (It's a horrible city to drive in.) Thus my hotel search focused on something affordable in an interesting neighborhood with good transit connections and off-street parking. I actually found all of that at the Austria Classic Hotel Wien.
Dining
Vienna has a wide range of restaurants of varying quality. With the exception of oh-so-trendy DO&CO, we generally looked for places that were supposed to be good, but were also near wherever we happened to be.
Days 11 and 12: Slovakia
While I often have only a limited idea of what to expect when I travel to a new place, that was especially true in Slovakia. Tourist information in English generally only goes as far as Bratislava, which is about an hour out of Vienna. Beyond that, it's more difficult to find accurate information. Fortunately, there is more travel information available online all the time, so travel here should get easier for those of us who find the language a mystery.
What I found as we drove through the countryside was not so different from the Czech Republic. There are more castles, more traditional architecture, and wilder mountains – but fewer people. The sights may be more low-key than more familiar places in Europe, but Slovakia is a great destination. And it isn't undiscovered. We found big crowds at all the parks, castles, and other major historic sights we visited (or tried to visit) as we traveled through on a summer weekend.
While English-speakers may be unaware of Slovakia's charms, plenty of others are in on the secret.
Sightseeing
Our sightseeing in Slovakia was largely limited to what was along the way as we drove through the country, although I chose our route to hit as many sights as I could without traveling too far out of the way.
Lodging
We stayed at the Urpín City Residence in Banská Bystrica, a lovely historic town in the middle of Slovakia.
Dining
Bernardov Dvor
We had an absolutely lovely dinner of tagliatelle and risotto just off the plaza at Bernardov Dvor in Banska Bystrica. This is probably the best restaurant in town and our food was absolutely delicious.
Days 12-15: Krakow, Poland
Krakow, Poland, is filled with fantastic architecture.
You like Gothic? Krakow has lots of it. How about Baroque? They have that too. Art Nouveau? Yup. There are few older styles too. (They even have Communist modernist, if that's your thing, but you have to leave the historic city center for that.) All of this architecture is a big part of the reason Krakow's historic center (the medieval cities of Krakow and Kazimierz along with Wawel Hill) hold a UNESCO World Heritage designation.
Sightseeing
With all this architecture to behold, I spent most of my time gawking at buildings in historic Krakow and Wawel castle. So much time that I didn't see hardly any of Kazimierz. That was unfortunate, as the area was home to Krakow's Jewish community and has interesting historic, architectural, and cultural sights.
Lodging
Krakow is a place where you can find really nice places to stay without spending a ton of money. That's especially true outside the old walled city.
We stayed a couple blocks outside the Planty (the greenspace that marks the location of the original city wall) on the northwest side of the city. The neighborhood was a mix of historic buildings and some more contemporary infill with a lot of renovation underway. The large number of foreign language schools and budget shops seemed to indicate there were a lot of students and lower-income folks in the area. But we found a gorgeous Airbnb there that was safe, cheap, and had a parking garage. All just short walk from the heart of Old Town. The neighborhood itself was safe and convenient. It's not among the neighborhoods I've seen listed as a good spot to stay, but I'd recommend it.
Dining
Food-wise, Krakow was my favorite city on our Central Europe Itinerary. There were tons of options and quality was generally high while prices were low. We found the both the best food and prices along the streets just off the Market Square. However, even places right along the square had decent food at prices that weren't too high – after all you have to pay for the view!
Days 15-18: Czech Moravia-Silesia
This year's 2018 European TBEX conference (Travel Blogger's Exchange) was held in Ostrava, a former industrial center about four hours east of Prague in northeastern Czechia.
TBEX in Ostrava
This was my fifth TBEX conference, having previously attended in Keystone Colorado, Toronto, Minneapolis, and Stockholm. Like most conferences, TBEX includes presentations, workshops, networking events, and parties. I try to attend every few years when it is in a location I'd like to visit – and the Czech Republic certainly fit the bill.
TBEX conference sessions were held at the GONG conference center in Ostrava. The GONG is in Dolni Vitkoice, a former industrial site that included everything needed to produce steel –  a coal mine, iron smelter, rails to ship raw material in and the finished steel out, etc. Today the site is an industrial monument and event center, with museums, tours, a café, and the GONG. It's a cool place with a slightly surreal abandoned industrial vibe.
The GONG is a state-of-the-art conference center created from an enormous gas storage tank. It's a great example of creative reuse on a really large scale. And a great place to spend a few days in meetings and seminars.
It was a cool site. And worth a lot more exploration time than I was able to give it.
Lodging
I stayed at the Clarion Congress Hotel in Ostrava because it looked nice, was one of the conference hotels, and appeared to be a good base for getting to and from the conference.
It was a nice hotel, but there were few conference attendees staying there and it wasn't great for getting to and from conference events.
Transportation challenges in Ostrava
Ostrava was one of the more difficult cities I've had to navigate. And technology was a big part of the problem.
Dining
Most of my meals were either at the conference or at my hotel. But even so, the quality was pretty high – even at the conference where the meals were mass-produced.
Moravia-Silesia tour
I spent the day before the conference on a tour that let me see a bit more of the Moravian-Silesian region around Ostrava. As guests of the regional tourism agency, we were given a quick look at what this relatively untouristed part of the Czech Republic has to offer.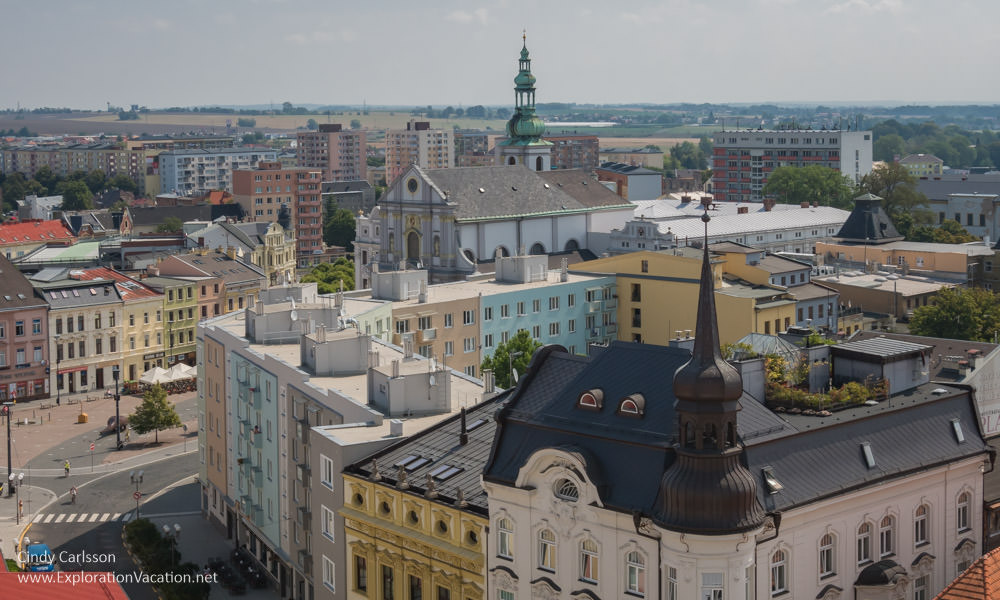 It was a day trip with a variety of sites.
Days 19-22: Zlin Region of Czech East Moravia
As a guest of the Zlín and Luhačovice tourism offices in East Moravia and Czech Tourism, I was part of a small group on a fully-guided familiarization tour highlighting a bit of this beautiful and interesting part of the Czech Republic.
There were six of us in our group, four travel writers/bloggers, a member of the Czech Tourism staff from Prague (she was learning more about the area along with us as well as helping manage the tour), and our extremely patient local hosts/guides/coordinators from Zlin and Luhacovice. Along the way we also enjoyed the services of local guides, business owners, and a couple of drivers. It was a fascinating and exhausting tour with a packed schedule during an unrelenting heat wave.
Our tour was called "Bata's Region." I selected it because it offered a nice mix of historical sites (including a UNESCO World Heritage site), gardens, and architecture. But mostly because it promised a bit of urban planning history and the Bata shoe collection. We all have our priorities.
The tour delivered all that and more.
Except for a bit of wandering around Kromeriz, all of my time in East Moravia was a fully-guided group tour. The itinerary and virtually all costs associated with my travel was covered by our regional hosts. However, all information and opinions presented here are strictly my own.
Sightseeing
Our tour began in Zlin, the region's largest city, and continued on to the beautiful city of Kromeriz before ending in the spa town of Luhacovice. We toured some of the most significant sites in these cities (but nowhere near all the sights) and made a few stops in smaller places along the way. It was enough time to see a few highlights, but there is still a lot more to explore.
Lodging
Traveling at the peak of Czechia's summer tourist season likely made it tough for our hosts to arrange lodging.  And an unusually hot summer made rooms without air conditioning miserable. Neither of those factors were under the control of our Czech hosts, but they did make it hard to fully appreciate lodgings that – in other circumstances – would have been viewed very positively.
Zlin: Hotel Tomasov
The Hotel Tomášov is part of a facility built by Tomas Bata as a hospital. Part of it still serves as a medical facility, housing the Clinic of Reproductive Medicine and Gynecology. But you'd never guess it's connected to a medical facility from the luxuriously appointed modern hotel rooms.
Kromeriz: Hotel La Fresca
Hotel La Fresca is a historic building right on the beautiful city square in Kromeriz. It's a friendly, old-fashioned charmer where you feel as if you may have stepped into a more gentle, relaxed era.
Luhacovice
Our host in Luhačovice admitted that finding rooms on relatively short notice during the peak summer season was almost impossible. The hotel we ended up at wasn't bad, it just wasn't well suited to my needs or the very hot weather we were experiencing.
It's a good reminder to book a peak season rooms well in advance. Luhacovice gets very busy during the summer. Or visit in the off-season when prices drop, but spas and other activities are still available.
Check TripAdvisor, Booking.com, Hotels.com, or Expedia to read reviews, check prices, and book a hotel in or around Luhacovice.
Prague: Hotel Casa Marcello
We spent our last night back in Prague at the Hotel Casa Marcello, a large historic building very, very near where I stayed when I first got to Prague.
Dining
Food may be what most surprised me in the Czech Republic, both in East Moravia and around the rest of the county. I was anticipating heavy meals with dull flavors or poor renditions of international dishes. Instead I discovered that even the smallest towns had restaurants using fresh local ingredients as the base for flavorful contemporary renditions of both Czech and international classics.
In other words, absolutely delicious the food was available throughout the Czech Republic.
And the beer was every bit as good as I expected!
And then our tour came to an end and it was time to catch the train back to Prague.
A special thank you goes to all of my hosts in the Czech Republic, but especially Jiri Duzar of Czech Tourism for his vision and hard work making the TBEX conference and FAM trips happen; Zdeněk Urbanovský of East Moravia Tourism for eagerly sharing his vast knowledge, arranging a fascinating itinerary, and remaining cheerful even when his little troop was hot, tired, and a bit crabby; Dana Müller of the Zlín and Luhačovice tourist office for her over-the-top five star hospitality; and Mahulena Drakselová of Czech Tourism for being both a fun travel companion and the fixer of small issues.
Getting around Central Europe
By plane
My husband and I used Amsterdam as our gateway to Europe. There were several relatively logical reasons for this (including a decent fare on Delta), but it wasn't a great choice. Munich would be better because the distances are shorter and it has a better variety of connections to the rest of Central Europe.
Easy Jet
We flew to Prague from Amsterdam on Easy Jet.
Czech Air
I tried to book the Amsterdam/Prague flight on Czech Air, since we had a discount for the conference.
Finnair
I used Finnair to get back to Amsterdam to catch my return flight to the USA.
By train
As guests of Czech Tourism and regional tourism offices, transportation was provided for our FAM tour group.
We traveled to and from East Moravia by train. Train travel in much of the Czech Republic is very modern. However, infrastructure limitations in the eastern part of the country make train travel a little slower and a little less comfortable there than elsewhere. It's not developing world rail, just not always as spiffy as German rail.
By private vehicle
I love a good road trip, so my husband and I picked up a car in Prague as we headed out of town. That allowed us to explore where we wanted at our own pace.
(He returned it on his way home while I was at my conference in Ostrava.)
On my tour we traveled by van along a mix of modern highways and quaint rural routes.
As my husband found in other parts of the the Czech Republic and neighboring countries, roads were generally good, if narrower than we are used to. It's a part easy part of the world to drive through.
Signage in the Czech Republic was a bit confusing at times, but Google maps was usually quite accurate in all of the countries we visited.
Overall, the Czech Republic and surrounding areas were good destinations for road tripping.
We didn't bike, but the Czech Republic has a number of regions that would be ideal for bike touring as well.
Discover the Czech Republic beyond Prague