(Last Updated On: March 27, 2022)
Visitors to the Czech Republic (Czechia) won't want to skip Prague, but a Czech road trip is an ideal way to discover the delights of Czech towns and villages beyond Prague.
There's more to the Czech Republic than Prague
Sure, Prague is lovely and a visitor could spend months just exploring this one city.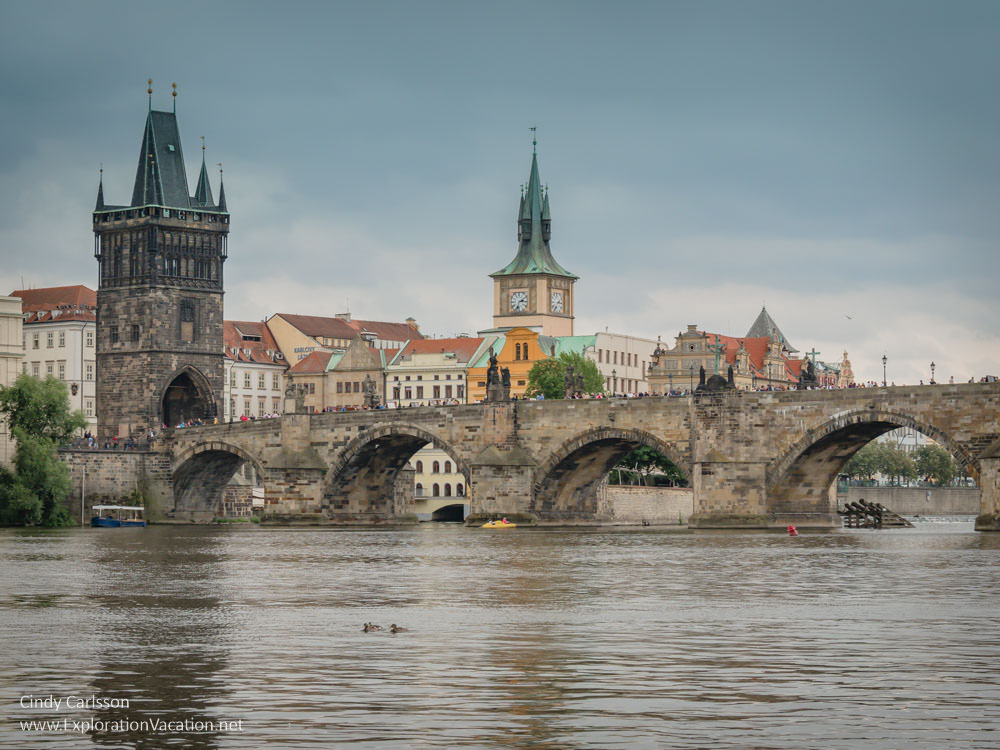 But, as beautiful as Prague is, but there is much more to see in Czechia!
The following are a few examples of what awaits when you tour the Czech Republic beyond Prague.
Charming towns and villages
Once off the main highway, it's easy to discover charming Czech towns and villages. Many will appear right along the road. Others will require passing through a bit of commercial-industrial sprawl before you discover the beauty that of the city's historic heart. In either case, follow the signs that point to the city center to discover the best of the Czech Republic's towns and villages.
Here are a few of the particularly charming places I discovered on my mini Czech tour.
Český Krumlov
Český Krumlov is not an undiscovered gem and you will have (too much) company as you wander the streets of this UNESCO World Heritage city. But there's a reason people come here:  Český Krumlov looks like a village is straight out of a fairy tale.
Read more about visiting the Historic Center of Český Krumlov on World Heritage Sites.
Tábor
Not far from Český Krumlov, the medieval streets that wind through the heart of Tábor offer an architectural treasure-trove of elaborately decorated Gothic, Renaissance, and Baroque buildings. It's a great city for aimless wandering. This South Bohemian city is also an important historical site as a base of the Czech Hussites, with a museum and monuments related to that history.
Telč
Small in size but filled with charm, Telč is an Italian Renaissance beauty in southwest Moravia. As the best example of Italian Renaissance architecture north of the Alps, the historic center is a UNESCO World Heritage site. With surrounding fish ponds and lots of color, entering Telč is like stepping into a picture postcard from times gone by.
Kroměříž
Farther east, the beautiful Moravian city of Kroměříž is filled with history, architecture, and flowers. The town square is as picturesque as they come, but the city is on the UNESCO World Heritage list for its splendid chateau and gardens. There's a lot to enjoy here.
Stroll through the Baroque Flower Garden with me!
Or read more about visiting the Gardens and Castle at the Kroměříž UNESCO site on World Heritage Sites.
Luhačovice
Central Europeans have long been drawn to Luhačovice for its healing mineral springs. But this Moravian spa town oozes charm right along with its salty spring water. With interconnected garden paths and a wealth of folk Art Nouveau architecture, there's plenty to win over everyone. And that's without mentioning the tasty waffle cookies . . .
Castles and chateaus galore
No Czech tour would be complete without visiting a castle or chateau. Fortunately there are plenty to choose from throughout the country. (While the ones pictured here are all open for tours of the interior, there are also picturesque ruins for those who would rather just imagine life in the past.)
These are the castles/ chateaus  in Kroměříž, Lednice, Valtice, Hluboká, and Raduň. Click on the images to learn more.
Orchards, vineyards, breweries and more
Wine, beer, and liquors have been part of Czech culture for centuries. After all, pilsners are named for the Czech town of Plzeň (Pilsen)!
Today those traditions continue – and are expanding – with the production of fine wines, specialty liquors, and craft beer.
Vineyards and tasting rooms
Wine has been produced in this part of the word since the Roman Empire. Visitors seeking the best Czech wines should head to southern Moravia, where most of the country's finest wines continue to be produced.
(You can sample a few Moravian wines at the Castle Gate wine shop in Valtice.)
Slivovice and other liquors
While fine wines were popular with the wealthy, everyone with access to a fruit tree could indulge in a little homemade brandy. And fruit trees – especially plums – grow everywhere in the Czech Republic!
While every Czech likely knows someone who still makes their own fruit brandy, visitors can tour factories like Rudolf Jelínek where the opportunity to compare types of fruit brandy is part of the experience.
Not just pilsners
Of course, the Czech Republic is famous for its beer. The first pilsner (the original Pilsner Urquell) was first brewed here in 1842. You can still order a Pilsner Urquell today, but there are lots of other options too, as the craft beer craze has come home to the Czech Republic.
Craft brewers like those at Panský mlýn can be found throughout the Czech Republic. Of course, while many brewers are experimenting with a variety of beers, traditional pilsners are still found everywhere.
Natural areas perfect for wandering
I spent most of my time exploring Czechia's towns and villages, but the Czech Republic offers lots of options for anyone wanting to get outdoors. Hiking and biking are particularly popular, and trails can be found throughout the country. Whether it's a hike through rugged mountains or a lazy bike ride through rolling fields and vineyards, there's certain to be something to please you.
(Lake Lipno is within the heavily forested Šumava region of Southern Bohemia.Although it's actually a man-made reservoir, this beautiful lake is so expansive that it is sometimes called the South Bohemian Sea.)
Plan your Czech tour
There are plenty of Czech towns and villages to visit beyond Prague. Whether you're seeking charming villages, unique architecture, history, or outdoor adventure, you can easily find it on a road (or train or bus or bike) trip beyond Prague.
Getting around
Getting around the Czech Republic is generally pretty easy, although having access to an automobile – or heading off on your bike – provides far more flexibility than relying on trains or intercity buses.
Lodging
Lodging is available in all but the very smallest of towns. However, popular tourist cities and recreation areas will book up well in advance during summer vacation, festivals, and holidays. Czechs love to get out into nature and explore their own country, so even areas not well-known to foreign tourists may be fully booked by Czech tourists.
While larger towns will have a variety of international chain hotels, small hotels, inns, guesthouses (pensions), and apartments are more common and often offer a much better experience.
You can find reviews, prices, and even online booking for some properties (not all) on TripAdvisor and/or Booking.com. (Affiliate links) Airbnb is a good option for booking private apartments and homes.
Notes
I spent over two weeks touring the Czech Republic this summer.
The first 10 days were independent travel with my husband. We spent most of our time in Prague, southern Bohemia, and southern Moravia.
After a detour to Vienna, Slovakia, and Krakow, I returned to the Czech Republic on my own to attend the TBEX meeting in Ostrava and traveled for a several days as a guest of Czech Tourism, the Moravian-Silesian Region, the Zlin Region – Eastern Moravia (website partially translated from Czech), and Zlín and Luhačovice (in Czech). While I appreciate the gracious hospitality of my hosts, all opinions expressed here are strictly my own.
A Czech-centric Central European summer itinerary