(Last Updated On: January 11, 2023)
In summer, a week is enough to create an Iceland itinerary that offers amazing sightseeing on a road trip along the Ring Road, a quick swing through the Golden Circle, and a taste of Reykjavik.
I provide links as a convenience to you. However, some may be affiliate links that pay me a small commission if you use them to reserve a room, rent a car, or purchase goods or services. You don't pay anything extra, but it helps keep this website running. And all affiliate links are for products or services I personally use and recommend. To learn more, review this website's policies and disclosures.
Why travel to Iceland?
This chilly northern country has become a hot tourist destination, especially for Americans.
Day-by-day Iceland itinerary
I really wanted to drive the Ring Road as part of our Iceland itinerary. A week is a little tight, but in summer it's manageable. Fortunately, we were headed to Iceland in June, when the roads are generally clear and weather reasonably mild.
I would have preferred beginning our road trip after a day or two in or near Reykjavik to recover from the overnight flight. However, I also wanted to be back in Reykjavik at least a day before we flew home just in case we were delayed by bad weather along the Ring.
With those limitations, the most logical way to make the timing work was to head straight out on the Ring Road as soon as we landed, driving the route clockwise until we ended up back in Reykjavik for the last two nights.
Day 1: Reykjavik north to Sagafjörður area
While our first night's reservation in the Sagafjörður area required more driving than was probably prudent following an international flight, we made it work.
Our flight arrived in Iceland on time, but we waited a LONG time to pick up our rental car. That put us a couple hours behind schedule as we began our first day in Iceland.
Once on the road, it seemed to take forever to escape the sprawl of Rekjavik and its thousands of traffic circles. And, once we did, the landscape was rather bleak and grey. Fortunately, as the land rose, the sun brightened and the scenery improved. This was not unexpected, but it was appreciated.
From that point on I was in love with Iceland. And, as we drove, it just kept getting better.
Sites and activities
Glaumbær Museum
Our only real stop along the way was at the traditional turf buildings of the Glaumbær Museum. (We couldn't find nearby Víðimýri Church or we would have stopped there too.) We arrived just as the museum was closing for the day, but they let us take a quick peek inside anyway, which was really kind.
If we'd had more time (and not been so tired), I would have added the Borgarnes Settlement Center and Grábrók crater to the itinerary for our first day.
Of course, with even more time I would have wanted to visit a bit of West Iceland too, proving there is always more to do.
Dining
We drove into Saudarkrokur for dinner at Kaffi Krokur. This is a cozy place with a full menu that looked good. However, we decided to go for something light and split a Ronaldo pizza, which was a delicious (if surprising) mix of pepperoni, bacon, blue cheese, and pineapple.
Lodging
We stayed at Airbnb Hegranes Guesthouse on a farm near Saudarkrokur in the Skagafjordur.
Day 2: Northern Iceland from Sagafjörður to Mývatn/Húsavík
While the shortest route through this area is inland on Highway 1, Route 76/82 along the coast of the Tröllaskagi Peninsula is gorgeous. It's definitely worth the extra time. An extra day somewhere along here would be even better.
There is a surprising amount to see and do here, as jaw-dropping scenery is supplemented by quaint fishing towns and a couple of good museums.
And, while I loved the coastal scenery and towns, I wish I'd had time to explore the museums and the town of Akureyri too.
Sites and activities
Driving the Tröllaskagi Peninsula
Famous for its high mountains, this scenic detour followed the coast of the Tröllaskagi Peninsula. Even on a cold, cloudy day, the drive offered fabulous scenery and more charming villages (and museums) than we had time to visit. I loved this area and wish we had more time here.
The view from Brimness in Hofsös
Goðafoss waterfall
The most well-known Ring Road site in this area is Goðafoss waterfall. While I was hoping for a wild, natural experience, it was actually pretty interesting to watch (and wait) for a kayaker to go over a section of the falls. (He'd studied the falls for a long time and made it over just fine – but don't try this yourself!)
Dining
The Fiskbúðin in Siglufjörður
There weren't many places open when we went searching for a late lunch in Siglufjörður, but that worked out just fine. We ended up having perfect fish and chips downtown at the Fiskbúðin (the town's fish store). The coating was crispy and the local cod melted in your mouth. The chips were good too.
Note that this is a retail fish shop, not a café. While we did find a windowsill with a little counter to stand by inside the shop, be prepared to take your fish and chips elsewhere to eat.
An order of fish and chips from the Fiskbúðin is one of the cheapest lunches you can buy in Iceland. Best of all, the fish is as good as you'll find anywhere at any price.
The dining room at Brekka
Our lodging outside (far outside) Húsavík had a full restaurant offering a few options for dinner.
Lodging
We stayed between Húsavík and Mývatn at Guesthouse Brekka. Two nights here gave us easy access to a lot of sights in both directions. See Day 3 for more information on lodging in this part of Iceland.
Day 3: Húsavík and Mývatn
We added a day here because we wanted to do a whale watching tour out of Húsavík, which wasn't something we could easily fit into a one-night stay. We did spend some time on the water, although we didn't get to do much else in Húsavík. Not that we wouldn't have liked to do more, as Húsavík is another coastal town that deserved more time than we gave it.
We spent the second half of the day at Mývatn. We used the new Rick Steves Iceland guidebook and he raves about Mývatn. Steves and I have rather different tastes and Mývatn was one place where that was evident. I could easily have skipped it and not been disappointed. Not only does it have lots of midges, but most of the sights are rather dull by USA or Icelandic standards. If you're driving through, it's worth a stop, but that's it.
Sites and activities
Húsavík
I wish we'd spent more time in Húsavík.
This pretty little port city is known for its puffin and whale watching tours, but it also has a whale museum (which we didn't get to), and some funky buildings. It was wonderful to be out on the water (and see a few puffins and whales), but I easily could have spent a lot more time here.
Puffins and whales
An unusual church
Mývatn
Rick Steves identifies Mývatn as "one of Icelands' most impressive natural areas." I disagree.
Mývatn is a pleasant area with some interesting geology, especially at the Dimmuborgir site. Otherwise it's pretty, but bland compared to many other places along the Ring Road. And it has midges. Millions and millions of midges. (You can buy a bug net in the grocery store – do it before you step out of your car anywhere in the area.)
Dimmuborgir Lava Formations
Dining
We enjoyed a great local cheese and charcuterie platter at the Cowshed Café at the Vogafjós Guesthouse near Mývatn.
Our late afternoon snack was delicious and large enough to serve as a light dinner when accompanied by some of their wonderful sweet and chewy Geysir bread. (Their Geysir bread – bread cooked in the ground using geothermal heat – was so good we tried to buy some to take with us. Alas, they don't make enough of it to sell.) Everything on the menu sounded delicious and the meals we saw looked wonderful.
Lodging
In order to have easy access to both Húsavík and Mývatn, we stayed about halfway between them at Guesthouse Brekka.
Day 4: Mývatn to Seyðisfjörður
Day 4 of our Iceland road trip included the highest elevations on our route, both along the Ring Road and on a detour to the coastal village of Seyðisfjörður that took us over the Fjarðarheiði Pass.
The day started off with sunshine so I was hoping that would last. It didn't. However, while there was plenty of fog at the higher elevations, the route was pretty amazing.
Sites and activities
This was mostly a day of spectacular roadside scenery, but we still made a few stops.
Námafjall geothermal area
We started the morning with a walk through Mývatn's Námafjall geothermal area. Like the rest of Mývatn, we weren't terribly impressed. (See above for more on Mývatn.) This geothermal area is larger than the one along the Golden Circle, but it's mostly fumeroles (steam vents) and mud pools with lots of midges.
Námafjall Geothermal area
Dettifoss and Selfoss waterfalls
Dettifoss has more water pouring over it each second than any other waterfall in Europe. And you can get a super-close look at from above. However, getting there requires a two-hour detour off the Ring Road plus the time you spend gawking, but it's totally worth it.
 The footpath to the Dettifoss goes through some interesting rock formations and offers a detour to Selfoss, which is a completely different waterfall.
Selfoss
It's kind of mind-blowing to think that two waterfalls of this size could be right next to each other, but that's Iceland.
There are a few more sights that look worthwhile down the road a bit farther, but we ended up turning back before we got to them. (It looked like both required some hiking and we still had a long day of travel ahead of us.)
Rjúkandafoss (Rjúkandi Waterfall)
Rjúkandafoss wasn't on our itinerary, but we saw it from the bridge and there was actually a path and a viewing platform, so of course I made Lane stop so I could take a better look.
It's 450 feet high, so a tall one and worth noting. But it is also sort of a stand-in for the many waterfalls we saw and didn't get to photograph.
Fjarðarheiði Pass
The sunshine vanished into banks of fog as we crossed the Fjarðarheiði Pass.
There is supposed to be a lake here with icebergs floating in it. However, I think the lake was still mostly frozen and all I saw through the shifting fog was snow and ice. Proof that, even in June, Iceland road trippers should expect to find plenty of winter weather at higher elevations.
Seyðisfjörður
Once you get over the pass, the drive along the peninsula is stunningly beautiful – even on a cloudy foggy day.
And the artsy little town of Seyðisfjörður awaits at the end of the fjord. It's a charming place that is totally worth the long, scenic detour.
Dining
After another granola bar and gorp lunch on the road, we splurged for dinner at the Aldan Hotel's Nordic Restaurant in Seyðisfjörður. The food was great, but my pink gin cocktail might be the loveliest drink I have ever had anywhere.
Lodging
To keep within some sort of a budget, we booked a private room with a shared bath at the Post-Hostel  right cross from the port.
Day 4: East fjords to southeast from Seyðisfjörður to the glacier lagoons
I was excited to have another chance to drive through the mountain pass the next morning, but awoke to find everything above town fully socked in with fog. So much for photographing the valley again, let alone the pass!
This was another full day of driving. Most of that time was spent curving around the coast, sometimes in sunshine and sometimes through a bit of fog, but always through amazing scenery.
I really wanted to visit Höfn because it is supposed to be one of Iceland's prettiest towns. But we didn't get going very early and the drive took a long time . . . and I really wanted to see the glacier lagoons while there was still some sun. (The sun played hide-and- seek all day but, as usual, was strong by late afternoon/early evening.)  And, like Seyðisfjörður, Höfn is a detour to the far end of a peninsula.
Sites and activities
I really really really wanted time to photograph the two glacier lagoons that awaited us at the end of the day, so there weren't too many stops. (Just a lot of stunning coastal scenery.) We arrived in time to do Jökulsárlón and Diamond Beach. However, Fjallsárlón lagoon was pretty dark by the time we got there, so we gave it a miss for the day and made a (futile) search for dinner instead.
Wildflower roadside rest area
I don't think this spot has a name (it's on my map above), but we pulled over at a roadside stop for a granola bar lunch and discovered a whole meadow of alpine plants in bloom.
Needless to say, lunch took a little longer than we had planned.
Jökulsárlón glacier lagoon
The goal of today's drive was Jökulsárlón glacier lagoon, where icebergs get stuck until they melt enough to float out to the open sea.
I'd read that it was over-crowded, but there weren't that many people there and (from a photographic perspective) it didn't matter because (for the most part) people weren't out swimming in the lagoon and being a nuisance. And it is gorgeous.
Diamond Beach
Diamond Beach is just across the road from the glacier lagoons (there are two of them). Bits of icebergs wash ashore here and (when the light is right), sparkle like diamonds.
Diamond Beach was annoyingly crowded and I should have come back at about 2 am. But I didn't. (Although we didn't get to bed that much earlier anyway.) I wish we'd had another day in the area so I could have shot through the night and then slept during the day!
Dining
This was a day of nothing but trail mix and granola bars. We didn't want to spend too much time eating along the way and then were out so late at the glacier lagoon and beach that nothing was still open (or would still be open by the time we got there) when we started looking for dinner. (It's easy to lose track of time when it never really gets dark.) There aren't many options nearby either, so either plan around dinner or plan to make your own.
Lodging
I wanted to be near the glacier lagoons so I could shoot until late in the evening and then again in the morning. Unfortunately, there aren't a lot of options right by the lagoons, so we ended up staying with the large tourist groups at the disappointing Hotel Smyrlabjorg Skalafell. (Check reviews and prices on TripAdvisor, Booking.com, Hotels.com, or Expedia for this or – preferably – other nearby options.)
Day 5: South coast from the glacier lagoons to Hvolsvöllur
We added an extra day to the Rick Steves itinerary to give us more time at the glacier lagoons and along the coast around Vik. Unfortunately, the day started off dark and foggy and became mostly dark and blustery (with unpredictable bursts of sunlight), making the coast along Vik an unattractive destination. (Here's where an extra day would have been nice, because the morning fog lifted in about an hour behind us and I think there was clear weather behind that a bit.)
This segment had some of the more desolate scenery on our trip, with lots of mostly barren plains left behind by the many glaciers we saw in the distance. It seemed like we passed dozens of glacial tongues – it was an amazing landscape, even if it was desolate.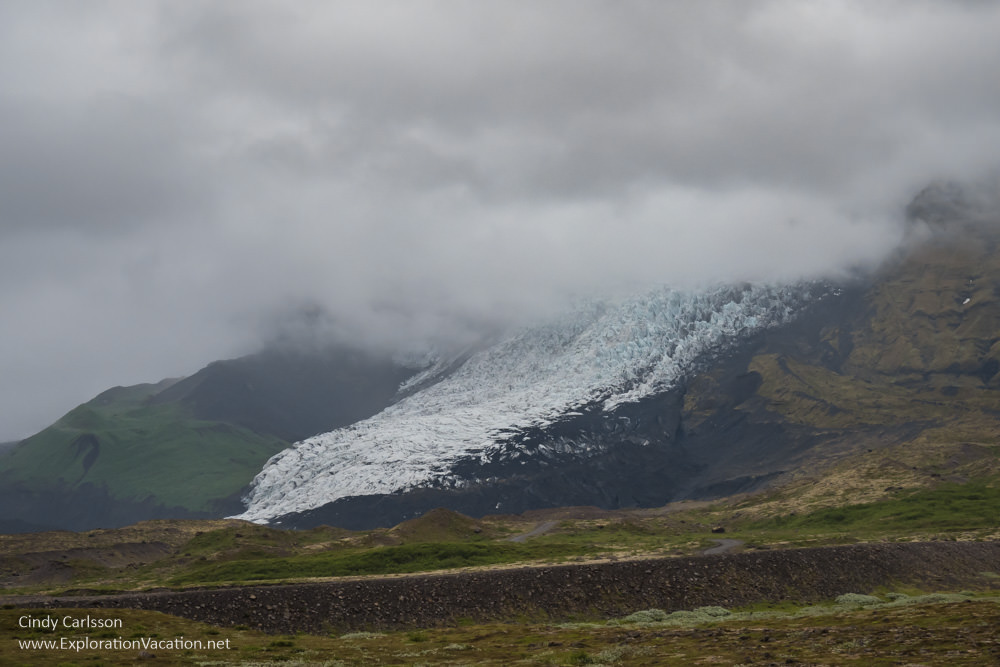 This ended up being a longer day of driving than I expected. I'm not sure how we would have had time for the beaches around Vik and still got to our lodging at anything near a reasonable hour.
Sites and activities
Back to Jökulsárlón glacier lagoon
Fortunately, we were up pretty early, before it got too foggy.
Since it took a while for the fog really to really settle in, we had some time to check out the icebergs at Jökulsárlón again before the view was obliterated. We didn't get back to Fjallsárlón lagoon in time though.
Svínafellsjökull Glacier
We've seen glaciers up-close before in the US and Canada, so didn't think we needed to spend time exploring them in Iceland. But after passing what seemed like an endless array of glacial tongues, I couldn't stand it anymore.
I made Lane drive back to the Svínafellsjökull Glacier (the only road on the trip where we needed our high-clearance four-wheel-drive vehicle) where there is a lagoon overlook and trail to the glacier. We didn't hike to the glacier itself, but there were lots of lupines and a nice little lagoon.
Katla Geopark
Maybe the strangest landscape in all of Iceland is found in and around the Katla UNESCO Global Geopark.
In this area of active volcanos, the ground is a mass of moss-covered lumps. Katla park offers a chance to get out and take a good close look at a bit of the largest lava flow in recorded history and the fragile wooly fringe moss that thrives there.
Skógafoss waterfall
The only place where crowds really bugged me, picture perfect Skógafoss waterfall is a magnet for the Instagram selfie crowd. This is also one place that would have been infinitely better on a sunny day when the mist would create a bunch of rainbows. But it's amazing in any weather. After all, how often can you walk right up to a waterfall of this size?!?
Turf houses of Drangshlíð 2
Drangshlíð 2 was one of those lucky moments when everything came together. I'd seen a few turf houses from the road, but never where I could stop and photograph them. So I was really excited when Drangshlíð 2 (and its parking lot) appeared.
The site has several dilapidated old buildings. It's an evocative site and I even had the site almost to myself for a few moments.
Dining
Suður-Vík
We took a lunch break at Suður-Vík (Sudur Vik) up on the hill above the city. However, I don't remember what we ate and I can't find any notes on it. I do recall it being a pleasant experience and spending a long (too much) time there.
Eldstó Art Cafe
Hvolsvollur was the nearest place to where we stayed for the night. Fortunately, we snagged a table at the charming Eldstó Art Café in time for a lovely late dinner.
Lodging
We used Airbnb to reserve a room at the Ármót Guesthouse on a large Iceland horse farm near Hvolsvollur.
Day 6: The Golden Circle and Reykjavik
Hvolsvollur is very close to Reykjvik. We considered stopping at the LAVA Center, but decided instead to take some extra time to return to Reykjavik via the Golden Circle.
Sites and activities
The Golden Circle is one of Iceland's most hyped attractions, so we thought we should check it out.
Kerið crater
Kerið (Kerid) crater isn't a don't-miss spot, but it's worth a short stop while you are in the area. The trail along the crater's edge provides great views into it and there are lots of interesting plants along the way.
Several hiking trails link up here, allowing for easy hiking through the area.
Gullfoss waterfall
Iceland has so many waterfalls that it's easy to start thinking you've seen enough of them. But Gullfoss is both easy to access and as good as they get when it comes to big waterfalls.
A well-developed walkway with overlooks gives visitors plenty of different views of this huge waterfall.
Haukadalur Valley geothermal field
I've been to Yellowstone National Park in the USA several times and I've visited geothermal areas in New Zealand. That means I was underwhelmed by Iceland's geothermal sites.
However, if you want to visit a geothermal site in Iceland or have never seen the geyser basins in either Yellowstone or New Zealand, the Haukadalur Valley geothermal area along the Golden Circle is the place to go. It's a lot more interesting than anything we saw up by Mývatn. There are a couple of pools that are as beautiful as any anywhere in the world and a good-sized geyser that performs regularly. Besides, it's fun to say you've seen the original geyser, even if it doesn't do more than steam these days.
Þingvellir National Park
Iceland's only UNESCO World Heritage cultural site, Þingvellir (Thingvellir) National Park preserves the area where the Alþing (Althing) met to govern Iceland for over 700 years. It's also where the Eurasian and North American tectonic plates collide. Combined, those features make for a place with a fascinating history, weird geology, and great scenery.
I've wanted to go here since grade school. . . . Unfortunately, we got rained out (it absolutely POURED), so didn't get nearly enough time to explore the park. It's on my list of places I must return to.
Dining
Efstidalur Farm Restaurant
Efstidalur Farm Restaurant (and ice cream shop) is a great lunch spot.
This is another one of those hyper local farm to table spots, where almost everything served is raised on the property or in the immediate area. We had a couple of the best burgers we've ever had, but at Iceland prices, it was $60 for two burgers, fries, and a couple of Cokes. Still, they were really good. (If you want to spend more time, here, there are also hotel rooms and horse rentals available.
Lodging
Reykjavik is an expensive place to stay – even for Iceland. That's especially true if you want to stay in the heart of Reykjavik. But I found the perfect Airbnb apartment at the very edge of the city center for much less than other spots. (Still not cheap, mind you, but good for downtown Reykjavik.)
Day 7: Reykjavik
We had one full day to explore Reykjavik, head back out to Þingvellir (Thingvellir) National Park, book a puffin tour, or some combination of the above. However, given the weather (blustery and rainy) and the fact that I wasn't feeling great, we stuck to the area right around us.
In the end, I didn't see much of Reykjavik – I didn't even get to the harbor a block away! But that's ok, because I know I'll be back here again.
Dining
Messinn
We had an amazing lunch at the seafood restaurant Messinn. We ordered a "fish pan" – a dish that features one of five fish prepared in a cast iron skillet with various seasonings and vegetables. The whole thing is brought to the table piping hot, fragrant, and delicious. We had the Arctic char with honey, almonds, cherry tomatoes, lemon, and butter. My spouse is still trying to figure out how to duplicate it, because it was absolutely fabulous.
Transportation
Flying to Iceland from Minnesota
While it's almost always possible to find a low-cost fare on Iceland Air, we flew on Delta. Both airlines offer direct flights, but we like a little more space on a six-hour flight. Delta "comfort" seating on a flight to Iceland doesn't offer a lot more than extra legroom, but it is better than regular coach. In addition, we also we get free checked baggage and priority boarding on Delta.
Car rental
We booked a smaller SUV from Sixt through Holiday Autos.
Iceland travel planning resources and inspiration
With Iceland's popularity as a destination, there's no shortage of information (of varying quality) out there. The following are a few sites I found helpful.
Inspiration
Minnesota poet and essayist Bill Holm writes eloquently about the land his ancestors left in The Windows of Brimnes: An American in Iceland. It was an evocative introduction to Iceland and, since we traveled in the area covered by the book (even stopping to see Brimnes), rereading it now brings Iceland back again.