(Last Updated On: March 5, 2022)
The UNESCO World Heritage Lednice-Valtice Cultural Landscape in Czechia (the Czech Republic) preserves one of the largest artificial landscapes in Europe. (Think of it as a huge private park with castles.)
This was home to the House of Liechtenstein for 700 years. However, most of what we see today was created between the 17th and 19th centuries, as the family sculpted the physical world around them into an elegant landscape of palaces, gardens, tree-lined lanes, vineyards, and monuments.
Lednice-Valtice is a masterpiece of design and landscape architecture. It's also the perfect place for a relaxing vacation.
I use links to improve your experience. Some of those may be affiliate links for products and services I recommend. These pay a small commission if you use them to reserve a room, rent a car, or purchase goods or services. You don't pay anything extra, but it helps keep this website running. To learn more, review this website's policies and disclosures.
Welcome to the Lednice-Valtice Cultural Landscape
The Lednice-Valtice Cultural Landscape preserves two palaces and a variety of other structures set within a carefully landscaped network of gardens, lanes, and vineyards near the Czech border with Austria in South Moravia.
The entire site was created over many generations as the Liechtenstein family expanded their wealth and prestige. The area on the UNESCO World Heritage list includes the family's two principal palaces and a variety of other structures and monuments. All of it set in over 100 acres of park-like landscape.
History
While most of the features that make up the Lednice-Valtice Cultural Landscape today date from the 17th and 19th centuries, the Liechtenstein family lived here for 700 years.
Who are the Liechtensteins?
Are you wondering if these Liechtensteins are connected to the tiny country of the same name almost 500 miles to the southwest?
Sights within the Lednice-Valtice Cultural Landscape
The UNESCO World Heritage designation for the Lednice-Valtice Cultural Landscape covers over 100 square miles. It includes two small urban areas, two large palaces and an assortment of other buildings and monuments, gardens, lawns, ponds, forests, vineyards, and carriage lanes in the South Moravian region of the Czechia.
Although designed as a unified landscape with castles in Lednice and Valtice connected by a tree-line avenue, for the area can be divided into three parts:
The UNESCO World Heritage site covers includes many privately-owned structures within the designated boundaries. Some of these may be connected to the designation, others may not. Likewise, some are open to the public, but others are not. Historic sites within the protected area that are usually open to the public are marked in blue. Privately owned ones are marked in grey. (Click to open map)
While the UNESCO designation doesn't include sites in the town of Breclav (Břeclav), the Liechtenstein House (actually a former Jewish school, not part of the Liechtenstein estate) is now home to a new exhibit on the Liechtenstein family, complete with a model of the Lednice-Valtice Cultural Landscape's structures. I haven't seen the exhibit, but it sounds like a good orientation to the area.
Lovely Lednice village, chateau, and gardens
Lednice, Czechia, is a charming village that seems largely given over to tourists. That's not surprising, since it is pretty and sits at the foot of a spectacular chateau. We simply passed by on our way to the chateau, but next time we'll spend more time there.
Exploring Lednice Chateau
Although often referred to as Lednice castle, the unfortified Zámek Lednice of today is more properly called a chateau or palace.
What began as medieval fort when acquired by the Liechtensteins in 1249 was later transformed into a Renaissance villa in the 16th century. Late in the 17th century it was reborn as a Baroque summer palace, complete with extensive formal gardens and the large riding hall that remains today.
The current Neo-Gothic faux English castle didn't come into being until the 19th century. It too was used as a summer palace. And this is where guests were entertained during warm weather when the family palace in Vienna was deemed "unsuitable."
Seek tranquility in Lednice church
The first thing we encountered at the Chateau was the chapel of Saint Jacob the Elder – also called the church of Saint James the Elder. (But probably more properly the church of Saint Jacob the Greater. )
(I say that because it's a parish church, not just the chateau chapel, and James is just an English translation of Jacob while "greater" originally meant either older or taller and in this, case is more commonly used than "elder." At any rate, the building is dedicated to the apostle Jacob/James who was the son of Zebedee and brother of John the Evangelist. It's the guy symbolized by a scallop shell.)
Like the rest of the chateau, this is the latest of several earlier buildings. It was completed in the 1850s with the rest of the chateau and served as both chateau chapel and the Catholic parish church.
The interior is surprisingly bright and sparse. There is little color or decoration aside from some carvings in the stone and the rich wood of the intricately carved pulpit and alter.
The only thing inside that seems to predate the church's 19th century reconstruction is the organ (not visible in these pictures), which is said to be over 400 years old.
A tropical escape in the Lednice greenhouse
You won't miss the greenhouse at Lednice as it dominates one side of the chateau. It also stands out because it looks a bit out of place. Constructed of cast-iron, steel and glass, it seems almost industrial alongside the fanciful Neo-Gothic faux castle and formal gardens.
Today the greenhouse is still filled with tropical plants, including trees that may now be 300-400 years old.
There's a fee to enter the greenhouse, but isn't a guided tour. That means you can enjoy the plants, but you'll have to ask around if you want to know how it operated. From what little I was able to learn, it looks like a pretty ingenious set-up.
The Baroque riding hall
Fine horses and elaborate facilities for housing, training, and riding were a key component of royal residences during the Baroque era.
Lednice gardens and follies
In conjunction with Valtice chateau, Lednice boasts one of Europe's largest royal parks.
Acres of "natural" Romantic English gardens, complete with a variety of ornamental buildings and follies, spread beyond the chateau's formal 17th century Baroque garden. Some once-popular features, like the Chines Pavilion, are long gone. However, the landscape still includes most of the features and structures created by the Liechtensteins.
Sights in and around the town of Valtice
Valtice is an old market town that continues to provide a variety of services to area residents. As such, it's more functional and less picturesque than Lednice village. But it's still quite small. And the area right outside the chateau – the heart of the old town – is very nice.
Valtice Chateau
Although the Liechtensteins acquired their Lednice estate first, Valtice served as the family's principal residence from 1394 until 1939.
The prime attraction in Valtice is the chateau.
Constructed in the 17th century to replace an earlier castle, Valtice castle (Zámek Valtice), is – like Lednice – more properly identified as a chateau or palace. Earlier castles on the site were fortified, but the Baroque palace that exists today was not. It was constructed only to serve as an elegant home for a very wealthy and powerful family.
The chateau's construction occurred over a particularly long time. Work began in 1643 and wasn't completed until nearly a century later. But the final result was the very large and very fine Baroque palace we see today.
As with Lednice, Valtice chateau includes accessory buildings, formal courtyards, and the vast landscaped grounds linking the palaces.
Inside the chateau
The interior, of which I saw very little, largely dates to the 1840s. Rococo Revival was popular then, which means interiors should be very ornate, but more delicate and feminine than Baroque decor. The main corridors and stairway we saw were fairly simple, but we didn't see any of the restored formal rooms.
The interior of the Chateau Valtice can be viewed on a guided tour that takes visitors into more than 20 rooms. The tour does not include the Italian Baroque chapel, which can only be visited with an advance reservation. Not all of the chateau has been fully restored, but work continues and additional areas open as they are restored.
There is no charge to wander the grounds.
First floor exhibition space
Part of the first floor (one level above the entrance) is used for exhibitions.
When we visited there were two separate exhibits:
A free exhibit on the "modern" technologies incorporated into the chateaus at Valtice and Lednice
A stunning visiting exhibit of items from along the Silk Road
It appears there is always a free exhibit of some sort, so this is a good way to get a peek inside the chateau. (You won't see any of the furnished rooms.) The current exhibit is on technical innovation at Lednice and Valtice. It was mildly interesting and worthwhile as a free exhibit.
The special exhibit we saw was called Treasures of Ancient Civilizations: Gold, silver and precious stones on the Silk Road. It was a gorgeous exhibition of precious objects from all along the Silk Road. I was so impressed I bought the (inexpensive) exhibit brochure – even though it is all in Czech.
Apparently, this was a visiting exhibit and Valtice's only role was to provide space for it. No one seemed to know anything about the collection or where it came from. None of the exhibition material was in English. And now it has vanished completely from the chateau's website.
The chateau website currently has a category for exhibitions, but there aren't any listed.  Still, based on the Silk Roads exhibit, it's worth checking to see if there is a special exhibit on when you visit. You might get lucky and discover something amazing.
Baroque Theater
Late in the 18th century Mozart fanboy Prince Alois I von Liechtenstein constructed a theater at the palace.
Wine Salon of the Czech Republic
Winemaking has a long history in South Moravia. Wine has been made here at least since the 13th century when monasteries imported vines from France and Germany.
The oldest surviving documentation of the Liechtenstein vineyards is from 1414. However, the large number of vineyards recorded then seems to indicate the family's vineyards were already well established. The family's huge wine cellar was built just over a decade later in 1430.
Today that cellar is used to store a selection of Czechia's best wines, host a wine exhibit, and hold tastings.
Valtice gardens and follies
As if the theater, stables, riding hall, courtyards, and gardens right around the palace weren't enough, Valtice chateau also includes extensive landscaped grounds with a variety of monuments. While not as grand as some of the lodges and monuments around Lednice, there are still options that sound interesting.
Church of the Annunciation of the Virgin Mary
The 17th century Church of the Annunciation of the Virgin Mary stands right outside the Valtice castle compound. It was constructed with the support of the Liechtensteins to replace a much earlier church.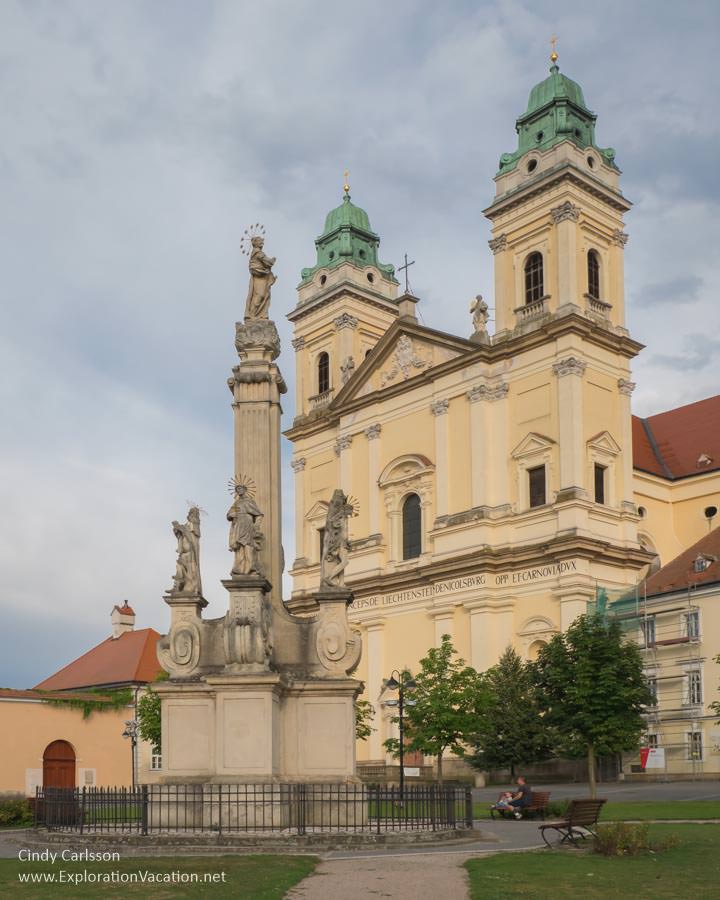 Bike or walk the Valtice Wine Education Trail
The Wine Education Trail in Valtice is a short (3 mile) segment with informational signs on the history of winemaking in the area. There are also opportunities to taste a variety of Moravian wines along the way. The trail is suitable for walking or biking and connects to the longer Moravian Wine Trail described below.
Explore further afield in the UNESCO World Heritage site
A couple of sites in the Lednice-Valtice World Heritage are either privately owned or operated separately from the two palaces.
Plan your visit the Lednice-Valtice cultural area
If you don't tour either of the castles, you can see many of the area's major sites in a full day. However, this is an area best explored at a slower pace over two or three days.
(Unsure of exactly what the area included, we allotted less than a day to it. That was not nearly enough time.)
If you want to spend even more time exploring the area, the nearby UNESCO Lower Morava Biosphere Reserve protects the limestone cliffs, steep slopes, and steppes of the Palava Hills. And, along with natural areas, visitors will find ruins, vineyards, and the historic town of Mikulov. This should be great places to hike and bike, but tourist information on the reserve itself is a little scarce.
Of course, that's true of the whole area. There is plenty to see and do, but navigating can be a little challenging if you don't read Czech or German. The best way to approach a visit to the Lednice-Valtice area is to allow plenty of time to explore. Go ahead and get a little lost. You'll find rewards wherever you go in this part of Czechia.
When to visit
South Moravia seems to be mostly a warm weather destination. Activities generally focus on the castles and vineyards, most of which are fully open only from April through October. Music and theater performances occur throughout the tourist season.
How to get to the Lednice-Valtice Cultural Landscape
We enjoyed our drive through the lovely hills and villages of South Moravia, but there are also rail options. There is a train station in Valtice, with direct connections to Breclav (Břeclav) and Mikulov and connections to the rest of the Czech Republic (Czechia) from there.
Although located in Czechia, the Lednice-Valtice area is a great side trip from Vienna.
Minimum travel time to Breclav:
From Prague: 2 ½ hours by car, 4 hours by train, or 5 hours by bus.
From Brno: under an hour by car, 1 hour by train, or 1 ½ hours by bus
From Vienna: about an hour by car or train.
Getting around once you arrive
The best way to get around the UNESCO World Heritage site is by bicycle. Bike trails take visitors to all of the sites in the Lednice-Valtice cultural area. Trails also extend beyond the UNESOCO site into Austria and to other trails in South Moravia.
There are foot paths throughout the area, but given its size, it takes a lot of walking to see everything.
Tips for touring the palaces
With the exception of the chapel at Lednice, the interiors of both palaces can only be seen as part of a guided tour. This is also true of many of the smaller lodges and follies – seeing the inside often requires a ticket and tour.
Check the websites for Lednice chateau and Valtice chateau to find hours, tour options, and costs.
Valtice has a long list of regulations for visitors. I couldn't find a similar list for Lednice, but I'd assume their policies are much the same. Here are a few highlights:
Tours generally only occur if there are at least five visitors. Smaller groups have to wait until the next tour, which will be held even if there are still fewer than five visitors. (Reservations can be made in advance, but you are still subject to the requirement that there be at least five people for the tour to depart.)
On the other hand, you must be present for your tour at the time stated on your ticket. If you miss it, your ticket becomes invalid and will be required to buy a new ticket if you still want to tour.
You will not be allowed in any of the monuments in "heavily soiled, inadequate or otherwise unsuitable clothing or footwear."
Flash photography, tripods, and selfie sticks are not allowed inside buildings.
Pets must be on a leash at all times outdoors and are not allowed inside any buildings.
Keep in mind that both chateaux are only open on weekends in winter and close completely in January. This is a warm season destination.
I believe there are cafes in the palace compounds at both Lednice and Valtice. But there are also a number of options right outside each of them.
Lodging
We stayed right by Valtice chateau. This was a convenient and affordable base for exploring the area.
While I was perfectly satisfied staying in Valtice, I have to admit that I'd probably look for something in Lednice the next time. Lednice village is a little more charming then Valtice. Of course, it's also a little more expensive.
If you are on a budget, check the options in Breclav.
The general area has a wide variety of options, so you can fully vet your options and prices on TripAdvisor, Hotels.com, Booking.com, or Expedia.
Of course, if you want to stay in a particular area, be sure to switch whatever search engine you use to map view to see exactly where the hotel or Airbnb you are considering is located.
Resources for planning your Lednice-Valtice trip
This is an area popular with Czechs and their neighbors, but it's still relatively undiscovered by English-speaking tourists. Thus, there is a limited amount of detailed information available in English.
Internet resources
There isn't a ton of good material on this area available in English.
Printed brochures and maps
Tourist information centers in Lednice, Valtice, or Breclav can provide information, but a lot of the really detailed information in will be in Czech or German.
The best and most detailed maps of the region are the bike maps. Some are available in multiple languages, but take one even if it is only in Czech. Most maps I saw were so well-designed and graphic-heavy that they provide just about all the info you need even if you can't read Czech.
Guidebooks
Most printed guidebooks don't have a lot on this part of Europe.
Lonely Planet's Prague and the Czech Republic has a small section on Valtice-Lednice, as well as a slightly larger section on Mikulov. (You can buy it at Lonely Planet, Target, Barnes and Noble, or your favorite local bookstore.)
My favorite guidebook for inspiration, DK Eyewitness Travel, has a small section on South Moravia in their guide to the Czech and Slovak Republics. But, other than a restaurant suggestion or two, there isn't any information I haven't already provided or linked to here. (If you're doing more traveling in Czechia or Slovakia, you can buy a copy at Barnes and Noble, AbeBooks, Target, or your favorite local bookstore.)
For an overview of all the Czech UNESCO World Heritage sites outside of Prague, head over to my friend's website, Rachel's Ruminations.   
The Czech Republic beyond Prague