(Last Updated On: January 31, 2022)
Vlkolínec, Slovakia, is a UNESCO World Heritage site that preserves a traditional European farming village in the mountains of Central Europe. But this isn't a museum. It's a real village where families live in a setting that would be very familiar to their ancestors of long ago.
A village lost in time
The mountains of central Europe were once filled with small villages where peasant and tenant farmers, woodcutters, coal miners, other poor rural families lived. These weren't fancy places. They were built by and for the people who lived there. They were built of wood because it was readily available. And almost every building sheltered people or their animals or protected the food they needed to survive.
Over time, these villages were either abandoned or modernized as building practices – and expectations – changed.
But in the mountains of north-central Slovakia, people in the village of Vlkolínec pretty much continued living as they always had in the same type of buildings that had housed their families for generations.
Today their homes are the best remaining example of this type of traditional mountain village. It's also a UNESCO World Heritage site that attracts visitors from near and far.
Past and present merge in Vlkolínec
While evidence suggests Vlkolínec already existed in the 14th century, it isn't specifically mentioned until the 1460s. Evidently it wasn't a large place as, by 1625, it was described as having four peasant farmsteads and five homes for tenant farmers. (Peasant farmers being the elite in this mix of poverty, as they owned their land.)
The most easily identifiable structure in the village today is the wooden belfry. It's also believed to be the oldest, as it was constructed in 1770.
A century later, the current Church of the Visitation of the Blessed Virgin Mary replaced the town's small chapel. And, by the close of the 19th century, a one-room brick school was constructed by the church to replace a wooden school building in the village center.
So, with 82 houses, a small but substantial church, and a solid brick school, Vlkolínec was a getting to be a pretty substantial place by 1944. It was probably on the way to looking like a lot of other villages found throughout this part of Slovakia today. That changed in October of that year when a mortar hit the village, burning down a row of houses in the village. It was among the last battles the Slovak resistance fought against Nazi Germany (and their own pro-German government), but the damage was done.
Those lost houses were never replaced.
But it's also part of the reason Vlkolínec looks the way it does today. The loss of those houses made people realize how unusual the village was. And that led to thinking that maybe, instead of building new houses, the village should be preserved as it was.
It just took a while for that to happen. The Slovakian government didn't designate Vlkolínec a Folk Architecture Reserve until 1977. It became a UNESCO World Heritage site in 1993 after it became apparent that not only was Vlkolínec the best-preserved example of a village of this type in Slovakia, but in the whole region.
Vlkolínec today
Today Vlkolínec has 45 buildings and retains the look and feel of a village from long ago.
Technically, Vlkolínec is part of the town of Ružomberok. However, the village is few miles and several centuries removed from the larger city. It's a shift you start to feel on the short, scenic drive between the two.
The village sort of flows down a hillside, and hikers arriving from the mountains have a great view of it. But I don't see it until we pulled into a grassy parking area just below.
Remove the streetlights and the backyard satellite dishes (and the other tourists) and you might wonder what century you've landed in.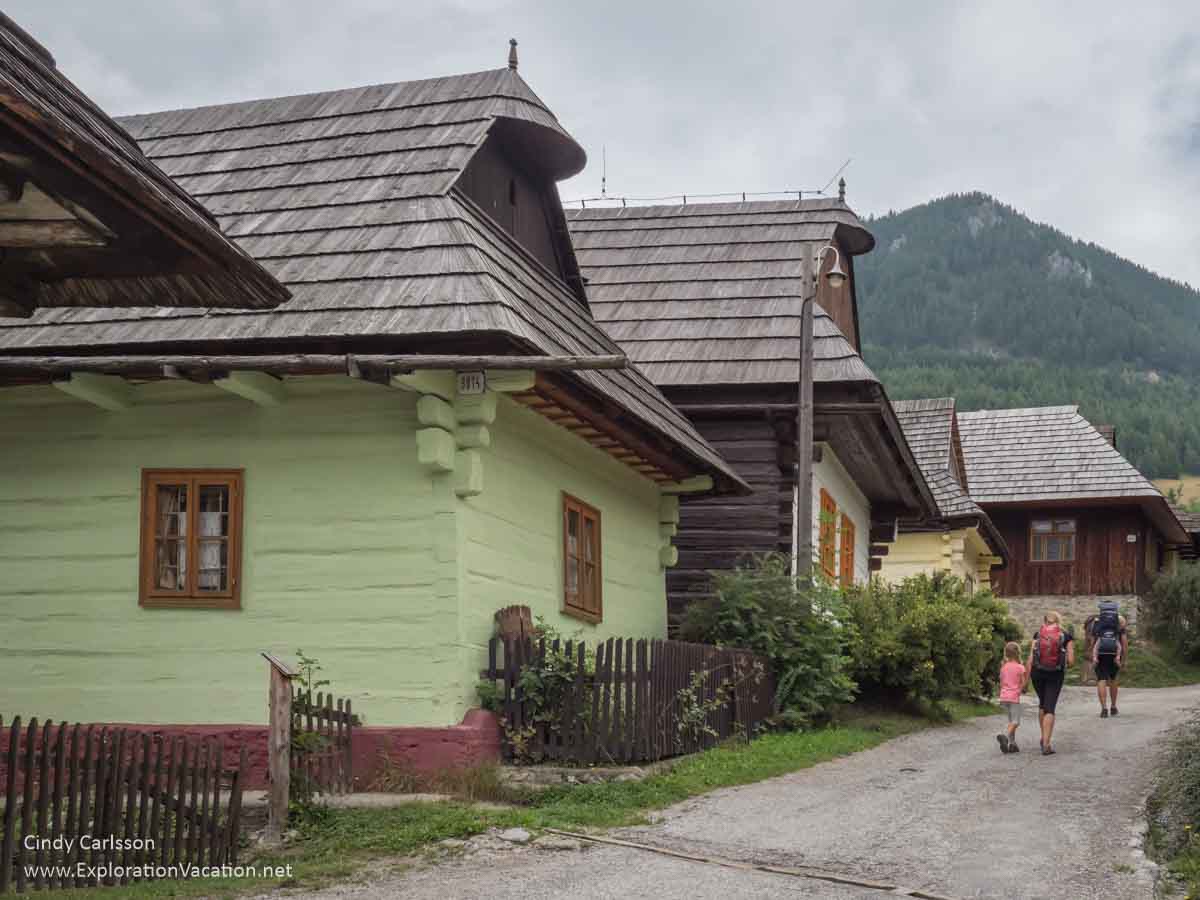 Vlkolínec has a couple of art galleries and a few spots that sell a variety of local products, a small museum, and a few houses and outbuildings used for craft demonstrations. But the village's collection of folk architecture, most of which takes the form of houses and agricultural outbuildings, is the real reason to visit.
Visit Vlkolínec for the architecture
Log buildings like those in Vlkolínec are not particularly unusual in this part of Europe. While relatively few survive, they can be found individually or groups of two or three in many places. (You'll see them from the road as you travel.) What makes Vlkolínec unique is that almost every house is built in this old style, includes a set of traditional outbuildings, and is still in use.
That creates a very unusual somewhere-from-the-past streetscape.
So, lets take a closer look at those buildings.
Vlkolínec's traditional family homes
Most of what is visible along Vlkolínec's streets are family homes.
Vlkolínec was never a wealthy place. People here lived close to the land. In the past, most probably grew grains and vegetables to feed their family, tended fruit trees, maintained hayfields, kept at least a few animals for themselves or for sale (a few very large flocks of sheep were kept in the surrounding meadows, their wool sold in the city), and cut wood in the forests.
And everyone lived in pretty much the same way. All houses were set on long narrow lots. And all had the same basic floorplan: A rectangular building with an entrance on the side, three rooms on the main level, an attic, and (usually) a below-ground storage space of some sort. A barn and stable filled the back of the lot.
Outbuildings and barns
Each house sat on a long narrow lot. The street was at one end, then the house, and, behind it, a barn, stable, and other outbuildings.  All were built from wood.
It's hard to get a good look at most of the outbuildings in Vlkolínec because they are hidden behind the house – and most of the houses and yards are private. However, a few are open as museum or demonstration space, which allows you to get a good look at them.
Barns
The barn was nearest the house and sometimes attached to it. This was the family's workshop, as well as a storage area for tools and equipment. Functionally they were similar to modern garages with their workbenches and tool storage. But in Vlkolínec they would have stored harnesses, carts, saws, and farm equipment instead of the cars, bikes, grills, and lawn mowers found in suburban garages today!
Barns were constructed much like homes, although a few are currently sided with shingles, which are long-lasting and easy to maintain.
Stables
Livestock spent the winter in a stable in the back of the yard. This was also a log building. Cows and sheep spent summers in the hillside pastures around the village.
Granaries
Like other villages, Vlkolínec had at least one communal granary.
Originally, the granary was the only building in the village NOT built with wood.
Although villagers were careful to reduce the risk of fire, it was a significant danger in a village where all the buildings are wood. A stone granary was a safe place for everyone to store their precious grain.
The granary in Vlkolínec was built in 1837.  Today it's an art gallery.
Stalls – hay barns in the fields
The meadows and fields around Vlkolínec are sprinkled with small wooden buildings called "stalls." These functioned as hay barns. While each yard had a place to store a small amount of hay, most stalls were located right in the fields where hay was grown and cut. And for good reason.
It was easier. Hay went straight into the stalls without moving it anywhere. It wasn't needed in the village until winter, and it was much easier to hall a load of hay over frozen ground.
It was practical. The stalls built in the fields were relatively simple to construct and all the supplies needed were close by in the forest just beyond the field.
It was safer. Storing large amounts of dry hay in wood buildings in a village filled with wood buildings was a serious fire hazard. If one of the stalls out in the field caught fire, it wouldn't set anything else on fire. And that farmer would still have hay available in other stalls.
Community buildings
Vlkolínec doesn't seem to have had a lot of community buildings. Once the church was built, it became a community gathering place. But before that the small school in the center of the village likely served as a community gathering spot. But usually villagers probably gathered in their homes or outdoors around the well or chapel.
The bell tower
The bell tower is the oldest building in Vlkolínec today. While bell towers today are usually associated with churches, Vlkolínec's served a number of purposes. This was the village clock, marking the passing of time by ringing in the morning, at noon, and in the evening. It would have summoned villagers to worship as well, but it also notified the village of deaths, warned of fire, and alerted villagers of threats of all sorts.
The public well
Today Vlkolínec has a modern water system. But in the past, the well in the center of the village was the only source of drinking water.
Described as a wooden well with a winch, the well itself is lined with stones. It's almost 40 feet deep, which explains the importance of a winch. The wooden well house and winch were built in 1860. The wellhouse is built using the same construction techniques as the rest of the village.
Church of the Visitation of Virgin Mary in Vlkolínec
The Roman Catholic Church of the Visitation of Virgin Mary was constructed in 1875 to replace an earlier chapel. It's a simple Neoclassical stucco building typical of small churches from that period.
It's located at the edge of the village.
School
A brick school was built near the church late in the 19th century. Today it is a private gallery.
Traditional construction techniques
The traditional way to build houses and most other buildings in Vlkolínec is with logs stacked on a stone foundation. That foundation served a dual purpose: It kept the logs out of the soil so they wouldn't rot as quickly and it let the builder level out the uneven and sometimes steeply sloping hillside. The logs, stripped of bark and sometimes squared off, were laid on top of each other on the foundation. They were fit together at intersecting walls to create a sturdy structure without any vertical supports.
Plan your trip to Vlkolínec
Vlkolínec is in a beautiful area, but it isn't near any major towns or popular international tourist sites.
That means visitors from outside the area might be surprised by how busy this site – and most other tourist sites in Slovakia – can be. The mountains of Slovakia are very popular with Slovakian visitors! On our visit on a summer weekend in 2018, every site we wanted to visit was mobbed. We couldn't even find parking at most, so ended up skipping many of them.
Vlkolínec was the exception, in that the parking lot wasn't very full. But most visitors arrive by bus or on foot as they hike through the national park. Once we got into the village, everyone walking around had plenty of room to spread out, but the craft demonstration areas, shops, and refreshment options were busy – and that was before a rainstorm sent everyone looking for shelter!