(Last Updated On: November 27, 2022)
The book 100 Things to Do in Iowa Before You Die features a wide variety of things to do in Iowa. Whether you're a life-long resident or first-time visitor, this idea-packed book offers a wealth of Iowa travel inspiration. All it lacks is a map, but I made one for you!
If this is how you picture Iowa, read 100 Things to Do in Iowa Before You Die. There's so much more!
Keep reading to find out:
What's inside 100 Things to Do in Iowa
I know the author from the great events she's helped planned for Midwest travel writers. She arranged for me to get a free copy of this book to review. However, all opinions are strictly my own.
What will you find inside 100 Things to Do in Iowa?
Written by Sara Broers, an Iowa farm girl and energetic promotor of her home state, 100 Things to Do in Iowa Before You Die has engaging descriptions of iconic things to do, see, and eat across the state.
It includes a wide variety of the best of Iowa, but doesn't smash too many Iowa stereotypes. There are lots of ideas for finding homestyle cooking, local festivals, outdoor recreation, historic sites, and kid-friendly activities. It misses a few things, but there really is something for everyone. No matter who you are, you'll find appealing ideas to keep you busy for an afternoon, a weekend, or a summer vacation in Iowa.
Whether you live in or near Iowa, grew up in Iowa, occasionally travel through the state, or are planning an Iowa vacation, 100 Things to do in Iowa is a great starting point for exploring this often-overlooked state.
The critical thing it lacks? A map! (Don't worry, I made one for you.)
About this book review
My own Iowa travel experience is rather limited. I spent a summer working there in college. It was fun, but there were a lot of cornfields and I didn't rush to return. But over the past decade I've made at least one tourist stop whenever I'm in Iowa on my way to/from somewhere else. I've even started a list of few things I want to plan trips around in the future.
To supplement my limited personal experience visiting Iowa, I solicited feedback on 100 Things to Do from a friend who grew up in Iowa and has family and friends there. However, this review is written from the perspective of a frequent traveler who has spent very little time exploring Iowa.
Who needs this book?
100 Things to Do in Iowa Before You Die is filled with iconic Iowa favorites. But it's not a comprehensive guidebook and wasn't intended to serve as one. Despite that, there's more than enough in it to serve as a travel guide to Iowa's most popular attractions, events, food, and more.
So, who needs this book?
Live in or very near Iowa? You need this book. It includes so many things to do that you've certainly missed at least a few. And it will give you a handy list of ideas for entertaining guests.
Grew up in Iowa? You will want this book. Because it includes so many iconic experiences that have been around for decades, there's plenty to reminisce over with family and friends.
Planning an Iowa vacation? You need this book. It will give you a list of most of the best things to do in Iowa. But it will also give you a sense of Iowa culture and history. Although not easy to use as a traditional guidebook, it's a lot more fun. And you can use my map to turn inspiration into an itinerary.
Do you travel through Iowa regularly? This book will make you want to stop and do a few things on your way through the state. That's true even if you don't have time to do more than stop at a featured drive-in instead of stopping at a national chain. Just be sure to use my map so you know what's along the way BEFORE you hit the road!
100 Things to Do in Iowa is NOT a guidebook, but I turned it into one for you
This is a fun book with a lot of great information. However, it isn't very user-friendly as a travel guide. It's designed for casual browsing, NOT for trip planning — but I fixed that for you!
I made a map and I'll share it with you
I understand that creating a useable, printable map for a $20 publication is challenging. Really, I do.
But the lack of even the most basic map, compounded by an index that doesn't include locations, makes this book almost useless for travelers.
That's unfortunate, because it really wouldn't take much to make 100 Things to Do in Iowa a fun and USEFUL guide to Iowa. Even an online map that readers could link to would help a lot.
Like the map for myself. (I'll share it with you.)
Click to open it in Google maps. (You may copy and modify my map for your own personal use.)
This map should include everything listed in 100 Things to Do in Iowa that has an identifiable location. (Let me know if I missed something.) However, because it is also my personal map, it includes (in grey) things that I think look interesting, but are not included in the book. As I continue to travel in Iowa, I'll continue to update and add to this map.
Note that bike trails, water trails, hiking trails, and scenic byways are usually only represented by a single marker on this map. However, some of these routes stretch for many miles and a few run all the way across the state. If you open the marker, you'll find a link to a website with more information, including a route map.
Want to see your scenic byway, bike route, and water trail options in one place? The Iowa trails page lets you search by trail type, region, and city. From there you can get to a page with more information on the trail and links to download maps and such.
Now that we have a map, let's explore Iowa!
When my copy of 100 Things to Do in Iowa showed up, my husband laughed and asked if there really were 100 things to do. I quickly assured him there were, but noted that restaurants and ice cream shops counted. However, even if you took food out, there are still MORE than 100 things included.
A few recommendations from 100 Things to Do in Iowa
Since I have visited a few places in Iowa, I wanted to see what Sara had to say about some of them.
Danish Culture in Elk Horn
Elk Horn, with its reconstructed Danish windmill, traditional foods and bakery treats, shops, and the Museum of Danish America, is one of the more unusual places to visit in Iowa.
100 Things to Do highlights the historic windmill, Danish bakery items (kringle), and two annual festivals (p. 54 & 120). For those with a Danish background, she notes that staff at the Museum of Danish America can help you trace your own Danish ancestry.
A reconstructed Danish windmill stands over Elk Horn, Iowa.
Sara does a good job of giving you a sense of Elk Horn's Danish character and why you should visit. While she doesn't say a lot about the museum, I can attest to the fact that it puts together really interesting exhibits related to Danish culture and immigration, but also on immigration in genera..
Tulips and Dutch heritage
Iowa holds two annual tulip festivals (that I'm aware of). Both are included in 100 Things to Do in Iowa.
Dutch tulip festivals (p. 47) in both Orange City and Pella offer Dutch food, music, costumes, and performances amid thousands of blooming tulips.
Thousands of tulips bloom in the days right before, during, and after the tulip festival in Pella.
In addition, two don't-miss spots to visit anytime you are in Pella – Jaarsma Bakery (p. 7) and Van Veen Chocolates (p. 148) – have their own entries.
The entry on Dutch heritage closes with: "Travel to Europe while staying in Iowa for memorable tulip fields and traditional Dutch activities."
For me, the key part is "travel to Europe while staying in Iowa." Pella looks and feels a lot like Europe.
The book focuses on the tulip festivals. These are the year's highlights, but they only happen in each city on one weekend a year. What gets lost in the write-up is that you can visit Pella any time to enjoy a pleasant town filled with Dutch architecture, food, and a little culture. The tulip festival is well worth planning a trip around if you like festivals, but Pella is a well worth visiting any time.
You can visit traditional Dutch-style architecture in Pella, Iowa, throughout the year.
Lansing
My personal Iowa travel list includes a lot more time exploring Northeast Iowa along the Mississippi from the north down to Dubuque. That trip was inspired by a brief visit to Lansing a few years ago. The area is gorgeous, and Lansing is one of several historic river cities that look like good places to explore.
Lansing has the Mount Hosmer Park Mississippi River Overlook (p. 76). It does have an expansive view, but the overlook itself seemed rather run-down when I visited.
View of the Mississippi River from the Mount Hosmer Park Mississippi River Overlook in Lansing, Iowa.
100 Things to Do in Iowa also highlights Lansing's Horsfall Variety Store (p. 146) and Skinny Dip Ice Cream (p. 35).
However, the interesting Driftless Area Education and Visitors Center isn't mentioned. That's probably because the National Mississippi River Museum & Aquarium in Dubuque (p. 116) is listed. I'm guessing the Dubuque site covers the same material and more, making it a good choice over the museum in Lansing.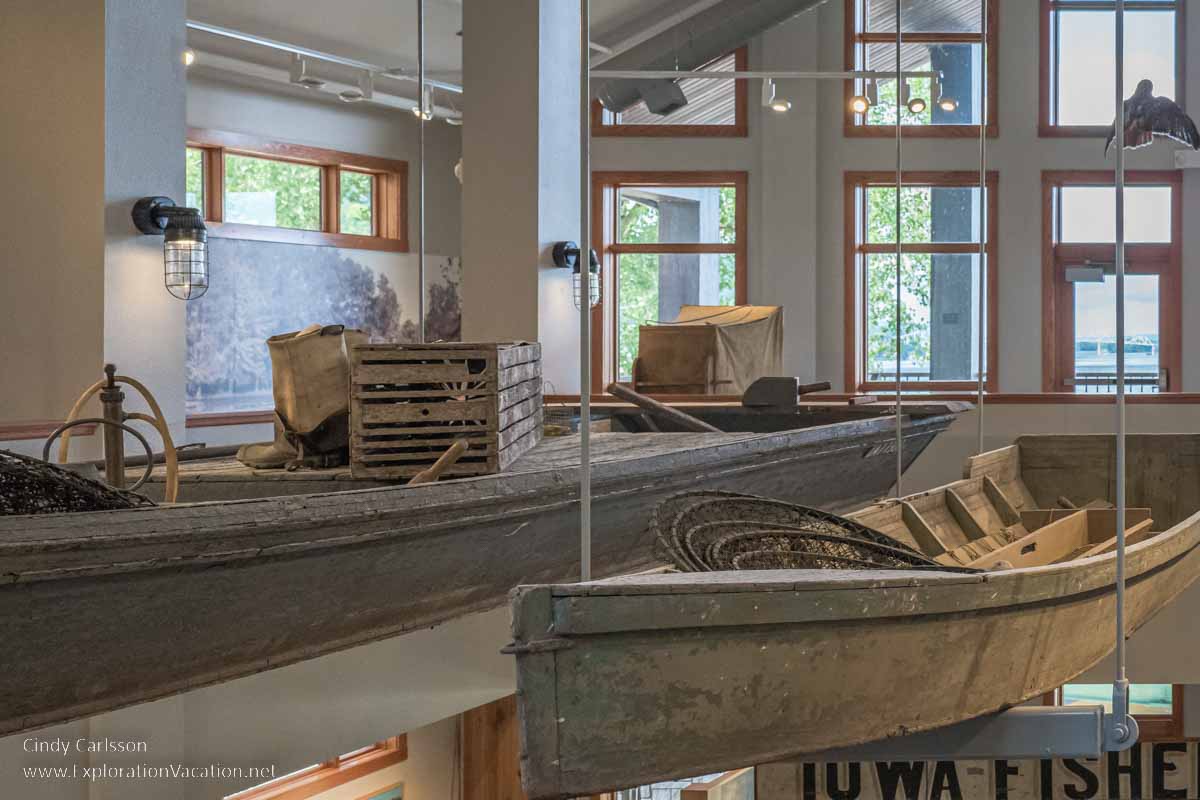 The Driftless Area Education and Visitors Center in Lansing provides a good overview of life along the Mississippi in days gone by.
Besides cool river towns and good scenery, the other reason I really want to return to this area is to see Effigy Mounds National Monument (p. 134). I'm told that's best as a spring or fall trip when leaves don't block the view.
What's missing?
Obviously, there are far more than 100 things to do in Iowa. In creating a book like this, the author needs to select a wide range of sites and activities that are iconic, unique, and/or the "best of" from across the state. And keep it to a reasonable number.
For the most part, 100 Things to Do in Iowa, balances all of that pretty well. But there are a few notable omissions besides the historic districts mentioned above.
Iowa's Native American people
Yes, the book includes Effigy Mounds. However, while these formations are still sacred to contemporary native people, they were created 1000 years ago.
Various native populations have lived in Iowa continually since that time. And native people from several tribes continue to live there today. Unfortunately, most of their history and culture is found only in small exhibits tucked into libraries and local museums around the state. However, the Sac and Fox Tribe of the Mississippi in Iowa (the Meskwaki Nation or "People of the Red Earth") operate their own museum. I haven't been there, so I don't know what it is like, but I'm guessing it's a good place to learn a little about Iowa's native people and their lives in the past and today.
Fine arts
The closest 100 Things to Do in Iowa gets to the fine arts is the American Gothic house (p. 124), various sculpture walks, and the Fort Dodge silos. I know Iowa has actual art museums. Not having been to any of them, it's possible that none are particularly worthwhile. But I doubt it.
Vesterheim: The National Norwegian-American Museum and Folk Art School
Yes, Nordic Fest (p. 68) gets a listing in 100 Things to Do in Iowa and a sailboat in the Vesterheim Museum is mentioned in the tip on the next page. But the museum has more than 33,000 artifacts, 12 historic buildings, a research center, and an active folk school. It's probably worth a listing separate from the heritage festival. At the very least, it should be a bigger part of the Nordic Fest description.
The Iowa Statehouse
Iowa's seat of government is located what appears to be a beautifully restored 19th century building in Des Moines. Tours of the capitol are regularly available. It seems like it should have been included.
Buy your copy here
Despite some design decisions that make 100 Things to Do in Iowa less than ideal as a travel guide, I highly recommend you buy a copy if you are live in or near Iowa, grew up in Iowa, are planning an Iowa vacation, travel through Iowa on occasion, or are just curious about Iowa!
And it is a great gift for yourself (we can give ourselves presents, can't we?) or for friends and family.
Get your copy at AbeBooks, BetterWorld Books, or Barnes & Noble. (Affiliate links)
You can see the full series on the Reedy Press website.
Follow Sara Broers' adventures in Iowa and beyond at Travels with Sara.