(Last Updated On: November 10, 2019)
We are taking a little trip to the northern Rocky Mountains this summer. With visits to Glacier National Park in Montana and Canadian parks including Waterton Lakes, Banff, Yoho, and Jasper.
It's a trip we've talked about for a long time, but one that we really got excited about after our time in the Denver area two years ago.
Daily Notes and Snapshots
July 4:  Neither Helena or Fireworks for the Fourth of July
We are flying to Helena on the Fourth of July
on Delta's 7:55 p.m. flight
(long ago changed from the 1:30 p.m. flight I actually booked).
There is no captain.
The airport is mostly closed for the holiday, but
Delta's gate agent calls pretzels and candy "food"
and reminds us that Delta is treating us well.
At 10 p.m. Delta announces what we knew hours ago: The flight is canceled.
We will not be in Helena tonight.
Delta offers accommodations.
By 11 p.m. it is our turn.
More than thirty passengers ahead of us,
the hotel shuttle holds ten,
and the shuttle headway between hotel and airport is one-half hour.
We do the math,
give up,
call a cab.
The sky is dark and still
when we arrive home,
long after the fireworks have ended.
Not Delta's finest moment.
July 5:  Historic Helena
We begin our trip again
with another cab to the airport,
another delay due to
another missing captain.
Delta assures us they have a pilot this time.
His eventual arrival is greeted with applause.
We are off.
It is a sunny summer afternoon in Helena.
We make the most of our too-little time here:
peek inside the Montana State Capitol,
take a history tour on a toy train,
walk through Last Chance Gulch, and
dine at Lucca's because
it is good and it is
nearby and it is
open when everything else is closed
Helena's historic heart is lovely and inviting, but
where are all the people?
July 6:  From Helena to the mountains of Glacier National Park
Dawn comes early,
bringing with it
a quiet step back in time at Reeder's Alley,
the oldest remains of historic Helena.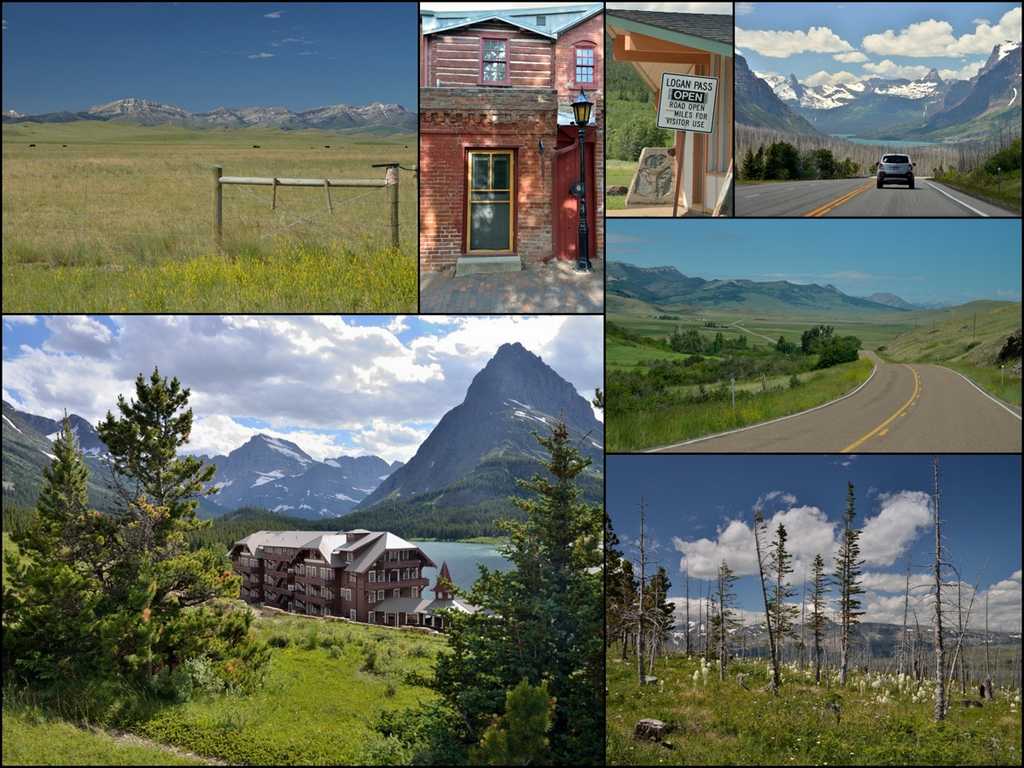 Driving north from Helena
we pass through ranch country,
rolling fields with the front range always in the distance.
Snow-covered peaks appear.
At first far away,
slowly moving closer until we arrive at
Glacier National Park.
At Many Glaciers Hotel
(an anachronism, the remains of another view of travel)
we find ourselves
NOT in the balcony room I expected,
but in a corner room with two views of the lake and surrounding mountains
through our windows.
No balcony, but it is good anyway.
July 7:  Our Own Glacier Loop Tour
The sunrise is obscured by fog and then
magic occurs.
Touring Glacier National Park,
we drive from Many Glaciers south along
the eastern edge of the park
(dodging domestic animals along the way)
until we get to Goat Lick,
where four mountain goats rest in the shade
of the highway bridge.
In Essex we eat lunch
along the train tracks at the Izaak Walton Inn.
We round the end of the park and
start up the west side to Lake McDonald.
There is hiking at Rocky Point
(our first hike on our own in bear country!)
before we are back in the car
and on the Going to the Sun Road.
Thank goodness the road is finally open!
It is spectacular, with
towering mountains,
thundering waterfalls,
and the icy remains of winter's snow;
until we hit the road construction
and everything slows to a dusty crawl.
From there, it is a beautiful drive
back "home" to Many Glaciers.
July 8:  Hiking Around Swiftcurrent Lake in Glacier National Park
The day begins with
another amazing sunrise outside our window.
Plans to tour Swiftcurrent Lake by boat
go awry;
we walk around the lake instead.
In the afternoon we leave
for Bison Creek and
new territory to explore.
July 9:  Going to the Sun Road revisited
We return to the Going to the Sun Road (driving it from east to west and back again), with plenty of time to wander in the snow and admire the glacier lilies at Logan Pass.
July 10: Around Two Medicine Lake
We signed up for a boat trip across Two Medicine Lake
and a ranger-led hike.
But the ranger has long legs,
so instead we  photograph plants and
loiter by the waterfall.
July 11: Many Glaciers cruise and hike
An unpromising start to the day with
lumpy grey clouds that crowd the mountain tops
gives way to
glorious sunshine.
We board the boat,
cross Swiftcurrent Lake,
hike up (and back down) a hill, and
board another boat
to cross beautiful Lake Josephine
where we hike through
the woods and wetlands and
along a rushing river
until we reach the shore of Lake Grinnell.
And then we get to do it all again,
as we return to our starting point.
July 12: American Indian Days
Dawn:
In the still air,
the rising sun turns Two Medicine Lake
into a mirror for the mountains.
At the Pow-Wow:
Coming into town we see the teepees
tall above the motorhomes and tents in the campground.
We wait under the blazing sun until
the drums begin.
Suddenly the world is alive with swirling color.
July 13: Up to Waterton Lakes National Park
We leave Glacier,
crossing the border
to travel to Waterton Lakes National Park
where we find
sunshine,
mountains,
waterfalls,
and lots and lots of flowers.
July 14: Touring Waterton Lakes National Park
A gorgeous sunrise
illuminates fields of flowers
and lingering deer.
Later
we cruise under dark lumpy clouds
that draw the light from the lake.
It's still beautiful.
July 15: Driving North to Banff
The night's rain is over, leaving
blue sky and
rolling hills along the mountains.
Highway 40 is the scenic route, with
towering mountains,
colorful flowers,
and a highway filled with Rocky Mountain sheep.
In comparison,
Banff town disappoints
with too many people, shopping, and restaurants.
We end the day watching
the local elk eat their way across the city airport.
July 16: Around Banff Town
A hazy dawn reveals
white-tail deer lingering over their breakfast
and a few nearby mountains,
while obscuring more distant peaks.
Back in town
we walk to the falls and then
spend the afternoon in
bakeries, restaurants,
shops, art galleries,
and museums.
It is a good way to spend
a hot and hazy day.
A friend joins us for dinner
and a few more hazy vistas
at the end of the day.
July 17: Along the Bow Valley to Kootenay
We get a late start
on another hazy morning
as fires burn elsewhere in the mountains.
There are hoodoos in Banff,
but only a couple.
The Bow Valley Parkway is more interesting,
even if our wildlife sightings are limited to
a single black bear
crossing the road ahead of us.
We have lunch at Storm Mountain Lodge
and then wander along Kootenay's Marble Canyon where
silky turquoise water glides
between silver walls.
July 18: At the lakes (Moraine and Louise), Banff National Park
Meeting a friend,
but not connecting,
leads to a morning of writing.
Hazy, smoke-filled sky
leads to hidden mountain peaks and
shimmering lakes
drained of color.
But we eat well!
July 19: Banff's waterfalls and Yoho's mountains, with a side of rain
We awake late
(its 8 a.m. already);
load the car, check out of lovely Storm Mountain,
and hurry up to Johnston Canyon
as dark skies hang above us.
A tour bus follows us into the nearly empty parking lot.
We scurry to get ahead of the impending masses
before the trail becomes a narrow catwalk.
Rushing water masks most of the sound
of descending tourists and
the still dark woods brings calm and also
mosquitos.
We slowly follow the racing river to reach one falls
and then another.
In the car again,
signs of brightening skies between rain showers.
Behind the clouds, the mountains are crisp and clear, but
it is a rainy night in Yoho
as the mountains are washed clean.
July 20: More Lakes and Glaciers in Yoho and Banff
We visit a natural bridge that has become a waterfall
and glowing green Emerald Lake
(and Hector, Peyto, and Bow lakes too),
all the while traveling under the watchful gaze
of the icy cold glaciers.
July 21: Flowing Water in Yoho and Banff
A visit to Thundering Takakkaw Falls
is followed by a return to
Moraine Lake
and a late lunch at Truffle Pigs.
It's another perfect day.
July 22: Lake O'Hara
Lake O'Hara is stunning enough that we didn't feel bad about not making it all the way to the Lake Oesa overlook.
July 23: Lakes and More Lakes
Low-hanging morning clouds lift suddenly,
unexpectedly.
We rush to Lake Louise
to watch the light shift over the lake
amid the crowds.
This would be a glorious day to hike,
but instead
we drive the lower section of the
Icefields Parkway.
Again.
This time we stop at
Herbert Lake,
Bow Lake,
the Waterfowl Lakes (where moose roam),
and Mistaya Canyon
Another beautiful day
July 24: The Complete Icefields Parkway
We drive all 143 miles of the Icefields Parkway
while clouds and rain play tag with the sun.
Finally tagged, the clouds obscure the mountain peaks and
play hide and seek with glaciers, while
the rain flows over Athabasca Falls like
so much melted snow.
July 25: Along Maligne Road in Jasper National Park, Canada
A cloudy day is perfect for
exploring canyons and
Maligne Canyon is a the perfect place to explore,
with rushing water, lush moss, and
towering rock walls.
At the teahouse we find
Inuit carvings and
more Morrisseau paintings
(each a riot of clearly defined color and shapes)
than I ever imagined could exist.
We test-drive Maligne Road,
stopping for errant bears and
slowly vanishing Two Medicine Lake,
before ending up on the shore
of lovely Lake Maligne.
July 26: In the air and on the water in Jasper National Park, Canada
We took a chance yesterday and
bought tickets for the Jasper Tram and Maligne Lake Boat tour,
guessing the clouds would clear and leave us with
glorious weather today.
It was a good guess.
The sun is bright and hot when
the tram delivers us to
sweeping alpine meadows
at the top of Whistlers Mountain.
We take our time along Maligne Lake Road,
savoring the scenery
even as clouds thicken above us.
On the lake
the boat glides across satin water
at the foot of the glacier-clad mountains.
July 27: Lakes and Glaciers in Jasper National Park
We arrive at Patricia Lake after sunrise, but
while the light is still beautiful.
The winding road to Mount Edith Cavell
takes us to the
glacier draped face of the mountain itself and
its reflection in the lake.
There are glaciers all along the Icefields Parkway,
but for the best view
we get up-close and personal with the Columbia Icefield
in the form of the Athabasca Glacier.
The glacier hints at the perpetual winter
at the heart of the Icefield
even on this hot sunny day.
July 28: Through the Canadian Parks to Montana
The end of our vacation is near;
today is our last day in Canada.
It is a driving day:
down the Icefields Highway (stopping to hike at Beauty Creek),
through Banff and Kootenay (stopping to view Numa Falls),
through Radium Hot Springs,
along the Columbia River
to the US/Canadian border, and
(farther still) into Whitefish for the evening.
Along the way, we glimpse
places we will return to
when we have time to do more than leave.
July 29: Logan Pass in Summer
Driving the Going to the Sun Road again is fun, but
we have returned to Glacier
specifically to see how much snow
is left at Logan Pass.
The answer is:
Some, but not much.
But there are still lots of glacier lilies.
Posts from our Rocky Mountain Summer
More detailed posts will be posted for each location along the way: