(Last Updated On: November 22, 2019)
On one of the first warm evenings of spring, we took the convertible out and headed downtown to photograph the city at night.
Despite gorgeous weather, the streets were nearly empty. There wasn't a lot to shoot, but there is one spot that can be counted on for the glow of interior lighting and exterior neon: Mickey's Dinner.
Mickey's is a Saint Paul icon, an Art Deco dining car shipped to Saint Paul by rail from New Jersey in 1937. Since then, this family-run operation has remained open 24 hours a day, 7 days a week for 365 days a year. It survived urban renewal (in part due to its designation on the National Register of Historic Places) and the economic decline of downtown. Now it seems poised to benefit from the resurgence of downtown and a renewed interest in urban living.
As I photographed, people came and went – a group of hip young people, a multigenerational family treating their mother to dinner, a casually-dressed teenage couple, a professional looking couple, and a lone middle-aged man. A similar mix could be seen inside. I've always thought of Mickey's as the restaurant of the homeless and the down-and-out, but on this beautiful spring evening, its cliental was an all-American sampler.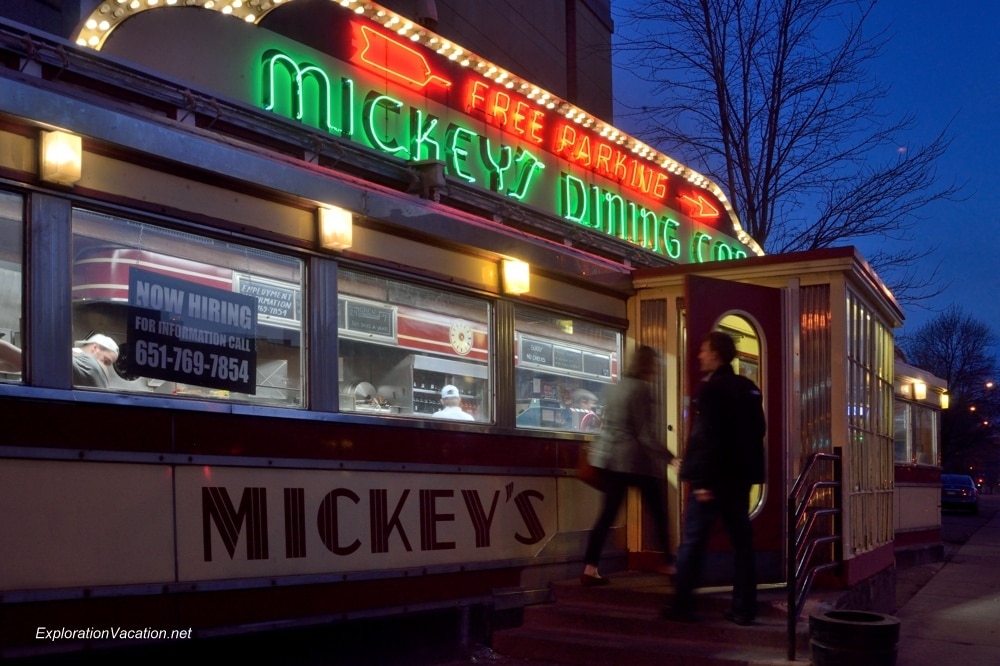 Mickey's has always fascinated me as a remnant from a time when (at least in my imagination) people from all walks of life spent evenings downtown and stayed until late. The dinner felt like a forgotten place and I always assumed it mainly served the people who were left behind when the rest of society abandoned the downtown: the homeless, the lost, the down-on-their luck. In a city with little night life, it seemed like a picturesque relic from a time when the city was where you came to be around other people, when people lived in the city and didn't just pass through, but not particularly relevent today.
With new residential development downtown, I am hoping that Saint Paul becomes the 24-hour city of my imagination. And, with that change, I hope there will one day be a variety of places open throughout the night for the night owls, the insomniacs, the shift workers, the adventurers, the dreamers, the loners . . . anyone looking for a comfortable place to get breakfast or a burger at any time of the day or night. I think the city will be a better place for it.
Until then, there is still Mickey's.
Thanks to Bill Lindeke at MINNPOST for his piece on Urban Rhythms and the Case of the Missing All-Night Diner, which motivated me to finally finish and post this piece.
All Saint Paul posts