(Last Updated On: March 17, 2020)
While in Playa del Carmen in December, my small group spent a day at Xcaret, a self-described "eco-archaeological park where you can experience the natural and cultural richness of Mexico." I fully expected to discover a Disneyesque version of Mexico. Fun? Probably. Authentic? No.
On the day in question rain leads to a bit of a late start, but things get off to a good start when we immediately discover a small pond with flamingos and macaws.
Finally we are up-close and personal with some flamingos! I could spend the day right here.
But there is much more to see.
But first, a challenge: finding our way through the gift shop and into the actual park.
(I hate it when places literally block your way with their sales area.)
The park is divided into various activity areas, with a jungly zoo in the center. I'm not a big fan of confined animals, but it is interesting to get a close look at Mexico's wildlife, including some energetic spider monkeys . . .
. . . various varieties of deer . . .
. . . raccoons aligned in hope of a handout . . .
. . . a surprisingly large tapir (who knew tapirs are so big?) . . .
. . . a pair of pacing pumas. . .
. . . and a rather unhappy-looking jaguar.
Along with the animals, the park's jungle also breaks to reveal the ruins of ceremonial buildings from the ancient Mayan port of Ppolé. They are a reminder that this land has been occupied and put to use by others in the past. It has a long history of human intervention.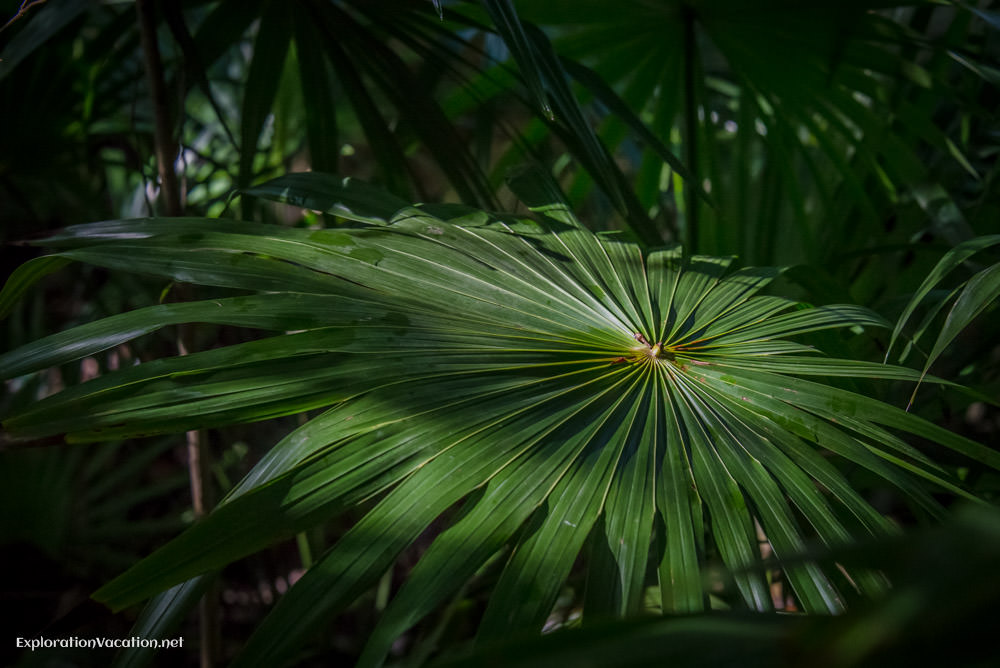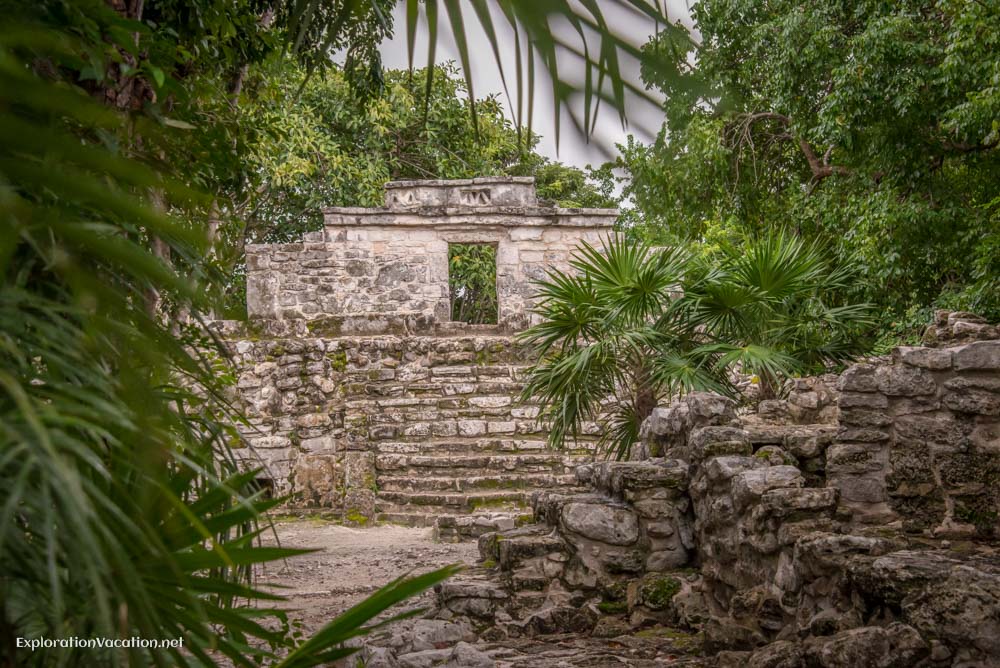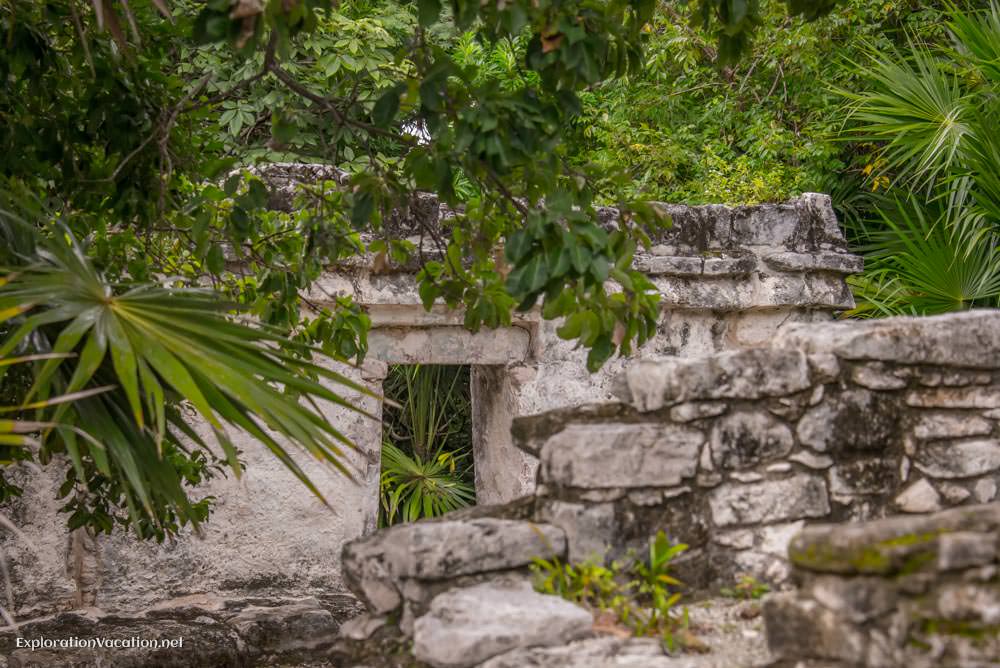 The park has an underground saltwater aquarium with oddly lit, but beautiful and healthy-looking displays of coral and fish.
They are mesmerizing.
But there are also shallow pools alive with rays. . .
. . . and tanks where baby turtles live until they can be released into the sea.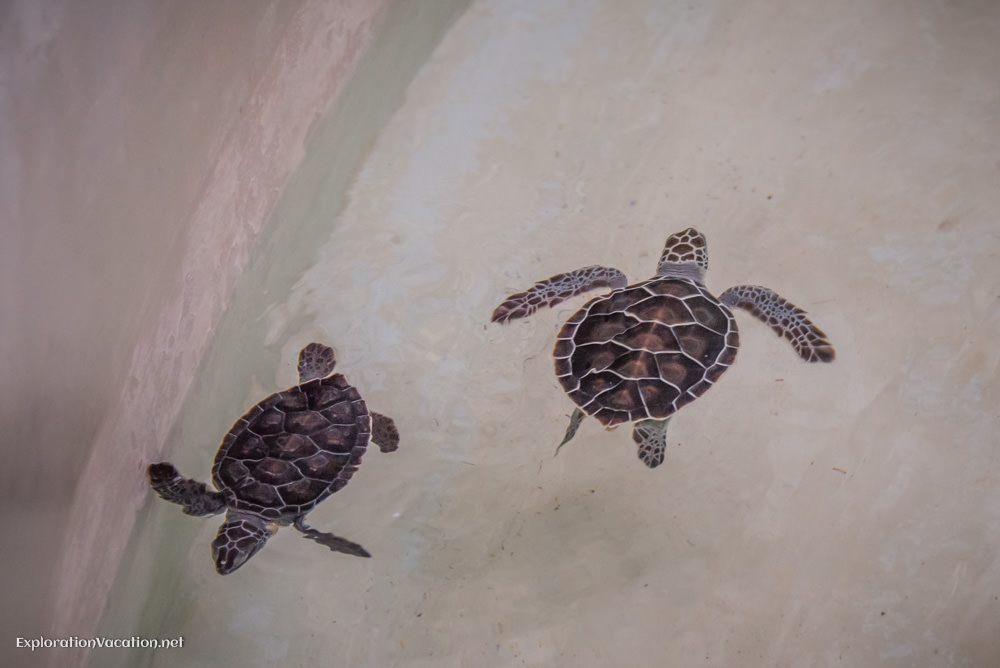 Farther along we find large ponds that house adult sea turtles.
The turtles glide back and forth through a series of ponds and rivers, passing above and below each other as they move around and coming up for air at regular intervals. We walk above them along raised walkways and bridges at the edge of the pools.
The shoreline in the park has been sculpted and managed to provide areas for snorkeling and relaxing on the beach, a restaurant, and infrastructure for a wide range of more intensive water-based activities.
There is also a butterfly pavilion, although things are pretty still there on cloudy afternoons like this.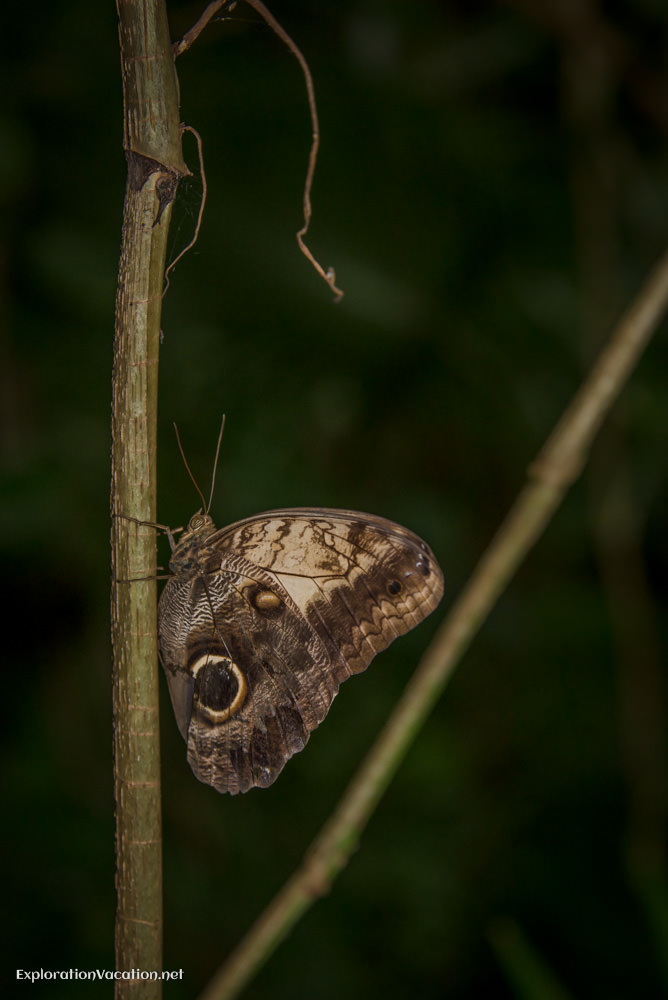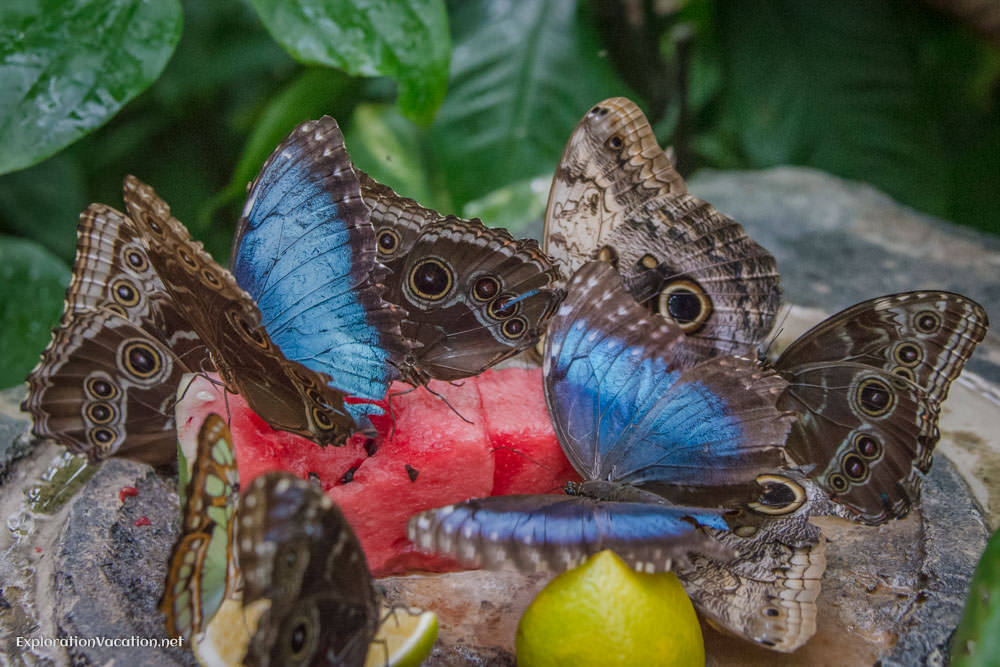 (I keep willing them to open those beautiful blue wings, but most of the butterflies are content to nibble at their lunch or just rest in the plants.)
In another part of the park the "Mayan village" has picture-perfect Mayan-style buildings that house craft demonstrations and shops.
(I probably should have spent more time shopping here, as the crafts for sale were of good quality and reasonably priced.)
Spanish culture is also celebrated in the park, and the grounds include a picture-perfect fake cemetery above a sleek modern chapel.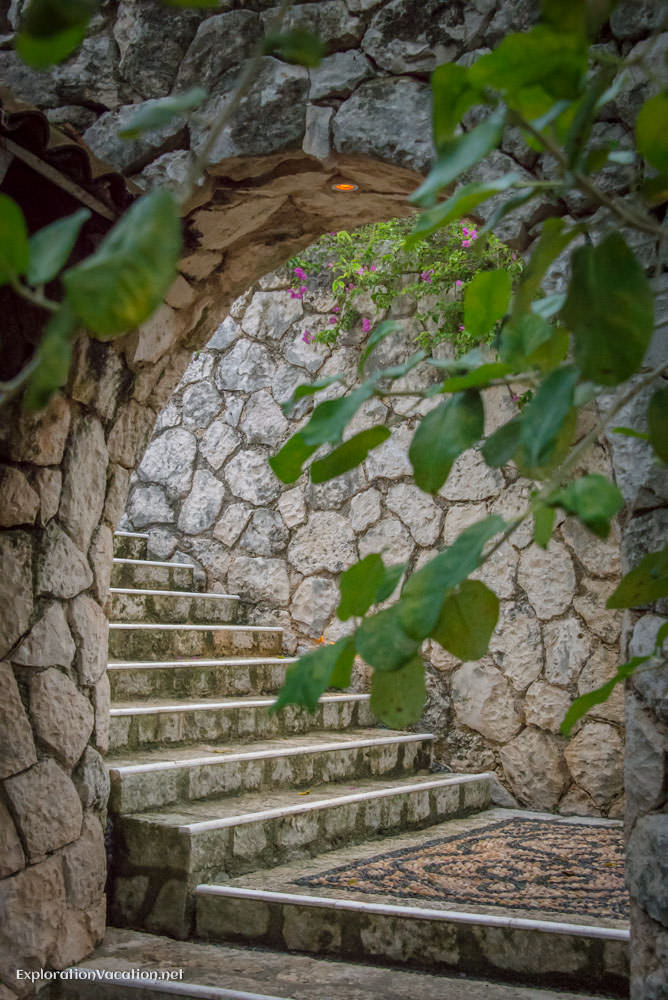 By now we have toured a good share, although by no means all, of the park and we are more than ready for a break. Luckily, there are plenty of tables available at the park's Mexican-themed La Cocina Restaurant. I'm pleasantly surprised to find that the food is genuinely good, too, although I am most impressed by my drink – a rum and fruit concoction the waiter recommended that is perfectly balanced (fruity, but not too sweet) and absolutely delicious.
Unfortunately we have no idea how early people start lining up for the evening musical Mexican Spectacular. We think we are plenty early and end up seated at least half-way up in a huge arena. . . much too far to take good pictures! 🙁
Still, the show itself is pretty spectacular – or over-the-top, as the case may be. It retells Mexican history from the time of the Maya through today using music, dance, and costumes. Almost all of the narration is in Spanish, so I can't tell you much about Mexican history based on this performance, but it involved a lot of Mayans, Conquistadors, horses, priests, gunslingers, soldiers, cowboys, farmers, mariachis, beautiful women, and the Virgin of Guadalupe!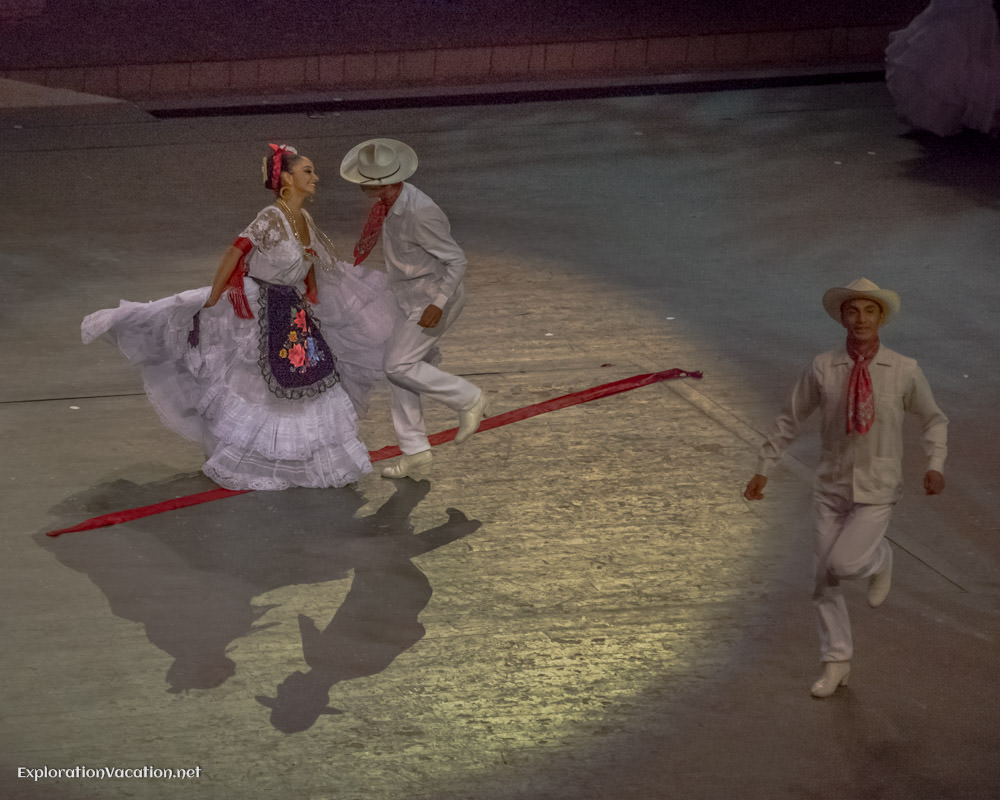 In the end, we are happy with our day in the park. We didn't experience nature the way I expected and it was rather Disneyesque, but it was also a lot of fun.
Xcaret is located just south of Playa del Carmen. The park is 200 acres in size and includes a number of exhibits and activities that I didn't experience on my visit. While the park provides a broad range of activities, it is quite expensive to visit (at least $80, with additional charges for some activities). Lockers and showers are available for those who want to spend time in the water. There are several casual restaurants on the property as well and, as I noted, the one we tried was really very good.
There are a lot of reasons to like Xcaret, but a visit here also raises questions around the meaning of authenticity, sustainability, and green tourism. . . something I'll delve into in a future post.
I'm linking to Noel's Travel Photo Monday, so check there for more photos and stories from around the world.
Big cats 
Macaws
The Chapel of Guadalupe
Reflecting on Xcaret – What's a "Responsible Traveler" to do?
All Quintana Roo posts