(Last Updated On: January 12, 2023)
A fun day trip for all ages, Minneopa State Park near Mankato, Minnesota, features its namesake double waterfall, a herd of buffalo (American bison), camping, and more.
Minnesota's third state park, Minneopa was once just a nicely landscaped little park around a pretty waterfall. Today the waterfall still draws visitors, but the greatly expanded park now offers a few other activities, including the opportunity to drive through a restored prairie that is home to a herd of bison.
In this post:
Park history
Tour Minneopa State Park
Minneopa's history: From beloved local waterfall to bison range
For more than a century, Minneopa State Park was notable for one thing: Minneopa Falls.
It's a nice waterfall (one of the highest in southern Minnesota) in a nicely landscaped park. But it's a little difficult to think of the waterfall alone as worthy of state park status. Even after the park expanded in the 1960s, it didn't offer much besides that nice picnic area around the waterfall. Sure, a new campground and a few more trails offered more reasons to visit, but Minneopa State Park remained mostly a nice place for a picnic and a short hike.
Until 2015.
That's when the first bison arrived. Now Minneopa offers an experience that doesn't exist elsewhere in Minnesota. And that makes it a park well worth a special trip.
But let's go back in time and see how Minneopa became the park it is today.
A popular civil-war era day trip
The name Minneopa comes from the native people who lived in the area long before white settlers came on the scene. In the Dakota language mni hinhe numpa means "water falling twice." That's an apt description of the two-tiered waterfall.
A virtual tour of Minneopa State Park
Minneopa State Park still feels like at least two separate parks, with the waterfall area connected to the historic mill, bison, and campground by roads that run past private property.
This tour begins with the waterfall at the historic heart of the park, and then follows the park's expansion with a peek at the historic mill and a visit to the bison herd.
Minneopa Falls: The water still falls twice
Minneopa Falls still includes the two waterfalls that gave it its name.
Likewise, the surrounding area also retains a landscaped feel that would be familiar to visitors from the 1850s, with lawns, paths, bridges, and stairs that make the area more accessible and park-like. These features make visiting Minneopa Falls more like visiting a public garden (or Minnehaha Falls) than the sort of more natural areas often associated with Minnesota's state parks.
The best views of the waterfall are from the walkway along the top of the gorge or along the creek below.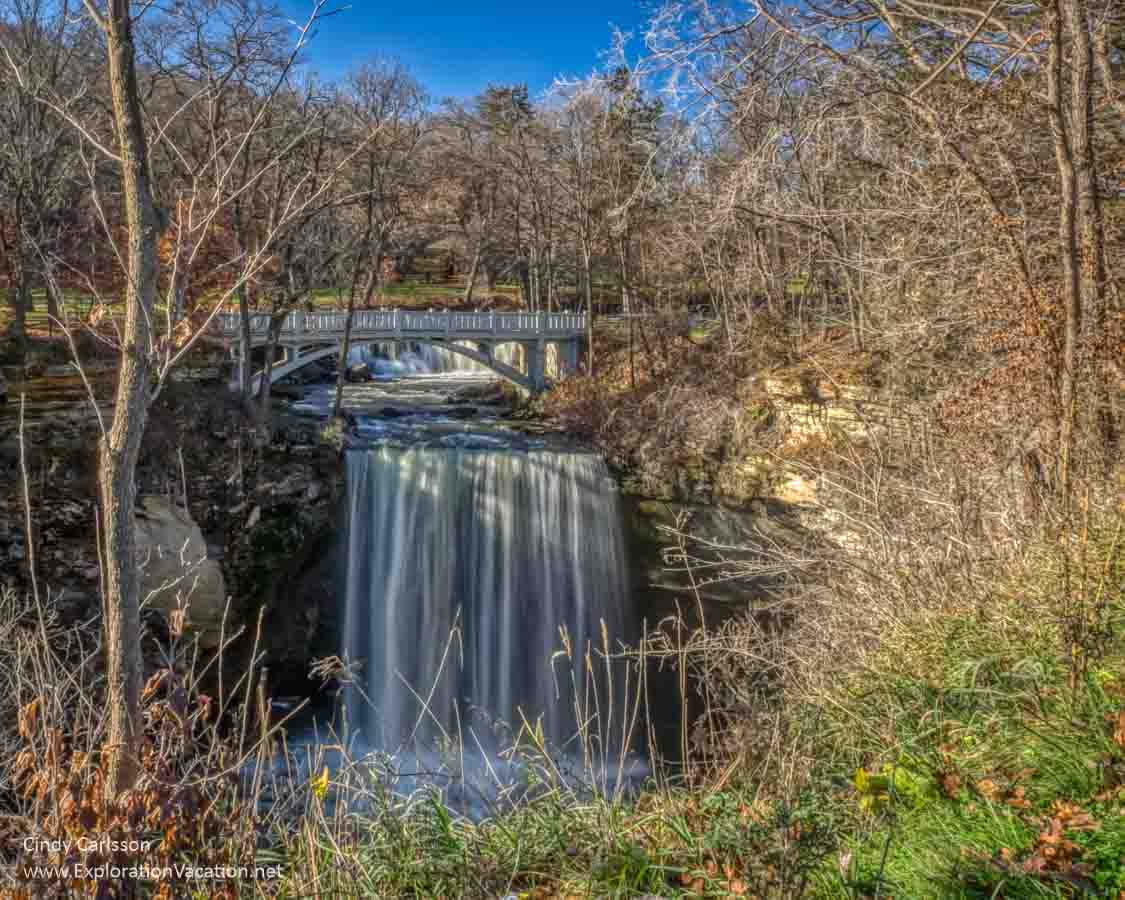 The lower falls drops 40 feet. That's almost, but not quite, enough to claim the title of highest waterfall in southern Minnesota. (Literally across the Minnesota River from Minneopa State Park, Minnemishinona Falls drops 42 feet. It's taller, but not as pretty.)
Today a big clunky bridge spans Minneopa Creek between the upper and lower falls. While I find it exceedingly intrusive, it does provide lots of space to get a good look at the upper falls.
While it looks bigger, the upper falls only drops about 7 feet. But there's a lot of beauty and drama per foot!
The bridge also provides a view of the gorge beyond the lower falls.
But you can't quite see down to the bottom of the waterfall!

Seppmann mill
On the bluff overlooking the buffalo enclosure, a tall stone tower and warehouse are all that remain of an old grist mill.
The mill, which is listed on the National Register of Historic Places, was constructed by Louis Seppmann (Seppman). A stonemason by trade, he decided early in the 1860s to build a wind-powered grist mill like those he had seen growing up in Germany.
Where the buffalo roam
Minneopa is one of two Minnesota state parks where buffalo (American plains bison) roam. (The other herd is farther west, at Blue Mounds State Park.) And it's the only place in Minnesota where visitors can drive through the bison enclosure looking for wildlife.
Bringing bison back to Minneopa
Once upon a time bison roamed the prairies and oak savanna of this part of Minnesota. (Bison once lived in all of Minnesota, except the northeast.) They returned to this area in 2015 when about a dozen animals were moved to Minneopa from Blue Mounds State Park.
The herd settles in
As of summer 2020, there are more than 40 bison in the herd at Minneopa. This includes about a dozen new calves.
That's probably about the most you'll ever find here. The ultimate size of the herd depends on the amount of food available, but 40-50 is probably the limit for this area.
That's a smaller herd than the one at Blue Mounds. However, at Blue Mounds, bison can only be viewed from outside the fence or on a park tour. At Minneopa visitors can watch the buffalo from the comfort of their own car for as long as they want!
Viewing Minneopa's bison
Bison Drive Road runs through the bison enclosure. Cattle guards keep the bison inside the enclosure and signs direct human visitors to stay inside their vehicle.
But bison are big, fast, and potentially dangerous animals, so you really don't want to get out of your car to see them anyway. And you don't have to. While the bison are sometimes well-hidden by brush, they are also often clearly visible right along the road.
The key to seeing bison is to drive very slowly and look for movement in all directions. The brush has gotten a lot taller and thicker since I first visited in 2016, so it is harder to see anything that isn't near the road. But even with more brush, the odds of seeing a few buffalo seem reasonably good.
This spring we saw a few bison leave the herd and head toward a waterhole down the road. Guessing the whole herd might follow, we drove to the watering hole and waited. While the rest of the herd grazed almost out of sight in the tall grass and shrubs behind the waterhole, a half-dozen calves came and played in the water before vanishing into the grass with the rest of the herd.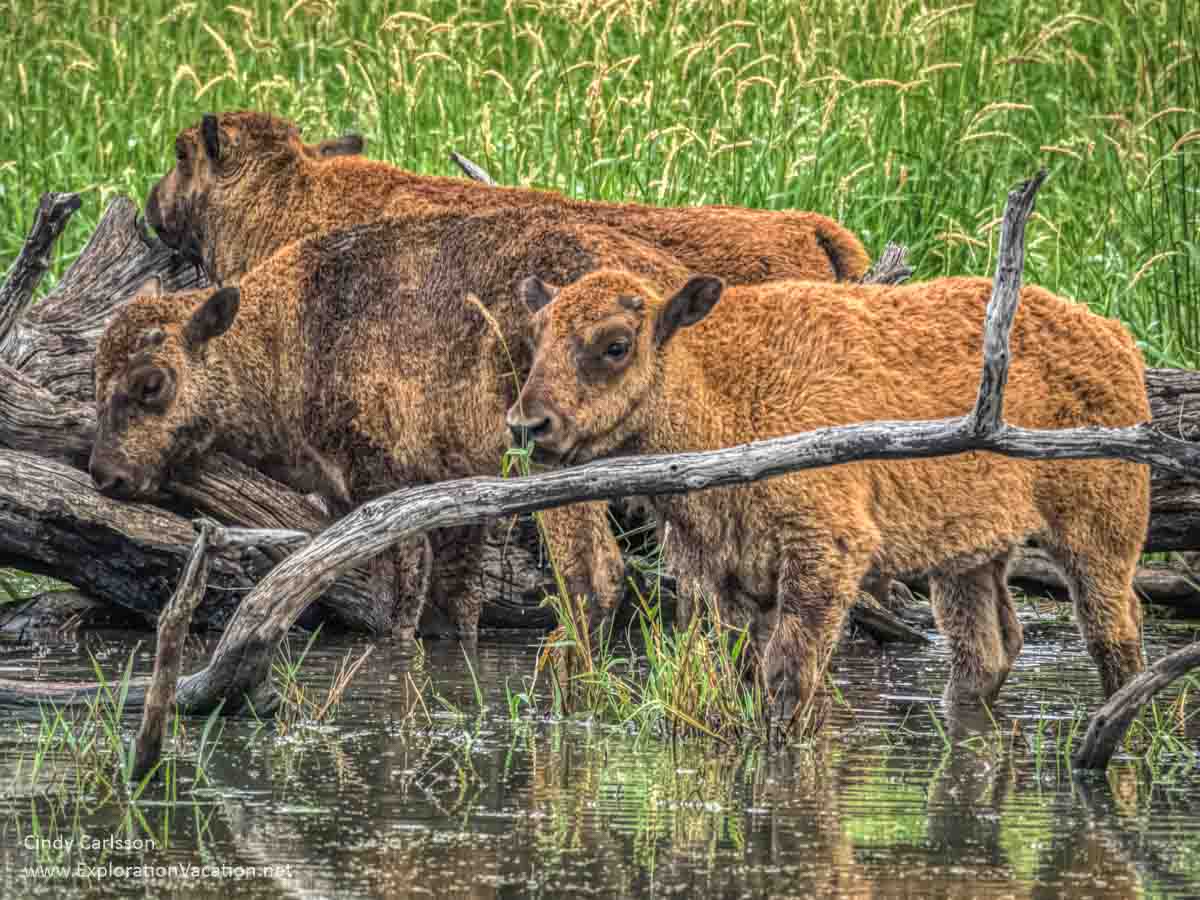 Plan your trip to Minneopa State Park
With the addition of the bison in 2015, Minneopa became a true destination-worthy state park.
But that doesn't mean most visitors need to spend a lot of time here. Everyone should take a look at the waterfall and drive through the buffalo enclosure. Depending on your interest in waterfalls and buffalo, expect to spend anywhere from two hours to a half-day on those activities. Stay for a picnic and hike all the trails to make it a full day. Birdwatchers and serious photographers should plan an overnight visit to take advantage of evening and early morning activity and light.
Minneopa is a wonderful place for a romantic picnic. It's also perfect for families with small children or elderly relatives. And, as in the park's early days, it's still ideal for group gatherings – although probably not a 5,000-person retreat like those in the 19th century!
On the other hand, visitors seeking a wilderness experience should be aware that little is truly natural here. The stabilized falls is surrounded by a manicured park. Even the bison graze on a lot of former farmland where fencing is usually visible in the distance.
When to visit
Minneopa warrants a visit in any season. Both the waterfall and the buffalo offer a difference experience depending on when you visit.
However, visitors interested in seeing Minneopa's bison need to avoid late winter and Wednesdays.
Getting to Minneopa State Park
Minneopa State Park is located just outside the city of Mankato in south-central Minnesota.
In the park
Minneopa State park is bisected by two state highways, an active railroad track, and private property. This creates two distinct areas, both of which require a vehicle pass to enter and park. Bicycle and foot traffic can enter for free, but are prohibited on Bison Drive.
Unlike the rest of the park, Bison Drive is not open every day. It also has shorter hours.
Hiking trails
For a park of its size, Minneopa has very few trails.
A short paved trail runs along the top of the gorge above the waterfall. From there, steps lead down to the creek below. There doesn't seem to be an actual trail below the falls, just some spots for viewing the falls if the water isn't too high.
The Hiking Club Trail runs about 1½ miles on the river bluff along the bison enclosure and up to Seppmann's Mill. From there, another trail follows along the rest of the bison enclosure for a little over a mile back to the campground and parking area.
A short wetland loop trail and a rather rugged little trail to Minneopa Creek's confluence with the Minnesota River also begin near the parking area outside the bison enclosure.
Spring and summer hikers will want an insect repellent that is effective for ticks, as well as mosquitoes and biting flies. This area of the state also seems to get a lot of rain, so be prepared for mud throughout the spring and summer.
Bison Drive
Most of the year, visitors can take Bison Drive road to see the buffalo herd up close. This well-maintained gravel road allows drivers to pull-over to watch bison, other animals, and birds. Two-way traffic is allowed, so you can drive it in either or both directions. Just watch for on-coming vehicles while gawking at buffalo and don't block the road.
Of course, there's no guarantee that you'll see bison, as they have 330 acres to roam and these huge animals can be surprisingly elusive. On the other hand, sometimes they are impossible to miss.
Spend the night
While it's easy to visit both Minneopa falls and the bison in one day, bird watchers and photographers should spend a night in or near the park.
Links and resources
While Minneopa State Park itself has a rich history, the period of its founding and events near the park add layers of complexity to the park's story. The following include some sources I used that offer a more in-depth look at the park and its history.
Other places to see bison "in the wild"
Yellowstone may be famous for unending "buffalo jams," as drivers stop to gawk at buffalo along the road. But you don't have to drive all the way to Wyoming (or sit in huge traffic jams) to see bison in relatively natural landscapes.
Viewing bison in Minnesota
Blue Mounds State Park, which has the state's largest herd at about 80 adults plus calves, began tours in its bison enclosure last year.
A herd of 35 bison raised by a commercial meat producer spends summers grazing the Belwin Conservancy prairie in Afton. A viewing platform is open from dawn until dusk from late May through early October. Most years they also have a Bison Buggy tour available for members.
While there isn't anything very "wild" about it, there are also bison at the Minnesota Zoological Gardens in Apple Valley. These are actually part of the Minneopa and Blue Mounds herd. (Individual animals are sometimes moved between locations to maintain a healthy genetic base in the overall herd.) It just isn't a very natural setting.
Viewing bison in the Dakotas
Both the North and South units of Theodore Roosevelt National Park in North Dakota have substantial herds of buffalo. Although numbers vary by year, the North Unit has 100-300 animals, with slightly higher numbers in the South Unit. Like Yellowstone, these buffalo roam throughout the park and are often visible from (or even on) park roads.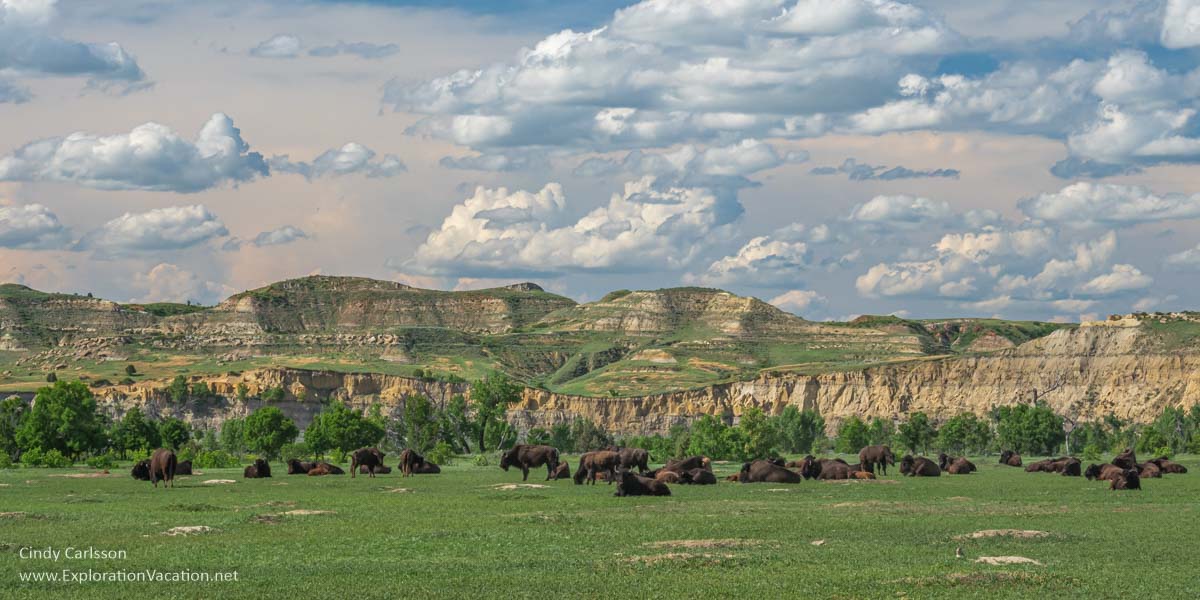 Personally, I think this is the best place in the country to view both buffalo and wild horses. Great scenery, lots of wildlife, and relatively few other visitors make for spectacular wildlife watching.
However, to see really massive herds of bison, head to South Dakota. Near the Black Hills, Custer State Park boasts a herd of nearly 1500 animals. Next door, Wind Cave National Park has another 300-400 free-roaming bison.
Fine art photography from Minnesota State Parks