(Last Updated On: May 27, 2020)
The others are taking it easy this morning, so Lane and I head out for a quick return trip to Mt. Erie to see what morning light does to the view. (Last night the sun was too direct to have any view to the west.)
I'm not sure I can find it again, but Lane easily retraces our route in reverse. Soon we are again driving through the tunnel of tall trees that huddle over the road.
Today we park next to the odd looking tower that marks an access to one of the viewpoints. It's like a huge piece of abstract art.
The light is ok, but not as glorious as I had hoped. Still the view is definitely worth the return trip, with a gorgeous patchwork of water, woods, and pastures laying far below the Olympic Mountains that shimmer in the distance.
As I'm shooting, the light shifts and brightens. The whole scene leaps to life. Wow!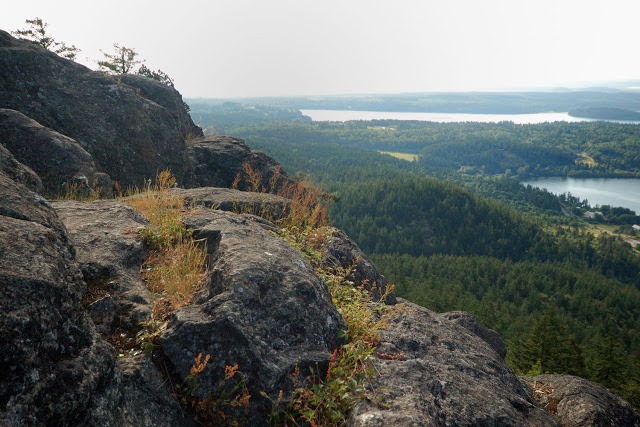 There is also beauty closer at hand, as the mountain's rocky slope is covered with grasses and flowers.
It is beautiful and peaceful here. The light is wonderful. I want to stay here all morning, just listening to the breeze moving through the trees and grass and watching the light play across the landscape. But it is time to go.
We make one more stop, which gives us a view of the ocean and islands that was completely obscured by the sun yesterday. The fog is still hugging the base of each distant island, assuring us that the day is still young. All is calm and quiet.

Of course, there are also more plants to observe here, so I dawdle 🙂