(Last Updated On: December 16, 2020)
I'm planning to visit Sedona this winter, so thought it was a good time to return to previously unposted photos and thoughts from a September 2009 trip.
Note that, this time, I'm having no second thoughts about returning. There is always beauty to be found. You just have to look.

September 27, 2009
We are on our way to Sedona.
I am unsure about this decision. Is a visit to Sedona a good way to spend our limited time here?
When I was last in Sedona – about ten years ago – I was delighted by the striking red formations that seemed at once both divinely lovely and other-worldly weird.
Since then I've been to Utah's red rock country, the Sinai, Kauai, and other places noted for dramatic outcroppings of red rock. Will Sedona still seem amazing? Even if it does, will I be able to look past the urban sprawl to enjoy colorful rock formations it surrounds, or will I just be irritated by it all? What if it's been completely ruined since I last visited?
It's looking promising thus far.
We stop at the South Gateway Visitor's Center and then take a short hike. The scenery is still beautiful and impressive!
Based on the advice we received at the visitor's center, we wind our way to the Chapel of the Holy Cross, a simple, dramatic structure built directly into the hillside's red rock.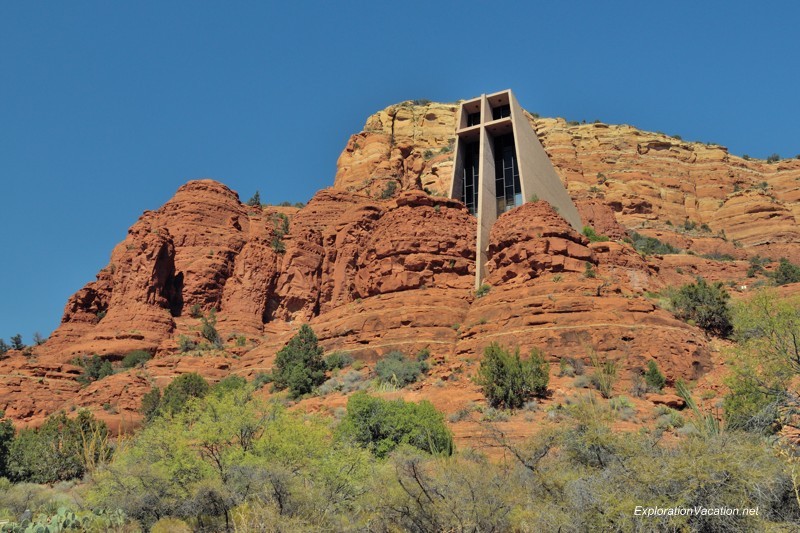 The chapel was designed by Marguerite Brunswig Staude, a pupil of Frank Lloyd Wright, and was built in 1956. The inside is all clean lines that frame a stunning view. Since we are there in the afternoon, the view looks directly into the afternoon sun, so I don't even try to take any pictures.
It probably doesn't matter that I can't really enjoy the view from the chapel since it faces a valley of stunning rock formations . . . completely surrounded by urban development.
The ostentatious displays of wealth amid such natural beauty invites meditation on the sacredness.
Maybe that's intentional.
Or maybe not.
At any rate, I prefer the view behind the chapel.
What makes people think that sticking a man-made structure into the landscape glorifies God more than the landscape itself?
The afternoon is quickly slipping away. It's time to follow-up on some other advice gleaned at the visitor's center, so we head toward the airport in search of what is said to be the best view in town.
Who would have guessed that "Airport Road" would be a gateway to stunning views in almost every direction?
If only I could erase all those buildings!
All Arizona posts