(Last Updated On: December 10, 2020)
It has been a long day of driving and sightseeing and now there is only an hour or two left before sunset. We are more than ready to check into our hotel and collapse over dinner, but Hamou has one more stop he thinks we should see: the natural bridge of Imi-n-Ifri.
Imi-n-Ifri is where a slow-moving river winds through a craggy gorge/natural bridge. The geology is interesting and folk culture holds that a Berber version of Romeo and Juliet reached across the river to hold hands and turned to stone. It is a good place to play in and along the water, and is much more popular with local residents than foreign tourists. Check-in at the hotel will have to wait.
Hamou assures us the path is easy and directs us to the stairs, but then reconsiders and suggests arranging a guide for us. The sun is already low in the sky, but I know from the guidebooks that there is a paved path through the gorge. The only tricky part will be crossing the river, but the water looks slow and low. At the worst, we will get wet feet.
We forgo the guide and start down the stairs.
It's a bit of a hike down, but finally the natural bridge and adjoining waterfall come into view.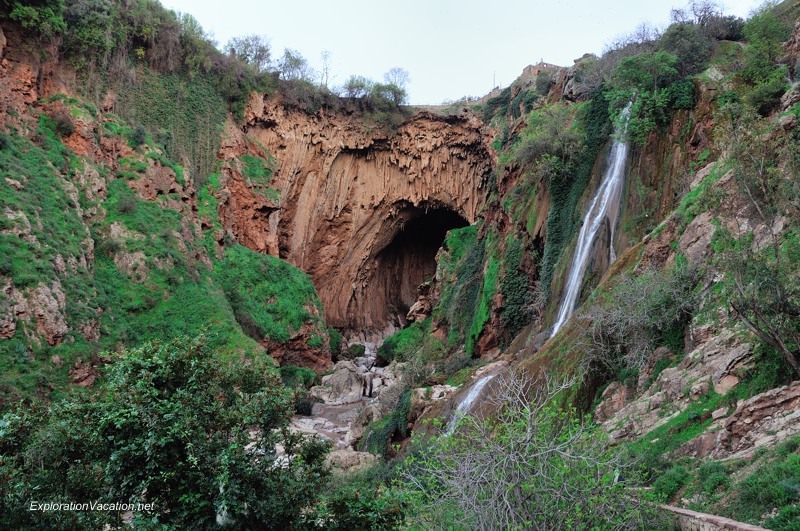 When we reach the river, we find that it is shallow and there are lots of boulders that seem to offer routes across, but there doesn't seem to be a path on the other side. It looks trickier than I expected. Maybe Lane is right and we should turn back now, before it is dark.
Of course, at that point a guide who has been shadowing us reappears. He bounds across the river, yelling back to us that it is easy, that the path is right across from us. We just need to follow him.
Once across, we realize there is no path.
There are a lot of gigantic boulders, but no path.
This is not good. Very soon it will be dark and the route ahead looks impassable. I turn back, but realize that going back will be more difficult than coming over. I'm not sure what to do, so I ask the guide who has been shadowing us for help.
He is, of course, eager to lead us through and we really don't have a choice now.
We head into the darkness of the bat cave bridge.
It is nearly dark under the bridge. It is also wet. Really wet. It's raining, actually. I'm not sure if this is moisture dripping through the stone or bat shit. Mostly I try not to think about it. Instead I focus on finding semi-secure footing and not-too-slimy spots to hang on to as we scramble over the boulders.
As the boulders get bigger, I rely on the guide (who generally hops along with the ease and grace of a mountain goat) to help me up the toughest spots. Finally we reach a spot where I don't see any way through, it's simply too much of a climb for me – especially on wet rock in the dark. Even with the guide's help to pull me up, I can't do it.
As the three of us contemplate this obstacle and discuss our options, Hamou – still wearing his djellaba — comes bounding down to us from the other side of the bridge.
I think at first this is a mirage, but no, he is here and, soon we are all heading up the stairs on the other side.
The rush of adrenaline, the thrill of accomplishment (despite all the help I needed) and beauty of the evening area almost enough to make me forget about the rain . . . or whatever that was under the bridge.
Imi-n-Ifri is located just outside Demnate and is best experienced during daylight hours. There was once a partially paved path through the gorge beneath the bridge, but it was washed away in a flash flood not long before my visit. It probably won't be replaced any time soon.
While many birds roost under the bridge, there are no bats.
This post is linked to Travel Photo Mondays at Travel Photo Discovery.
All Morocco posts