(Last Updated On: December 10, 2020)
We've been lucky, weather-wise, as we've not had a lot of storms or even rain since we've arrived in the Seychelles. This isn't generally a particularly rainy time of year, but the last weather forecast I saw before leaving home predicted a solid week of dark, wet weather.
While this morning began with clouds and rain, the sun came out while we were visiting the birds on Cousin Island. Now it is hard to guess what weather the day will bring.
We've already been told to reef our sail before heading out today, so we are expecting wind as we get underway.
And indeed, there is wind! The wind keeps increasing until Captain Mike announces that it has reached 31 knots (about 35 mph). We are near Big Cat and I can see exactly how the cats smash into each wave, briefly riding along the top before landing back into the trough with a thunk.
We are at a slight angle to the waves, meaning the pontoons hit the waves slightly unevenly, adding to the overall motion. It doesn't make me sick, but it isn't comfortable sailing either. Still, I'm awed by how high we are as we crest each wave, the surface of the water suddenly far below us. It's enthralling to see the sea rise and fall around and beneath us like some sort of living, breathing creature. I wish I could capture it though my lens, but can't.
We actually miss much of the rain we see all around us, getting poured on only as we near our anchorage along Mahé. Even then the weather flirts with us, looking as if it might clear before the next showers arrive.
<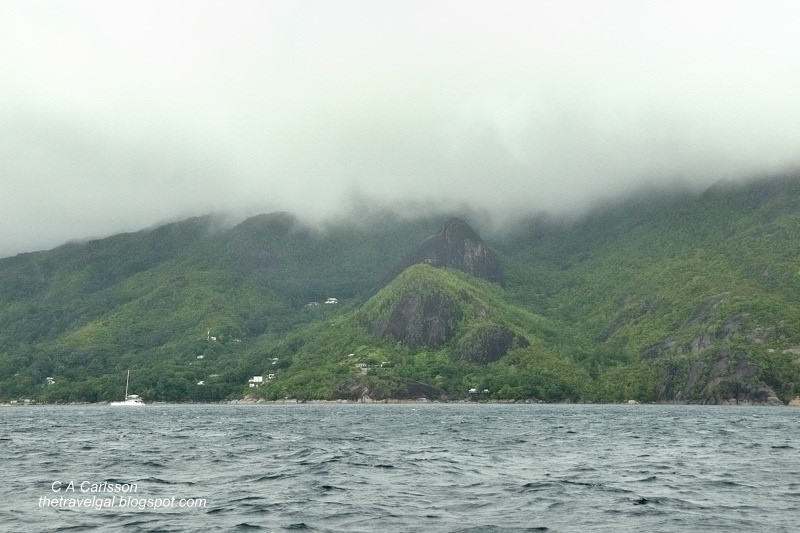 It has been a long day on the water and I'll be happy to help cook and then sit down for a nice dinner inside the cabin. Then we can contemplate the rumor that the weather could leave us socked in here for several days.
Next post: Life in Bay Ternay
Previous post: Bird Watching on Cousin Island

More Seychelles posts