(Last Updated On: February 5, 2022)
From about 1100 to 1250, a community formed in the cliffs high above a creek near Flagstaff, Arizona. Walnut Canyon National Monument gives visitors a close-up look at the remains of this prehistoric community.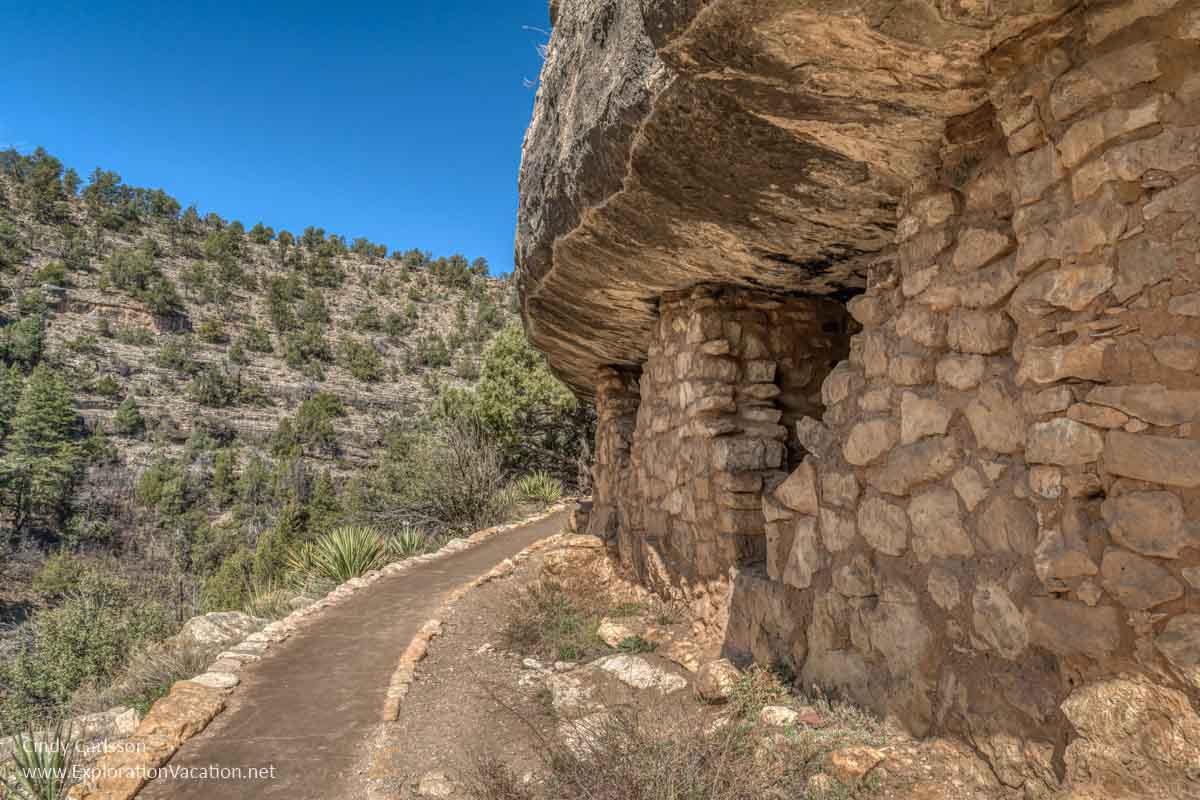 With all the things to see in Arizona, Walnut Canyon was one I almost missed. On our way to the Grand Canyon we passed a road sign that said "Walnut Canyon National Monument." Shortly thereafter I convinced my husband we should turn around and check it out.
I assumed we would discover a scenic spot for hiking. Instead we found a collection of cliff dwellings carved into steep canyon walls by the Sinagua people about 800 years ago. While not as grand as some cliff dwellings in the area, they provide an unusually close-up look into the lives of the ancient community that once lived here.
In this post:
About Walnut Canyon
Walnut Canyon holds the ruins of about 80 small Sinagua cliff dwellings constructed between the 12th and 13th century. The canyon itself is also geologically interesting, offering visitors a closer look at some of the same rock formations found just in the Grand Canyon.
As a national monument, the cliff dwellings are protected. But an easy hiking path gives visitors a close look at the remains of 25 different rooms.

Walnut Canyon's cliff dwellings
Who were the Sinagua?
People have lived in northern Arizona since the days of the wooly mammoth and sabertooth tiger. But the first permanent human inhabitants are believed to be the Sinagua. Arriving around 600 AD, they formed a distinct culture in the Verde Valley (around modern-day Sedona) and around Flagstaff.
Geology
Carved by Walnut Creek over 60 million years, Walnut Canyon is a twenty-mile-long and 400-foot-deep cut into the plateau near Flagstaff, Arizona. Of this, only six miles of the canyon are included in the national monument.
The canyon walls are made up of three layers: Kaibab limestone, the Toroweap formation, and Coconino sandstone.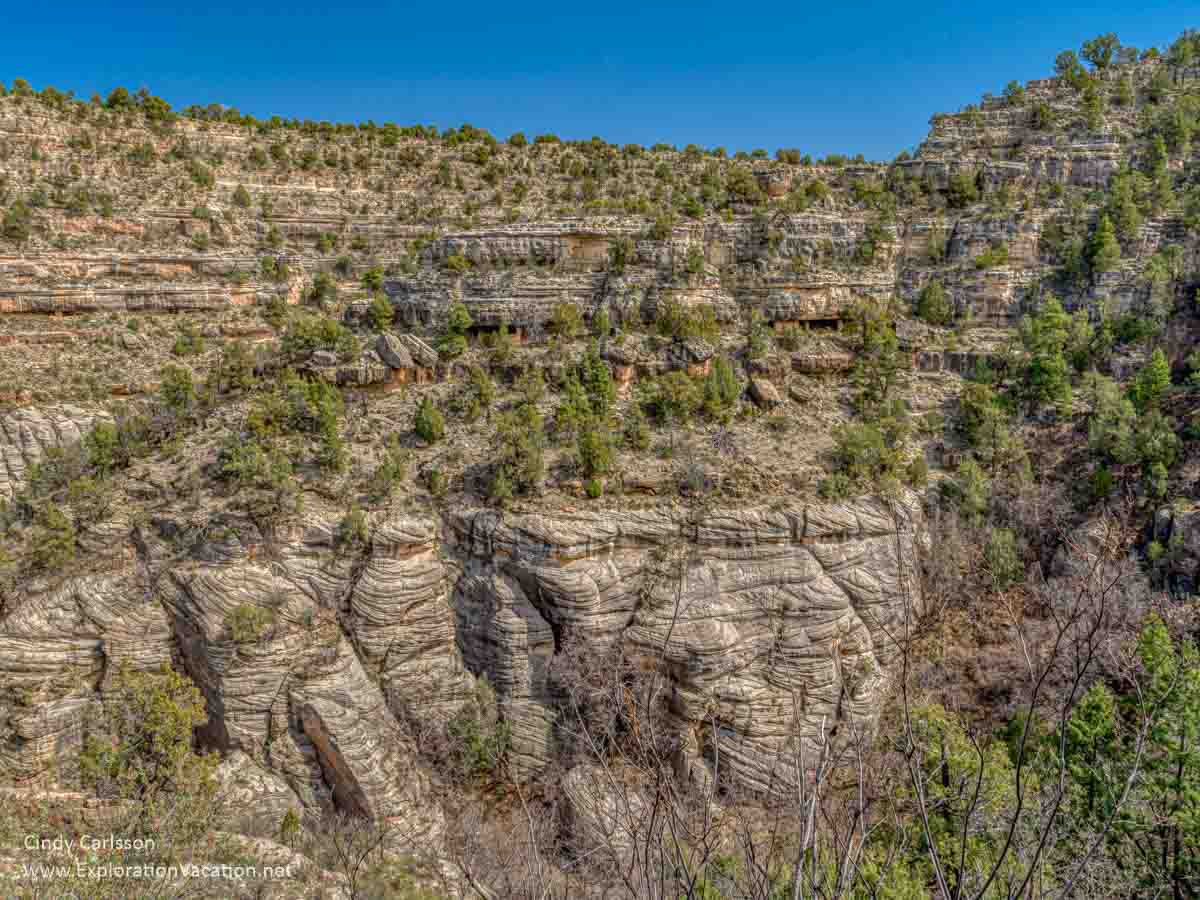 These are the same layers visible in the Grand Canyon just to the north. (The Grand Canyon is deeper, so additional layers are exposed there.)
On the Island Trail
From the top of the rim behind the visitor center, a trail dips partway into the canyon and then wraps around a mountain of rock partially severed from the rest of the canyon wall by the meandering creek below. It's not really an island, but it feels like one.
Although this land bridge drops almost 200 feet, there is still a lot of canyon below.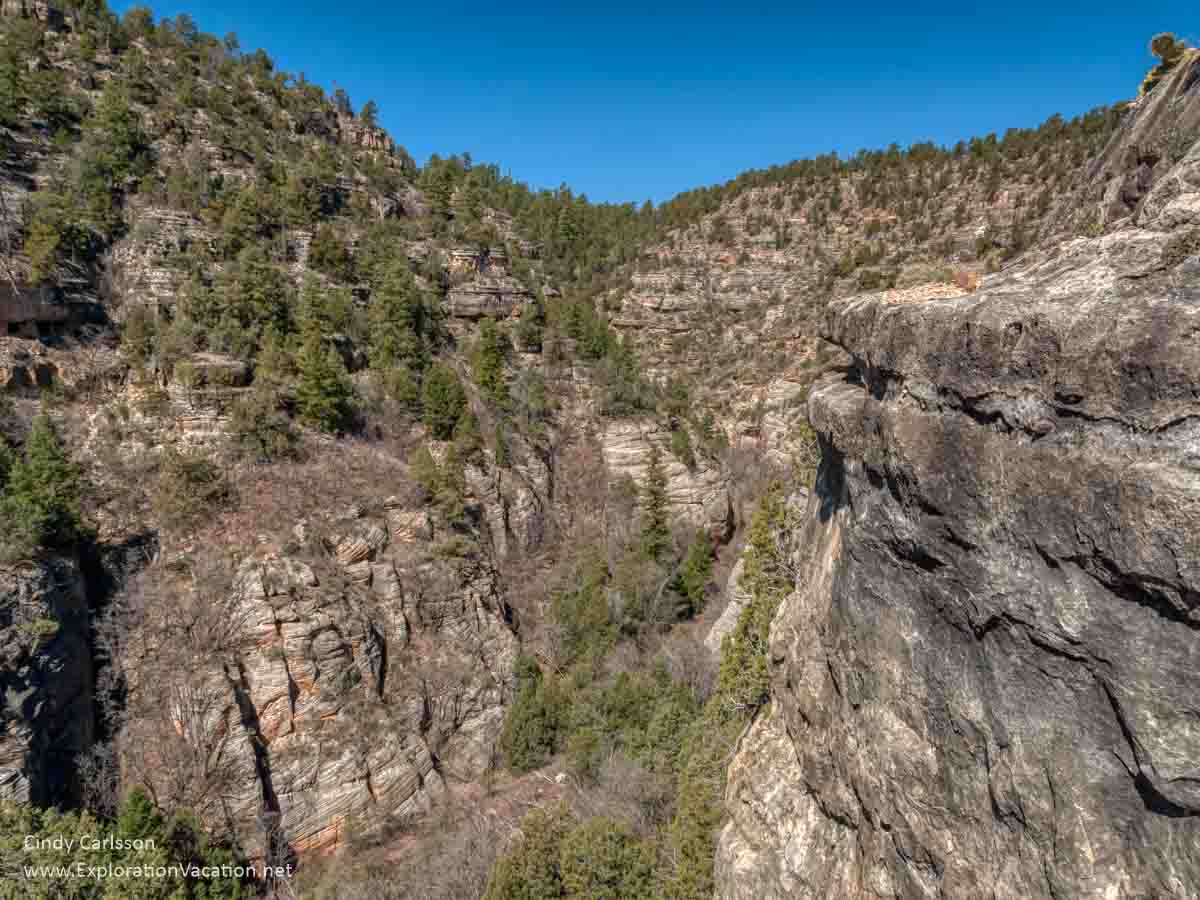 But there's still a lot of canyon above too.
Rock walls tower above the creek on all sides, their faces marked by bands of color. It looks like a rugged, inaccessible wilderness.
But look closer. See those overhangs and caves in the cliff face? Look even more closely and you'll see many are filled with what looks like brick walls.
The more you look, the more you see.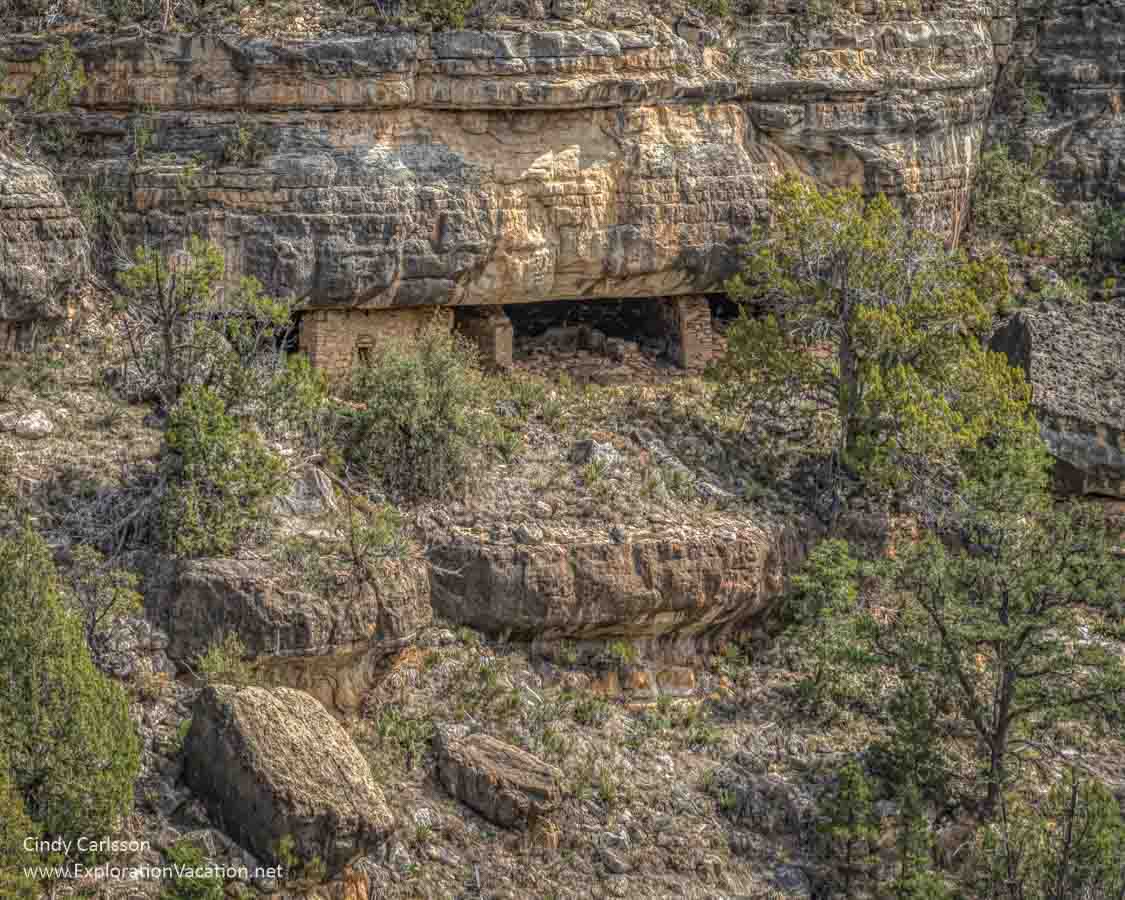 You are surrounded by cliff dwellings, storage areas, and other structures built by the Sinagua about 800 years ago. It's all part of a village that once housed 100 or more people.
But you don't have to look at them from a distance. As the Island Trail winds around this particular bit of rock, it takes visitors right past the remains of 25 rooms once used by this ancient community.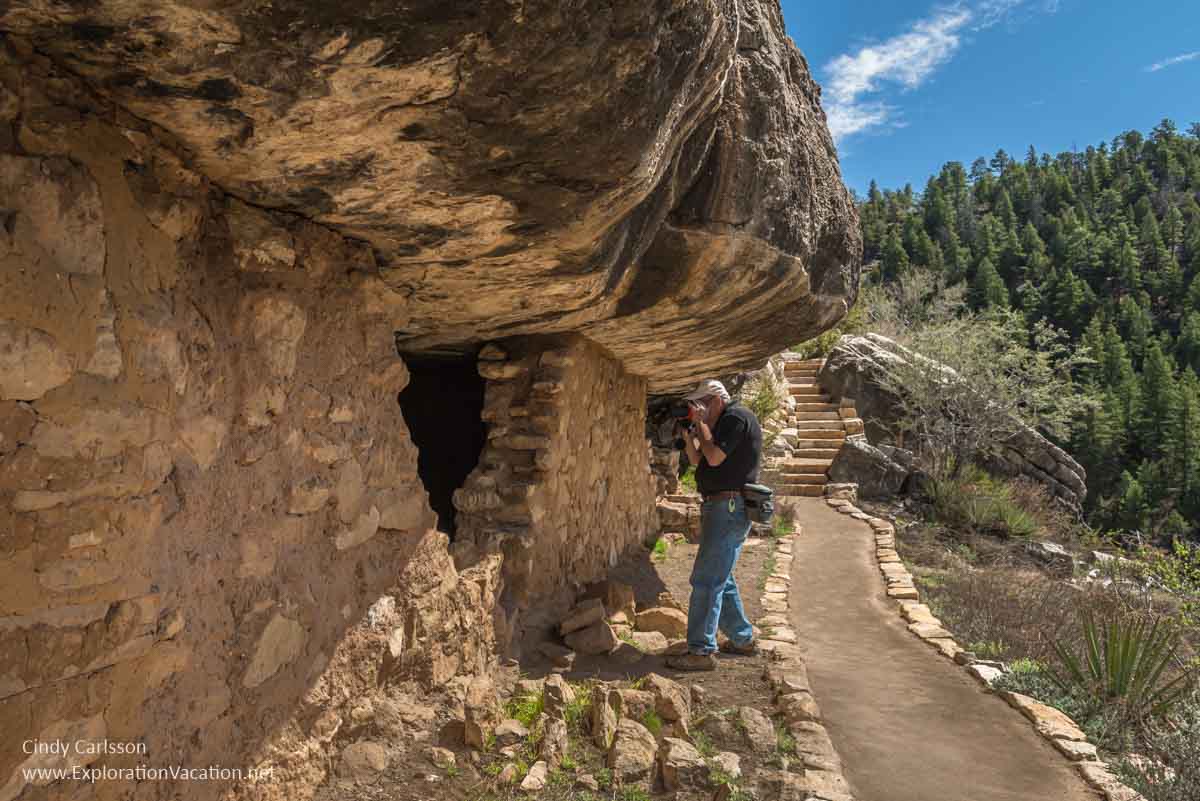 It's often unclear now exactly how any given room was used by its long-ago residents. But, if you stop and let your mind drift, it's not hard to imagine this canyon filled with the sounds of life in a small village.
The trail wraps all the way around the island, although most of the building sites are on one side.
As you get closer to where the trail connects to go back up, you'll have great views of the visitor center. (And a reminder that it's a bit of a hike to get back out of the canyon!)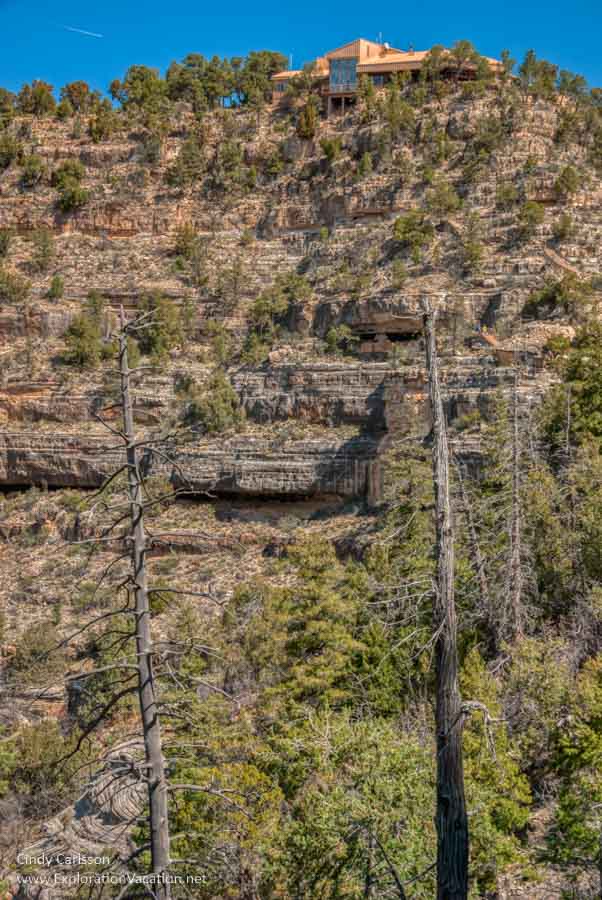 Plan your trip to Walnut Canyon
Walnut Canyon National Monument is an easy stop if you are visiting Flagstaff or headed to the Grand Canyon from the south or east.
Guidelines for visiting archeological sites
While visitors should treat every place they visit with the utmost care and respect, that is particularly true of southwestern archaeological sites like Walnut Canyon. Not only are these sites extremely fragile, but they are still connected to contemporary Native American communities. Sites like Walnut Canyon are the homes and burial places of their ancestors. These are precious, often sacred, places and you are a guest.
In addition, moving or removing objects and defacing or otherwise damaging a historic site on public land is a crime!
Visit other Sinagua sites
Although they lived in northern Arizona as early as the 6th century, the Sinagua flourished in the Verde Valley area around Sedona and north to Flagstaff from about 1100 to 1400.
Throughout their time here, the Sinagua built villages (usually called pueblos) both on the land where they farmed and in nearby cliffs. It's easy to visit a number of these sites while in the area.
Resources and further reading
Although the entire national monument was added to the National Register of Historic Places in the 1960s, a complete review of the site was completed in 1987. It provides an in-depth overview of the site and what was known about it at that time, although the illustrations are all but impossible to see.
At some point during my travels around Sedona, I picked up the Guide to the Heritage Sites: Coconino National Forest Red Rock District published by the US Forest Service and Friends of the Forest. While focused on the Palatki, Honanki, and V Bar V sites near Sedona, it also provides more general information on cliff dwellings and the Sinagua people. Unfortunately, this booklet doesn't appear to be available online anywhere. Look for it if you visit any of the Red Rock sites or Coconino visitor centers.
For links to a whole variety of historical documents related to USA national parks and monuments, take a look at the National Park Service Electronic Library. While the material available varies greatly by park, but it includes everything from tourist brochures to management plans and environmental assessment documentation. It even includes a few videos. There is a lot of material on Walnut Canyon.
Check my travel photography website for more photos from Walnut Canyon and throughout Arizona.
Click on the photo links below to visit more Sinagua sites or discover what else Arizona has to offer.