(Last Updated On: December 29, 2021)
The Gayer-Anderson Museum is a rare example of the Islamic courtyard houses favored by Cairo's successful merchants, traders, and other men of means during the 16th and 17th centuries. Originally two houses, each with separate quarters for men and women, the museum provides a glimpse of life under Ottoman rule through period rooms filled with furnishings and treasures from across the Islamic world.
In this post:
The Islamic homes of historic Cairo
Major Gayer-Anderson finds the perfect home
Touring the Gayer-Anderson Museum
Other traditional Cairene courtyard houses
The Islamic homes of historic Cairo
As one would expect, housing options in Ottoman-era Cairo (1517-1805) varied with one's income and social status. Cairo's poorest residents lived in group housing or apartments while rulers lived in lavish palaces. However, the city's predominant form of single-family housing was the Islamic courtyard house. These houses ranged from small private homes to elegant mansions and everything in between.
The development of Cairene courtyard houses
Courtyard houses existed in various forms throughout the Arab world at least since Greco-Roman days. However, a distinct form developed in Cairo to address both the city's climate and the Islamic need for privacy. In the years leading up to and through the Ottoman period, this unique take on courtyard houses became ubiquitous in the city.
The end of Cairo's courtyard houses
Like all housing trends, preferences changed.
Traditional courtyard houses first fell out of favor with 19th century rulers who sought to make the city more European. To do so, Muhammad Ali actively worked to eliminate – or at least disguise – the city's medieval architecture. He banned mashrabiya (identifying them, with some justification, as a fire hazard), painted houses white, created gardens and green spaces, widened streets, added street lighting, and more. While his efforts began to change the look of the city, later leaders found it easier to just develop all new, European-style suburbs. Soon enough, those who could afford it left behind the dense maze of courtyard houses in favor of new European-style homes and neighborhoods.
Thus, over time, the once-desirable old houses surrounding Cairo's mosques became run-down apartments housing increasingly poorer people. Few were adequately maintained.
Late in the 1920s Cairo's government responded to the situation the same way other cities around the world addressed declining neighborhoods: They demolished them.
That project was wildly successful. Today only a handful of these courtyard houses remain.
Major Gayer-Anderson finds the perfect home
Even as entire neighborhoods of traditional courtyard houses were demolished, a few voices suggested saving some in better condition. Among those spared, two stood along the wall of the Mosque of Ibn Tulun.
At that point a retired army major from Ireland with a fondness for Middle Eastern antiques and antiquities and the money and connections to buy what he liked stepped in.
Gayer-Anderson (on the right) was well connected in Egypt and his study includes photographs and drawings of him and many of the notable people he knew. Among those notables was Ahmed Hassanein, an Egyptian diplomat, politician, explorer, and tutor to Crown Prince Farouk.
Gayer-Anderson made a deal with the government.
In exchange for permission to live in the houses with his wife and a grandchild, he would install electricity, plumbing, and other basics, and then decorate, furnish, and fill the houses with his valuable collections. When he moved out, all of it would be go to the Egyptian government.
By all accounts, Gayer-Anderson loved living here. However, by 1942 illness forced him to return to England. On leaving he turned the houses – along with almost all of his furnishings, art, antiques, and antiquities – over to the Egyptian government as promised.
(His most valuable antiquity, an unusual bronze cat he probably purchased illegally, secretly traveled to England along with a few other objects. The cat is now on display at the British Museum in London. A copy is displayed in the house.)
Gayer-Anderson, now a pasha (the Egyptian equivalent of a knight), died in England in 1945.
The houses and all remaining items in them became the Gayer-Anderson Museum.
Touring the Gayer-Anderson Museum
The Gayer-Anderson Museum consists of two fully-furnished Islamic courtyard houses:
The oldest house was built by Abd al-Qadir al-Hadad in 1540 AD. He's sometimes identified as a scholar or a blacksmith, so it appears little is actually known about him. His house is known as Bayt Amna Bint Salem, for the last woman to live there before the house was renovated. The house shares a wall with Ibn Tulun Mosque.
The larger house was built nearly a century later by Hajj Mohammad ibn al-Hajj Salem ibn Jilmam al-Jazar (the "Butcher"). We know this because he inscribed his name in the trim in the water dispensary (sabil), along with the date 1631 AD. This was home to a number of different families and, at some point, was owned by a Muslim woman from Crete. It's from her that it gets the name "Bayt al-Kritliyya," or the "House of the Cretan Woman."
In the 1930s the Egyptian government stabilized both houses and restored them in the Islamic style. Gayer-Anderson took over after that.
Today the houses remain pretty much as Gayer-Anderson left them. They serve as a museum that displays antiques and antiquities amid a collection of period rooms that show how wealthy Egyptian families lived in the 17th century.
The combined building carries the name Bayt al-Kritliyya. However, for clarity, I'll use that name only when referring specifically to the butcher's 1631 house.
A home and a museum
In combining the houses into one British expat home, some spaces were converted to other uses. However, the museum retains examples of the rooms found in traditional Cairene courtyard houses and Gayer-Anderson furnished them accordingly.
But, more than either a house museum or a home, the houses were a way for Gayer-Anderson to display his extensive, valuable, and ever-expanding collections. To do so, he furnished and decorated each room to represent a particular culture at a particular point in time. . . and then threw in some ancient Egyptian artifacts, European glassware, or Islamic artwork for good measure. Thus, each room is a period piece, with furnishings from Syria, China, India, Persia (Iran), Europe, or, of course, Egypt. While no family would have furnished their own home in this way, each room represents one way that a (very wealthy) family could have furnished it at a specific point in time.
Originally, each home had separate quarters for women and men. And each of those included rooms usually used only in summer or winter. (Cairo is hot in summer and quite cool in winter.)  The result is a maze of rooms that could be separated from each other based on function, who was using them, and the season. While this maximized the household's comfort and privacy, it's very confusing for visitors!
The following covers some of the highlights of the house in no particular order.
Cariro's courtyard houses were built for privacy
The first thing a visitor will notice is that Islamic courtyard houses were built to ensure privacy.
Mashrabiya lattice
Privacy begins with the home's exterior.
No exterior window is set low enough for a passerby to see inside. Most windows (and almost all of the women's windows) overlook interior courtyards, rather than the street. But even along the courtyard, those windows have grates, lattices, shutters, or some combination of these to regulate airflow and prevent anyone from seeing inside.
Some rooms used by male members of the family may have relatively simple grates over the windows. However, all rooms used by women feature elaborate wooden mashrabiya screens. The mashrabiya helped cool the house in summer while allowing the family's women to observe the outside world without being seen themselves.
Indirect entrances
Of course, what good would it do to screen all the windows if anyone passing by could simply peek past an open doorway and into the home itself?
To prevent this, no exterior entry leads directly into the house or courtyard.
Beyond the entrance door visitors enter a magaz, generally consisting of a vestibule, another door, and corridor in a combination that requires a visitor to turn at least once before entering the courtyard. This "dogleg" or "bent" entrance made it impossible to see into the house or courtyard from the street. It also blocked street noise and dust.
Courtyards for heating and cooling
Unlike courtyards in other parts of the Arab world, Egyptian courtyards were purely functional spaces. Although visitors passed through, perhaps even waiting there before being invited inside the home, courtyards weren't designed for socializing. Instead, they provided access to storage areas and stables. And, most importantly, they moderated temperatures inside the house and provided light and ventilation without exposing the home's interior to the street.
Because the Gayer-Anderson house is actually two houses joined at an upper level, it has two courtyards.
Gayer-Anderson modified both to make them decorative, although the pulley system used to bring food and supplies to the upper level of Bayt al-Kritliyya remains.
From the courtyard, men and women used separate doors and stairways to enter the portion of the house they used.
Men and women lived separately
While Islamic houses are designed to ensure privacy from the outside world, they are also designed to maintain privacy within the house itself. Rooms used by women and children (haramlek) were separate from those used by the household's men and their guests (salamlek).
Reception halls
Reception areas of various sizes were used for socializing, eating, entertaining, and conducting business. Larger houses often had at least three reception rooms for men and one for women. Very large houses might have even more. In smaller houses, reception rooms were used (separately) by both men and women.
As the Gayer-Anderson Museum, the combined houses preserve three traditional reception rooms for men (the large Celebrations Hall, an open-air summer maq'ad, and a winter hall) and one for women. Although designated as separate spaces for men and women, the entire family might gather in any one of these when there were no guests present.
The women's reception area and both the men's summer and winter reception spaces are located on the second floor of Bayt al-Kritliyya. In most houses, the main reception hall was an elaborate two-story space on the main floor. At the Gayer-Anderson Museum, that space (the Celebrations Hall) is on the main floor of Bayt Amna Bint Salem.
Visitors were likely greeted in the courtyard or in a small room near the entrance. Those not invited into the house itself would conduct their business where they were met or in another, less formal, area off the courtyard.
The Celebrations Hall
The largest and most dramatic reception area at the Gayer-Anderson Museum, the Celebrations Hall would have been used mainly by the household's men and their guests. It was also a favorite with Gayer-Anderson, who often entertained here.
Although it looks like one room, it has three sections. How and how much of the room was used varied with the activity.
The room itself is two stories tall with windows just below the carved ceiling. The family's women and their female guests would have observed activity in the hall from behind the mashrabiya that cover those upper level windows.
(A scene from the James Bond movie The Spy who Loved Me was shot in here, with the hall standing in for a bedroom.)
The men's winter and summer reception halls
Bayt al-Kritliyya includes two other reception areas for men, one for winter and one for summer. Both of these rooms likely were used by the entire family when no other men were present.
The men's winter hall
Although smaller and less dramatic than the Celebrations Hall, the winter hall is also two stories tall and has a similar three-part floor plan.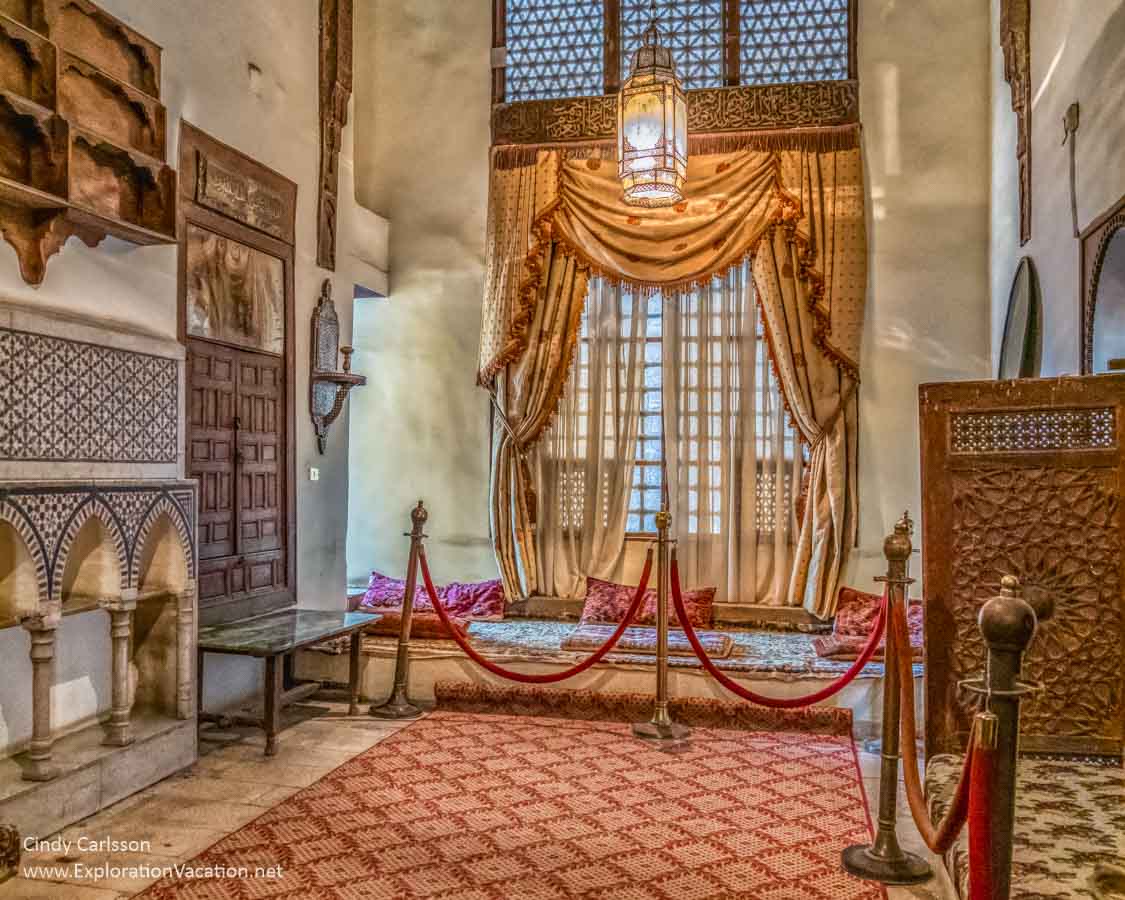 Like the Celebrations Hall, this type of room usually would have an upper level viewing area behind mashrabiya for women. However, that seems to be missing at the museum.
The men's summer maq'ad
In summer men of the family would use an open loggia or maq'ad (sort of a large open porch above the courtyard) for smaller gatherings and informal socializing.
Located behind the winter hall, the maq'ad was accessible both from inside the house and via a set of external stairs off the courtyard. That allowed visitors to gather here without actually entering the house.
The women's reception room
Although women might on rare occasions use the Celebrations Hall or maq'ad, they had their own reception area.
In the Gayer-Anderson Museum, the main women's reception area is located on the second floor of Bayt al-Kritliyya and across the courtyard from the maq'ad. This is where the women of the house gathered to relax and socialize with each other and their friends.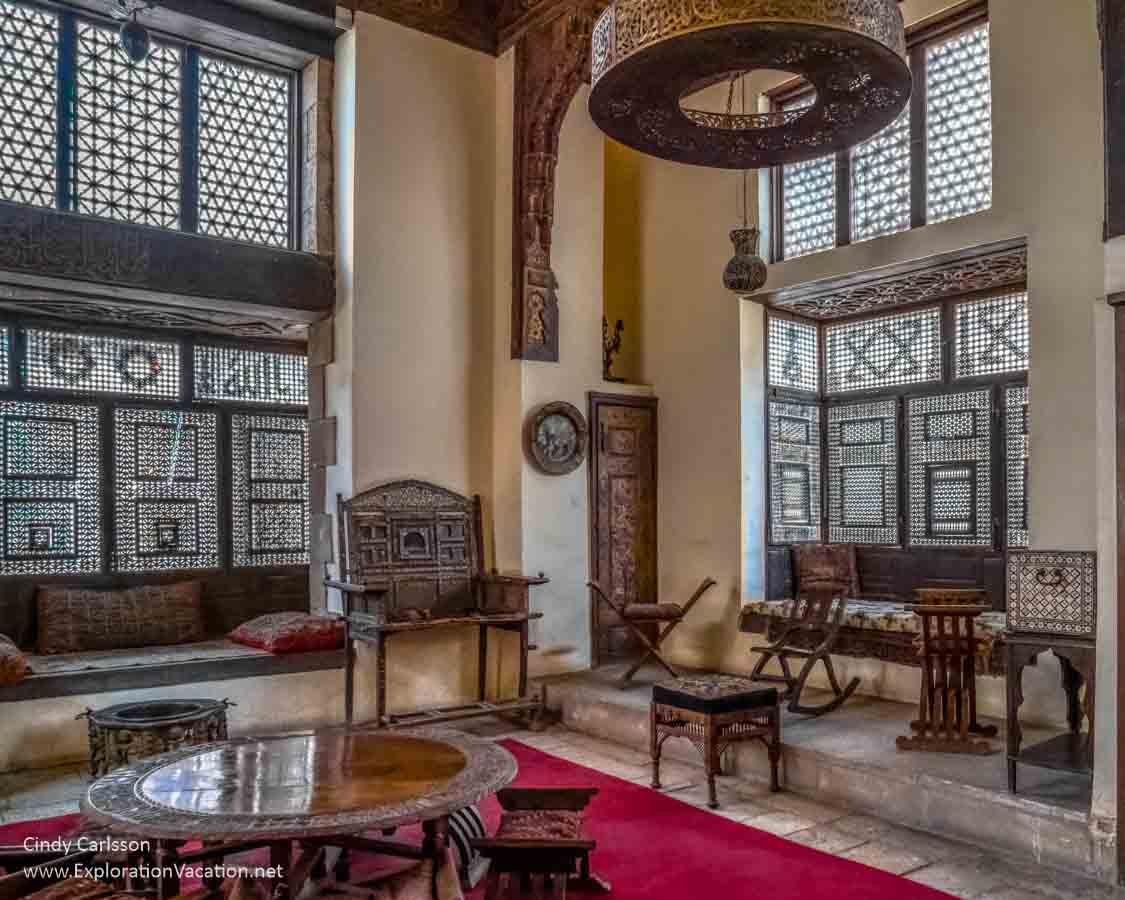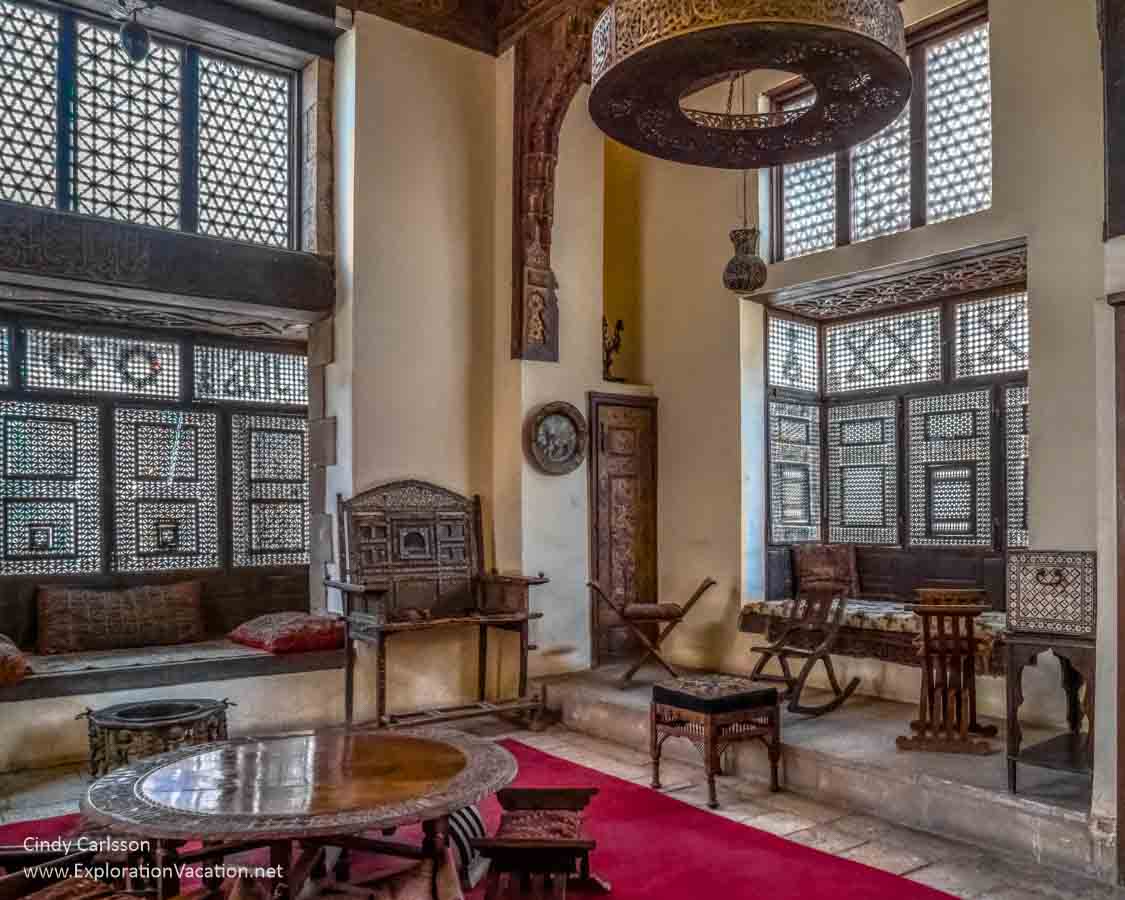 Although located on the same floor as the men's reception areas, it is accessible via a separate entrance and stairway used only by women.
The women's quarters
The space in the Gayer-Anderson Museum is unusual in that it preserves the women's rooms (usually found in one house) across two buildings.
In a traditional Cairene courtyard house, all of the women's rooms (hareem) were grouped together on the upper floors. They would be arranged to offer varying levels of privacy, from the reception area where they met with friends to bedrooms and dressing rooms.
At the museum, Bayt Amna Bint Salem retains most of the traditional hareem. Here the women's quarters include another reception area for receiving guests, eating, and relaxing; as well as dressing rooms and spaces that offer a view down into the Celebrations Hall. All of these were accessible by a separate stairway used only by women.
The spaces where women can look down on the Celebrations Hall are well hidden even within the hareem. Some areas are tiny halls tucked behind what appear to be cabinet doors. Others are reached via long, narrow corridors that open into comfortable sitting areas hidden behind a wall of mashrabiya.
Other rooms
Although some rooms in the hareem are furnished as they might have been when a family lived here, most rooms in Bayt Amna Bint Salem are theme rooms, art galleries, museums, and Gayer-Anderson's work spaces. These include Persian, Chinese, Indian, and Queen Anne theme rooms, as well as a studio, library, Pharaonic museum, and more.
Few represent the house as it existed originally. However, they provide a fascinating peek into the mind of European expats in the first half of the 20th century.
The Damascus Room
The stand-out among the remaining rooms is the Damascus Room.
Nearly every surface in this small bedroom is decorated. The walls and ceilings are intricately carved, painted, and gilded wood from a 17th century Syrian palace. And, although a number of rooms in the museum feature gorgeous ceilings, this is among the most beautiful.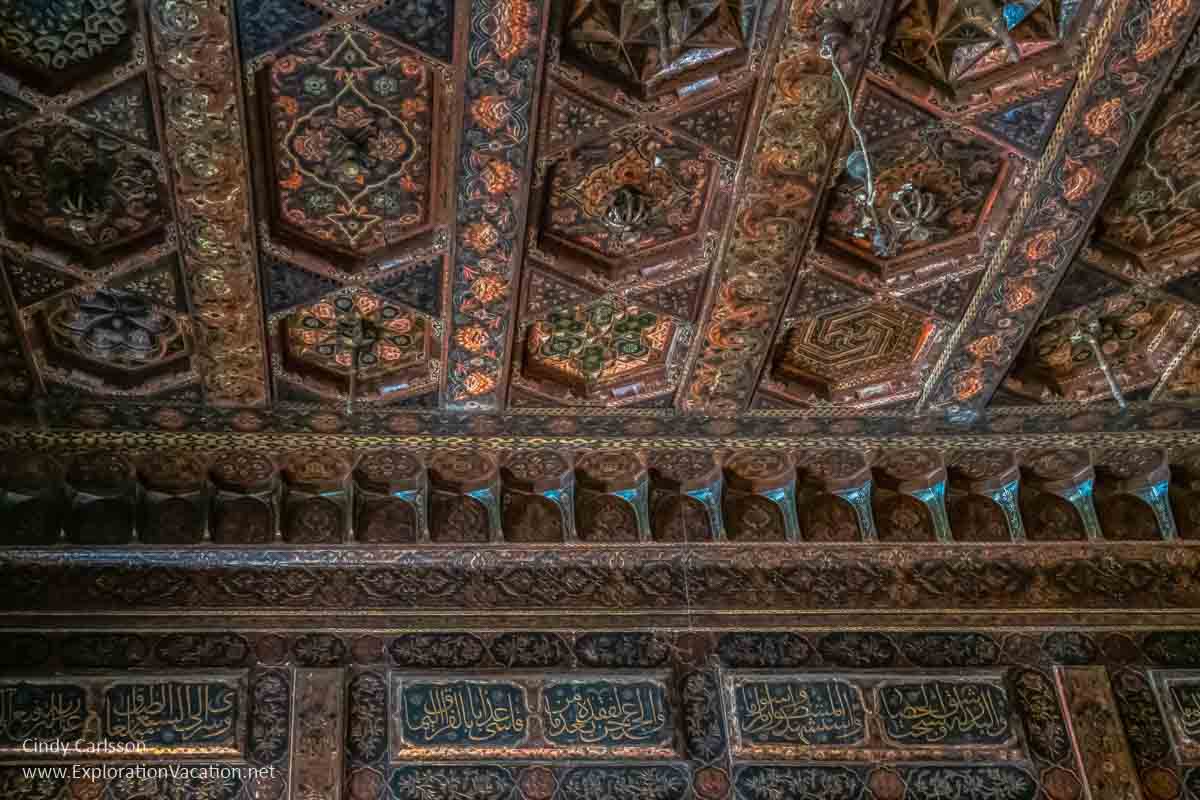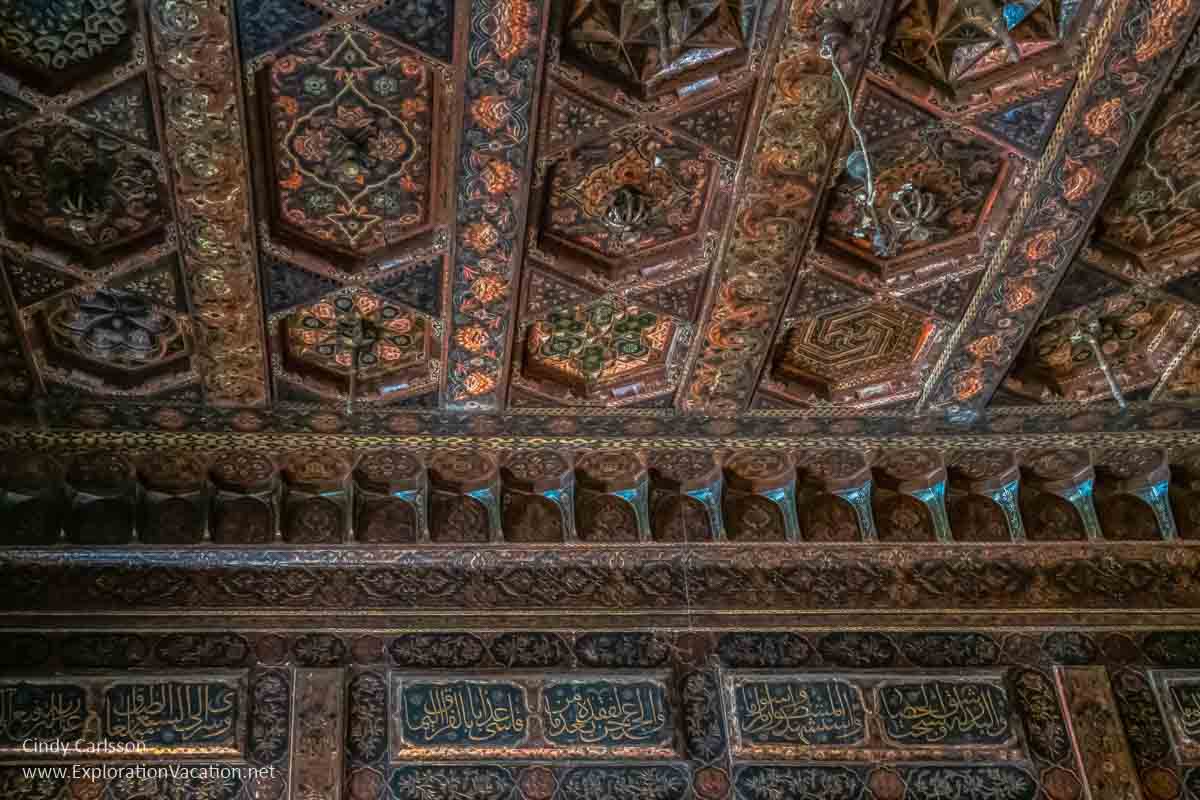 The room also features an elaborate bed and furniture from Syria.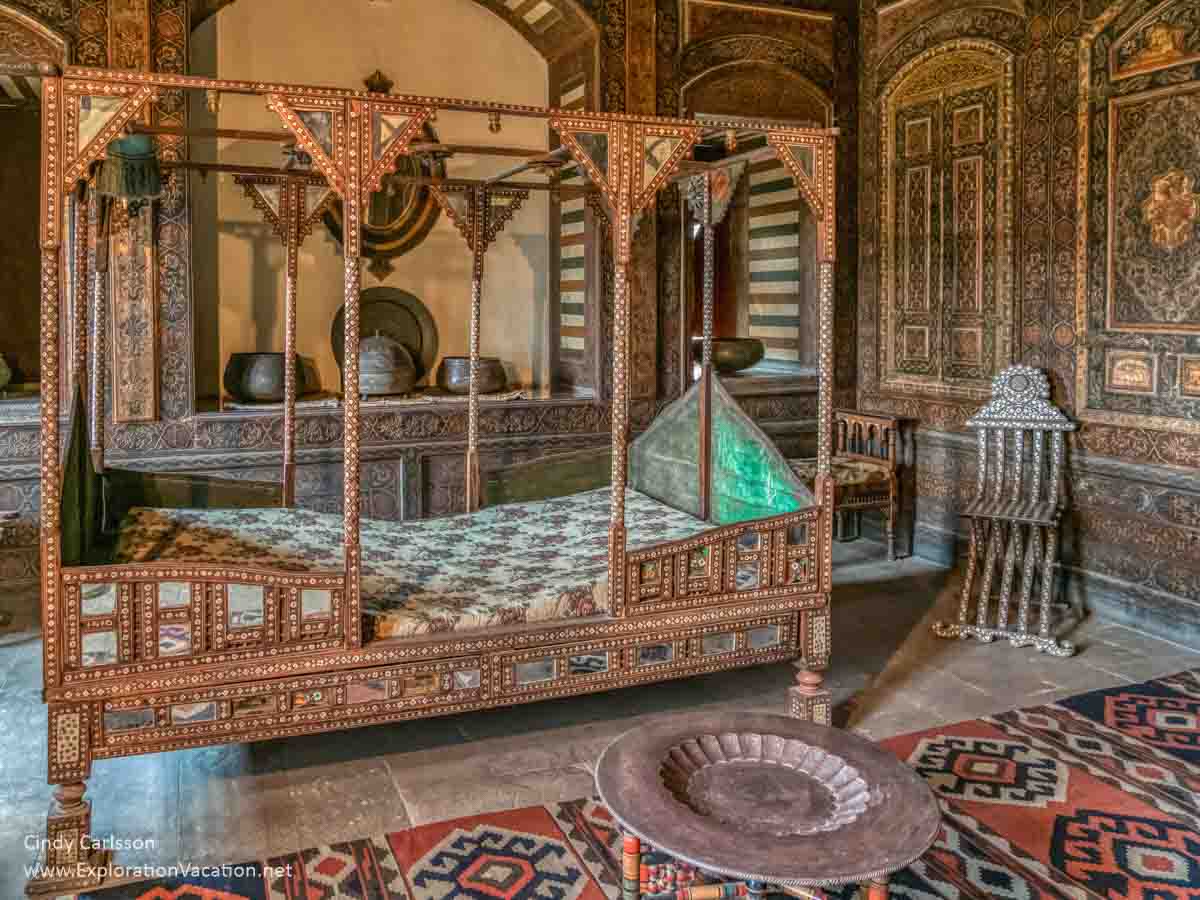 A fabulous rooftop terrace
Bayt al-Kritliyya also has a fabulous rooftop terrace with intricate mashrabiya screens and views over the Mosque of Ibn Tulun and the surrounding city.
Originally, the house had at least two more rooms up here, likely the remainder of the original hareem. Those rooms were not restored with the rest of the house, so Gayer-Anderson created these outdoor rooms using mashrabiya he collected as other houses were demolished.
Along with the impressive collection of mashrabiya (including some rare examples with Christian imagery), the rooftop has a few large storage jars, a collection of marble basins, and an unusual sundial.
A private house offering a public service
Bayt al-Kritliyya has a sabil.
Sabils were the public water fountains of their day. A passerby could stop here to get drink of fresh water or a jar of water for their household. Despite this seemingly secular purpose, sabils were considered religious buildings. As such, they were often constructed as part of a mosque or madrasa. By the Ottoman period, when Bayt al-Kritliyya was built, a sabil usually included an upper level, called a kuttab, where children learned to read the Quran.
Rulers and even minor nobles funded many sabils, but as public structures. A private home with a sabil is usual.
Museum guides explain how the sabil worked. However, most of the emphasis is on a set of brass plates Gayer-Anderson commissioned to tell stories about the house. Stories that begin when Noah's ark landed on this hill after the flood. . . .
I'm more interested in WHY someone would build a sabil in his home. What happened in the life of Hajj Mohammad ibn al-Hajj Salem ibn Jilmam al-Jazar that he chose to honor God this way, instead of funding a sabil at a mosque or another public place?
Aside from its location in a private house, the sabil itself is quite traditional. It has stone walls with large openings and a decorated wood ceiling with verses from the Quran. Below the floor, a very large cistern stored water brought to the site from the Nile.
And, of course, it is separated from the family quarters.
The sabil is in a corner of the house along the alley that led to the mosque and what is now a garden. However, that garden would have been a street or alley when the house was built. And, while the sabil also opens into the house, it opens into the home's entry vestibule (part of the dogleg that ensured privacy) and a stairway to the kuttab above. So, while part of the house, it seems likely the sabil was also well separated from the family's rooms.
(Appropriately, Gayer-Anderson used the kuttab as a book room that includes a display of Quran holders. He used the sabil below to entertain guests.)
Artwork in the museum
Gayer-Anderson collected Egyptian antiquities, furniture, carpets, swords, paintings, tile, glass, pottery, brass, and more. Much of this collection is incorporated into the museum's décor, although there are also small galleries and dedicated exhibit areas scattered throughout. Museum spaces along the courtyard also display specialized collections.
I didn't spend a lot of time with most of these collections. Having visited both the Egyptian and Coptic museums on more than one occasion (and knowing the Islamic Museum was next on my itinerary), they didn't seem worth a lot of my limited time. However, if you don't plan to visit the Coptic or Islamic museums, allow time to look more closely at the collections here.
Paintings, prints, and drawings are displayed in every room and in a couple of gallery areas. Many are European in style, but there are also some intriguing pieces from North Africa, the Middle East, and beyond.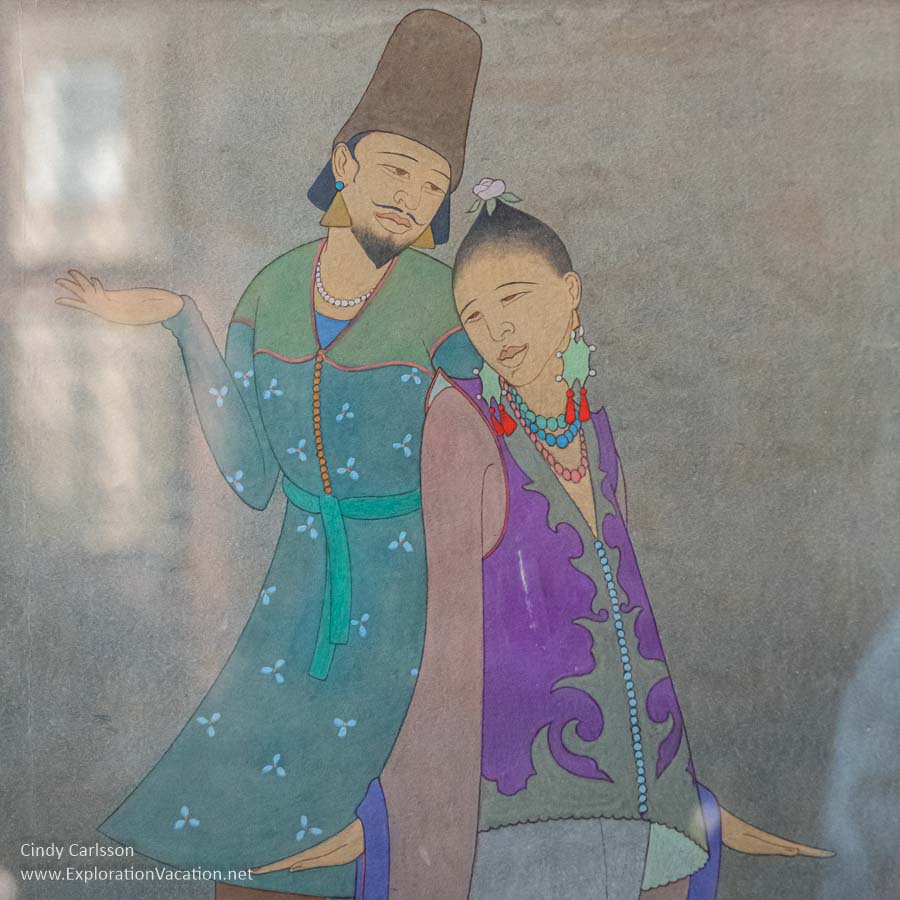 (Sadly, the lighting is poor and there is little or no information on most of the art.)
There are also antique tiles scattered throughout the house.
These clearly represent a range of Arab cultures over a long time period. Unfortunately, like most of the other art, there isn't information on most of them.
Plan your visit to the Gayer-Anderson Museum
Although some distance from more familiar tourist sites like the Khan al-Khalili, the Gayer-Anderson Museum and Ibn Tulun Mosque are part of the same area  — usually described as Islamic Cairo, but sometimes called Historic Cairo.
While most visitors come to Egypt for the pharaonic ruins, this part of Cairo offers a fascinating glimpse of the city's long Islamic history.
Learn more about the Gayer-Anderson museum
Take a virtual tour of the Gayer-Anderson Museum. This site offers a scalable high-definition 3D image of the entire house (viewable from all directions), floor plans, a visual "walking" tour through the house, and a video tour. I highly recommend taking a look at the 3D schematic to get a sense of how all the pieces fit together. (It's so detailed you can zoom in and get a good look at most of the items on display!) However, if you are subject to motion sickness, I recommend skipping the video tour or taking anti-nausea medication before beginning the video tour.
The Egyptian Ministry of Tourism and Antiquities is in the process of creating a beautiful modern website. However, the web page on the Gayer-Anderson Museum has rather limited information on the house layout or the items in it. But, fortunately, it has opening hours, ticket prices, photography policies, etc. (That information may or may not be up-to-date at any given moment, but it gives you an idea of what to expect.)  It also has links to the virtual tour, but the experience is better if you use the above  link instead.
The Ministry of Culture and the American University in Cairo published the Guide to the Gayer-Anderson Museum by Nicholas Warner in 2003 and 2005.  It's a 52-page paperback that includes floor plans and black and white photos. It's also basically unavailable. (You can buy it on Amazon today for just $775.) Keep an eye out and, if you see one at a yard sale for a few dollars, grab it fast. If you find two, send one to me!
A portion of the James Bond film the Spy Who Loved Me was shot in Cairo. A test film shows scenes shot in the Ibn Tulun Mosque and Gayer-Anderson Museum. In the clip you can see Bond (Roger Moore) walk through a section of the Ibn Tulun Mosque, enter the house, meet a woman in her "bedroom" (actually the Celebrations Hall) where he is observed and shot at through the mashrabiya screens (of course it is the woman who is killed), race up the stairs, and engage in a dramatic rooftop fight. The acting is wooden, but the cinematography is great.
Gayer-Anderson is also quite a character. There are a few articles online that dig into his life, including ones in the Irish Independent and Arab News. Personally, I find him pretty creepy and don't have much interest in getting to know him better. However, he was in Egypt at an interesting point in time and met pretty much everyone who was anyone while there. So, if you want to know more, Louise Foxcroft used his journals to write a biography called Gayer-Anderson: The Life and Afterlife of the Irish Pasha. You can buy it at Bookshop.org or AbeBooks (affiliate links).
Other traditional Cairene courtyard houses
Although the government demolished most Islamic courtyard houses almost a century ago, a handful remain.
Bayt al-Suhaymi (Beit el Seheimy) is a 1648 courtyard house that was expanded over the years by incorporating neighboring houses into it. It retains many beautiful mashrabiya screens, marble floors, wood ceilings, and enamel tiles. Although similar to the houses that make up the Gayer-Anderson Museum, it sounds like Bayt al-Suhaymi has more features, including a hamam (bathing facility), a grain mill, and gardens. It's located on El-Moez (Al-Muizz) Street, an area with many very old Islamic buildings. There is a fee to tour the house.
Beit Zeinab Al Khatoun is a 15th century Mamluk era courtyard house with what is claimed to be fabulous rooftop views. While it's been open to the public in the past, it seems that may not be true now. The 18th century Beit al-Harawi house is located across the street. (Both are near Al-Azhar Mosque.) It's now a concert hall. While a few rooms were restored to their original appearance, it's apparently a better place to hear a concert than to learn about historic architecture. Still, if you are in the area, it's worth checking to see if they are open.
See more photos of the Gayer-Anderson Museum or elsewhere in Egypt on CindyCarlsson.com.