(Last Updated On: October 13, 2022)
If you've seen the American Swedish Institute (ASI) in Minneapolis, Minnesota, but never stopped to visit (or haven't visited in a decade), you might be surprised to discover what you are missing.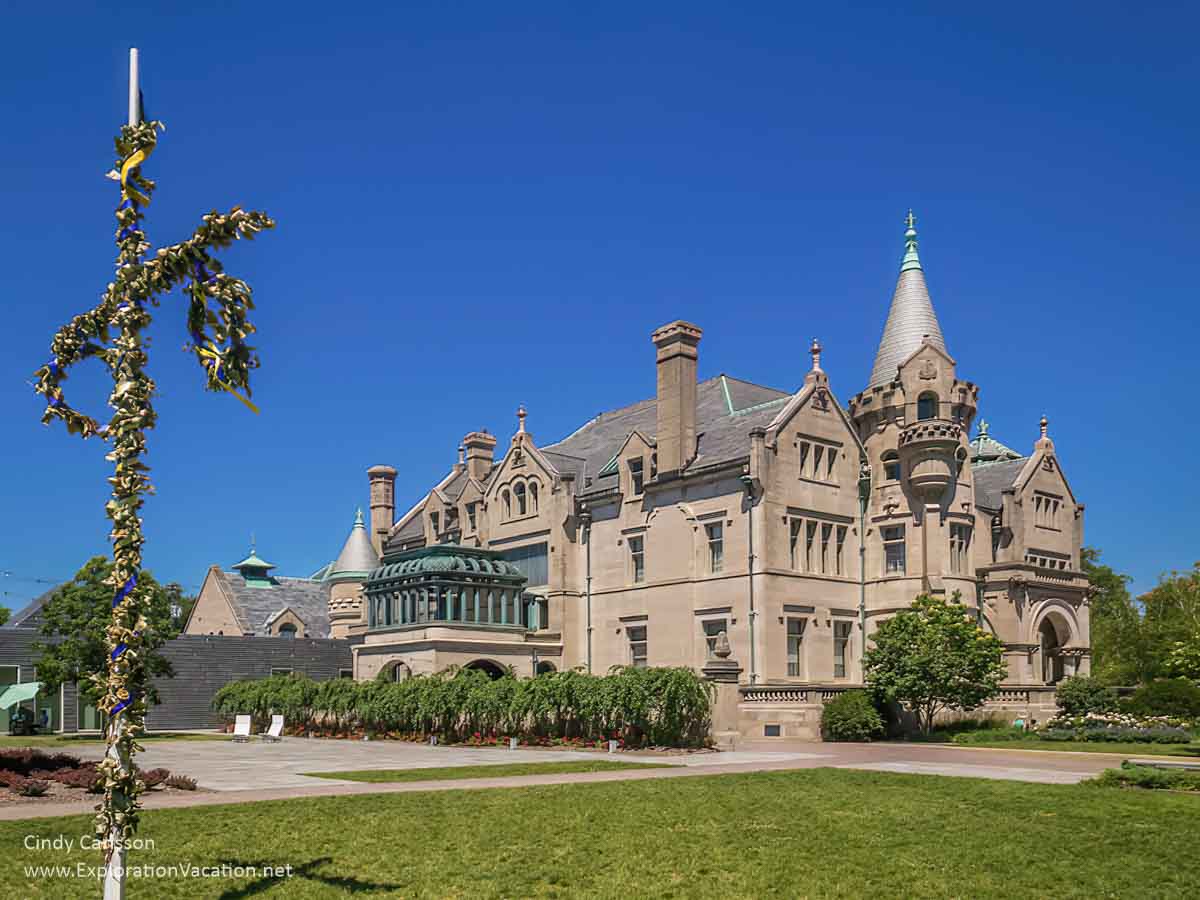 Housed in the grand mansion of Swedish newspaperman Swan Turnblad, ASI could be just another house museum, albeit one with a great collection of Scandinavian art glass. But it's not.
Long a center for cultural activities heavy on Swedish tradition, ASI still hosts a wide range of cultural activities, exhibits, performances, and classes. But today it might be better known for intriguing art exhibits, modern Scandinavian cuisine, and hip cocktail parties. As such, the Swedish Institute remains rooted in Swedish culture and history, but firmly embedded in the modern world.
So, come along with me to discover stories of immigration, architecture, and Scandinavian culture past and present.
History: At home in a castle
The American Swedish Institute is best known for its home: A grand American castle that's listed on the National Register of Historic Places. It's also one of the few remaining mansions along what was once Park Avenue's "Golden Mile" near downtown Minneapolis. An elite neighborhood where 35 mansions once rose above more than 10 city blocks, it was once the most coveted address in Minneapolis.
Completed in 1908, the mansion at 2600 Park Avenue embodies the rags to riches dreams – and occasional reality – of immigrants to the United States in the late 19th and early 20th centuries.
An immigrant success story beyond the ordinary
ASI's home was built as a family home for a businessman named Swan Turnblad.
A Swedish immigrant who came to Minnesota as a child, he left his family's farm as a young man and quickly rose to become a very wealthy newspaper publisher in Minneapolis.
A house fit for a king
Not long after moving to Minneapolis as a young man, Turnblad met Christina Nilsson. She was also an immigrant from Sweden and the two married in 1883. A year later Lillian, their only child, was born. The young family lived in an apartment, perhaps in the same building where the newspaper was located.
But Turnblad was a very wealthy man by the turn of the century. And a time-honored way for the wealthy to show off their success is to build a very large house in a conspicuous location.
Turnblad originally intended to build on land that extended into what was planned to become Loring Park. Not surprisingly, the Minneapolis Park Board opposed those plans. Turnblad eventually purchased six lots along Park Avenue's "Golden Mile" for his home in place of the Loring Park property. . . but only after first arguing his case all the way to the Minnesota Supreme Court.
In 1903, apparently after reviewing several proposals, Turnblad hired the Minneapolis architectural firm of Boehme and Cordella to build his Park Avenue home.
Although they were a new firm, partners Christopher Boehme and Victor Cordella had impressive resumes. Boehme had completed architecture training at the University of Minnesota, a rare thing in those days. Cordella, a Polish immigrant, had worked for several notable architects in both Minneapolis and Saint Paul, including Cass Gilbert. And they both worked under Warren Dunnell, who focused his practice on churches and large institutional buildings that incorporated a mix of European revival styles.
Given their background, it's not particularly surprising that the pair designed an enormous mansion in the form of a rather imaginative French Renaissance chateau.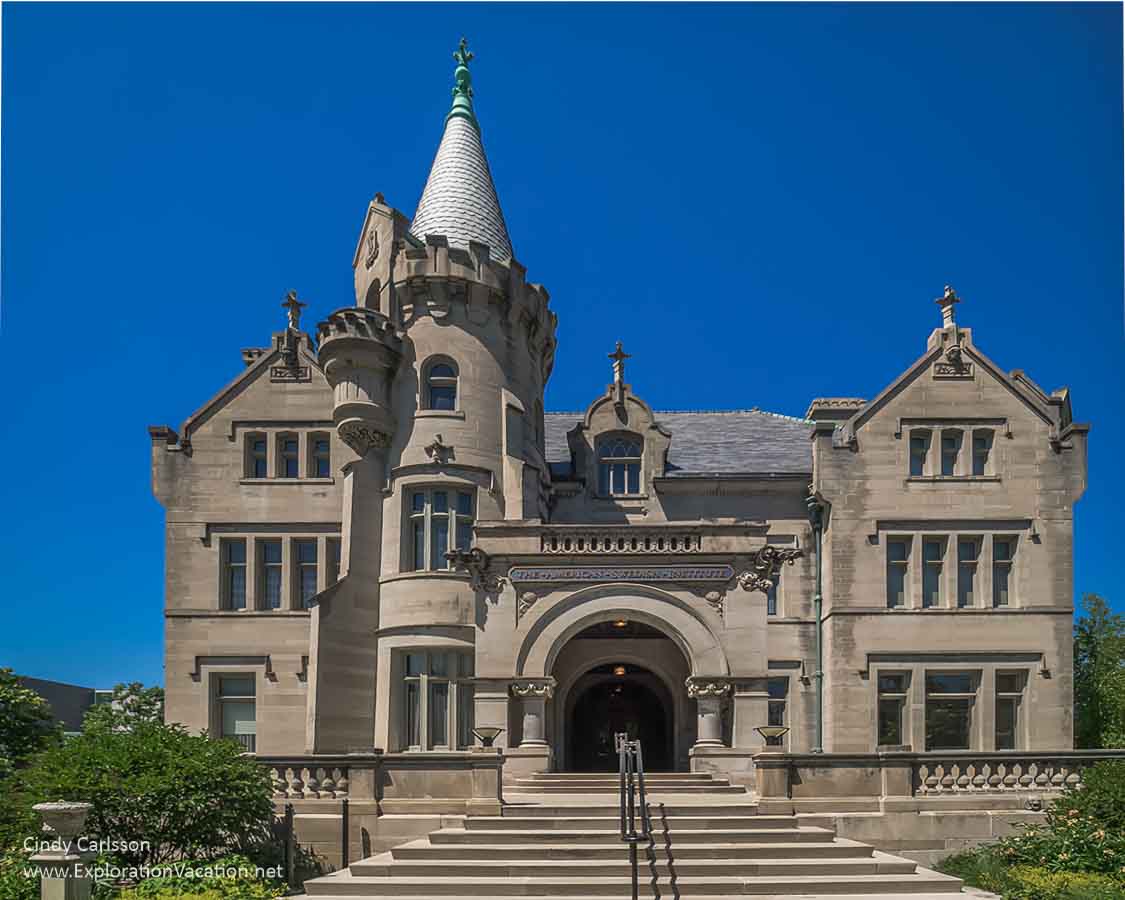 Only the finest of everything
The limestone exterior features towers, turrets, dormers, chimneys, and gargoyles. No expense seems to have been spared when it came to embellishing the three-story 33-room mansion. The finest materials were ordered from around the world. These then went to the city's most highly skilled craftsmen to turn them into hand-carved embellishments in stone, wood, and plaster.
But these extras went beyond decorative elements. Turnblad was always interested in the latest technology, and this was as true in his personal life as it was in his business. For example, separate elevators served the main house and in the two-story carriage house where Turnblad housed both his electric car (a Waverly, the first commercially produced electric car in Minneapolis) and the family's servants.
But all of this grandeur and attention to even the smallest detail came with a big price tag.
Estimates put the cost to build the house as high as $1.5 million dollars (equal to around $45 million today) and it took at least four years to complete.
It also resulted in lawsuits and chaos within Turnblad's publishing company as shareholders, employees, and even family members questioned the legality of Turnblad's business and financial finagling and ethics. In the end, Turnblad's brother and many other key employees left the company.
Little reminders of Sweden in the decor
Surprisingly, despite Turnblad's later interest in honoring Swedish heritage and culture in Minnesota, he built his own home with few distinctly Swedish features.
Even more than the exterior, interior elements reflect a mélange of European influences. Many rooms have the dark, heavily carved woodwork often associated with old European castles in general. A few reflect other styles, including some with dainty Rococo plasterwork that seems vaguely Gustavian (or maybe French) and one that is vaguely Moorish.
But a few embellishments are definitely Swedish. Two are particularly notable: The traditional tile stoves found in most rooms and one very large window depicting the medieval siege of Visby, Sweden.
Swedish tile stoves
All but one of the eleven elaborately decorated tile stoves in Turnblad's castle were imported from Sweden. (The other is from Germany, where this type of stove originated.)
Called kakelugnar, stoves of this type were common in Swedish homes. Even the simplest design provided long lasting, radiant heat and many were very beautiful
While Turnblad's stoves were the finest available, they were never used.
The house had central heating and the expensive imported stoves were purely for decoration.
The Visby Window
Above the entrance to the solarium at the top of the grand staircase, a large painted window recreates a well-known painting by a popular Swedish artist.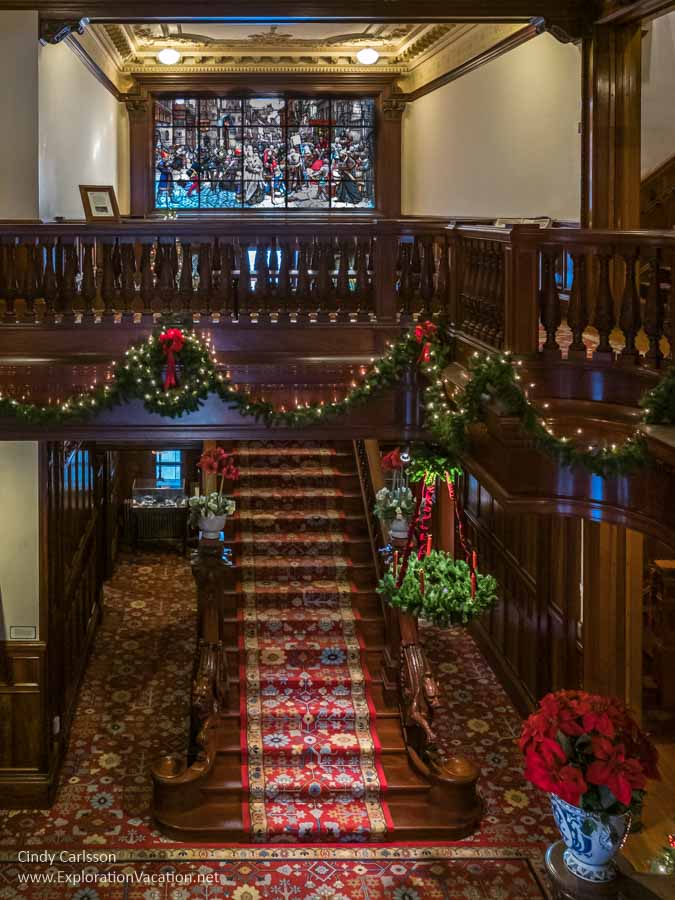 It's one of the mansion's most dramatic and unusual features.
A home, a legacy, or both?
While the family changed their address to their new home in 1908, it's unclear how long they actually lived in the house. It seems it wasn't long.
Turnblad's legacy expands
The American Swedish Institute has existed for over 90 years.
That's a long time for a cultural organization to survive. It's an even longer time for an organization to remain in its original home. And it's even more surprising since only eight of the original 35 mansions along Park Avenue's "Golden Mile" still remain.
But while ASI hasn't changed its address during all those years, it has changed. It has changed both in how it operates and it's changed physically. The Swedish Institute today is changed from what it was in the 1980s when I first started visiting the castle and taking Swedish classes in a ramshackle house next door. And I suspect that what I experienced then was quite different from what existed in the 1950s, let alone the 1930s.
Many of those changes are hard to see. But a few are obvious. And the most obvious of them is the large modern wing that now houses gallery space, a gift shop, café, meeting rooms, and more.
The Nelson Cultural Center
A decade ago, ASI constructed the Nelson Cultural Center. At over 30,000 square feet, this is not a small addition to the original mansion. Nor does it attempt to mimic the mansion's architectural style. It is, instead, a completely modern, environmentally-conscious Scandinavian building.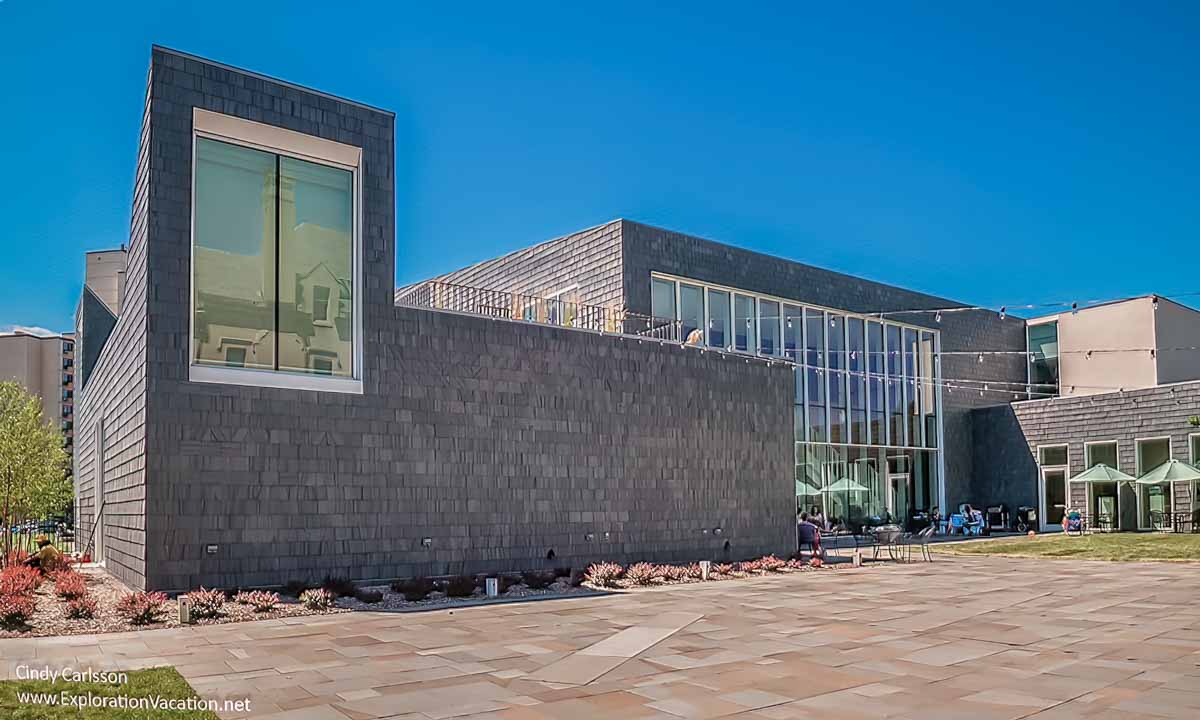 The new addition now serves as a welcome center for ASI visitors. The Swedish Institute's main gallery is also here. And it offers functional space for meetings and events, a café, and the gift shop.
Tour the Turnblad mansion with me
I'm not going to guide you through the entire house room by room. With stairs, an elevator, and 33 interconnected rooms, there are many ways to move through the space. But I will give you a sense of what is on each floor so you know what to expect when you visit. And so (unlike me) it doesn't take you several years to discover the Norse Saga Room!
Entering the American Swedish Institute
One of the big changes brought by the Nelson addition was in how you enter the historic mansion.
Before the addition, the public entered through the original front entrance. This was very dramatic, as you were almost immediately confronted by the grandest space in the entire house.
But it wasn't particularly functional as a museum entrance. And it probably wasn't how most of Turnblad's guests would have entered either. (Most probably would have use the porte cochère to enter from the side of the house where muddy outerwear could be transferred to the servants out of sight of other guests.)
Today all visitors enter the Swedish Institute's castle from the back.
Grand public spaces (and the kitchen) on the castle's main floor
With minor exceptions, all of the rooms on the main floor of the Turnblad mansion were designed for entertaining the family's mostly non-existent guests. The "public" spaces include the elaborate two-story great hall, formal dining room, salon, and music room.
But it also includes a rather mundane kitchen.
Historic kitchen
As you enter the mansion itself, a quick right leads to the kitchen and its accompanying maze of spaces. These include a butler's pantry, dry storage area, and servants' dining area, along with the actual kitchen.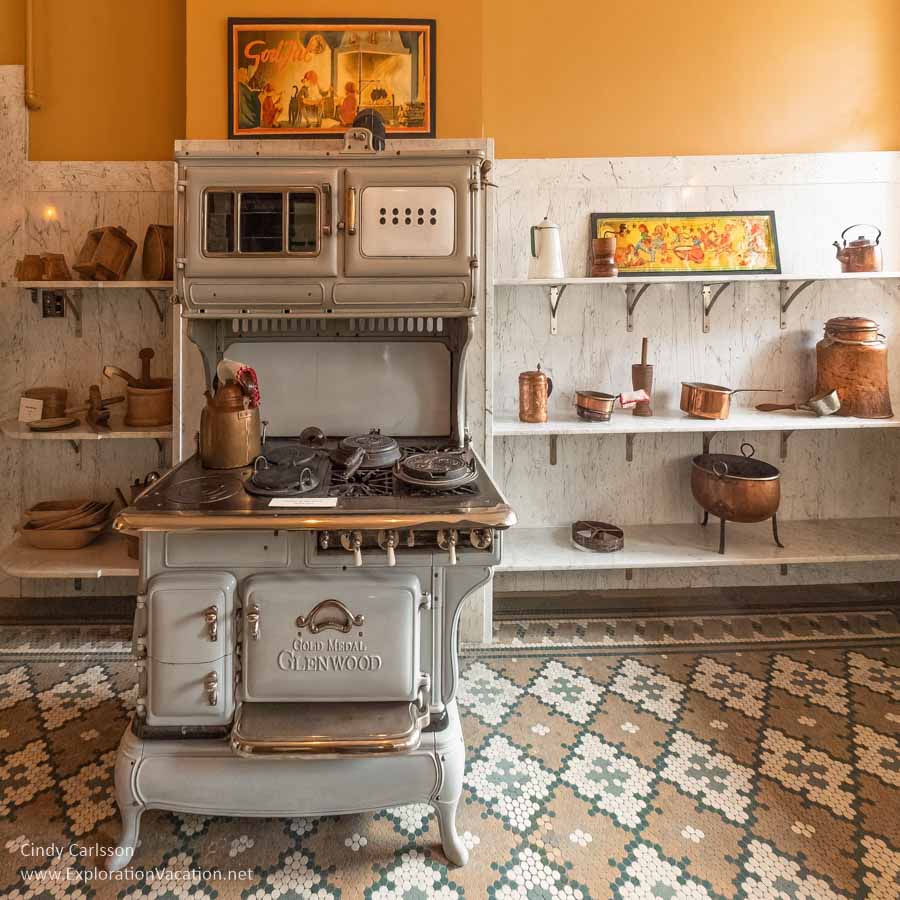 These spaces retain their original configuration. That includes a large street-facing window in the servant's eating area that allowed them to be ready to greet Turnblad when he returned to the house. But kitchen was empty and unused for many years, and with the original stove and such long gone, the current display is just a guess as to what might have been here.
While there's not much to see here, it's the only space that recognizes work of household servants. A house like this couldn't operate without staff. But, unfortunately, the lives and very hard work of the people who made life easy for families like the Turnblads tends to be forgotten. It's good a good reminder that others made sure the Turnblads and their counterparts led comfortable lives.
The dining room
The dining room is just across the hall and through a small ornate room that once served as the breakfast room. But in all other ways, the dining room is very, very far from the kitchen.
The massive Baroque dining room was built to impress, with heavily carved woodwork and furnishings, a wood ceiling, and elaborate built-in cabinets (with plenty of glass to show-off the Turnblads' expensive collection of china and crystal.
The great hall and grand staircase
Since visitors now enter the great hall from the back, it's nice that the two-story great hall is beautiful whether you view it from the front, from the adjoining rooms, or from above.
The entire room is paneled and trimmed with ornately carved mahogany. With a stairway and ring balcony that bring this woodwork to the second floor, this space was once noted as the finest use of African mahogany in North America.
And, of course, the dramatic Visby window (discussed above) presides over it all.
The music room
The mahogany theme continues down the hall and into the music room. These spaces use Honduran mahogany, which is also finely carved.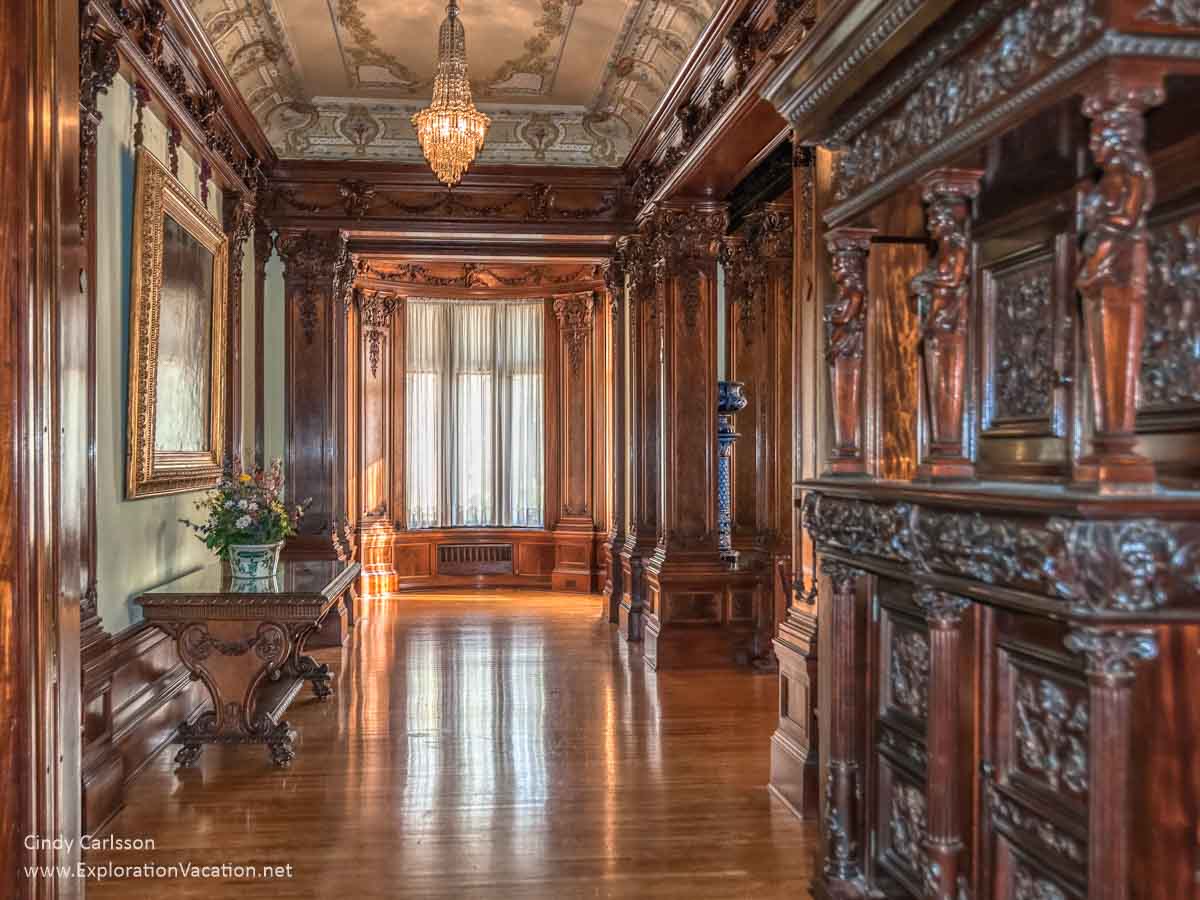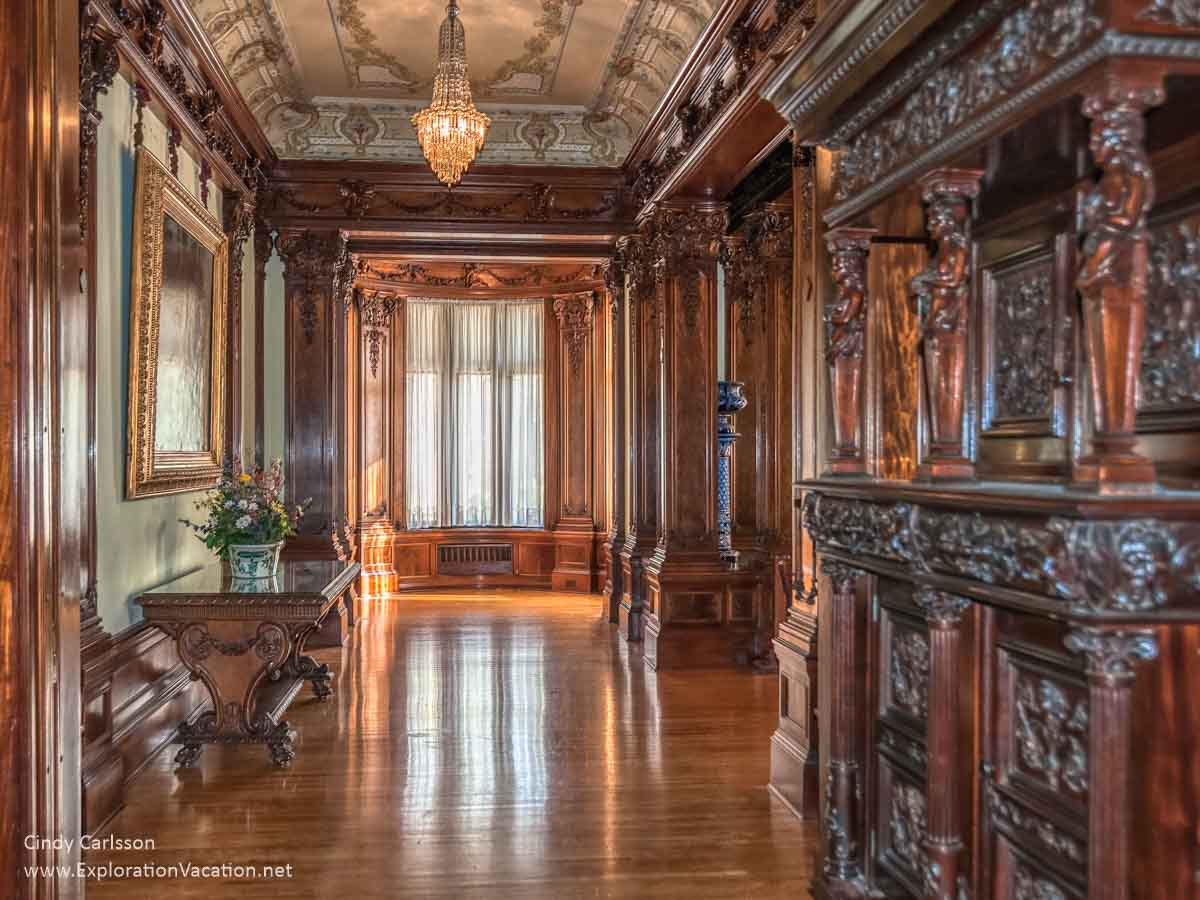 The salon
Completely different from most of the rest of the main floor, the salon is delicate, light, and airy.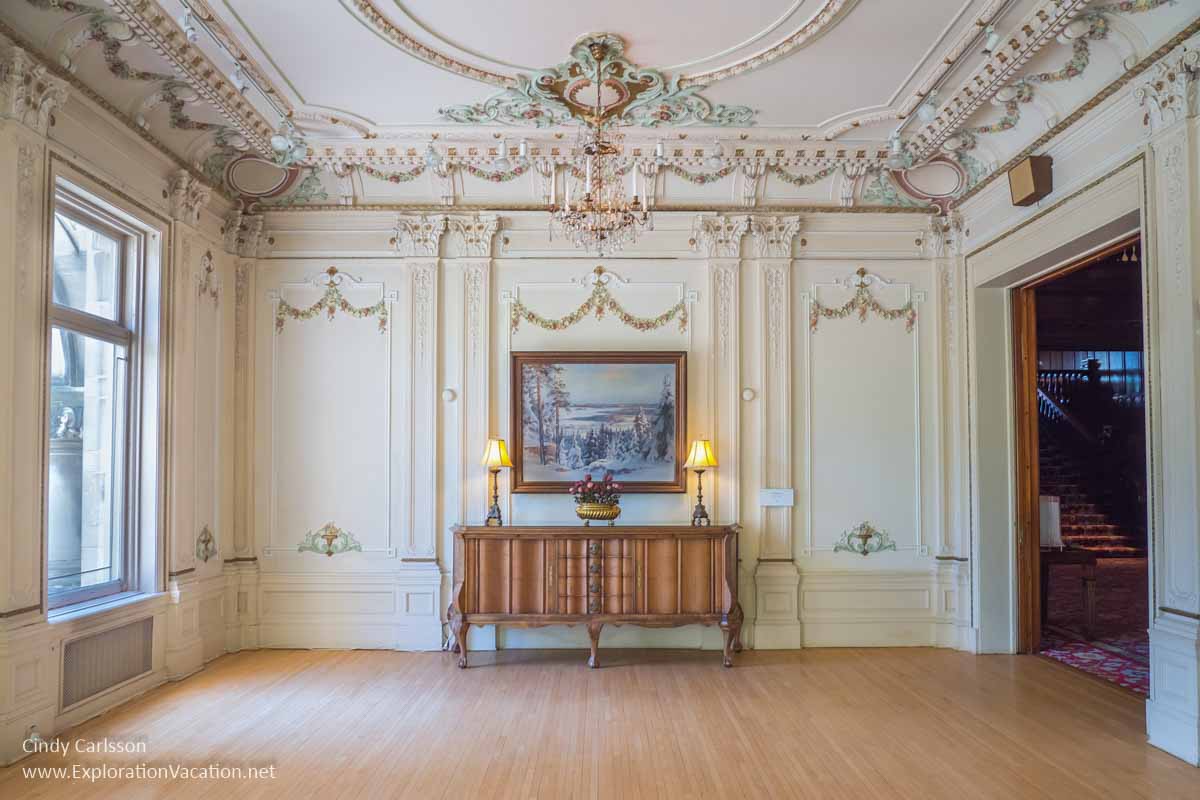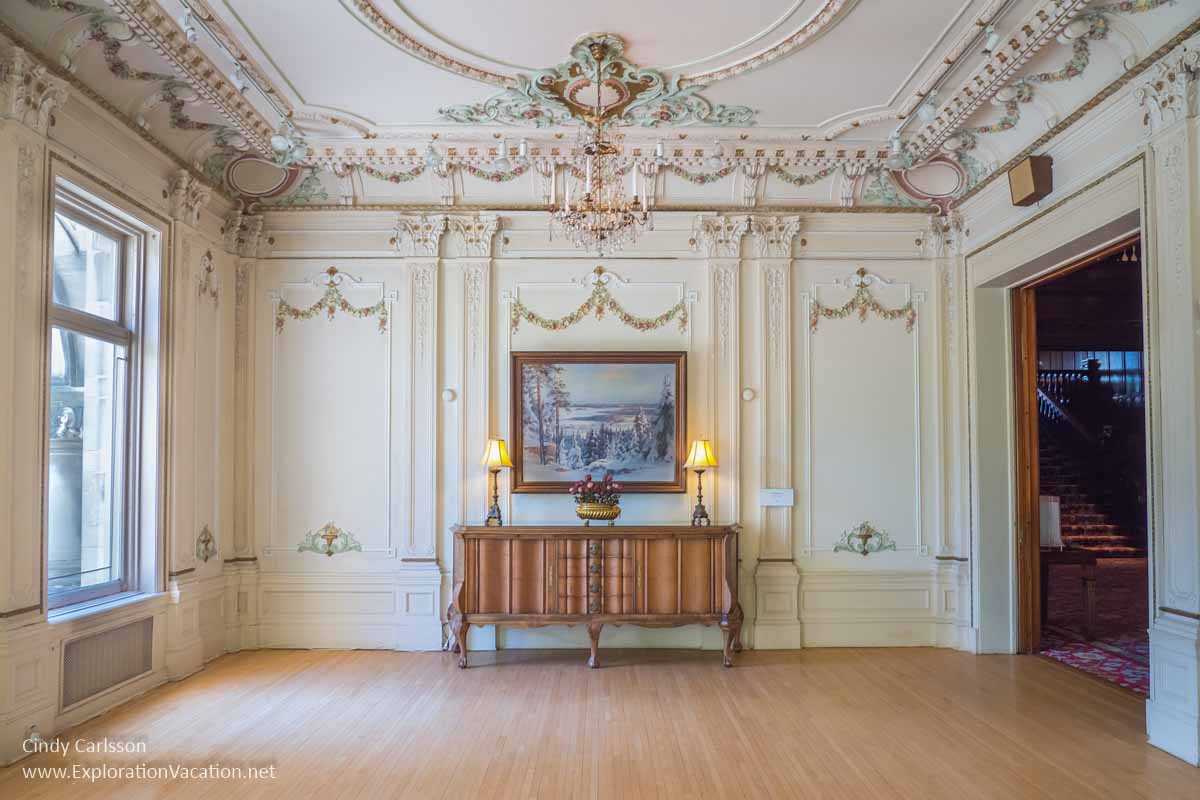 It's also one of the few rooms that would not have looked out of place in a Swedish place of the not-too-distant past.
The salon (a drawing room) was intended as a place to greet guests. However, it appears this lovely room may not have been used by the Turnblads and may have always been nearly empty – as it usually is today.
The Moorish den
Tucked between the grand salon and the dining room, this vaguely Ottoman-style room includes a lamp purchased by the Turnblads in Istanbul.
Historic photo of the den at the American Swedish Institute, Minneapolis, Minnesota. 1933. American Swedish Institute, collection.mndigital.org/catalog/swede:422 Accessed 18 Dec. 2021.
This is probably where Turnblad's hypothetical male guests socialized before dinner. (A smoking room in the basement would likely have served as the men's after-dinner retreat.) Today this room usually has a small display of some sort.
Family rooms on the second floor
Despite the balcony and solarium that seem to invite visitors to climb the grand staircase, the second floor of Turnblad's castle was the family's space. A couple of large, rather elegant rooms served as bedrooms. Other spaces were used as dressing rooms, closets, and washrooms.
Although each is decorated in a slightly different style, all of these rooms are lighter and simpler than the formal rooms on the main floor.
The library
Turnblad's walnut-lined library is also on this floor. More than a library, it seems to have functioned as their living room. And they often took their meals here as well.
The room's trim is relatively simple compared to the home's main floor. And, unlike all of the other stoves in the house, the one here is German.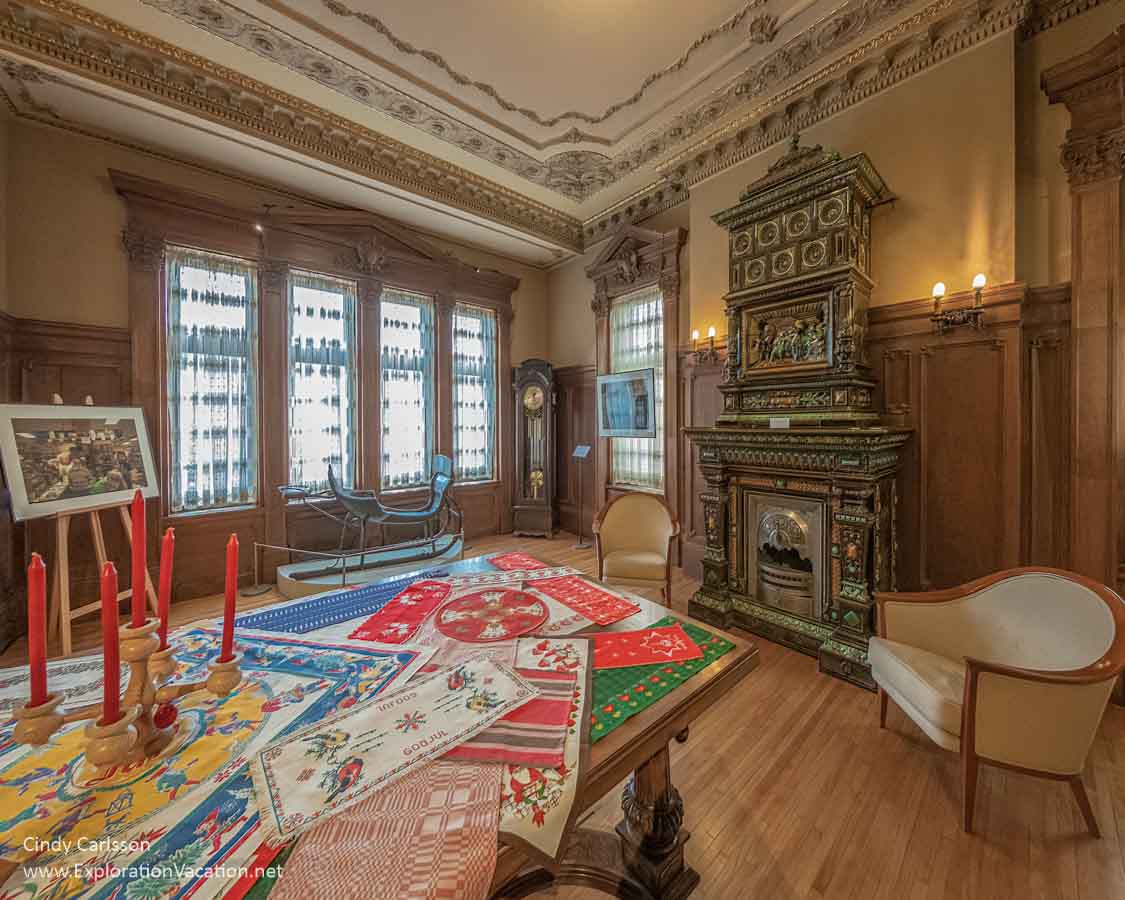 A cozy reading room is located just off the library. That connects to a suit of dressing rooms and bedrooms that fill probably belonged to Mr. Turnblad.
The attic
The third floor is accessible by a steep, narrow stairway or a small elevator.
This is the strangest space in the Turnblad mansion.
It doesn't seem particularly suitable for entertaining, even though it has a large ballroom with a stage. Apparently, there was also a guest bedroom up here. Or maybe it was Lillian's, as she had a studio up here. In many large homes of this era, the attic would have held the servants' quarters. But we know that Turnblad built housing for his staff in the upper level of the carriage house. Still, while the Turnblads lived in the house, it's hard to believe there wasn't living space up here for at least one servant that could ensure someone was available at a moment's notice. And there is a lot of built-in storage, which likely indicates servants did at least some of their housekeeping work up here.
Today this part of the house is used for a variety of exhibits.
The ballroom
The main feature on the upper level is a large ballroom.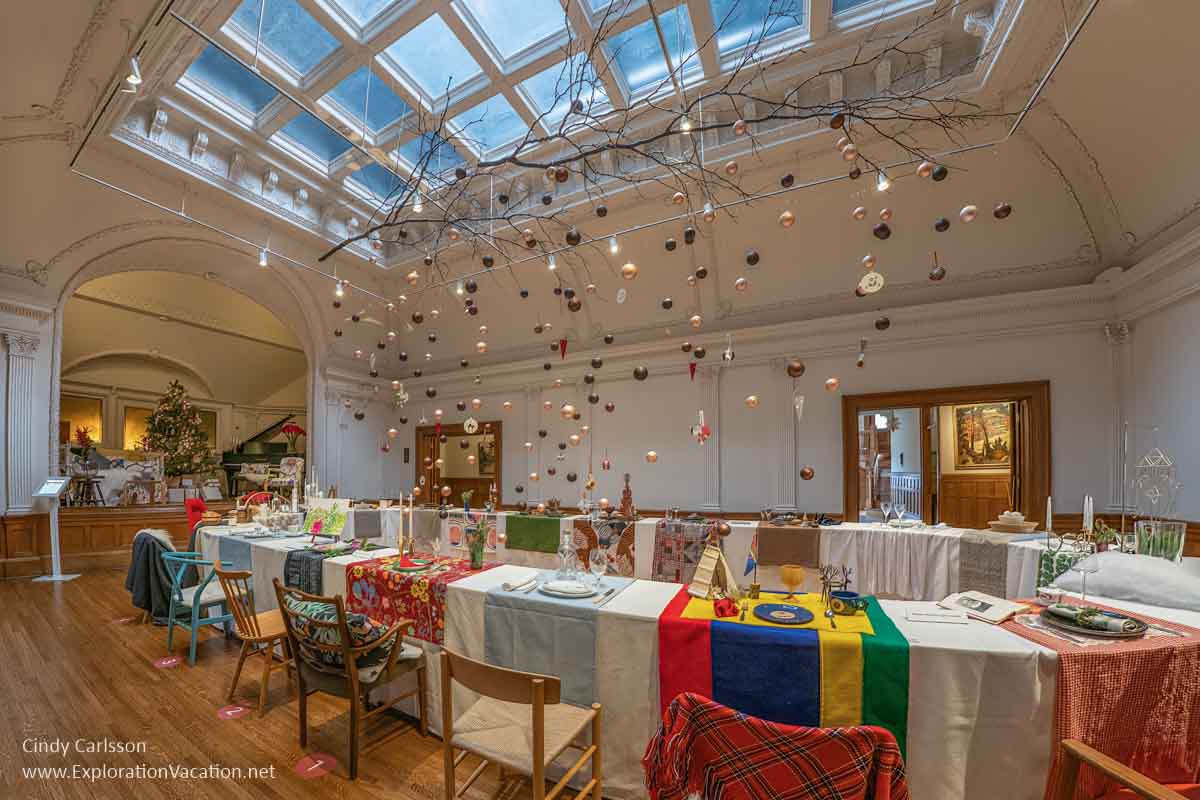 But, while third-floor ballrooms were not uncommon in mansions of the 19th and early 20th century, access to this one seems rather limited, with a very small elevator and steep stairs. But there is space to mingle outside the ballroom and a restroom in the stairwell, all of which seem quite convenient for guests – and very modern. And the space itself is quite grand, with a large stage and big skylights overhead.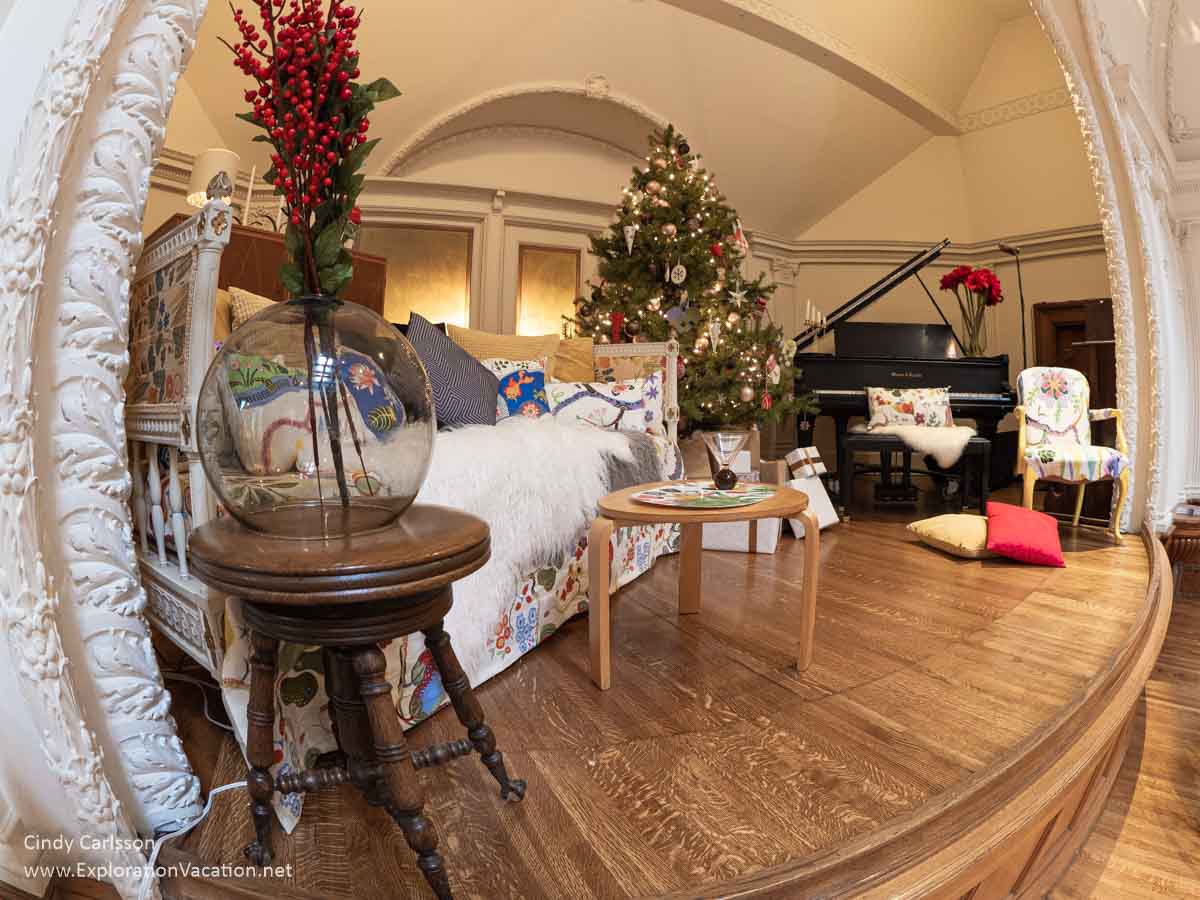 When not used as exhibit space, concerts and other events are held in the ballroom.
The basement
Back down on the main floor of the house (take the stairs or hop in the elevator), the grand staircase leads down to the basement.
Originally, the gymnasium and billiard and smoking rooms were down here. Over time much of the space was altered to serve as an auditorium, bookstore, and café for the Swedish Institute. But the original Swedish stoves were left in place. And they are key to understanding how this part of the house originally functioned.
Based on the location of its distinctive Norse stove, it seems the space once occupied by the billiards room is currently being used as a children's play area.
(Which necessitated some extra protection for the stove and its gnomes.)
On the other hand, I don't know where the gymnasium was, unless it was in the space now occupied by the Kaffe Stuga – the old café that has itself been beautifully updated.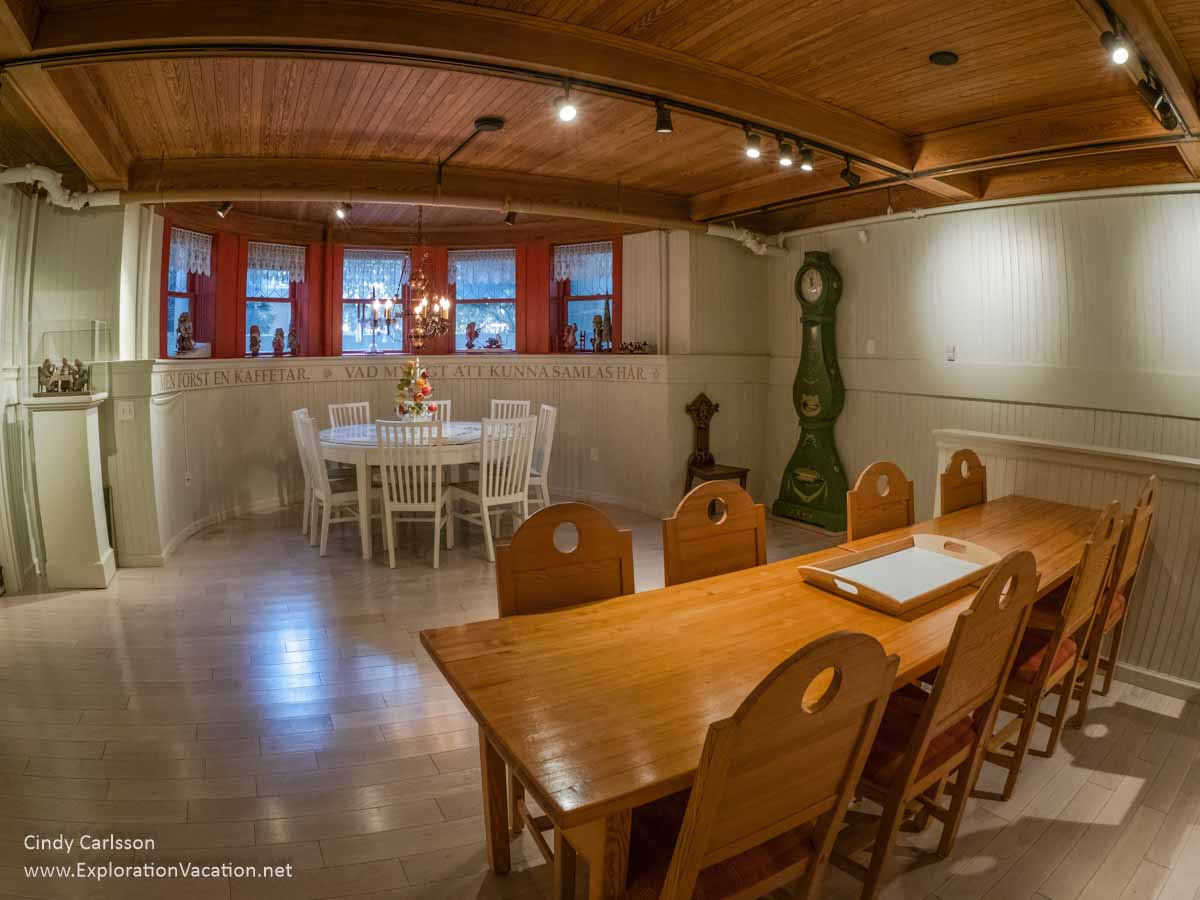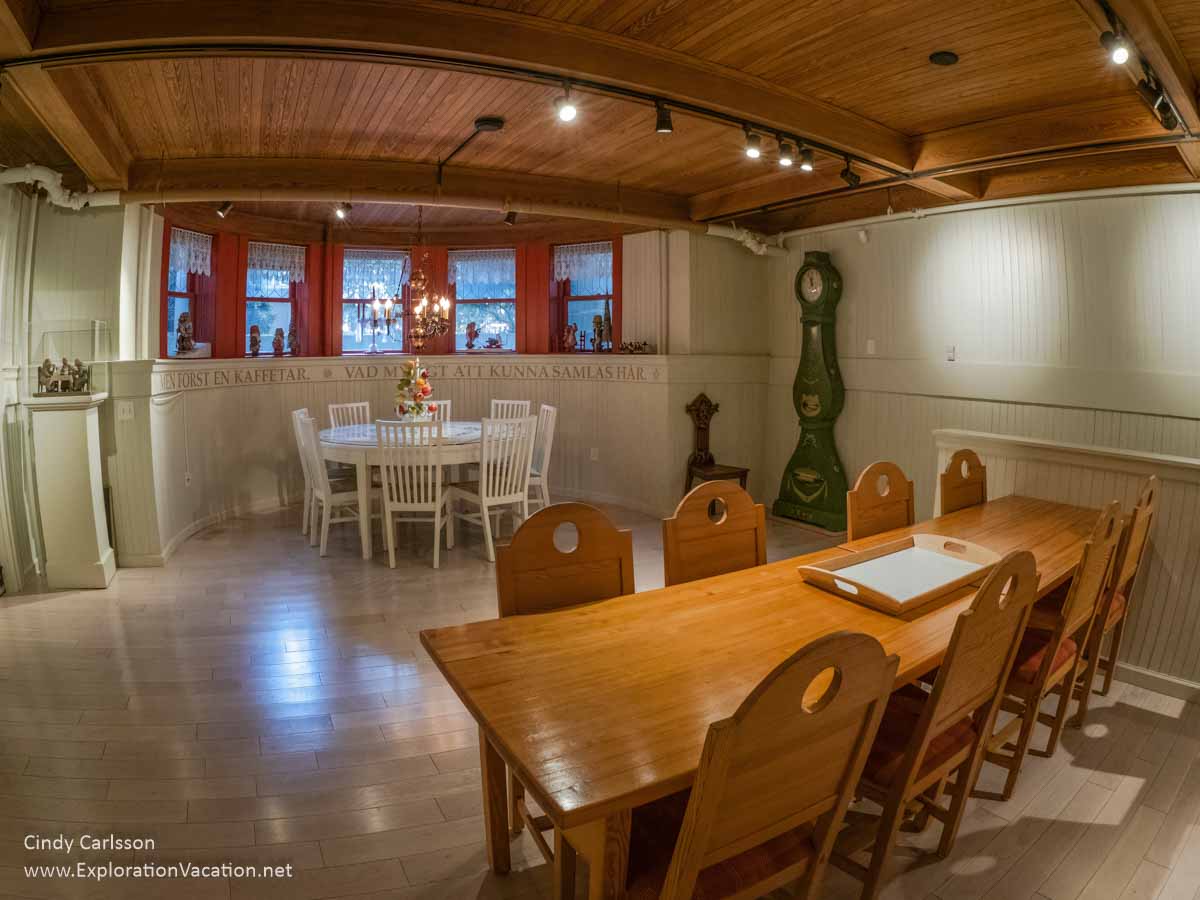 There has been a coffee shop with pastries and a few other light items down here for decades. But with the Nelson addition and the launch of Fika, I assumed it was gone. I only stumbled on it again this fall and have no idea how this space is being used today.
But the real reason to venture down here is to see the new Norse Saga Room.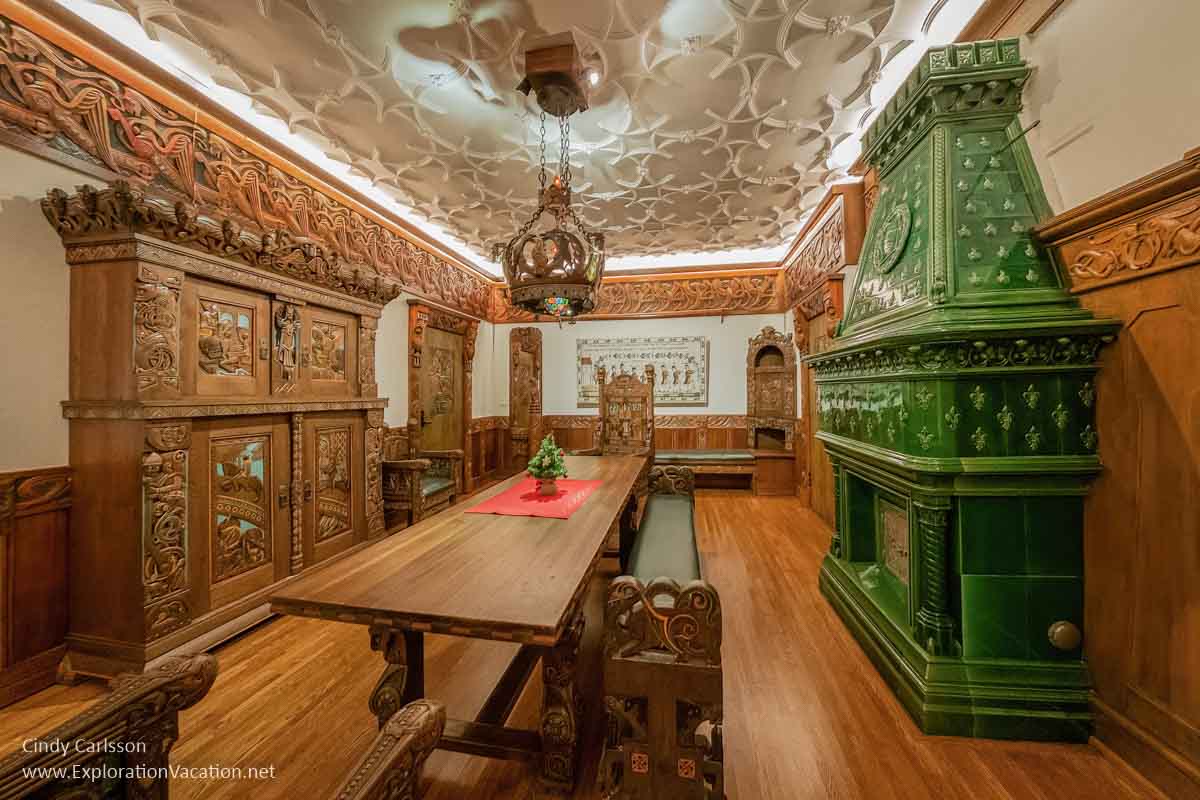 Immerse yourself in art at the Swedish Institute
The American Swedish Institute has always held art and craft exhibits, both as part of the mansion's décor and in spaces set aside specifically for exhibitions.
With large holdings of art from Sweden and by Swedish Americans, the Institute's collection includes everything from wooden folk carvings to art glass and oil paintings. But with construction of the Nelson Cultural Center, ASI really upped their art exhibition game. The new modern gallery space allowed for larger and more complicated exhibits. And they now covered a wide range of materials themes, from traditional crafts and fine arts to art clothing and archaeology.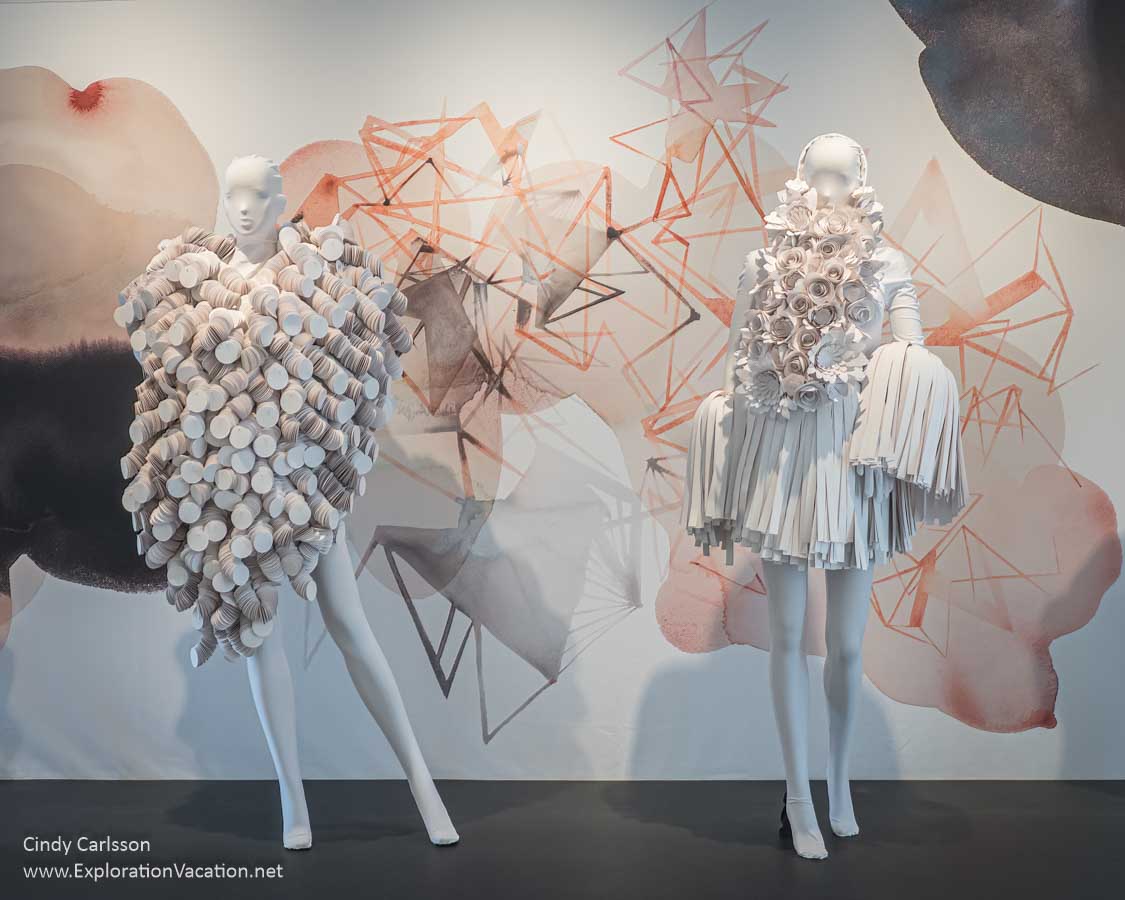 (This was taken last spring at Papier, an exhibit that combined Bea Szenfeld's paper haute couture fashion with Stina Wirsén's illustrations.)
Exhibitions often include a signature show featuring one artist (usually someone Swedish or with ties to Sweden) or idea linked to Swedish art, history, science, or culture. That's supplemented by ancillary exhibits of related work by other artists, often Americans with Scandinavian ties. And ASI still does a few exhibits that show off the amazing work in their own collection.
Celebrate Christmas at ASI
Christmas is a great time to visit the Swedish Institute.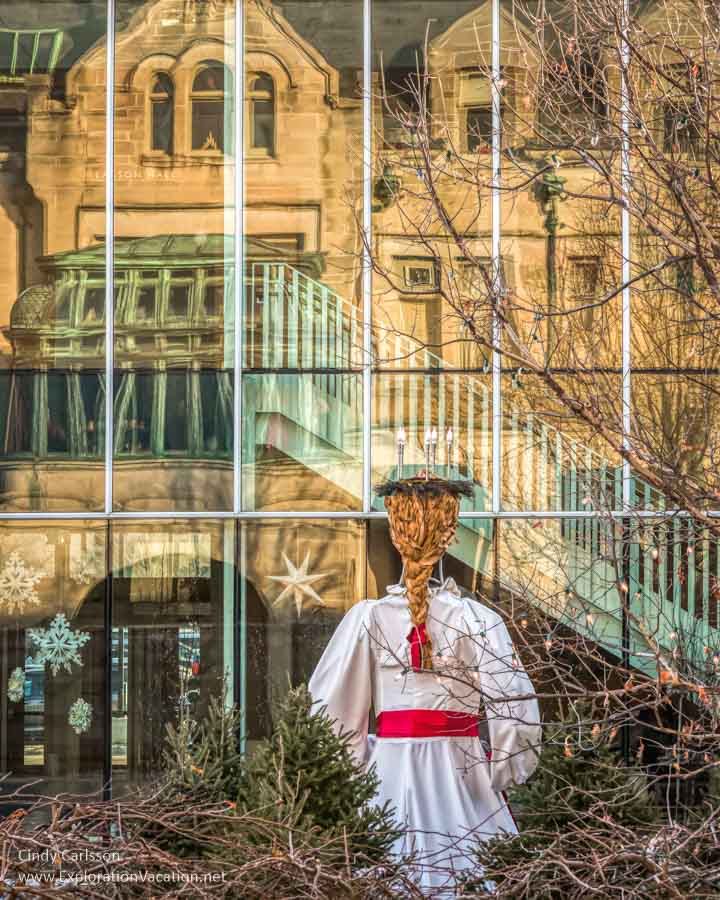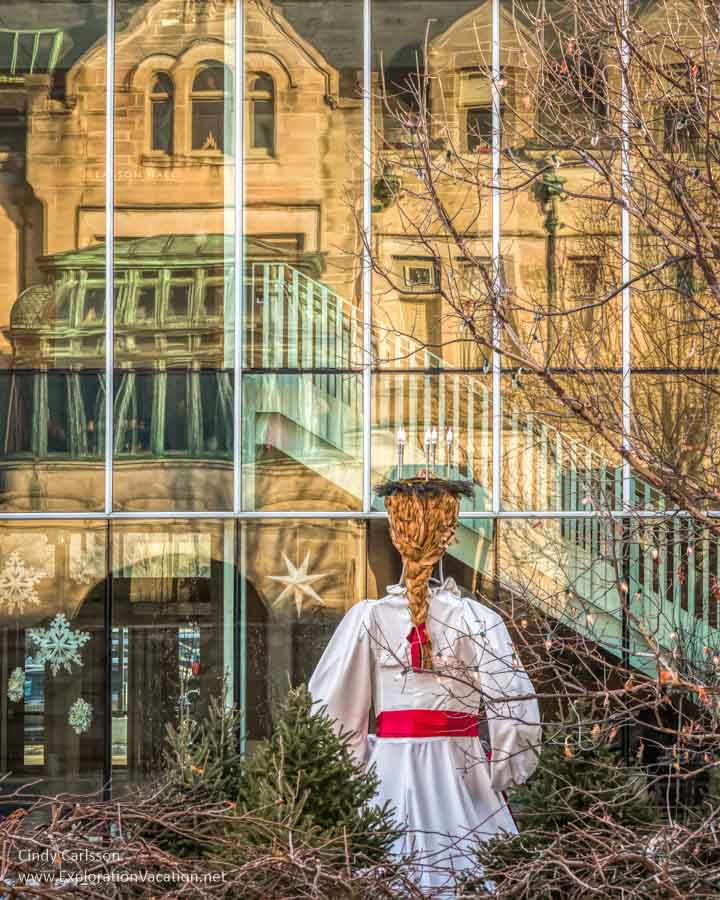 Plan your visit to the American Swedish Institute
The Swedish Institute has a full range of exhibits, programs, and activities for visitors of all ages throughout the year.
While this year's display might not be as dramatic as previous years, Christmas is a great time to visit. I'm not sure how long the Christmas decorations will be up, but probably until early January. (Holiday glögg tours seem to continue into the first week of January, so I'm guessing the decorations will be up at least that long. And, in Sweden January 13 is the traditional day to take down the Christmas tree.)
Currently visitors are required to wear masks inside. Participants in in-person classes or events must also be vaccinated.
Dig deeper
Learn more about Swan Turnblad and Swedish-language newspapers in America:
MNopedia also has information on Swan Turnblad's business and financial activities.
You can read the documentation for the mansion's designation on the National Register of Historic Places (pdf).
Historical photos related to the Swedish Institute and the Turnblads can be found on the Minnesota Digital Library.
A history nerd points out some of the inaccuracies in the Visby painting https://www.annabelfrage.com/2019/01/26/of-anachronisms-and-delighted-shivers/