(Last Updated On: January 20, 2023)
Vietnam's My Son Sanctuary UNESCO World Heritage site preserves beautiful ruins that once formed the spiritual heart of the Champa Kingdom. These ancient Hindu temples are the largest and oldest ruins in the country.
Who are the Cham?
Roughly 2000 years ago a seafaring people began arriving in what is now Vietnam from Indonesia and/or Malaysia. Once in Vietnam, they created a distinct culture of their own. We know these people as the Cham.
Between the 2nd and 17th century the Cham ruled the central and southern coastal regions of what is now Vietnam. Within that region, My Son (Mỹ Sơn, which means "beautiful mountain" and is pronounced "Me Sun") served as the kingdom's spiritual center for over 1000 years.
A brief history of My Son Sanctuary
We have a lot more information about My Son's ancient history than one might expect. Like many other ancient cultures, the Cham erected large stone tablets (called stele) to document important events and personal achievements. Fortunately, many of these still exist.
More than 30 steles were found at My Son. All come from the 5th – 12th centuries and include text in both Sanskrit and Cham. And many document the construction of new temples at My Son.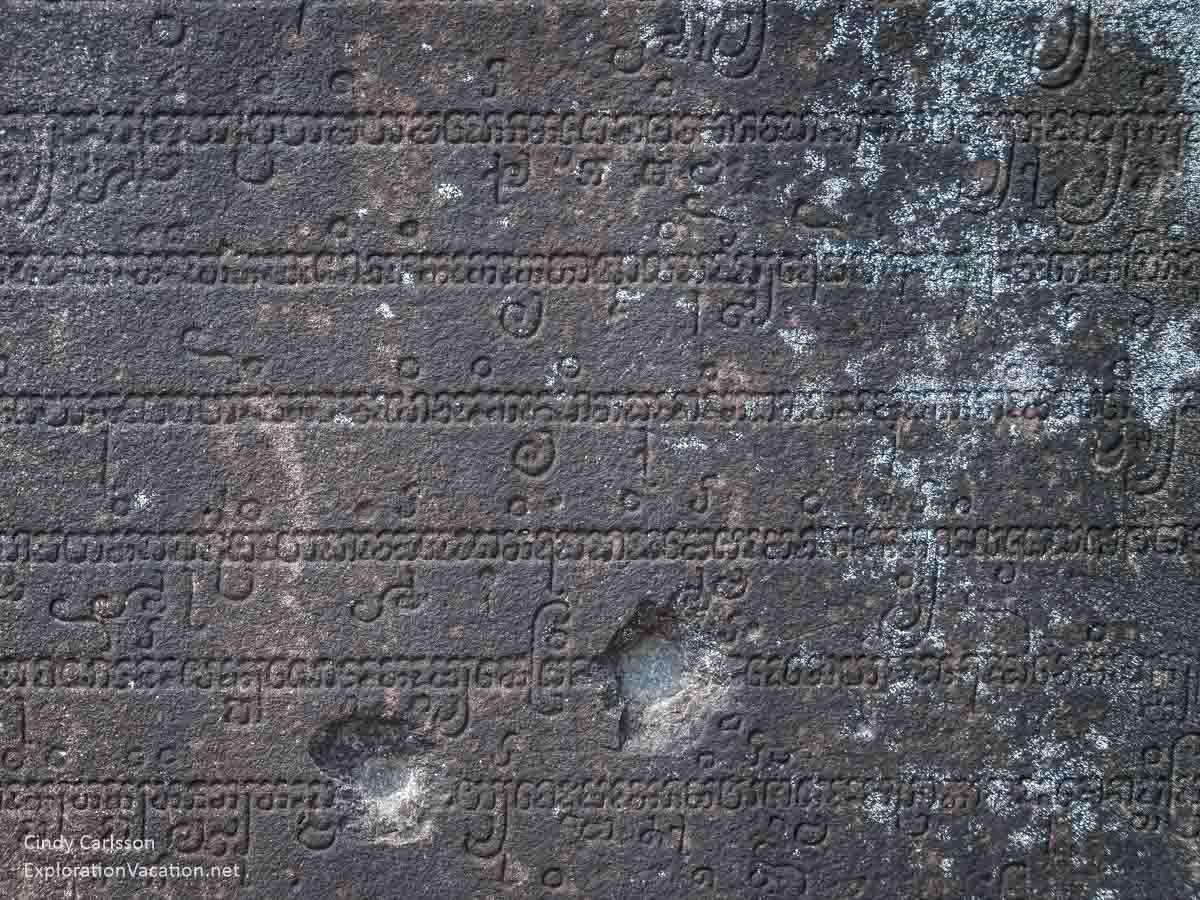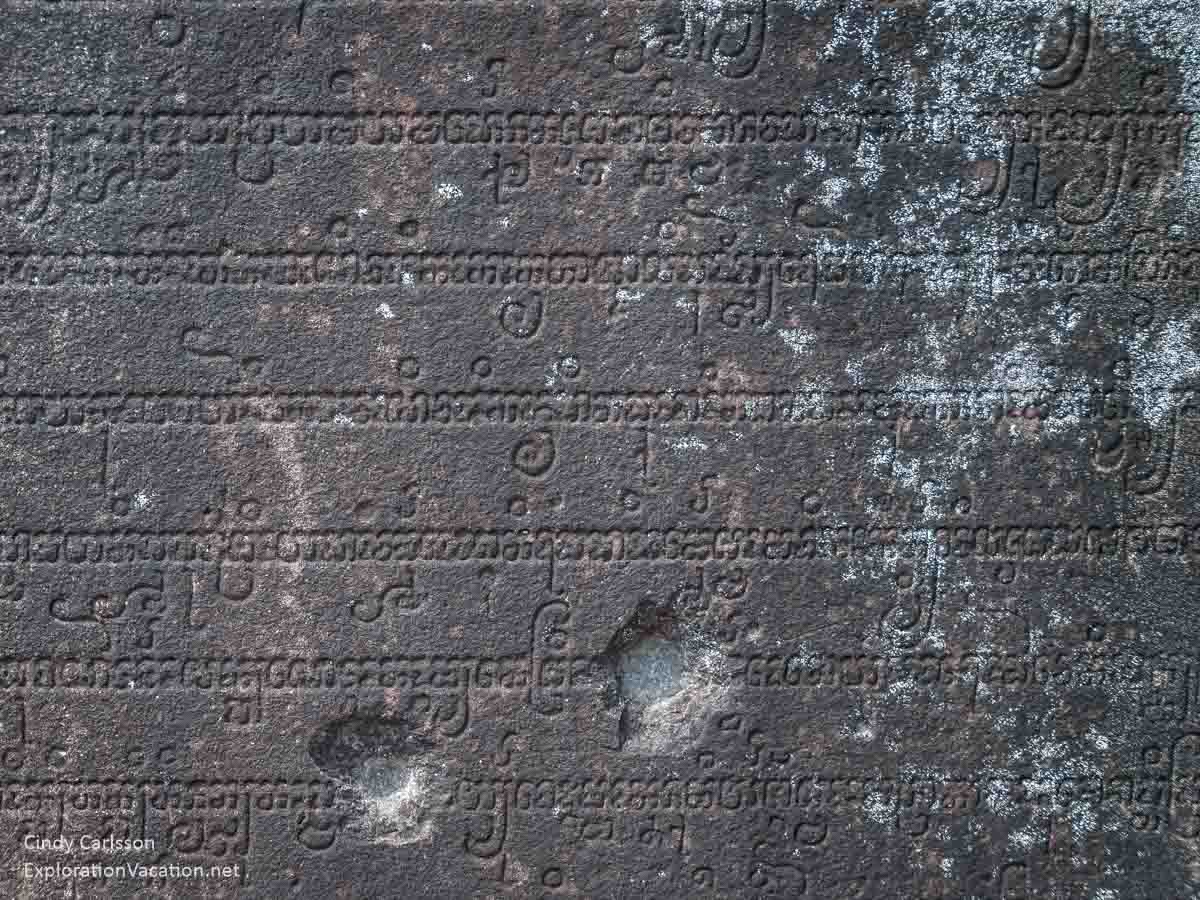 Detail of a stele with Cham script and bullet holes.
While various historical records indicate that the Cham built incredibly beautiful palaces and other buildings, those were built from wood. Only religious buildings were deemed worthy of brick construction, so only religious buildings remain today
Visiting My Son Sanctuary
Early in the 20th century, French archaeologist Henri Parmentier created detailed records of 72 towers. Most were severely damaged or destroyed in 1969.
Tourists visit damaged towers in a section of My Son Sanctuary
But there is still plenty to see.
Cham religious architecture
While far smaller than sites like Angkor Wat in Cambodia or Bagan in Myanmar, My Son Sanctuary is still a relatively complex site. This isn't just one temple with its associated buildings. It's about ten of them. With each having buildings that served different purposes and built (or remodeled) at different times in different architectural styles.
That means that, even with some informational signage, walking around My Son is a little bewildering. Between the ruins that still stand, there's a maze of collapsed buildings, foundations, and sculpture. From the ground, it can be hard to see how it all fits together!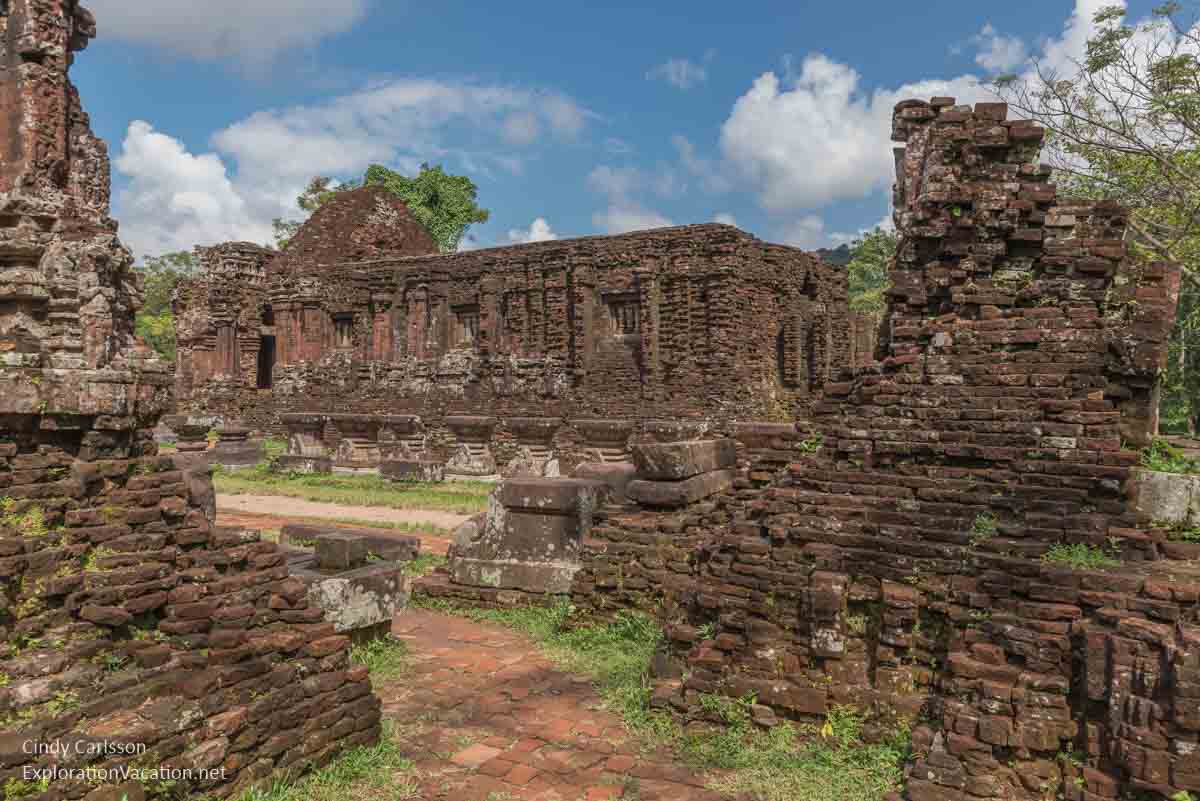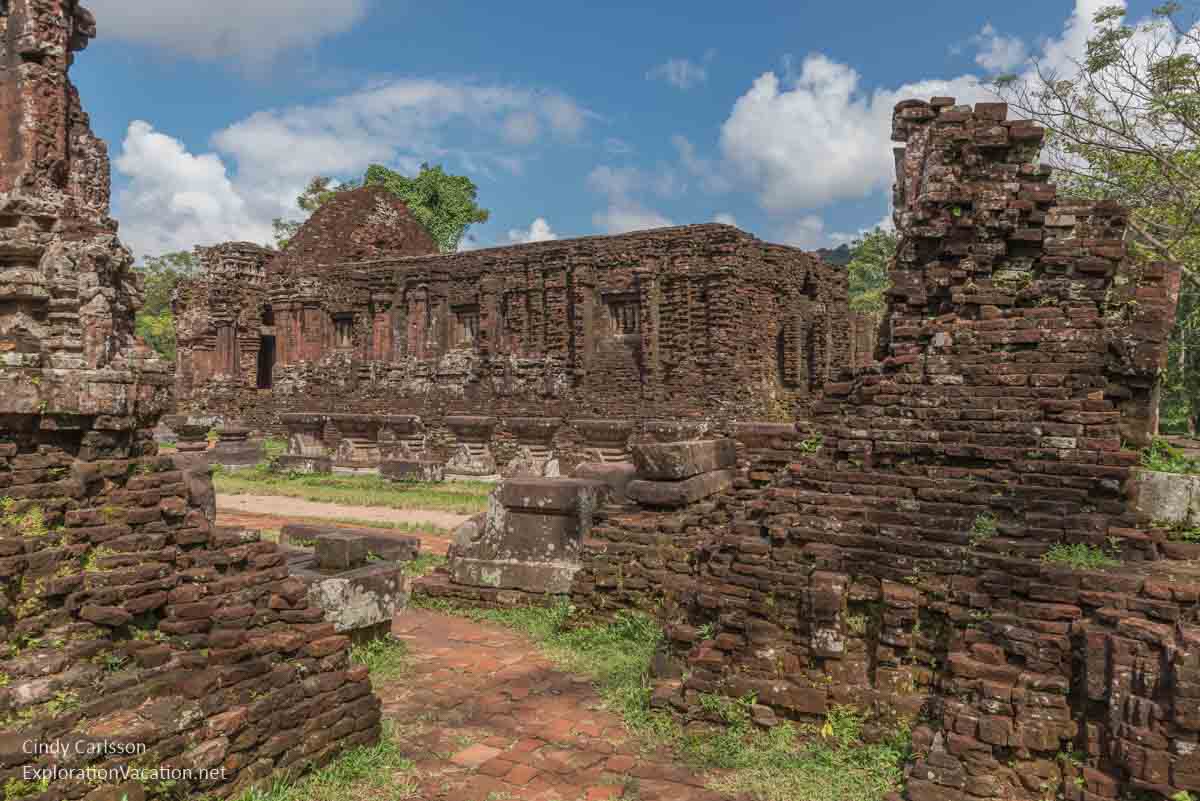 A gate, hall, and the remains of several other structures at of My Son Sanctuary.
Unique construction techniques
All of the buildings at My Son are built using fired red brick. It LOOKS like the bricks are just stacked together without mortar. However, they are essentially glued together using a plant resin commonly used to seal boats. The walls are very thick, with either two layers of brick set directly against each other or with brick rubble between them. The size of the brick also varies, depending on where it is used. This make for sturdy structures, but the resin seems to be the magic touch that both held everything together and preserved it by locking out moisture.
(Some think resin was also applied to the walls as a final sealant to preserve the carved reliefs. And some think the completed building was given a final firing in a giant "kiln" made by piling dirt around it and setting it on fire. Firing the building this way would harden both the bricks and the resin, but raises other issues. It seems, aside from the resin, no one knows exactly how these buildings were created, as the bricks had to be soft enough to carve in fine detail yet hard enough to withstand the weight of the tower and centuries of humidity. Traits that don't generally exist simultaneously.)
Sandstone was used only for pillars, richly carved lintels, and a few other decorative features. Cham structures also had carved stucco decorations both inside and out. Most of those are long gone, leaving only traces of plaster. What remains are the stone trim and the elaborately carved brick exteriors.
The goddess of prosperity was carved right in the brick walls of a storehouse.
There are stylistic differences in Cham temples based on when they were built. Archaeologists have named these based on where each style first developed. Two originated at My Son, but several others were also used here.
The temples of My Son Sanctuary
French archaeologists identified eight distinct groups of temples based on the location of the walls around each. They then assigned each group a letter between A and K. Since that time, it seems an additional group, called L, has been identified. (There is no Group I.) There's likely a lot more to discover, but this is what we have now.
Visitors can see and even walk around in most of the excavated sites.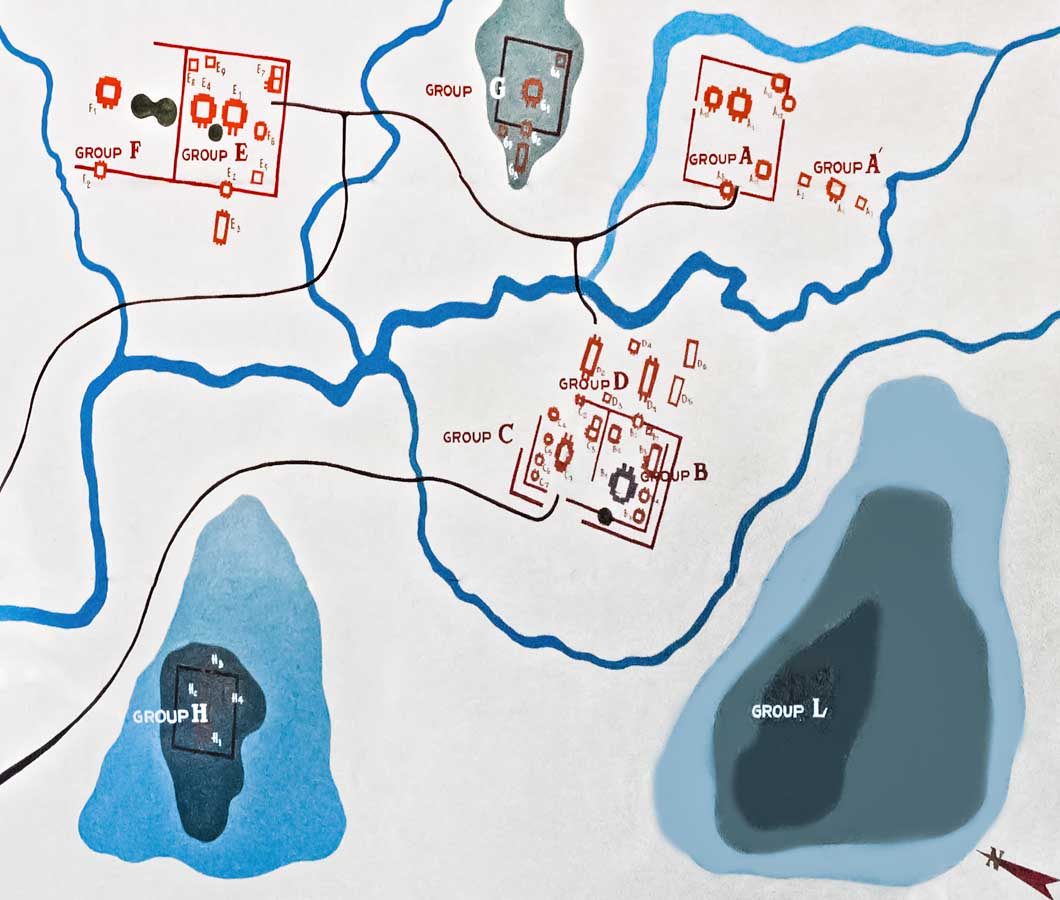 The ruins at My Son are linked by walking paths that take visitors to the excavated temples.
So, let's take a closer look at what you can see in each group.
Groups BCD
If you only have time to see one site at My Son, you need to slow down and spend more time in Hoi An. But seriously, if your time is short, start at Group BCD. These are located very close to each other and have some of the most beautiful and best-preserved ruins. A few sculptures and other artifacts from around the site are also displayed in small museums in this group, so you can see a little of everything in one place.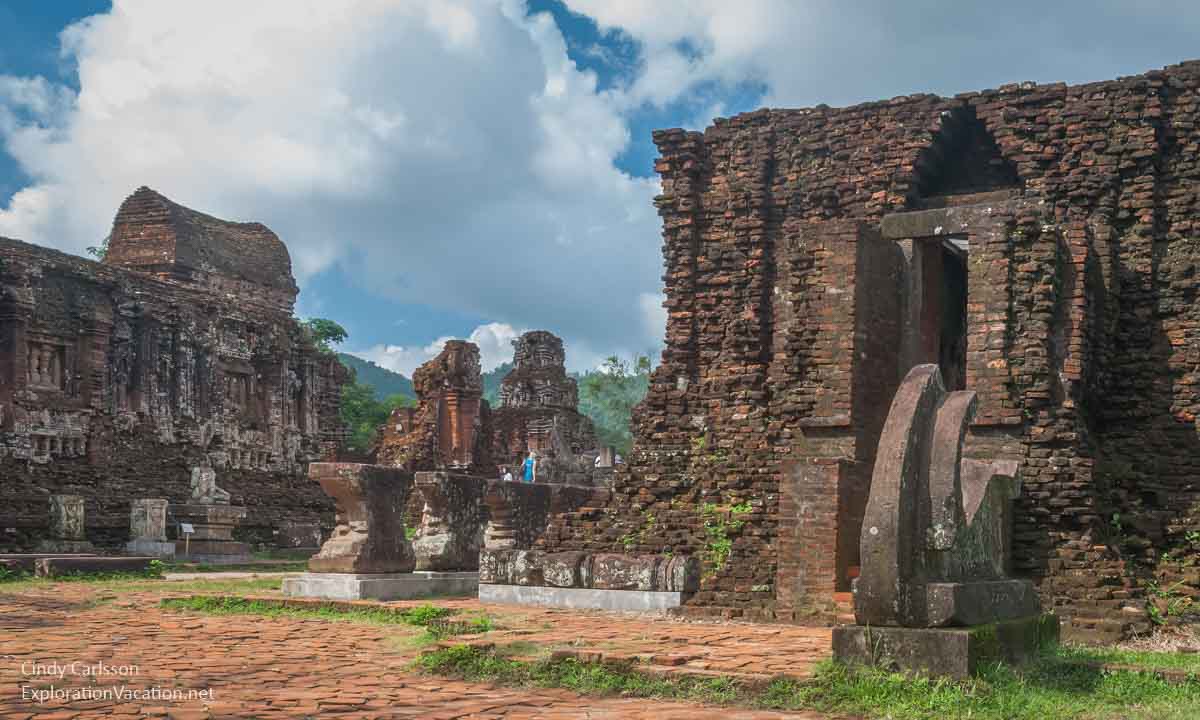 The reception halls in Group C and D share a courtyard. The halls now serve as museums.
 Group B is the center of the My Son complex. The main kalan is basically gone, but a lot of other buildings remain. (See the aerial photo above for the layout of groups B and C.) One of the most spectacular is the elaborate storehouse.
The kosagrha once held the temple's sacred books and other valuables.  
But this group has a lot of picturesque and interesting ruins.
Ruins of a gatehouse and reception hall.
Group A
From BCD it makes the most sense to head over to Group A.
However, those who want to save the best for last should start at A and then do a little back-tracking to work your way back to BCD. That's because Group A this is among the more depressing sights at My Son.
Until the summer of 1969, the finest Champa temple in all of Vietnam was in Group A.
At 90 feet tall with two entrances and six subsidiary temples, this 10th century temple had the largest kalan at My Son. But more than that, it was also considered to be the most beautiful and the most finely crafted. It was such a perfect example of the finest Cham architecture that an entire architectural style was named for it. And, remarkably, it was also the best-preserved temple at My Son.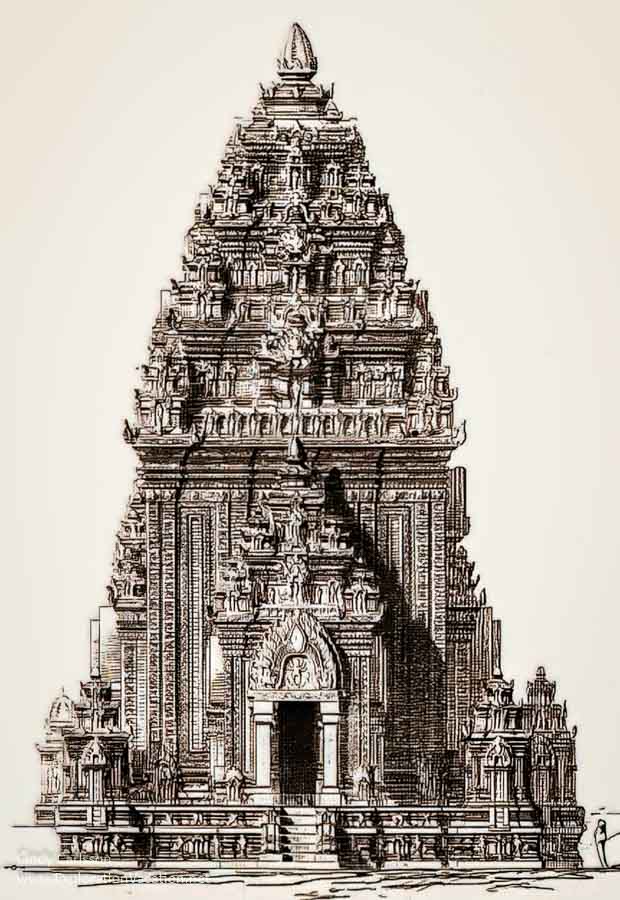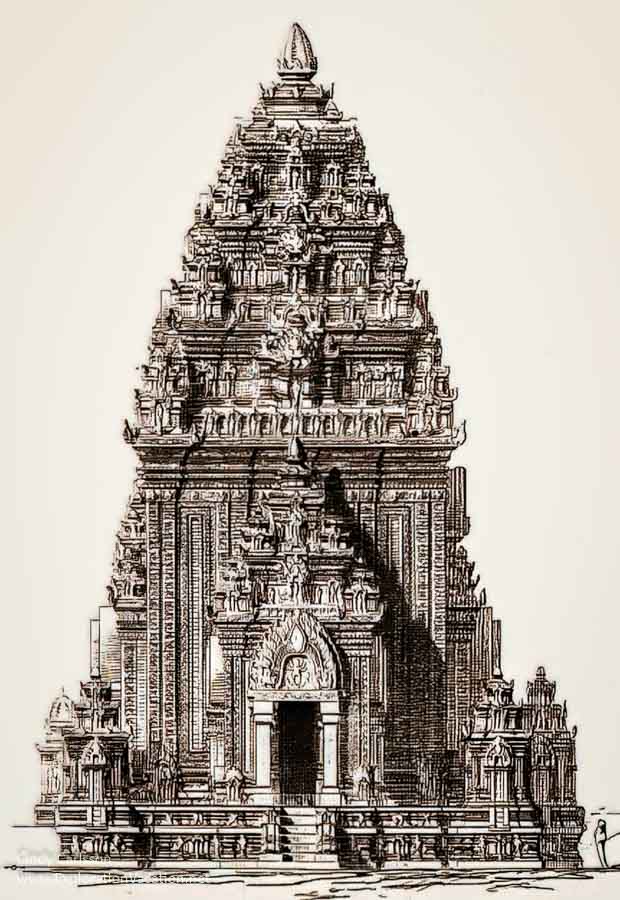 Champa tower A1 in an early 20th century drawing by French archaeologist Henri Parmentier.
It was successfully targeted and destroyed by a load of American bombs after a week of carpet bombing the area failed to destroy it.
Group G
Group G was built in the 12th century, making it one of the newer temples at My Son. However, the central kalan was already collapsing early in the 20th century. Time and war facilitated that process. Still, this is an interesting ruin.
Restoration work in 2003-2004 stabilized and partially reconstructed what remained of the kalan, although none of the actual tower remains.
Temple G was partially restored.
Group EF
Groups E and F include the oldest of My Son's temples, one of which has a stele from 658. These temples were later renovated and expanded before the Cham abandoned the site. They were almost completely destroyed in 1969, making this another depressing site.
Italian archaeologists used the drawings made by French archaeologist Parmentier in the early 1900s to completely restore (rebuild) the storehouse in Group E. But the kalans were pretty much completely destroyed.
A kalan in Group E is mostly a grass-covered mound of brick. The restored storehouse is visible in the background.
Cham Art at My Son
Most of the surviving artwork from ancient Champa resides in museums, with a particularly fine collection at the Champa Museum in nearby Da Nang. But there is a small museum at My Son and some sculpture is scattered throughout the site itself.
A headless shiva remains in the courtyard between mandapas from Groups C and D.
My Son's museums
While there a few pieces of sculpture (and a lot of lingas) remain in some temple groups, most of the sculpture on display at My Son is housed in one of the sites small museums. Most of these pieces are architectural fragments, three-dimensional sculptures and base-relief carvings that once decorated the elaborate Cham towers and other structures.
When I visited in 2015, My Son had small museums inside the mandapa halls for Groups C and D. There were a few nice pieces displayed, but it did seem rather makeshift.
Carving with Shiva in My Son's museum, edited version of a photo by Christophe95, CC BY-SA 4.0, via Wikimedia Commons. 
Cham cultural performances
The Cham are not gone, but Cham culture has changed over the centuries since My Son was abandoned.
Still, elements of ancient Cham culture remain today, especially in this part of Vietnam. But how they were expressed a thousand years ago is hard to really know. So, while I really enjoyed My Son's "traditional" Cham music and dance, I also regard it with a bit of skepticism.
Musicians and dancers bring a colorful bit of Cham culture to life each day.
Plan your visit to the My Son world heritage site
The My Son Sanctuary World Heritage site introduces visitors to a small bit of the rich culture of an ancient kingdom that is largely forgotten today. And it is located in a beautiful history-rich area with plenty of things to do.
Where is My Son?
My Son Sanctuary is located in Vietnam's central coastal Quang Nam province. It's about 30 miles inland from the Hoi An World Heritage site and just a little farther from the beach resorts of Da Nang. There's even another world heritage site farther up the coast in Hue.
Stay awhile in Hoi An
Most of the coast between Hoi An and Da Nang is loosely classified as China Beach. The large beach resorts are closer to Da Nang, and Da Nang is also a cool city and a great place to visit.
However, staying in Hoi An gives you the best of everything: Two World Heritage sites, the most charming shops anywhere, and good beaches. Stay in or just outside the historic district to wander through the World Heritage site at any time of day or night or hang out by the beach and travel into town when you want to see the historic sites, shop, and eat. Hoi An is one of my very favorite places in Southeast Asia. It's hard to imagine anyone not finding something to love about it!
We stayed just outside the historic district at the gorgeous Ha An Hotel. From there it was a short walk to the historic district.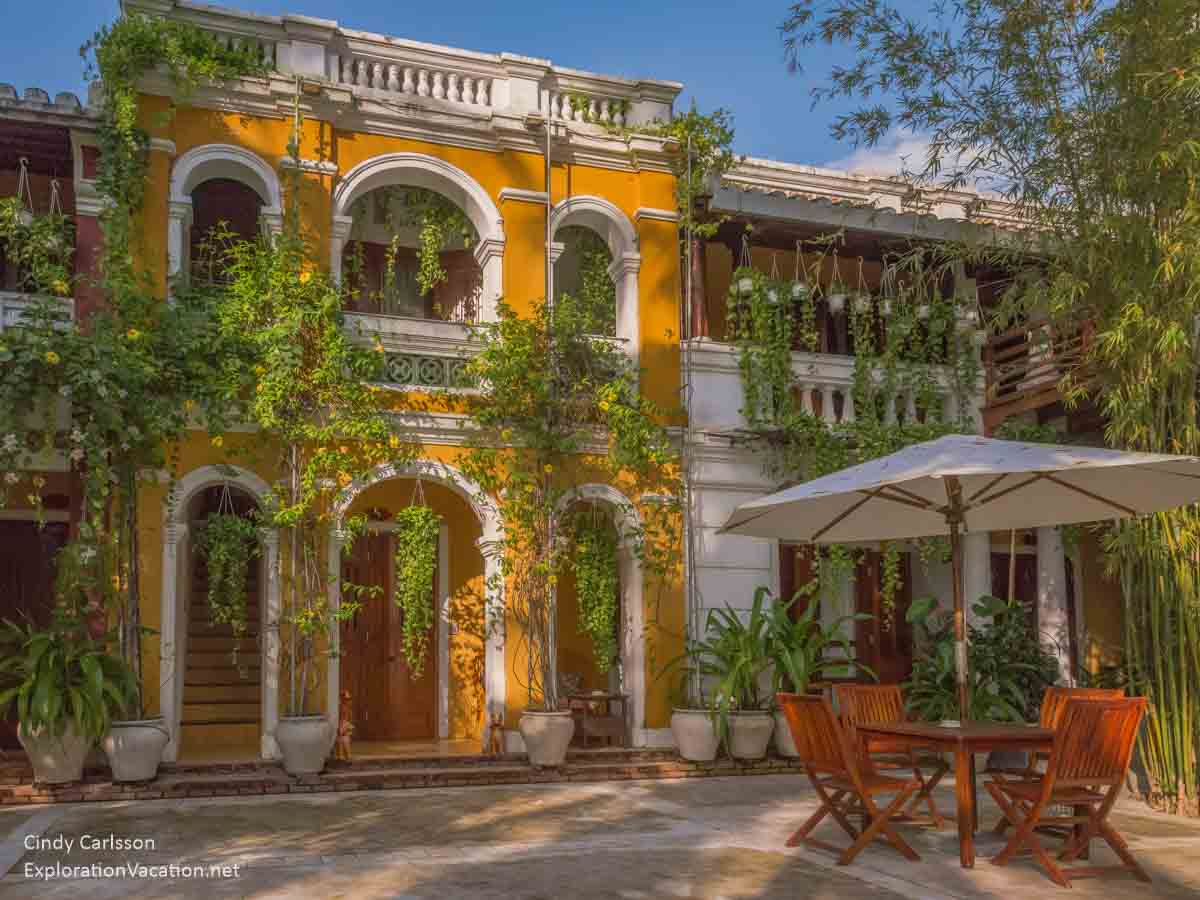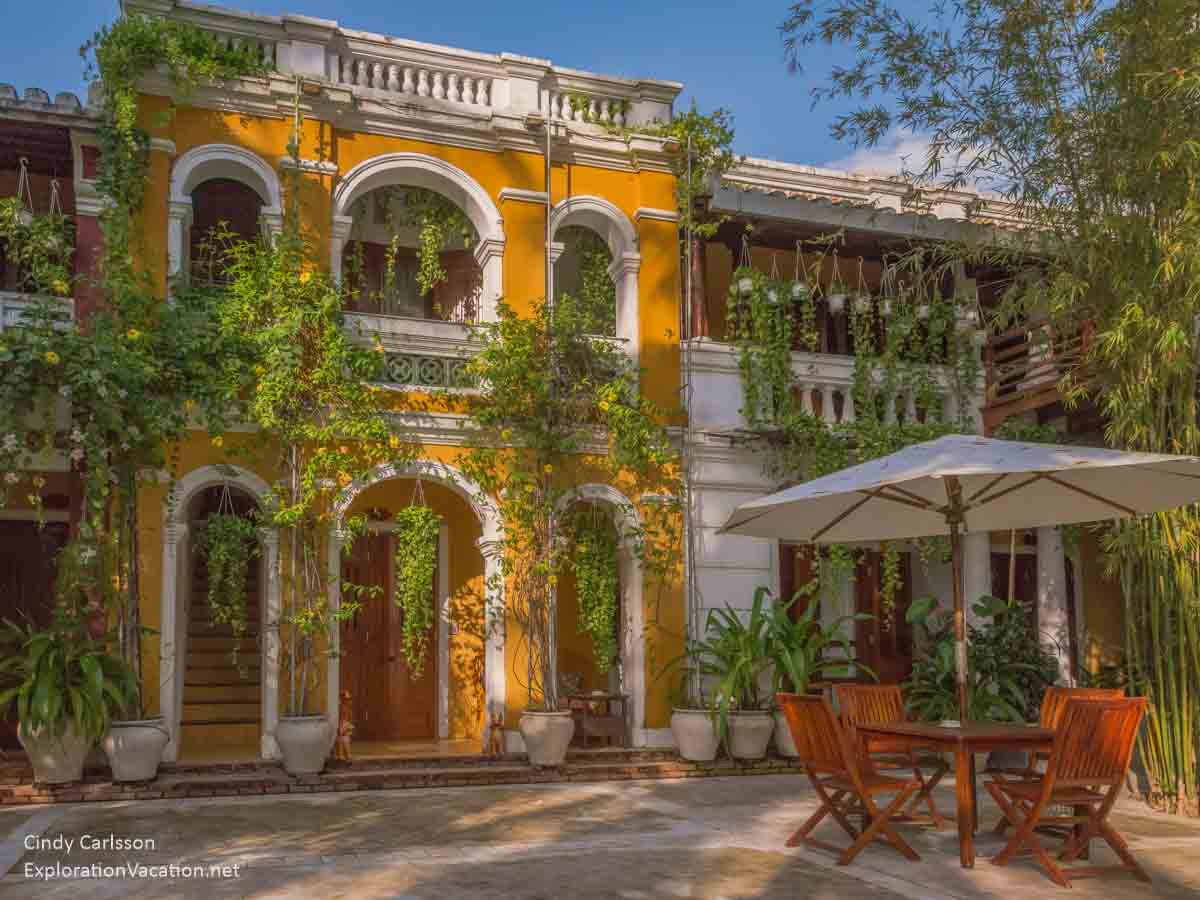 I would VERY happily stay at the lovely Ha An Hotel in Hoi An again.
Check out the reviews  and book the Ha An Hotel on Trip Advisor, Booking.com or Expedia. (Affiliate links)
There are lots of other options too, including beach resorts and a few locations in old Hoi An. Check them out and book on Trip Advisor, Hotels.com, Booking.com or Expedia. (Affiliate links)
Other places to connect with the ancient Cham in Vietnam
Cham people still live in Vietnam, but very little of their ancient architecture remains. And recent reports from the community indicate that what does remain is being deliberately destroyed. But there are places to connect with this ancient culture and marvel at their art and architecture.
Map of some of the more popular ancient Cham sites in Vietnam. (Click on the map to view.)
Da Nang Museum of Cham Sculpture
Many sculptures and other artifacts French archeologist Henri Parmentier collected at Champa sites around Vietnam are in the Da Nang Museum of Cham Sculpture, a museum he championed. Several expansions over the decades resulted in large airy rooms filed with sandstone sculptures and other objects. It's the best place to see Cham sculpture.
The Da Nang Museum of Cham Sculpture is the place to go for ancient Cham art
The museum's website is down as of early January 2022. For a brief overview of the museum check their Google story.
Learn more about My Son Sanctuary and Cham culture
I have done my best to sort through information that is often out-of-date, contradictory, or just plain wrong. However, I am not an expert on ancient Asian cultures – I'm sure there are things I have wrong too. And really, there's a lot that no one really knows for sure and what we do know changes regularly as scholars continue to research this ancient culture.
Below are a few of the potentially more credible (and readable) resources I found beyond Wikipedia. If you are interested in learning more about the people and buildings of My Son, these are a good place to begin.
The UNESCO World Heritage website for My Son has background information and documentation, although none of the documents are easy to sort through.
If you are interested in the initial discovery of My Son, the Bulletin of the History of Archaeology has a detailed story on the French archaeological program that carried out this work in Southeast Asia.
The Architecture of the Temple-Towers of Ancient Champa (pdf) from the book Champa and the Archaeology of My Son has a lot of information on how the towers were built and is actually readable. It's available on Academia.edu – a website that has loads of great material, but that also seems a little spammy.
Two sources explain how Group G was preserved, including one that goes into great detail on how digital imaging was used to understand the site. These are only for real engineering geeks.
The Arts of Southeast Asia featured the Art of Champa in their fall 2020 edition, parts of which are available online with gorgeous photographs.
For more stunning photos (but at a much higher price), consider the book Vibrancy in Stone: Masterpieces of the Danang Museum of Cham Sculpture by Vo Van Thang and Peter Sharrock. It's available through AbeBooks. (Affiliate link)
See more photos from My Son Sanctuary on CindyCarlsson.com