(Last Updated On: November 11, 2019)
Usually when one plan goes awry, something more interesting comes along. Recently that more interesting something turned out to be the Arizona Copper Art Museum in historic Clarkdale, Arizona.
(What do think you would find in a copper art museum?)
See, we only discovered the Copper Museum because our jaunt along a scenic route to Sedona didn't go exactly as planned. Our plan was to stop along the way for lunch and a stroll through the old-copper-mining-town-turned-art-enclave of Jerome, but a drive through town made it clear that everyone else in Arizona had the same idea that day. There were mobs of people crowding the sidewalks and not a parking place to be seen.
We continued on.
Soon highway signs indicated that another historic town awaited us right off the main highway, so we decided to check it out.
And that is how we ended up in Clarkdale.
A quick survey of what appeared to be the heart of historic Clarkdale yielded a bunch of very quiet historic buildings, an unexpectedly busy Mexican restaurant, and the Copper Art Museum.
(There had to be more vehicles in town than people!)
(You know you are in copper country when the historic gas station has copper siding.)
(First things first.)
By the time we'd finished lunch I was ready to head out of town, but my husband suggested we take a closer look at the copper museum . . .
(Copper ore on display.)
Built around the art of copper metalwork in all its forms, the Copper Art Museum has a broad scope. Want to know what copper ore looks like? There are examples. Want to know where copper is mined? There are maps. How it is mined? There are pictures . . . along with information on how it is formed into objects, the development of bronze (which requires copper), and the use of copper throughout history.
And that's just the in the exhibit area for background information.
The museum's real focus is objects made from copper — room after room of objects ranging from the mundane (copper plumbing) to the sacred (copper icons), from familiar household items (copper cooking pots) to unsettling military items (elegant vases made from expended shell casings) and absolutely everything in between.
(Copper ceiling with religious designs.)
(Detail on a distilling kettle.)
(Copper pans for cooking and baking.)
(An especially fancy serving piece.)
(Architectural details on display.)
(A piece of art glass — probably with a copper glaze — is part of a growing collection of glass.)
(Cash register in the shop, but not in use!)
(Copper kitchen strainers hang from the ceiling.)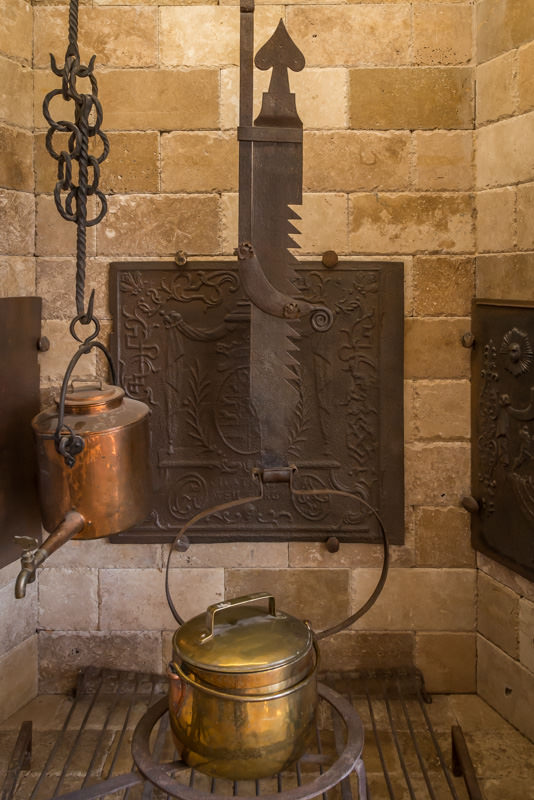 (An example of an ancient kitchen.)
(Vases carved from spent artillery shells.)
While this could be a little overwhelming and chaotic, most of the objects are neatly arranged into one of six exhibit areas:
Military art
Art and architecture
Religious art
Kitchenware
Drinkware
Distillery and winery
Cooper footprints inlaid into the floor guide you through the entire museum, and it's worth following them as each room is likely to hold a surprise or two or ten or maybe more.
(Trench art and more on exhibit in the military arts display.)
(A variety of decorative arts on display.)
(architectural elements galore.)
(Elements of a dream kitchen.)
(Vineyard tools decorate the walls in the distillery and wine room.)
(Copper kettles in the distillery!)
The Copper Art Museum is largely the work of Drake Meinke, a man whose fondness for copper is, apparently, hereditary. Born into a family of Minnesota antique dealers, he began collecting at an early age and hasn't stopped. His collection, combined with the collections of his family, makes up the bulk of the museum's display.
Drake is usually at the museum (he may well be the one to greet you when you enter). If you see him, take the time to ask a few questions. He's sure to have a story or two and there is no telling what treasures he may show you.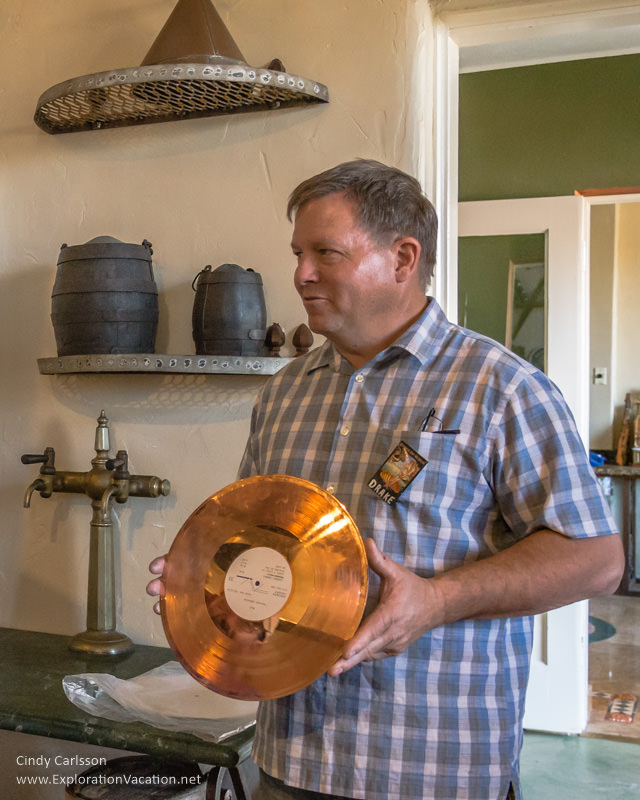 (That's a an original copper master for a recording!)
After your visit, you're guaranteed to start seeing copper like you've never seen it before.
The Arizona Copper Museum is located in the former Clarkdale High School right at the edge of the historic downtown. (From Highway 89A, follow the signs for the turn-off to Tuzigoot National Monument and historic downtown Clarkdale and Cottonwood.) The museum is open daily except for major holidays. The current admission fee is under $10.
All Arizona posts