(Last Updated On: December 14, 2021)
Probably the largest locomotive ever in use, a Union Pacific Big Boy steam engine is a sight to behold. And this year, for the first time in almost six decades, you can see one in action as Big Boy 4014 tours portions of the south and Great Plains in 2021.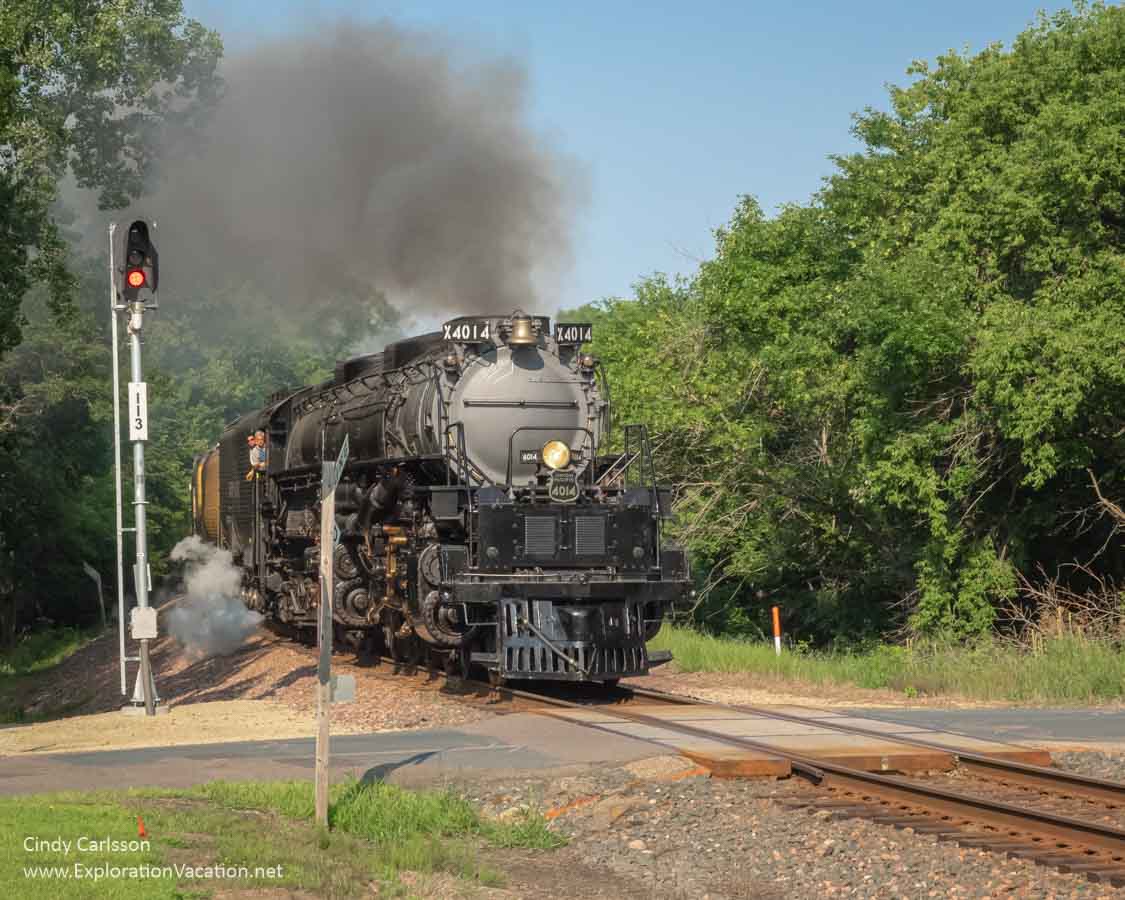 I use links to improve your experience using this website. Some may be affiliate links that pay me a small commission if you use them to reserve a room, rent a car, or purchase goods or services. You don't pay anything extra, but it helps keep this website running without intrusive advertisements. To learn more, review my policies and disclosures.
The Big Boy is again on tour in late summer/fall of 2021. See the full schedule on the U P Steam website. 
Union Pacific celebrated the Transcontinental Railroad in a big way
2019 was the 150th anniversary of the completion of the Transcontinental Railroad.
In a decision that seems to have surprised even the biggest railfans, the Union Pacific railroad celebrated their role in building the Transcontinental Railroad by resurrecting one of their legendary Big Boy locomotives.
Two 19th century railroads raced to unite the nation (and make a lot of money)
In order to connect the vast distance between the developed east and the California coast, Abraham Lincoln signed the Pacific Railway Act in 1862. This law authorized the Central Pacific railroad to construct a rail line eastward from Sacramento, California, and the Union Pacific to build west from the Missouri River until the two lines met. With thousands of acres of land and dollars riding on every mile, the race was on.
Seven years later the two railroad tracks met at Promontory Summit, Utah. On May 10, 1869, it became possible to cross the nation by rail.
As for the competitors in this great race, not only is the Union Pacific is still in business, but it's one of the largest and most successful railroads in the country. On the other hand, Central Pacific ceased operating independently in 1885. Today its original right-of-way is controlled by Union Pacific. This seems to make UP the ultimate winner of the 19th century challenge to connect the country via rail.
No wonder they were looking for a big way to celebrate.
UP needed big locomotives as World War II approached
With war in Europe, US manufacturing came charging out of the Depression to build machinery, weapons, and other goods needed in Europe.
With a few particularly challenging mountain lines among their routes, Union Pacific needed exceptionally powerful engines to the haul heavy loads moving to, from, and between US factories. To meet the demands of a nation on the verge of war, UP had a new class of locomotives designed and produced specifically to haul heavy loads through the mountains.
Built by the American Locomotive Company of Schenectady, New York, the locomotive got its name when an unknown worker took a piece of chalk and tagged the first one "Big Boy."
The name fit. And it stuck.
The life, death, and resurrection of a Big Boy
Union Pacific had 25 Big Boys, with unit numbers 4000 through 4024. They came in two batches, the first 20 arrived in 1941. Five more came on line in 1944.
Big Boy 4014 was delivered in December 1941.
Big Boy 4014 goes on tour
To celebrate the 150th anniversary of the Transcontinental Railroad, Union Pacific sent Big Boy 4014 on a tour of the UP rail system in 2019. That tour included a summer race across the Midwest followed by a race across the Southwest.
On tour, the restored steam engine hauled a diesel-electric locomotive. That diesel engine wasn't pushing Big Boy 4014, but it did provide most of the Big Boy's braking. Stopping a big heavy engine, even if it isn't pulling a lot of weight, puts a lot of wear on the brakes. Using the diesel locomotive's regenerative dynamic and common service brakes prolongs the life of 4014's custom-built brakes.
Like the current tour, the 2019 tours offered opportunities to see the Big Boy train both in action and at rest.
While on tour, online maps show Big Boy 4014's route, current location, and planned stops. While most stops are very brief (15-30 minutes), a few longer ones allow the public to see Big Boy's cab and visit the Experience Union Pacific exhibition car. The UP Steam Twitter feed sometimes provides up-to-the-minute information on the status and exact location of the train.

The Great Race across the Midwest
I saw Big Boy 4014 several times along its route through Minnesota and Wisconsin in July of 2019.
As in other places, when the train stopped in a location open to the public, it was usually only for very a brief whistle-stop.  The two stops where the public could actually get a really good look at the locomotive and enter the exhibition car were in Saint Paul and Duluth.
Of course, the train was also visible from many locations and crossings as it raced through the countryside!
Big Boy 4014 on display in Saint Paul
Saint Paul, Minnesota, was one of the stops on Big Boy 4014's 2019 tour of the Midwest. Here the locomotive spent a day on display at the Union Depot.
As seems to be the case everywhere the Big Boy locomotive stops, it drew massive crowds. In Saint Paul, crowding and confusion intensified when Amtrak's Empire Builder passenger train arrived (hours late) across the platform. But it was interesting to get a good look at the steam engine. And those willing to wait in line got to go up into the cab and/or through the Experience Union Pacific car – both of which would have been interesting.
And, even though the crew was busy with maintenance while the locomotive was on display, they took time to answer a lot of questions!
A whistle-stop in Baldwin
Even though the whistle stops were really short, I knew there would be crowds. Still, I was surprised by the number of people who showed up on a Tuesday morning in Baldwin, Wisconsin, to see the Big Boy during its brief stop.
Even though the stop was only for 15-20 minutes, it was a great way to see the locomotive. In Saint Paul, where it was parked on the track for many hours, 4014 was a more of really big, interesting object. Here it's a living, breathing creature.
The Big Boy 2021 Tour
Big Boy 4014 is back on tour this summer and early fall on a route through the central part of the USA.
The tour began on August 5 from the locomotive's home in Cheyenne, Wyoming. This is a pretty short tour, as it returns home on September 7. But between now and then you have a chance to see it in Texas, Louisiana, Arkansas, Missouri, Kansas, and Colorado.
As with the 2019 tour, most stops are short, but there are a few places where the public will have a chance to take a good long look at the locomotive and visit the Union Pacific exhibition car.
The Big Boy train schedule is available at 2019 Union Pacific Steam Schedule. For more detailed information on the train's specific location, check the Big Boy 4014 tracker. 
Tips for safely viewing this, or any other steam locomotive, are also posted on the UP Steam pages.
Future tours
If you miss this year's tour, don't despair. The amount of money Union Pacific spent restoring Big Boy 4014 and its popularity likely guarantee future tours.
Keep an eye on the UP Steam page for upcoming events.
If you are a true railfan, join the UP Steam Club for more timely updates and insider info.
Big Boy 4014 isn't the only UP steam engine still running
Big Boy locomotive 4014 is part of UP's Heritage Locomotive Fleet. That fleet includes a mix of steam and diesel locomotives, all of which are operational and occasionally tour. It also includes a variety of other historic equipment, including passenger cars used for this summer's tour.
Where to see a Big Boy when 4014 isn't on tour
When it isn't touring, Big Boy 4014 is usually housed (stabled) at the historic Union Pacific Roundhouse in Cheyenne. This is a working facility that is only open for public tours once in May of each year. That limited schedule means 4014 usually won't be on view unless it is touring.
However, seven other Big Boys are always on display. You can't see or hear them in operation, but you can marvel at their size.
There are other steam locomotives around too
Steam locomotives are actually fairly common. They are found in museums and displayed in parks across the country. And a surprising number still operate as excursion trains.
A webpage mapping surviving steam locomotives in the USA has a state-by-state listing that includes the status of each locomotive, a link to some of locations where they can be found, builder information, photos, and notes on condition and history. I don't know how often (or recently) the site is updated – there are some bad links. But it's a good place to start if you are looking for steam locomotives on display or operating near you.
Steam Railroading has a page on operational steam locomotives in the USA. It's not as easy to search, but it has a lot of information about the locomotives listed.
If you want to take a trip on a steam-powered train, the Man Tripping blog lists more than a dozen places in the US where you can ride a steam train.
RailServe's up-to-date list of railfan events and train excursions seems to cover special tours using both steam and diesel locomotives, but there's a lot of steam on the list. They also have a list of tourist railroads, museums, and train excursions that includes regularly scheduled tours with both steam and diesel engines.
Resources for additional information
Information on the Transcontinental Railroad:
History.com has a very readable account of the race to build the Transcontinental Railroad.
Information on Big Boy 4014:
Big Boy souvenirs and other steam train treasures
Whether or not you actually see Union Pacific Big Boy 4014 this year, you can always add a few steam train themed treats to your collection or that of someone you love.
I have a few Big Boy 4014 pictures available for purchase