(Last Updated On: December 23, 2022)
If you think the only reason to drive New Zealand's Milford Road is to get to your Milford Sound cruise, I have a surprise for you. The Milford Road is one of the world's great drives and a worthy destination in and of itself.
Combine this amazing road trip with a cruise for an unforgettable experience.
I provide links as a convenience to you. Some may be affiliate links that pay me a small commission if you use one to reserve a room, rent a car, or purchase goods or services. You don't pay anything extra, but it helps keep this website running. To learn more, review this website's policies and disclosures.
In this post:
Drive the Milford Road for adventure and spectacular scenery
Ask someone about Milford Sound, and they will probably talk about their Milford Sound cruise. After all, it's the best-known tourist activity in New Zealand's vast Fiordland National Park and the Te Wahipounamu – South West New Zealand World Heritage Site.
But too many people focus on getting to their cruise without giving much thought to what awaits along the way.
That is a mistake.
While the cruise is gorgeous, a Milford Sound road trip is every bit as spectacular. But it's also packed with opportunities for adventure. And, unlike the cruise, you could spend days exploring along the way. In the end, the drive to Milford Sound might end up being the best part of your trip!
What is the Milford Road?
The Milford Road is a 75-mile segment of New Zealand State Highway 94. It begins in the town of Te Anau (in the southwest of the South Island) and ends at Milford Sound (near the north end of Fiordland National Park).
Along the way it passes through some of New Zealand's most spectacular scenery.
Highlights along the road between Te Anau to Milford Sound
Even if you aren't a hiker, you'll want plenty of time to enjoy the incredible scenery between Te Anau and Milford Sound. The route generally follows the Eglinton River valley before turning into and passing over the mountains and finally dropping down to Milford Sound.
Link to a map of sights along the Milford Road and more in Fiordland National Park
We spent less than two full days on the road to Milford Sound during our November 2017 tour of New Zealand. That's more than most foreign visitors touring New Zealand, but, as you'll soon see, it wasn't nearly long enough.
With all the opportunities to get out of the car and explore along the way, it's best to allow at least a full day to take a cruise, making lots of short stops along the way. Consider it your Milford Road scouting expedition. Return the next day to really explore a few spots you had to skip (or visit too quickly) the day before. Better yet, spend a night or two along the way (plan ahead for this) or at Milford Sound itself. I promise you won't regret adding extra time here!
Of course, serious hikers will want even more time. A lot more time.
Lake Te Anau
Lake Te Anau is New Zealand's second largest by surface area. But it's the country's largest freshwater lake by volume, as it reaches a depth of more than 1300 feet. It's so deep that half of it actually lies below sea level.
The main town in this area is also called Te Anau. It's located near the south end of the lake and serves as the area's main tourist center.
Lake Mistletoe
With heavy rain imminent when we were exploring this end of the Milford Road, we didn't get to visit little glacial Lake Mistletoe. However, it's said to be a pleasant hike to a very pretty lake.
Te Anau Downs
Te Anau Downs is the other settlement along the lake. But don't look for anything resembling a town. There's a dock and a couple of farms. That's about all.
Most visitors stop here simply to catch the ferry for the multi-day Milford Track hike. However, if you've been hurrying along during your time in New Zealand, this is a nice spot to slow down and take a closer look at the scenery you've been driving by.
It's a lovely spot, with the Murchison Mountains in the distance behind the lake and sheep-speckled meadows rolling away to the north.
It's classic New Zealand.
At this point the road turns away from the lake to follow the Eglinton River.
Eglinton Valley
The Eglinton River winds through a broad glacial valley beneath steep mountains. It's beautiful in any season, but in spring the entire valley is filled with purple and pink lupines. (Or lupins, as the Kiwis call them.)
Several pull-outs provide access to the valley and river. Each offers different views of the surrounding mountains. Access to the water and flowers varies as well, so take time to find your favorite combination of water, mountains, flowers, and wildlife.
The lupines are absolutely beautiful in spring. Unfortunately, they are highly invasive weeds that obliterated the native vegetation that once filled this valley.
Mirror Lakes
Also in the Eglinton Valley, Mirror Lakes is a small spot that provides dramatic views throughout the year.
Every bus tour to Milford Sound stops here, so it might be tempting to skip Mirror Lakes if there are big tour buses parked everywhere.
Stop anyway!
Knobs Flat
Toward the northern end of the Eglington Valley, Knobs Flat offers a rest stop on the way to and from Milford Sound. It offers basic services and a few amenities, including flush toilets. There is also a guesthouse and campground.
A few paths also let visitors get a close-up view of the area's scenery.
We took time to read at the display panels near the road. They provide information on the valley's wildlife and the impact of avalanches along Milford Road.
Lake Gunn
What's said to be an easy loop trail through a red beech forest leads to Lake Gunn. We stopped before this point the first day due to a downpour and darkness. Then we ran out of time the next day on our return from Milford Sound. I was sorry to miss what appears to be an easy walk to a lovely lake.
The Divide
The Divide, with an elevation just over 1,700 feet is the lowest east-west pass in the Southern Alps.
Don't let that description fool you. This is some of the most spectacular high mountain scenery you'll find along any road anywhere in the world.
Hollyford Valley Lookout (Pop's View)
Spectacular views into the Hollyford Valley are available near the side of the road (follow the walkway for the best view), but good luck finding a place to park at this popular overlook!
Hollyford Road
I gave the turn-off for Hollyford Road a long look as we drove by, but even with a day and a half to explore along Milford Road, there wasn't enough time to stop everywhere. But next time. . . . .
Follow Hollyford Road to reach the following:
Lake Marian trail: A half-day hike through the Marian Valley to an alpine lake in a hanging valley.
Gunns Camp: Basic accommodations in a former road workers' camp.
Humboldt Falls trail: A half-hour hike that provides a view of Humboldt Falls
Hollyford Track: A 35-mile (one way) hiking trail through the valley. It ends along the coast at where hikers can turn around and make the return trip or fly out.
Hidden Falls: Follow the Hollyford Track as far as Hidden Falls for a day hike.
There are also a couple of air strips located back here. Google maps shows one right along the Hollyford Road, but it seems there is also one right at Martins Bay.
Monkey Creek
Noted for water pure enough to drink, Monkey Creek is surrounded by impressive mountain scenery. This is also a good spot to look for blue ducks, alpine parrots, and kea. There is a pull-off, but many tours also stop here.
Homer Tunnel
Ordinarily a three-quarters of a mile tunnel isn't going to be a tourist highlight. But Homer Tunnel is a bit of an exception.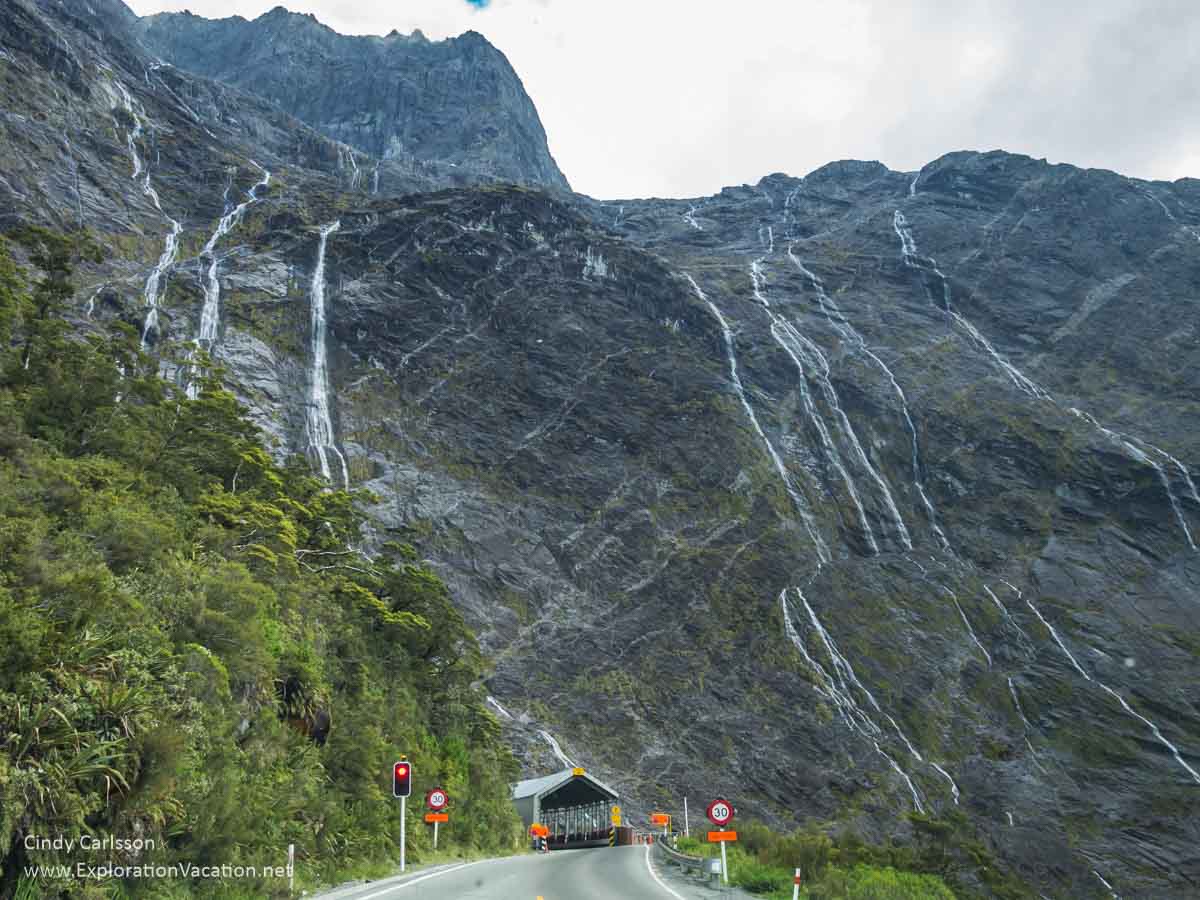 The Chasm
The Chasm offers two very different experiences along one easy trail.
First, wander through a temperate rain forest. Take your time and try to spot a few of the many the birds you hear. If you look closely, you might see a kereru (New Zealand pigeon) like we did.
Then you begin to see (and hear) the rushing water of the Cleddau River.
A series of walkways and bridges take you to and over the river. That makes it easy to see the water's power in the deeply carved rock even when you can't see the river. But even when you can't see the river, you can always hear it as it falls over ledges, plunges into crevasses, rushes through underground passages, and swirls at the bottom of pools carved deep into the rock before rushing away through a rocky stream bed.
Most tours stop at the Chasm, so don't be surprised to find large groups along the trail. Since they are on a tight schedule, slow down a bit and soon they'll soon be gone.
Tutoko Swing Bridge
Built in 1940, the Tutoko Suspension Bridge is the last steel suspension bridge on the Milford Road. It carried vehicles until 1984 when a new bridge opened. Today the original suspension bridge provides a pedestrian-only crossing with great views of the Tutoko River below and the mountains beyond.
On the water in Milford Sound
Of course, your Milford Sound road trip ends once you reach the end of Milford Road. But that just means it's time to get out on the water to see a bit more! (After all, this is the reason most people drive Milford Road in the first place.)
The Sound itself is at least as beautiful as any other sight along the way. You can see that right from shore.
However, the best way to explore Milford Sound is from the water.
Cruising Milford Sound
Most visitors come to this remote area of New Zealand specifically to cruise Milford Sound (Piopiotahi). And it is a lovely, if rather short, cruise. (The Tasman Sea is only 10 miles from where your cruise begins, but it is 10 miles of non-stop beauty.)
No matter which cruise you choose (and there are dozens to choose from), you can expect a tour that includes a fairly standard set of sights. The order you visit them may vary depending on the number of other boats out when you visit.
The following gives you a taste of what to expect.
Mitre Peak
Milford Sound's iconic landmark and is easy to view from shore.
Not one, but a group of five peaks, Mitre Peak rises a mile above the sea floor.
Waterfalls
How many waterfalls you see will depend on the weather when you visit. I cruised Milford Sound on a gorgeous spring day, so Lady Bowen and Stirling Falls were the only ones flowing. On a rainy day, visitors will see many, many more – some of which will be substantial.
If you like waterfalls, try to plan your cruise for a rainy day!
Lady Bowen Falls
Like Mitre Peak, Lady Bowen Falls is visible from shore. It's also one of only two permanent waterfalls in Milford Sound. That means you'll be able to watch as water plunges 530 feet from the top of the falls to the sound below.
Lady Bowen Falls is named for Diamantina di Roma, a politically-connected aristocrat from what is now the Greek Ionian Islands. (The islands, which include Corfu, were a British protectorate in the first half of the 19th century. Diamantina's family was descended from Venetians who once ruled the islands.) Her marriage to Sir George Bowen, brought her to New Zealand as the wife of Queensland's first governor. Bowen went on to become the governor of all New Zealand, followed by stints as the governor of Victoria (Australia), Mauritius, and Hong Kong.
Despite its beauty, Lady Bowen Falls is a working waterfall that provides electricity for development at Milford Sound.
When we visited in 2017 the trail to the falls was closed, so our only view was from the water. However, now visitors can follow the trail to the falls again.
Stirling Falls
No matter what cruise you book, you'll likely have the opportunity to get up close and personal with a waterfall. In wet weather it might be one of several temporary waterfalls, but on a sunny day, it will be Stirling Falls (Wai Manu).
Stirling Falls is almost as high as Lady Bowen, with a drop of just over 500 feet.
Apparently, the falls takes its name from Captain Frederick Henry Stirling, who is said to have discovered and named it for himself. The Maori name, Wai Manu, is a lot more descriptive, as it means "cloud on the water."
As the only other permanent waterfall in the fjord, this is where most cruisers get their on-board shower!
It's a little wet on deck for photography, but you can always view the action from inside too.
Wildlife
Milford Sound is home to bottle nose and dusky dolphins, little blue and Fiordland crested penguins, and New Zealand fur seals.
Visitors are almost guaranteed a fur seal sighting, as they are almost always easy to spot on Seal Rock.
Dramatic cliffs and rocky shores
Even if you don't see a lot of wildlife, the scenery is lovely.
When the weather is dry, you may not have a lot of waterfalls. However, on reasonably clear days the mountains themselves provide plenty of dramatic scenery.
Much nearer, the shoreline offers an ever-changing mix of rock, vegetation, and tidal sea life.
Out to the Tasman Sea
Beyond the fjord, the Tasman Sea is generally too rough for cruise passengers. Cruises usually only go out to Anita Bay.
This still provides a nice view of Dale Point, which hides the entrance to the fjord.
Milford Discovery Centre and Underwater Observatory
Harrison's cove is popular with kayakers because it is sheltered. But the cove is also home to the Milford Discovery Centre and Underwater Observatory.
Not all cruise companies stop here.  (It seems to be connected to Southern Discoveries, although some others use it too.) I wanted to visit it because rare black coral (usually a very deep-water species) grows here. Since I don't dive, this seemed like a good opportunity to see things usually visible only to divers – including this unusual coral.
About Milford Sound
Located in the rugged landscape of southwestern New Zealand's South Island, Milford Sound has is a must-stop destination on most New Zealand vacation itineraries. It is a UNESCO World Heritage Site and one of the country's most popular tourist destinations.
The geology of Milford Sound
To begin, Milford Sound isn't a sound. It's a fjord, just like the ones in Norway. And, although the Kiwis spell it "fiord," the fjords of southwestern New Zealand are what gave Fiordland National Park its name.
Milford Sound's human history
While Europeans were slow to discover Milford Sound, the Maori have known about Piopiotahi much, much longer.
Plan your road trip to Milford Sound, New Zealand
While a Milford Sound road trip is likely to be spectacular in any season, the largest number of visitors arrive at Milford Sound in summer.  We visited just ahead of them, arriving in late spring when the invasive but beautiful lupines were blooming everywhere.
Our Milford Sound road trip was just a small part of a much longer New Zealand road trip around the South Island, but it was one of the highlights.
Where is Milford Sound?
Milford Sound is located along the southwest coast of New Zealand's South Island. It's at the northern end of Fiordland National Park.
Despite the number of tourists visiting each year, Milford Sound is in a remote location. There is no cell phone service along Milford Road or at the Sound itself. Nor are there other services like gas along the way, and only limited services are available once you reach Milford Sound itself.
Weather
Weather can change quickly in southwest New Zealand, so be prepared for cold, wet weather and snow in the mountains even in summer.
Options for traveling Milford Road
Although I highly recommend driving, the best way to get to Milford Sound will depend on where you are starting from, how comfortable you are behind the wheel, and how much time you have.
Most visitors don't drive Milford Road on their own, so there are other options.
The most popular option is to book a bus or van tour that offers brief stops at the most popular sites along the Milford Road and a cruise on the Sound. Tours are available from either Te Anau or Queenstown, but Te Anau is a much better base because you see more with less time on the road.
For those who can afford it, a combination bus/flight package offers the best of all worlds with a bit of sightseeing along Milford Road, a cruise, and a scenic flight.

Self-drive from Te Anau to Milford Sound
Milford Road begins in Te Anau, making it a logical base for a Milford Sound road trip.
But Te Anau is also a great base for exploring Fiordlands National Park in general, as it is located between Milford and Doubtful sounds. It's also a pleasant town with plenty to do right there. There are lots of restaurants and, in spring, the city park is filled with rhododendrons!
Staying in Te Anau made it easy to visit nearby sights along Milford Road as short trips. That left more time for sightseeing near Milford Sound on the day we drove all the way to the Sound. However, next time I would spend even more time here or add a night or two at Milford Sound itself to allow more time for exploring on foot.
(Of course, it would be easy for hikers and kayakers to spend days – or even weeks – exploring the area.)
Best of all, if you have your own car, the drive from Te Anau to Milford Sound is relatively straight-forward.
Once you are on Milford Road (Highway 94) there really isn't anywhere else to go and sights along the way are generally well marked. On the other hand, there are few places to pull off the road once you get into the mountains and parking can be a challenge at some of the more popular stops. And driving in New Zealand offers its own challenges.
Driving in New Zealand
New Zealand isn't a good place to learn how to drive. Inexperienced drivers should consider a tour or public transport. However, if you're a reasonably experienced driver, New Zealand's South Island is road trip heaven.
Driving Milford Road
In good weather, driving to Milford Sound isn't very different from driving elsewhere in New Zealand, but there are a few things to keep in mind.
Driving Milford Road isn't for everyone
I'm always up for a road trip. I love narrow, twisting roads through spectacular mountain, but I know that's not everyone's ideal vacation.
Fortunately, there are many options available if you want to concentrate on the scenery rather than the road. Viator lists a couple dozen tours of all types, but there are many, many more available. The following sections provide guidance for choosing what's best for you.
Tours from Te Anau to Milford Sound
If you don't have access to a car, don't drive, or simply don't feel comfortable driving on a New Zealand road (or fear heights), consider booking a Milford Sound tour from Te Anau.
Traveling from Queenstown
The driving distance from Queenstown to Te Anau is just over 100 miles. (There isn't a direct route, so you make a bit of a loop to travel between the two.) The route takes a little over two hours to drive, but it's an easy drive without must-stop sights to slow you down.
Even if you don't want to drive the Milford Road yourself, consider spending a night or two in Te Anau, and taking the bus from there to get to Milford Sound. Unless you fly to or from Milford Sound, taking two days to visit Milford Sound will be a much better experience than traveling directly from Queenstown.
Traveling from Christchurch
It's not possible to visit Milford Sound from Christchurch as a day trip except (maybe) by air. And even flying requires a stop in Te Anau, making a day trip possible, but complicated and expensive.
Once you arrive at Milford Sound
Obviously, if you've gone all the way to Milford Sound, you should take a cruise while you are there. But that's just one of the things to do in Milford Sound.
Instead of just taking a cruise and leaving right away, spend some time exploring the area around the fjord on foot, in a small boat, or from the air. Spending most of a day, or even staying overnight, offers a chance to experience Milford Sound in a way few visitors do.

Get out on the water
While the drive along Milford Road is impressive enough to be worth a trip in and of itself, you might as well get out on the water once you reach the end of the road!
Most visitors do that on a cruise. Almost all cruises are on similar ships of varying sizes, but few are small. Unless you have a special interest in geology or wildlife, you'll probably be on one of these larger ships. And that will be fine. Any of them will show you the Sound's highlights.
The difference between cruises will be in how long you are on the water, the number of people on board, how full the ship is, amenities like food and beverages, indoor vs outdoor deck space, and the quality of the naturalist/guide.
Cruises run year-round.
For those looking for a more intimate encounter with the water, kayaking and diving are also options.
Choosing the best Milford Sound cruise
Our cruise went up the south side and back down the north side. That seemed at least partly determined by the number of boats already at Stirling Falls and Seal Rock. Both of these popular spots can get crowded, and it appeared that the captain adjusted our schedule so we would arrive when fewer other boats were there. But, in general, every Milford Sound boat tour will cover the same sites – after all, it's a small fjord. There are only so many places to go!
All cruises offer the following:
A mix of enclosed space and space on deck
Restrooms
At least minimal food and beverages for purchase on board
A dip under a waterfall (which waterfall will depend on how many are flowing)
Wildlife watching (mostly fur seals)
Still, there are differences between the cruises offered. Determining which is the best Milford Sound cruise depends largely on what is most important to you.
Paddling Milford Sound
I'm a not much of a paddler. But we were at Milford Sound on an absolutely gorgeous day, and I would have loved to be on the water in a kayak. That's possible with enough time and a little advanced planning.
Kayak tours are available for paddlers of all abilities. Most tours also include everything you need, including extra layers to keep you warm. Experienced kayakers can venture out on their own, but for most, a tour will offer the best experience.
There are quite a number of companies offering kayak tours, including some of the large cruise companies. (Southern Discoveries, the company we used for our cruise, offers cruise and kayak packages suitable even for absolute beginners and young children.) Unfortunately, I haven't found a comprehensive list of tour operators. You'll need to do some searching to determine what is best for you.
Kayak tours run rain or shine and are available throughout the year. Winter trips are colder, but the water is often calmer.
Diving Milford Sound
If it isn't enough to be on the water, there are also options to spend time exploring in the water!
I'm not a diver, but Milford Sound offers some unusual diving opportunities, including a close-up look at rare black coral.  There seem to be a couple of options for divers, but, Descend Milford Sound seems to offer the most comprehensive range of services.

Milford Sound day hikes
If you want to do some hiking and aren't up to doing the Milford Track, there are a couple short walks near Milford Sound that are worth your time.
Even if you don't have much time, take 30 minutes to follow the Milford Sound Foreshore Walk from the waterfront parking lot to/from your ship. This trail includes sections of native beech forest as well as stunning views of the fjord. And, along the way, interpretive panels introduce you to the area.
The Milford Sound Lookout Track is another very short trail that takes visitors past Donald Sutherland's grave and through a bit of the forest along the way to views of Milford Sound and the surrounding area.
After being closed for many years, the Trail to Lady Bowen Falls is open again. The trail requires a short boat trip to reach the section that leads to the falls. A ticket is required. You can purchase one at the Freshwater Basin Terminal.
(No matter which hike you choose, bring plenty of insect repellent, as there will be plenty of sandflies on shore!)

Tour Milford Sound from the air
A Milford Sound plane tour provides a perspective of the area.
Sightseeing flights are available from the Te Anau Manapouri Airport and the Milford Sound Piopiotahi Aerodrome. (There also seem to be a few other small airstrips that provide options for flightseeing and back country tramping.) Privately chartered planes and helicopters offer a variety of sightseeing options, including helicopter tours that land on glaciers and mountains.
If the logistics look too tricky, several companies offer combined coach, cruise, and fly tour packages from Te Anau or Queenstown.
Flights are highly weather-dependent, but operators generally offer a refund or a flight on another date if your flight is canceled. Be sure this is the case. And, if you won't be in the area for more than a few days, make sure you can get an actual refund, not just a credit for another flight.
Note that flights are expensive and hikers on the Milford Track will curse you for the noise your flight creates in this wilderness area. But the view would be amazing.
Food and Dining along the way
Your best bet is to be more organized than we were and bring a picnic lunch along. But, if you didn't, there are a few options along the way.
Where to stay in Te Anau or Milford Sound
Te Anau has a lot of lodging options. It's also a nice little town with restaurants, grocery stores, and shops. The town sits along the lake and there are plenty of places to relax and enjoy the outdoors without venturing very far afield.
On the other hand, accommodations and services right along Milford Sound are extremely limited. That makes scoring a space a challenge. Of course, that's offset by the fact that you are in a UNESCO world heritage site and one of New Zealand's most dramatic landscapes.
Whether you decide to stay in Te Anau or out in Fiordland National Park, book well ahead if you are traveling between October and April. Lodging of all types does book up during the summer season.
Milford Sound accommodations
Lodging near Milford Sound itself is very limited. Reservations are usually necessary for lodge rooms; however, some campsites and hiking huts are available on a first-come, first-served basis.
Be careful if booking through sites like TripAdvisor and Expedia. Glenorchy will come up as the nearest option, but that is only true if you are traveling by private helicopter. Glenorchy is 45 minutes BEYOND Queenstown. And, while a beautiful scenic drive, it is not anywhere near Milford Sound as the highway runs!
Te Anau accomodations
While there are few places to spend the night along Milford Road, there are plenty of options in Te Anau. We stayed right in town at the excellent Explorer Motel (which not really what I think of as a motel), but there are lots of options at all price points.
TripAdvisor has a wide variety of options, so I'd start there for reviews and prices. Book through TripAdvisor or check Booking.com or Expedia for still more options. (For some reason Hotels.com doesn't seem to have as big a selection for Te Anau.)
It's also worth checking Airbnb, as there are a lot of options in and around Te Anau. And, if  you haven't tried Airbnb, using this link can save you $40 on your first booking.

Resources and inspiration
There's so much to see in New Zealand, that you'll want to really think through your options to make the most of your time there.
Websites
Travel information
Destination Fiordland is the regional tourism organization for the area. Its website has a pretty comprehensive list of tour operators, guides, transportation services, accommodations, restaurants, and more. The website is well-organized and logical, making it really easy to use. While the site does push visitors to book tours instead of doing it yourself (after all, getting visitors spend more money is their job), it provides great information for independent travelers too. This might be the best site out there for understanding all your options are as you sort out the details of your Fiordlands trip.
Printed guidebooks
With the internet available, a lot of people think there's no need for a guidebook. But I love them for trip planning. I always take a few out of the library while I'm sorting out where I'm going to go, and then buy my one or two of my favorites to take with me.
Even with Google, I still like to have a good map. The National Geographic New Zealand Adventure Map is an affordable option with lots of travel information. And, of course, there's always the Michelin New Zealand Map. I don't recall which one I used for this trip, as I've used both companies' maps on a number of other trips over the years.