(Last Updated On: June 26, 2022)
Perched above the sea on Saint Thomas in the US Virgin Islands, Phantasea Tropical Botanical Garden gives visitors a close-up view of lush foliage and colorful flowers from the Caribbean and beyond.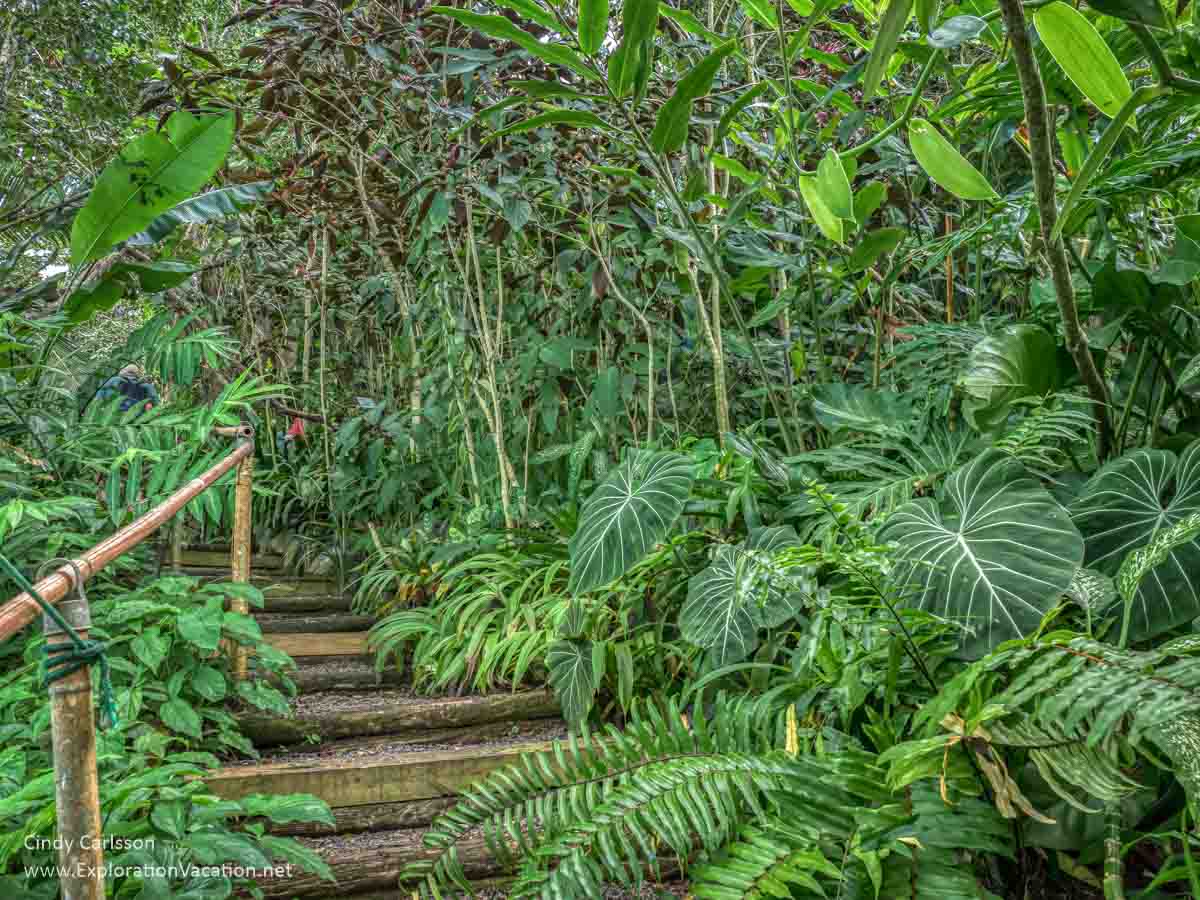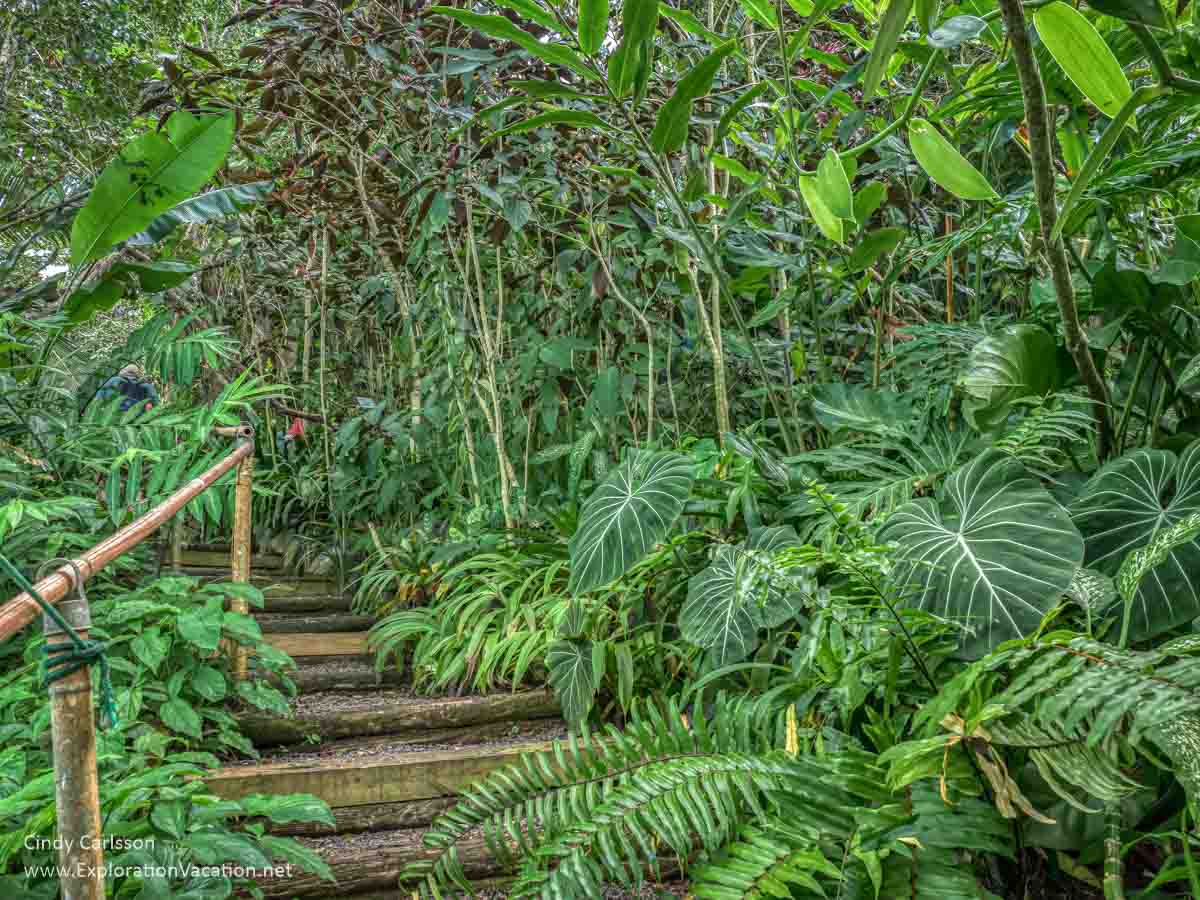 I'm a little obsessed with gardens. Almost any kind will do, but tropical gardens are favorites.
Thus, I'm always a little surprised by how few tropical botanic gardens exist, how basic most are, and how little love they get from neighbors and visitors alike. I suppose a carefully managed jungle of foliage and flowers doesn't seem so special in a place where orchids are backyard plants. However, as small fortunes are spent maintaining collections of tropical plants in conservatories around the world, it seems more people would want to see them in a setting more like their native habitat.
All this means I was both surprised and not so surprised to discover just one botanical garden was open on Saint Thomas this winter. Fortunately, Phantasea Tropical Botanical Garden provided exactly the tropical immersion I craved.
In this post:
Step into the Phantasea's garden
Beautifying a bit of Saint Thomas (garden history)
Best places to stop along the way
Step into Phantasea's tropical forest garden
Even though Phantasea's garden is relatively small in size (about 2 acres), there's a lot to see. And a lot to like.
On arrival, a friendly woman sold us our tickets and told us a bit about the garden and its plants.
To be honest, I barely listened. (Which I regretted later.) However, at the time, I was too distracted by a birdfeeder buzzing with hummingbirds and bananaquits (the official bird of the US Virgin Islands) and a glimpse of lush terraces side-stepping down the hillside below trees draped with bromeliads and orchids.
Basically, I could see there was a tropical paradise just waiting to be explored. I could not wait to get a closer look!
A beautifully unnatural forest
Phantasea's gardens are an orchestrated mix of tropical trees, flowers, palms, and other plants found in the damp forests of the Caribbean and beyond. At Phantasea, these plants are mostly mixed together in a jumble, as if they were growing in the wild.
Of course, there are both more types of flowering plants and more flowers here than you would generally find growing together in the wild. But that's what's great about gardens!
Exploring the garden
Throughout the garden, narrow paths wind below the trees. Steps cut into the hillside lead from one level to the next.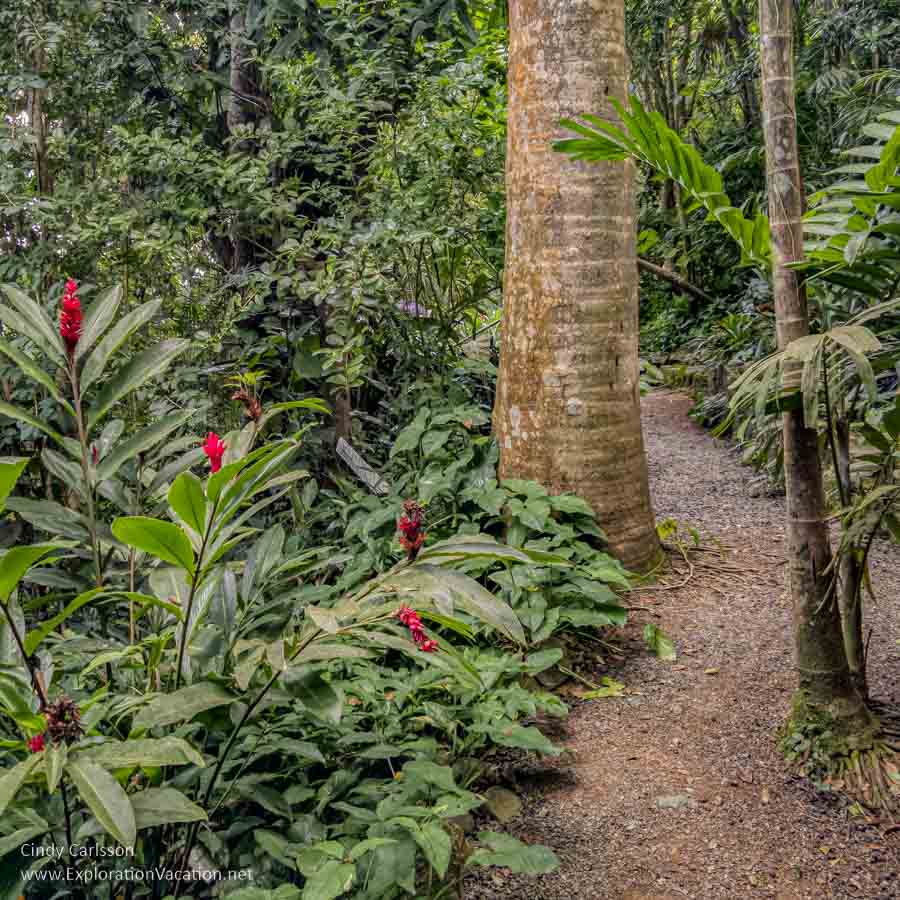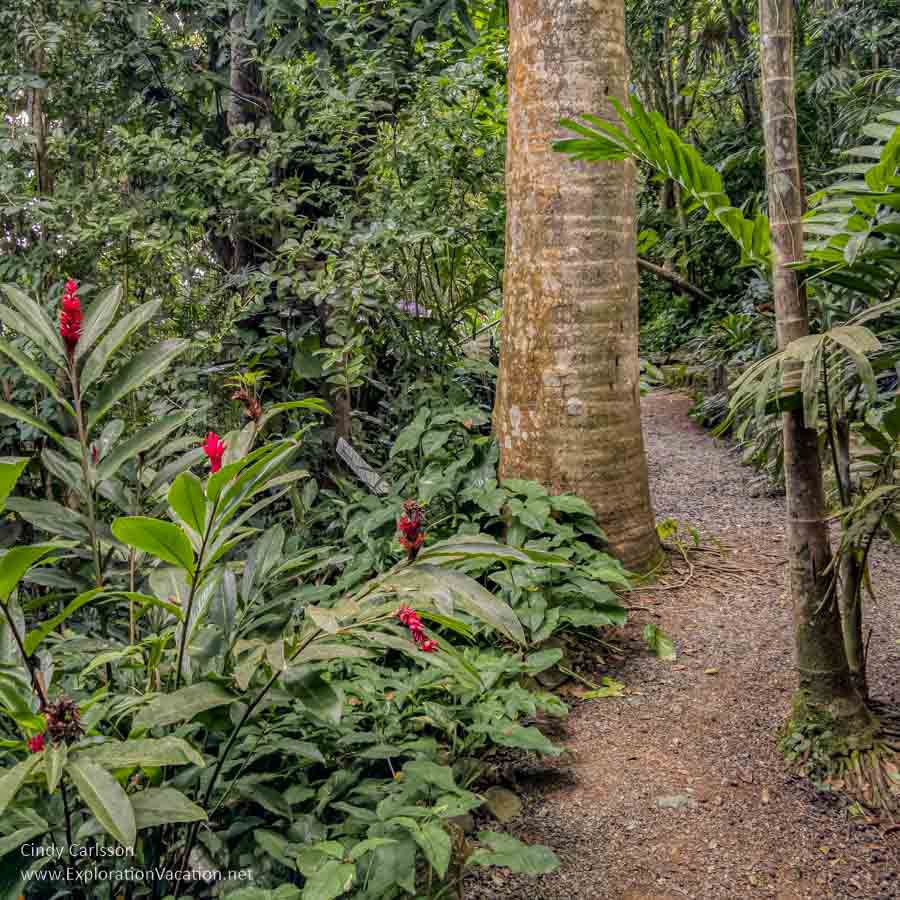 While a few arrows designate a route through the garden, we wandered at will.
It was easy to choose a path that allowed us to generally avoid the few other visitors we encountered. Likewise, it was easy to return to a particularly attractive area (orchids!) or dawdle to photograph a specific flower without making others wait for me,
Seating scattered throughout the garden also offers options to sit and relax in the garden. . . sometimes while enjoying a view of the sea.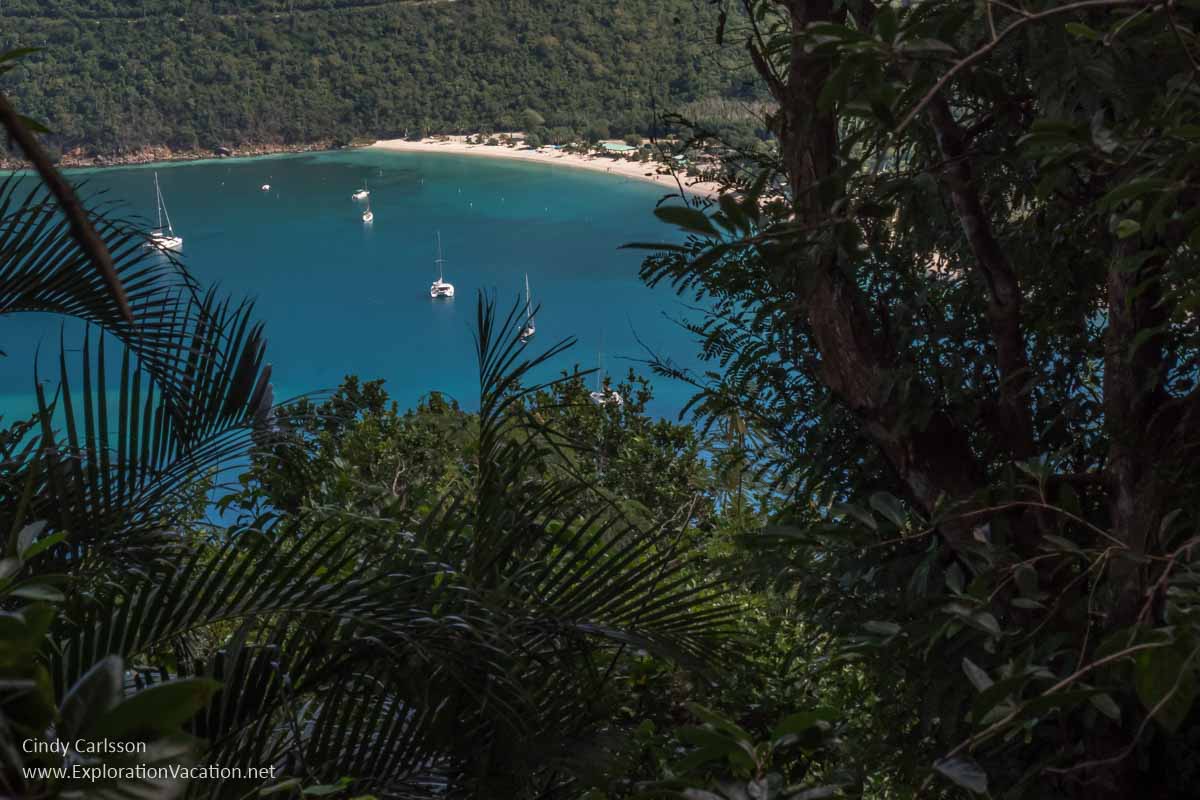 A pleasant way to learn as you look
Phantasea gardens is intended to be educational, not just beautiful.
Some areas are planted as natural-looking gardens that feature different forms of the same family of plants, such as orchids or bromeliads, with signage about the plants.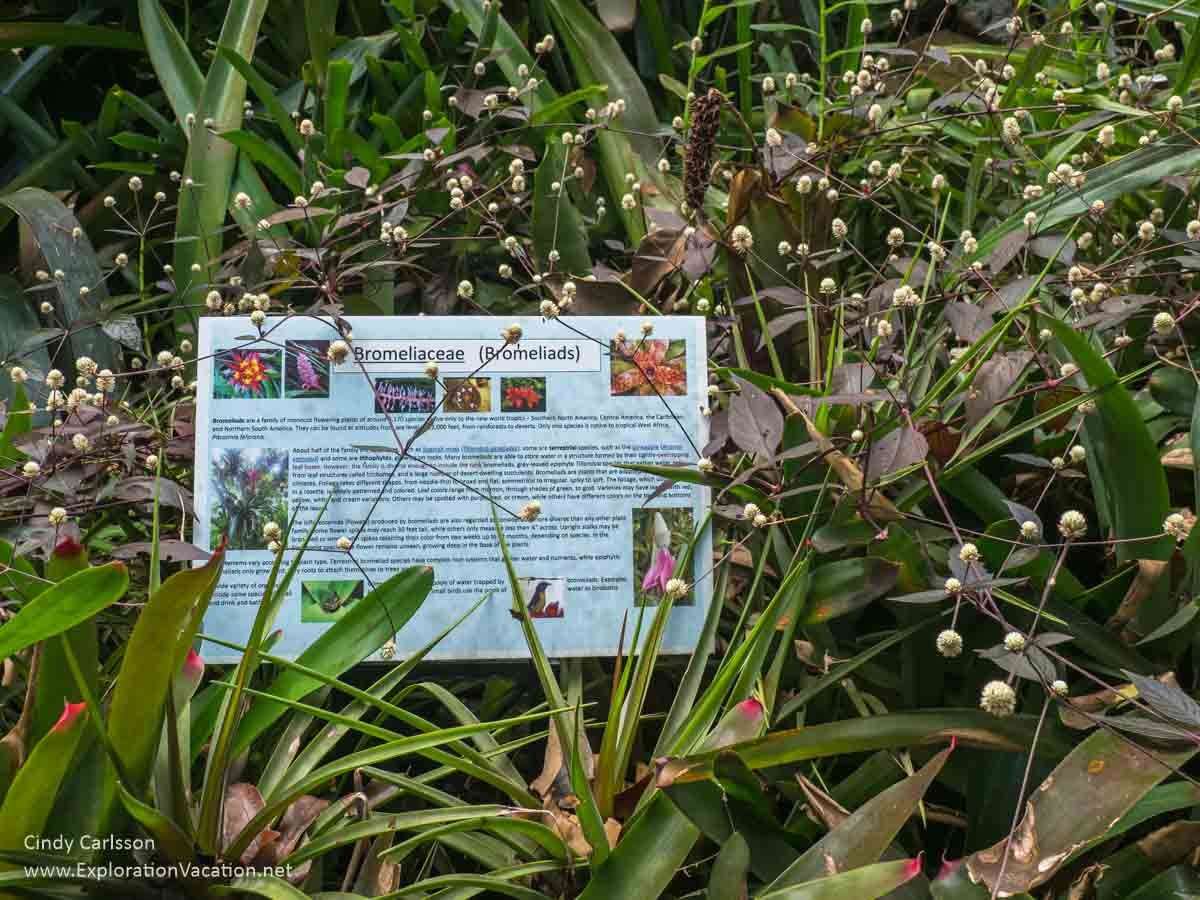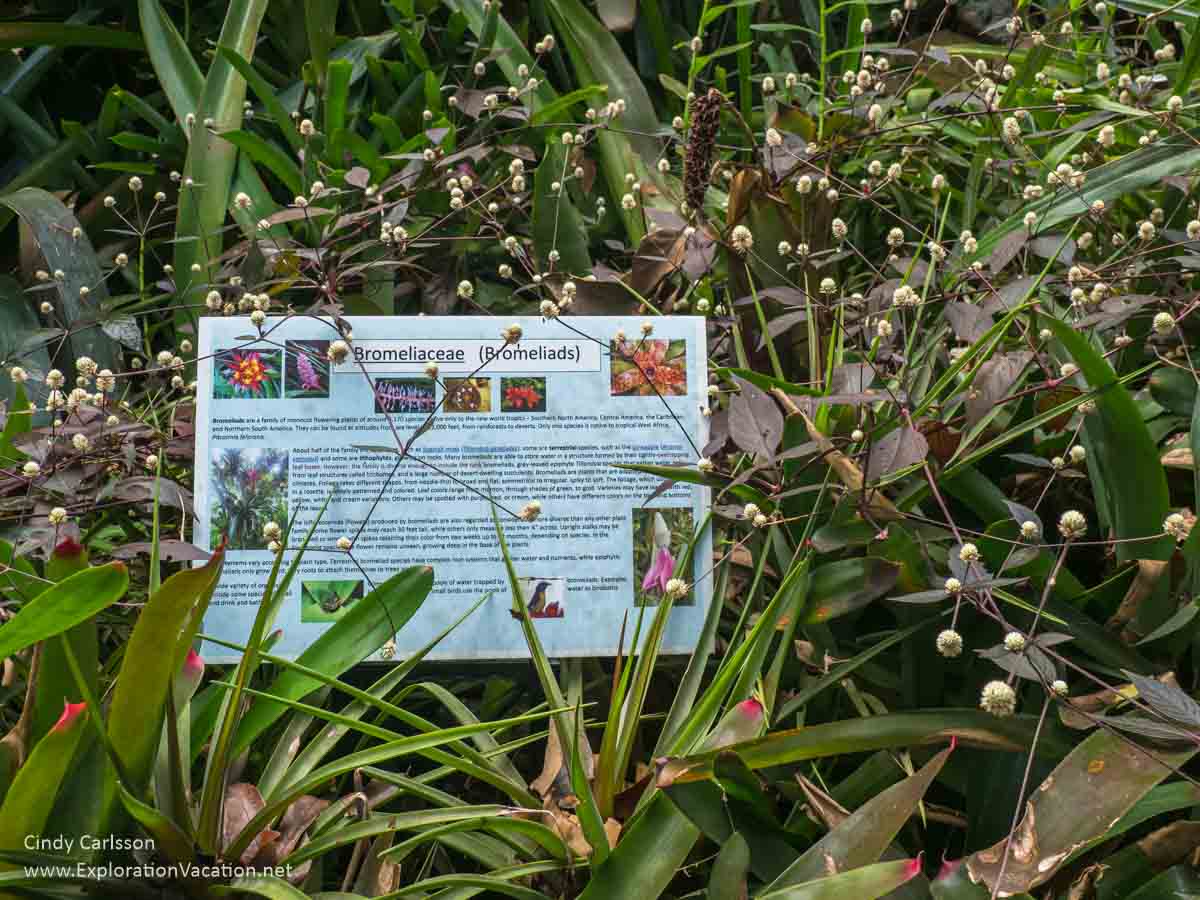 Some individual plants also have signs, like this cool dendrobium orchid.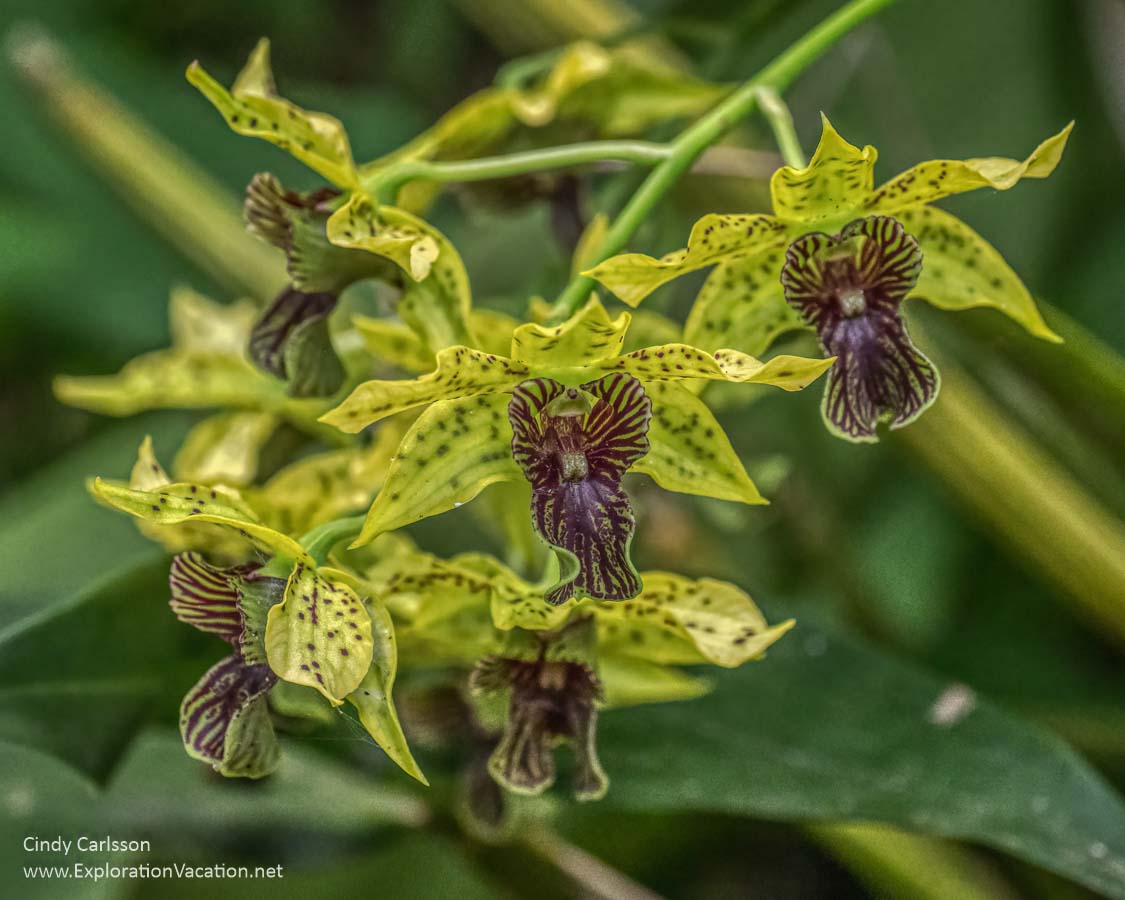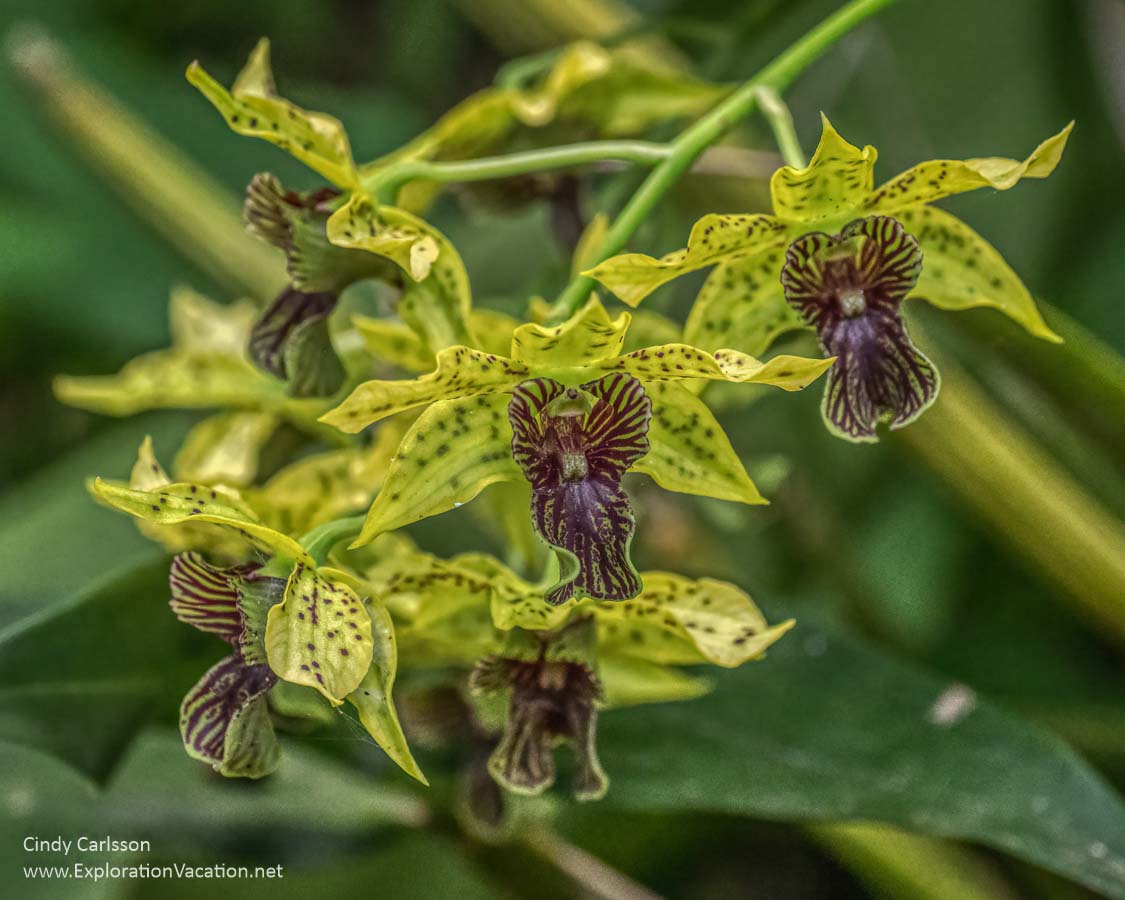 A tag identifies this as a New Guinea Orchidaceae Dendrobium 'Andre Millar' (atroviolaceum x convolutum), blooming in October-February. It also bears the mysterious number 98.195.
But most plants do not have that sort of signage.
The balance seems about right for most visitors. You can learn a few things about tropical plants without feeling as if you'll be have to pass a quiz before leaving. Instead, you can enjoy a pleasant walk through a well-maintained tropical forest with a variety of options for learning a bit about what you see along the way.
Beautifying a bit of Saint Thomas (garden history)
Phantasea Tropical Botanical Garden opened to the public in 2015. However, that opening date represents decades of work. It takes still more to maintain it. That's especially true in a place where hurricanes strike.
Plan your visit to the Phantasea garden
Phantasea Tropical Botanical Garden is located on Saint Thomas in the US Virgin Islands.
Most visitors stay for an hour or a bit less. I was there for a bit longer and would have gladly stayed longer still. (A friend was waiting to pick us up after our visit, so we kept our visit short.) I had time to walk most of the paths and take a few pictures for this story. However, with several areas to relax and enjoy the garden and views over the water AND a busy birdfeeder near the entrance, this is a good place to slow down and relax.
When's the best time to visit Phantasea garden?
For most people, the answer is anytime.
Because of the wide variety of plants in the garden, there will always be flowers. That means there's no bad time to visit!
Having said that, spring and early summer offer the broadest range of flowers.
And, if you are interested in seeing a particular kind of plant in bloom, some seasons yield more blooms and/or more varieties in bloom than others.
For example, orchid fans will find the widest variety of plants in bloom during spring and early summer. Winter-blooming phalaenopsis will still have flowers then, but dendrobiums, cattleyas, broughtonias, and brassias will also be in full bloom as spring brings more sunshine into the garden. And these sun-loving orchids will keep blooming well into the summer.
(Phalaenopsis has a long bloom season, beginning in winter and lasting through late summer. Even in early January, I saw a lot of them in bloom.)
Like the orchids, you'll see the most heliconia and ginger in bloom during spring and early summer.
I saw a what seemed like a lot of bromeliads in bloom when I visited in January, but there will be even more blooming this summer.
Regular visitors to Saint Thomas should visit during different seasons to see how the garden changes. You might be surprised by the difference from one season to the next! But no matter what season you visit, you'll find plenty to love.
Butterflies, birds, lizards,
By their very nature, tropical gardens of this type are damp. And water attracts insects. So, I was pleasantly surprised that we didn't see any insects at all. That's probably due to the number of birds, butterflies, lizards, and, yes, chickens (beautiful old heritage breeds of chickens are everywhere on Saint Thomas) that make their home in the garden.
Don't worry, all of the lizards we saw were tiny and cute. And they eat insects.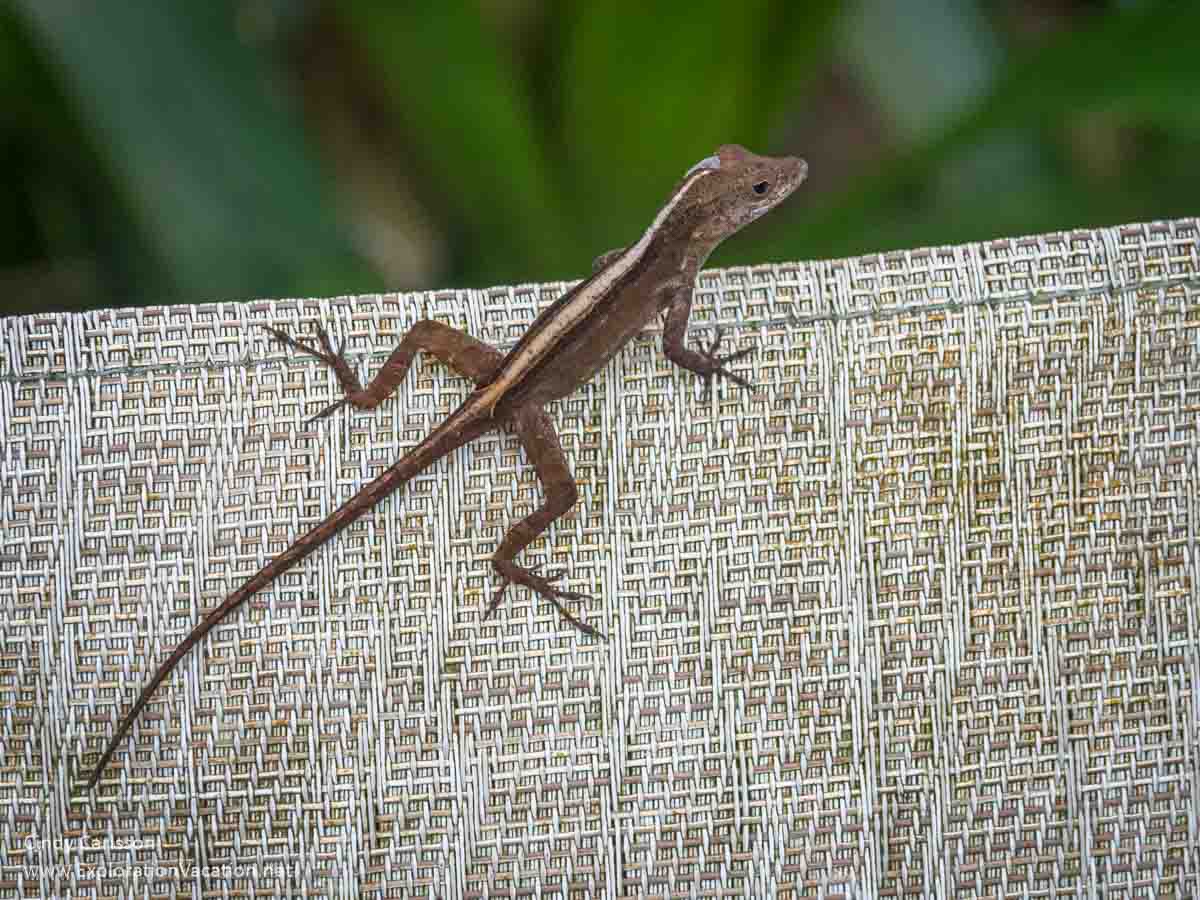 Best places to stop along the way
Unless you are staying nearby, make the most of your trip to Phantasea Tropical Botanical Garden by combining it with a few scenic overlooks (and maybe even a bit of shopping) on Crown Mountain.
Other gardens on Saint Thomas
Just before the hurricanes in 2017, you could spend a full day visiting gardens located in roughly the same part of Saint Thomas.
However, between COVID-19 and remaining damage from Maria and Irma, Phantasea was the only one open in January 2021.
Further reading
See Ars Botanica in the New York Times Magazine for a first-person account of how Patsy Breunlin became obsessed with orchids and ended up turning her tropical plant collection into a botanical garden.
Whether you are into orchids or not, Orchid Fever: A Horticultural Tale of Love, Lust, and Lunacy by Eric Hansen is a great read. This dive into the bizarre world of serious orchid collectors features profiles of an odd cast of characters and the plants they love. It's equal parts detective story, crime thriller, travel adventure, serious journalism, and personal memoir. And it's all completely crazy.
You can buy Orchid Fever at your local bookstore or get it online using my affiliate link at Better World Books, Books-a-Million, Bookshop.org, or AbeBooks (an Amazon company).