(Last Updated On: March 19, 2020)
Rockefeller Plaza.
What images flash through your head when you hear those words?
My mind immediately glides to a blissful scene of ice skaters gracefully moving across an outdoor rink. There is an elegant concert hall or something along one side and a giant Christmas tree. Whether there are still a few fall leaves clinging to nearby trees or big flakes of falling snow varies with my mood, but it is all Currier-and-Ives-moves-to-the-city.
But, apparently, not to New York City, as my mental image of Rockefeller Plaza lacks New York's signature feature: the skyscraper.
Those of you familiar with Rockefeller Plaza have a few moments now to laugh while I briefly explain to others who (like me) might have missed the memo on this that Rockefeller Plaza actually sits below a 70-story Art Deco office tower. There is a concert hall in the complex – Radio City Music Hall – but that isn't the building of my imagination and it really can't be seen from the plaza anyway. Instead of an open space at street level, Rockefeller Plaza is basically a landscaped concrete box tucked below the base of a bunch of skyscrapers filled with offices, TV studios (NBC has studios here and now tours are available), and high-end shops. Rockefeller Plaza looks nothing like Bryant Park (which is more closely resembles the plaza of my imagination); it is a very urban spot in a very urban part of the city.
John D. Rockefeller, Jr. began work on the 14-building project that became the Rockefeller Center in 1930. Work continued through the Depression, with the first building opening in 1933. The entire complex was open for business by the end of 1939. It was and remains an impressive accomplishment.
Today the complex includes 19 buildings, but the original 14 buildings remain and a few even retain original tenants. For example, NBC still broadcasts from here, as it has since the building opened in 1933.
So Rockefeller Plaza is part of a 1930s Art Deco skyscraper development. Consistent with that, it has strong lines and a lot of concrete. Still, my imagination wasn't all wrong, either. There are plenty of restaurants along Rockefeller Plaza and, sitting at a table within view of the plaza's iconic fountain and its sculpture by (Saint Paul native) Paul Manship, it FEELS a lot like the plaza of my imagination. It's just a bit more constricted, crowded, and urban.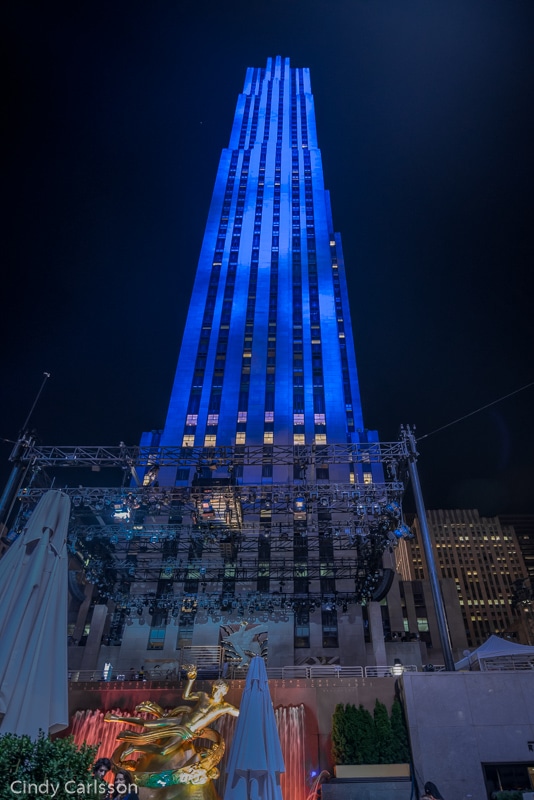 (The scene wasn't quite as picturesque as usual either, since an enormous stage was being set-up for an upcoming event.)
We ended up at that outdoor table in the plaza by default. With a two-hour wait before we could line up to go to the Top of the Rock (tickets are timed), we had plenty of time for a casual dinner and a few cocktails. The plaza itself seemed like a great place to indulge.
As our allotted entry time approached, we headed back up to street level and around the corner to begin our ascent to the top of the tower.
Like other places that manage long lines of visitors, 30 Rockefeller Center winds visitors through a series of exhibits via a carefully controlled route. While one is free to take time to look more closely at the exhibits and interior architecture, there is a general sense of forward motion that limits the desire to dawdle. There is a large (overly heroic) exhibit on the construction of Rockefeller Center itself, which seems intended to keep visitors preoccupied while they wait. I mostly buzzed through that without feeling like I was missing very much. However, I would have liked more time to take in some of the building's architectural details and art, including the spectacular (contemporary) Joie chandelier inside the building entrance.
Not that I couldn't have spent more time gawking, but there was an observation deck to get to!
Actually, there are three observation decks, but only one, on the 70th floor, is open to the air – thus ideal for night photography.
What a way to end a day in New York City!
The observation decks at the Top of the Rock are open daily from 8 a.m. to midnight. It's expensive to visit, but admission is included in most of the city attraction passes, including the New York Pass we used. Our pass would have allowed us to take the Rockefeller Center tour as well, something I wish we had done. The Top of the Rock website has a lot of information on the history of the building (including some of those heroic videos) as well as tour and ticket options for visitors.
There are observation decks on three levels, all of which reopened in 2005 after being closed to the public for 20 years. I like to think that this, at least in part, explains my complete ignorance about the building and why I never visited it on previous trips to the city.