(Last Updated On: December 14, 2020)
If you don't sail and you've seen a marina filled with sleek sailboats, you may have imagined life aboard as one of lazy luxury.
Instead, think of small boat sailing as camping on the water.
Our sailboat in the Seychelles
A peek inside our small boat
We toured the Seychelles on a Sunsail 384, a catamaran of approximately 38 feet with two cabins and a head (bathroom) in each pontoon.
Each cabin had enough room for one person to stand up, a small amount of storage space, and an approximately double mattress shaped to the curve of the boat. There was a fan (which seemed to do little to move the hot humid air) and hatches in each cabin that let in wonderful cool breezes . . . when there was a breeze and it wasn't raining.
Above, on the same level as the cockpit, there was a tiny kitchen with an oven, stove, sink, refrigerator, freezer (stashed with ice and turned off at night to limit the draw on the battery), a table that seated about six (there were seven of us as we begin our trip), more storage space (much of which was under the benches around the table and not terribly accessible), and a navigation station with a desk and radio.
A look around the deck
Outside, beyond the navigation station, the cockpit (covered by a solid canopy to provide protection from the sun and rain) included benches and a table that easily sat eight – if some people sat on a nearby bench or on a cooler.  This is where we spent almost all of our time, whether under sail or at anchor.
There was a grill at the back of the boat. (Unfortunately there wasn't much charcoal.)
None-the-less, we ate well. The boat was provisioned with far more meat than we could actually eat and that was supplemented by a wahoo caught by one of the boats in our flotilla. We had too little pasta and too much bread. (The bread molded quickly in the tropical humidity, however, when I cut off the moldy exterior – which we fed to the fish – it made a dandy rum-infused French toast.) We had a number of good cooks on board and we purchased a few essentials (spices, pasta, and peanut butter) while ashore, so we ate well and still had lots of uneaten provisions left at the end of trip.
Electric power on the boat was provided by marine batteries that were recharged when we ran the boat's motor. I bought a DC plug-in for my laptop and used a small inverter to recharge camera batteries. Because of the limited number of outlets, we almost always had digital devices of one kind or another recharging while we were motoring.
Going ashore usually requires another boat trip
Whether going out to dine, making a shopping, garbage, or recycling run, or heading out to explore a particularly intriguing beach, a dinghy was usually involved.
Many anchorages were in areas without any on-shore dining options, but we did have a few opportunities to eat in restaurants.
While the Seychelles is hot and humid (it's four degrees from the equator), it also has a French culture. This means that many nicer restaurants expected men to dress for dinner – or at least arrive in long pants – which can be a tricky undertaking when traveling in a dinghy.
Even tied up in the harbor at La Digue, there was no way to reach the (tantalizingly nearby) shore without the dinghy, although a homemade tow rope system allowed us to ferry ourselves between the boat and shore without having to fire up the motor and dinghy around to the dock.
We sailed when the weather was fine. . . we motored when it was not
Part of the appeal of a sailing trip is sailing. Sailing a monohull feels like guiding a living creature as the boat responds to your hand on the wheel.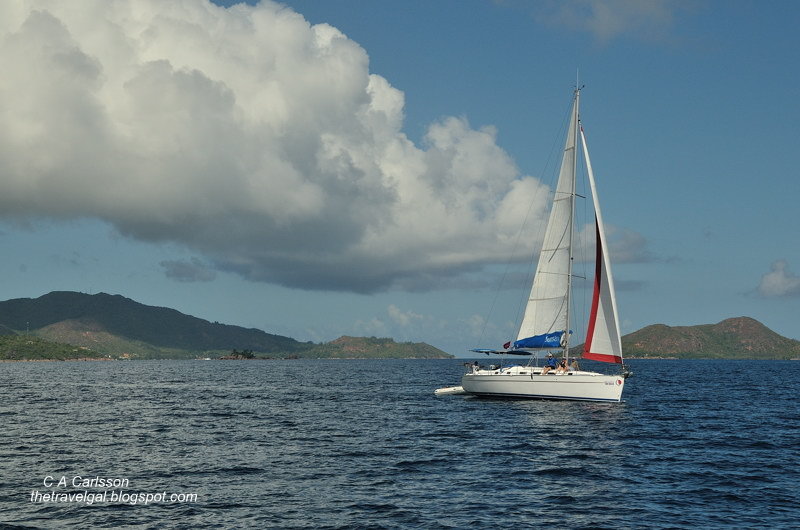 I don't think you get that same feeling on a catamaran. You don't heel at all, which makes for more comfortable sailing, but takes some of the thrill out of it. You can move a lot faster on a cat, but it doesn't feel like you are moving at all. (If you are a nervous sailor, try sailing on a cat.) Still, it was wonderful to be under sail.
And the dolphins don't seem to care what kind of sailboat you are on.
Unfortunately, we didn't have a lot of great weather for sailing, especially toward the end of the trip when low clouds and intermittent rain dominated the weather.
Despite the weather, we still had an itinerary to follow (which is very different from my jaunts in the Apostle Islands where we set the itinerary more-or-less a day at a time based on the weather); it didn't matter if it was dead still or pouring rain – we had somewhere we needed to be each day, so we motored on those days when the weather didn't cooperate. (The local skipper made some changes based on weather, but often he was limited by previously booked tour arrangements on shore.)
At least it was warm even when it was raining, making foul weather gear optional in all but the worst weather.
<
I loved warm water sailing
This was the first time I had sailed in warm water and I loved it.
My sailing experience has mostly been on Lake Superior, where the water last summer reached the record high temperature of 68 degrees Fahrenheit. (Usually the water's high temperature is in the 50s.) It's a lake where landing in the water can quickly turn deadly due to the cold.
Coming from this background, warm water sailing was a revelation. It took a while to get used to the idea that, if I was too hot, I could just step off the back of the boat into the bathtub warm sea and float around with the fish for a while.
It seemed nothing short of amazing.
Best of all for this easily sunburned blond was the fact that it was always shady UNDERNEATH the boat (one of the un-imagined advantages of a catamaran) and the fish that hung out under there never seemed to mind company.
(The acoustics were pretty good under there too. Way better than in the shower.)
A Few Closing Thoughts
I didn't grow up sailing and am lucky I am to have a husband and friends who sail. However, even if you don't have family or friends who sail, you should be able to find a day trip that would give you a sense of whether or not it is something you would enjoy. If you think it is something you'd like, there are a variety of options for spending a day or two as a passenger on a fully-crewed boat. Places noted for sailing, like the Caribbean, will offer the widest range of options at the lowest price.
If you enjoy sailing and decide you want to learn more, there are sailing courses available almost everywhere there is water. Courses vary in length and rigor and range from classroom studies to multi-day on-the-water training. I learned the basics (much of which I've forgotten over the intervening years of limited sailing) on a weekend women's sailing course on Lake Superior. Now, having done some warm water sailing, I think a more intensive course in Florida or the Caribbean might be calling my name.
Cruising World is a good source of info on sailing in general, classes, and upcoming flotilla and other cruises.
Finally, if you are prone to sea sickness (as I am), be sure to stay up on deck where you can see the horizon and have plenty of fresh air. I've found both the Transderm Scop patches (available by prescription in the US) and Bonine (available over the counter in the US) to be helpful. I have used the patches successfully for years, but they have always made me tired and dehydrated and, more recently, have resulted in my right pupil dilating (not painful or dangerous, but annoying in bright sunlight), so switched to Bonine for the majority of the Seychelles trip, which seems equally effective, but with fewer side effects. Dramamine (also available over the counter) has never worked for me. I haven't had any luck with pressure bracelets either. My husband swears by ginger, which I generally find to be helpful, but inadequate.
Sailing can be a great way to see the world. I'd encourage you to give it a try.